21 Bible Verses about Strength Plus! Free Printable
This article may contain affiliate links. I may earn money from the companies mentioned in this post with no additional cost to you. Please read my disclosure policy for more info. All Bible quotations are from the New King James Version (NKJV) unless otherwise stated Bible Copyright Attribution.
Often times we find ourselves in a rocky place because of a variety of things. It happens more often than not when we seek the world and find happiness in it.
We must always try to turn back to God's Word, especially when we don't know which way to turn. We will all go through times when our faith gets shaky and we will all go through times when we are standing firm in our faith.
This is why highlighting verses in our Bible and memorizing scriptures for strength is so important so we can call on those Bible verses in times of need.
The Bible tells us that our strength cannot overcome anything, but God's can. His Word gives us the exact comfort, stress relief, and peace that we need. What we often try to grasp from within the world only makes things more complicated for us.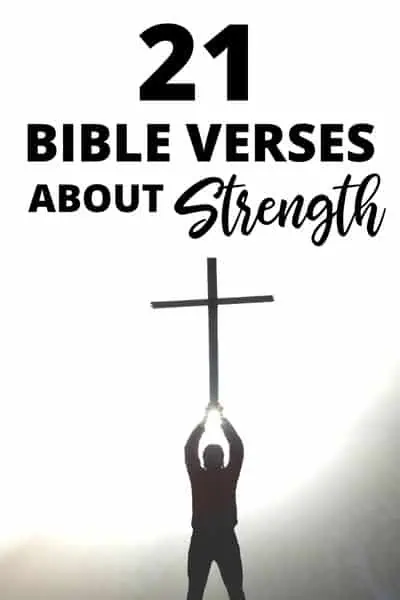 God is the only one who can provide us with strength and peace. We can rely on Him in times of trouble. Reflecting on His Word, and studying the Bible, can help us be strong when we feel weak. We can rely on His strength rather than our own by putting our trust and life in His hands.
This is exactly what the Lord wants for us. He doesn't want us to face things alone. We fail every time we do. He is right next to us, with open arms, waiting for us to turn to Him. One of the most common themes of faith in the Bible is turning to God in times of distress, anxiety, and times when we need strength.
It can be tempting to want to face problems alone when you feel like the world is caving in on you. But if we dig in and study the Bible every day we will be able to take on the day a whole lot easier. Reflecting on what we read from the Bible can help us remember it daily.
You may feel hopeless, tired, or have no sense of direction where you need to go. When you feel that way, it is an especially important time for you to study the Bible. How can we expect to hear from God when we don't seek Him out?
We can find everything that we need in the Bible. In it, we can find strength, comfort and peace every minute of the day.
What is Strength?
When we first think about the word we often think about it in a physical way. But let's think about it beyond that. Strength is "The capacity of an object or substance to withstand great force or pressure." Strength is firmness, solidity, or toughness.
Also, to be strong is to have the ability. Thinking about it, in a Biblical way is really profound. It's something that we can't even fully grasp as human beings.
Strength in the Bible
Strength is the substance that helps us withstand a great force. We face many great forces daily including trials and tribulations. When we rely on the Lord's strength rather than our own we can substantially withstand anything. No matter the amount of pressure or great force, God's strength can overcome it.
God gives us the strength to comprehend His greatness, His power, and His promises. Which need to be freshly revealed to us so that we can fully comprehend it. The Bible and the Holy Spirit help us do that. Being strong means to be strong in your faith and know that God is there to guide us through.
Jesus says that His strength is perfect in weakness according to 2 Corinthians 12:9-10. When we are weak, He is our strength. Exodus 15:1-4 tells us that He is our defense. God's Word helps lift us up and gives us stamina along with courage for us to carry on.
This is something that we can never find in this world. God is always faithful no matter the spiritual warfare or seasons we face. He is there to protect us and guide us. We are called to wait on Him and trust in Him.
Following the Roman's Road to Salvation will give you access to God's strength in your life. Without it, you will be navigating on your strength alone.
Bible Verses about Strength Free Printable
I created this free Bible verses on strength pdf so you take these strength scriptures on the go. All you need to do is click this free verses on strength pdf printable link to get this freebie. You can print them on card stock (this is what I use), cut them out, punch a hole in the corner, and use a loose-leaf ring (this is what I use) to secure them.
You can also laminate (this is what I use) them if you'd like. It will help keep them in good condition. Here's a great guide on how to laminate at home without a machine. I pray that you can benefit from this freebie.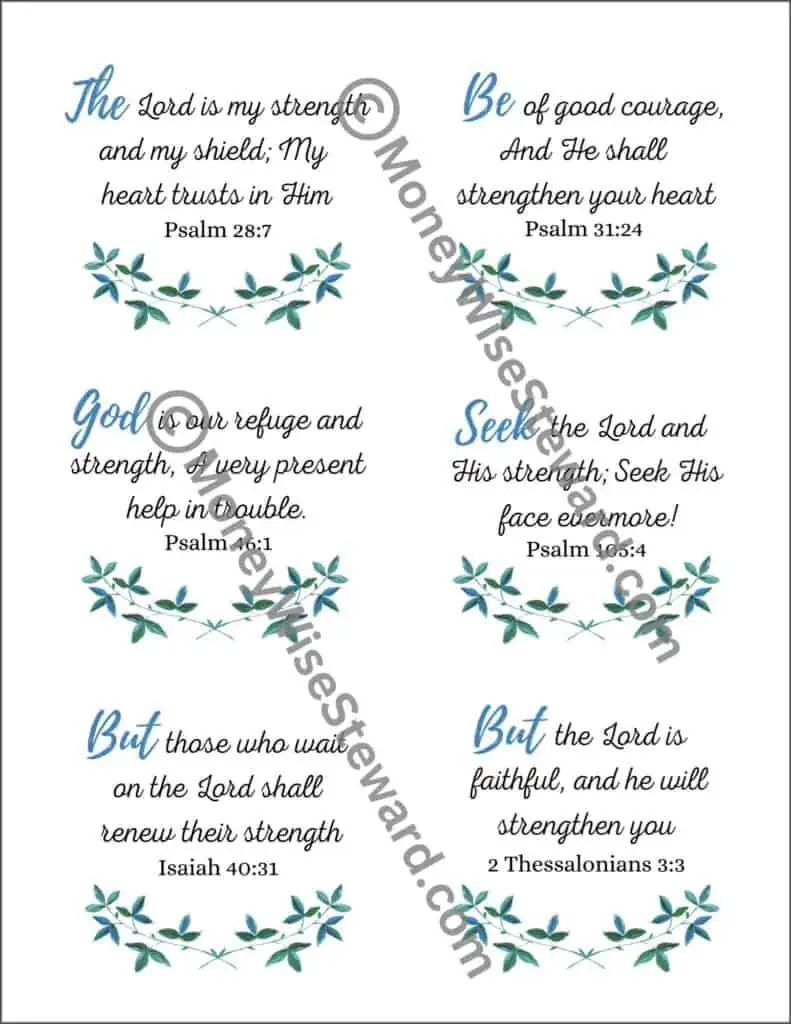 Bible Verses about Strength
There are many Bible verses about strength. You can easily spot them when reading the books of the Bible. Here are scriptures for strength in the NKJV.
Scriptures for Strength in the Old Testament
Exodus 15:2 – The Lord is my strength and song, and He has become my salvation; He is my God, and I will praise Him; My father's God, and I will exalt Him.
1 Chronicles 29:12 – Both riches and honor come from You, and You reign over all. In Your hand is power and might; In Your hand it is to make great and to give strength to all.
Nehemiah 8:10 – Then he said to them, "Go your way, eat the fat, drink the sweet, and send portions to those for whom nothing is prepared; for this day is holy to our Lord. Do not sorrow, for the joy of the Lord is your strength."
Psalms about Strength
Psalm 18:1-2 – I will love You, O Lord, my strength. The Lord is my rock and my fortress and my deliverer; My God, my strength, in whom I will trust; My shield and the horn of my salvation, my stronghold.
Psalm 28:7 – The Lord is my strength and my shield; My heart trusted in Him, and I am helped; Therefore my heart greatly rejoices, and with my song I will praise Him.
Psalms 31:24 – Be of good courage, and He shall strengthen your heart, All you who hope in the Lord.
Psalm 46:1 – God is our refuge and strength, a very present help in trouble.
Psalm 62:7 – In God is my salvation and my glory; The rock of my strength, and my refuge, is in God.
Psalm 73:26 – My flesh and my heart fail; But God is the strength of my heart and my portion forever.
Psalm 105:4 – Seek the Lord and His strength; Seek His face evermore!
Proverbs 10:29 – The way of the Lord is strength for the upright, But destruction will come to the workers of iniquity.
Isaiah 40:29 – He gives power to the weak, and to those who have no might He increases strength.
Isaiah 40:31 – But those who wait on the Lord shall renew their strength; They shall mount up with wings like eagles, they shall run and not be weary, they shall walk and not faint.
Isaiah 41:10 – Fear not, for I am with you; Be not dismayed, for I am your God. I will strengthen you, Yes, I will help you, I will uphold you with My righteous right hand.
Habakkuk 3:19 – The Lord God is my strength; He will make my feet like deer's feet, and He will make me walk on my high hills.
Scriptures for Strength in the New Testament
2 Corinthians 12:9 – And He said to me, "My grace is sufficient for you, for My strength is made perfect in weakness." Therefore most gladly I will rather boast in my infirmities, that the power of Christ may rest upon me.
Ephesians 3:16-17 – that He would grant you, according to the riches of His glory, to be strengthened with might through His Spirit in the inner man,
Philippians 4:13 – I can do all things through Christ who strengthens me.
2 Thessalonians 3:3 – But the Lord is faithful, and he will strengthen you and protect you from the evil one.
Hebrews 11:11 – By faith Sarah herself also received strength to conceive seed, and she bore a child when she was past the age, because she judged Him faithful who had promised.
1 Peter 5:10 – But may the God of all grace, who called us to His eternal glory by Christ Jesus, after you have suffered a while, perfect, establish, strengthen, and settle you.
Bible Quotes about Strength
"Don't let circumstances distress you. Rather, look for the will of God for your life to be revealed in and through those circumstances." – Billy Graham
"Failing to focus on our strengths may prevent us from accomplishing the unique tasks God has called us to do." – Max Lucado
"Do you need strength? Peace? Wisdom? Direction? Discipline? Ask for it! God will hear you." – Charles Swindoll
"We serve a God who says that even when we're under pressure, and feel like nothing is going to go right, he is waiting for us, to embrace us whether we succeed or fail." – Max Lucado
"Nothing on earth compares to the strength God is willing to interject into lives caught in the act of believing." – Beth Moore
"I asked God for strength, and God gave me difficulties to make me strong." – Anonymous
"You say: I don't know if I can make it. God says: I will give you strength." – Anonymous
"Give God your weakness and He'll give you his strength" – Anonymous
"Anxiety does not empty tomorrow of its sorrows, but only empties today of its strength." – Charles H. Spurgeon
"Faith is the strength by which a shattered world shall emerge into the light." – Helen Keller
"Faith upholds a Christian under all trials, by assuring him that every painful dispensation is under the direction of his Lord; that chastisements are a token of His love; that the season, measure, and continuance of his sufferings, are appointed by Infinite Wisdom, and designed to work for his everlasting good; and that grace and strength shall be afforded him, according to his need." – John Newton
"So many times we say that we can't serve God because we aren't whatever is needed. We're not talented enough or smart enough or whatever. But if you are in covenant with Jesus Christ, He is responsible for covering your weaknesses, for being your strength. He will give you His abilities for your disabilities!" – Kay Arthur
"Remember, it is not your weakness that will get in the way of God's working through you, but your delusions of strength. His strength is made perfect in our weakness! Point to His strength by being willing to admit your weakness." – Paul David Tripp
Check out more Bible verses:
Scriptures about Giving Thanks
Bible Verses about Forgiveness