22 Bible Verses about Joy Plus! Free Printable
This article may contain affiliate links. I may earn money from the companies mentioned in this post with no additional cost to you. Please read my disclosure policy for more info. All Bible quotations are from the New King James Version (NKJV) unless otherwise stated Bible Copyright Attribution.
Joy is something we all long for. Thankfully, if we read our Bible, we will come across many Bible verses about joy. Studying the Truth, and memorizing scripture, can help us understand the meaning of these verses about joy.
Reflecting on scriptures about joy can help us get through every minute of the day. Studying the Bible plays a big part in the decisions we make. We can spend hours in the Bible or take 5-10 minutes of quiet time reading it. No matter how long we sit in the Word when we indulge in it, we can feel joy from it.
We live in a world that is full of temptation and things that will only give us a temporary feeling of joy. Sometimes it's wrapped up all pretty in a red bow or sometimes it's disguised as something so simple.
Joy helps us delight ourselves in the Lord. It is everlasting and is something you cannot buy in the store. It's not even something you can earn. It's absolutely priceless and the Lord wants us to feel the joy that He offers us. This joy can be found in reading the Bible, praying, being among other believers in the church, and even more.
Each day, we have a choice to choose joy. No matter what is going on in our lives, what's on our to-do lists, the daily chores, or how we feel, we can still choose joy.
What is Joy?
Joy is "a feeling of great pleasure and happiness." Pure genuine joy is limitless, life-defining, and very transformative. Contrary to belief, it takes being still and surrendering. It's a choice to be made, just like love.
There is a big difference between worldly joy and what joy in the Bible means. Worldly joy, is not limitless and may not always be pure. Biblical joy comes from our Lord who offers it without limits, just like His grace, mercy, love, and forgiveness.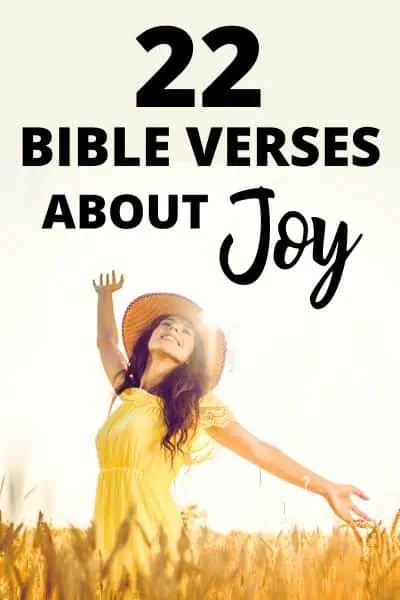 Joy in the Bible
The difference between what joy means biblically is it's dependent on who Jesus is rather than anything that has to do with us or what's happening around us. Joy abides in the presence of the Lord, comes from the Holy Spirit, and from hope in His Word.
We can find joy just by knowing who Jesus is and having a relationship with Him. We can put our faith in God's Word and find Biblical joy.
There are many Bible verses about joy throughout the Bible. It's overflowing with truth, hope, and joy. If we don't know His Word and His promises, how can we have joy from Him?
Abiding in Him, in His Word, and in His Holy Spirit is where we can find true joy. This also means enduring joy no matter the circumstance. Like David, when Saul was trying to kill him, people were making fun of him.
He had the choice to choose joy despite what was happening around him and despite what he was feeling. His feelings didn't determine his joy. He recognized that his hope in God actually did.
Just like David, we can reap the joy of the Lord by praying to Jesus with a broken and humble heart. Every single time, that's what we should do, and how we can ultimately choose God's joy over any other feelings we have.
If we didn't have the Lord's joy to abide in, we would only have circumstances in life and materialistic things to bring us joy. If we think back to our childhood during Christmas, we may not remember the toys that we got but we can remember the memories that brought us joy.
When we look back on it, we can choose to look at it with joy or without. Even if we did receive physical gifts, such as a toy when we were little, it gave us a temporary feeling of happiness or joy. It's not something we could really rely on for continual joy.
The joy that the Lord gives us doesn't depend on what is happening in our lives. It is always accessible to us, through our relationship with Jesus.
As we study the Bible, we see accounts of real people and real stories going through brokenness, hardships, and trials just like we face in our lives. We can see that they are all filled with incredible hope and joy that came from the Lord.
Ultimately, when we belong to God, none of the trials or tribulations we face, compare anything to the glory that is coming. Every single day, we can ask the Holy Spirit for help to find true and lasting joy in God's Word.
We often forget that we have 24/7 access to the Holy Spirit, to God, and to praise the Lord. Even in the tough times in the spiritual warfare we face, our relationship with the Lord is what gives us joy and helps us get through our life.
Bible Verses about Joy Free Printable
I created this free Bible scriptures on joy pdf so you take these joy scriptures on the go. All you need to do is click this free printable scriptures on joy link to get this freebie. You can print them on card stock (this is what I use), cut them out, punch a hole in the corner, and use a loose-leaf ring (this is what I use) to secure them.
You can also laminate (this is what I use) them if you'd like. It will help keep them in good condition. I pray that you can benefit from this freebie.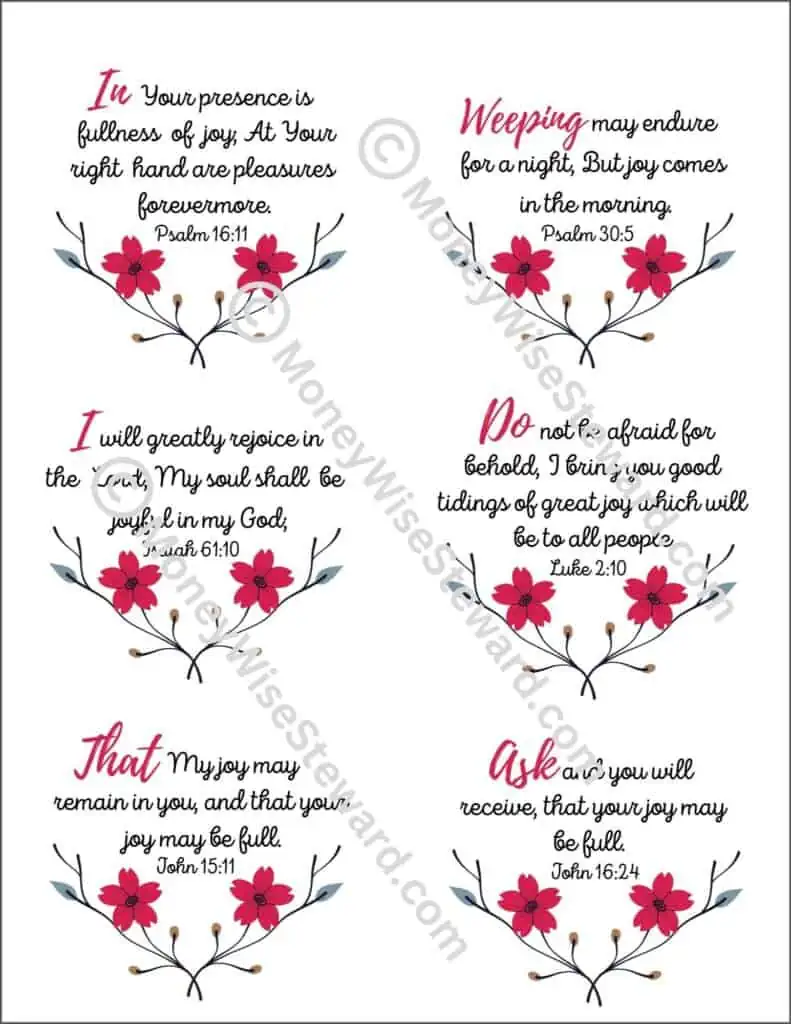 Bible Verses about Joy
I've listed Bible verses about joy below. I'm praying that you can study these Bible verses so you can experience the joy the Lord has for you. These scriptures on joy are listed in order of the books of the Bible and are from the NKJV.
Scriptures on Joy in the Old Testament
Nehemiah 8:10 – Then he said to them, "Go your way, eat the fat, drink the sweet, and send portions to those for whom nothing is prepared; for this day is holy to our Lord. Do not sorrow, for the joy of the Lord is your strength."
Job 29:12-13 – Because I delivered the poor who cried out, The fatherless and the one who had no helper. The blessing of a perishing man came upon me, And I caused the widow's heart to sing for joy.
Psalm 16:11 – You will show me the path of life; In Your presence is fullness of joy; At Your right hand are pleasures forevermore.
Psalm 30:5 – For His anger is but for a moment, His favor is for life; Weeping may endure for a night, But joy comes in the morning.
Proverbs 12:20 – Deceit is in the heart of those who devise evil, But counselors of peace have joy.
Proverbs 15:23 – A man has joy by the answer of his mouth, And a word spoken in due season, how good it is!
Ecclesiastes 9:7 – Go, eat your bread with joy, And drink your wine with a merry heart; For God has already accepted your works.
Isaiah 61:10 – I will greatly rejoice in the Lord, My soul shall be joyful in my God; For He has clothed me with the garments of salvation, He has covered me with the robe of righteousness, As a bridegroom decks himself with ornaments, And as a bride adorns herself with her jewels.
Joel 1:12 – The vine has dried up, And the fig tree has withered; The pomegranate tree, The palm tree also, And the apple tree, All the trees of the field are withered; Surely joy has withered away from the sons of men.
Habakkuk 3:17-18 – Though the fig tree may not blossom, Nor fruit be on the vines; Though the labor of the olive may fail, And the fields yield no food; Though the flock may be cut off from the fold, And there be no herd in the stalls—Yet I will rejoice in the Lord, I will joy in the God of my salvation.
Scriptures on Joy in the New Testament
Matthew 25:21 – His lord said to him, 'Well done, good and faithful servant; you were faithful over a few things, I will make you ruler over many things. Enter into the joy of your lord.'
Luke 2:10 – Then the angel said to them, "Do not be afraid, for behold, I bring you good tidings of great joy which will be to all people."
Luke 15:7 – I say to you that likewise there will be more joy in heaven over one sinner who repents than over ninety-nine just persons who need no repentance.
Luke 15:10 – Likewise, I say to you, there is joy in the presence of the angels of God over one sinner who repents.
John 15:11 – These things I have spoken to you, that My joy may remain in you, and that your joy may be full.
John 16:24 – Until now you have asked nothing in My name. Ask, and you will receive, that your joy may be full.
Acts 20:24 – But none of these things move me; nor do I count my life dear to myself, so that I may finish my race with joy, and the ministry which I received from the Lord Jesus, to testify to the gospel of the grace of God.
Romans 15:13 – Now may the God of hope fill you with all joy and peace in believing, that you may abound in hope by the power of the Holy Spirit.
Romans 15:32 – That I may come to you with joy by the will of God, and may be refreshed together with you.
Hebrews 12:2 – Looking unto Jesus, the author and finisher of our faith, who for the joy that was set before Him endured the cross, despising the shame, and has sat down at the right hand of the throne of God.
1 Peter 1:8-9 – Whom having not seen you love. Though now you do not see Him, yet believing, you rejoice with joy inexpressible and full of glory, receiving the end of your faith—the salvation of your souls.
3 John 1:4 – I have no greater joy than to hear that my children walk in truth.