The Best NKJV Study Bible | See Our Top Picks
This article may contain affiliate links. I may earn money from the companies mentioned in this post with no additional cost to you. Please read my disclosure policy for more info. All Bible quotations are from the New King James Version (NKJV) unless otherwise stated Bible Copyright Attribution.
A good study Bible is essential to your growth in Christ. When I accepted Jesus into my life, I learned the importance of a study Bible. The desire to know Him was unexplainable.
I learned through mentors in my life that if I wanted to know Him better, I needed to study the Bible, pray constantly, and worship Him daily. I didn't want to be a lukewarm Christian.
The NKJV Study Bible was my first Bible and it really helped me understand the scripture as I read it. Having the explanation of the scripture right in my Bible made Bible study easier for me.
I've been a Christian for over 11 years now. I've been so blessed to invest in different Bibles and pocket Bibles. They have helped me grow and continue to further my knowledge of Christ.
The goal of this post is to help you find a study Bible that will help you grow in the Lord. In this post, I will be focusing on sharing the best NKJV study Bible.
Knowing God's Truth is the most important thing to know as believers. The Bible teaches us everything we need to in order to navigate our life on earth.
"All Scripture is God-breathed and is useful for teaching, rebuking, correcting and training in righteousness, so that the servant of God may be thoroughly equipped for every good work." – 2 Timothy 3:16 NIV
Without the Bible, we wouldn't know the difference between right and wrong. It's the ultimate authority of Truth. If you fail to take the time to study the Bible, you won't know the difference between the Truth and lies.
Knowing God and making Him known should be our focus. Knowing Him takes discipline. We can't let others know about Him if we don't know about Him ourselves.
As you know, there are many different versions of the Bible available. We all have different preferences when it comes to choosing a study Bible. Thankfully, there are several NKJV Study Bibles available. Let's look at the best NKJV study Bibles and their unique features. Don't miss these Bible covers, Bible highlighters, and Bible Tabs for your new study Bible.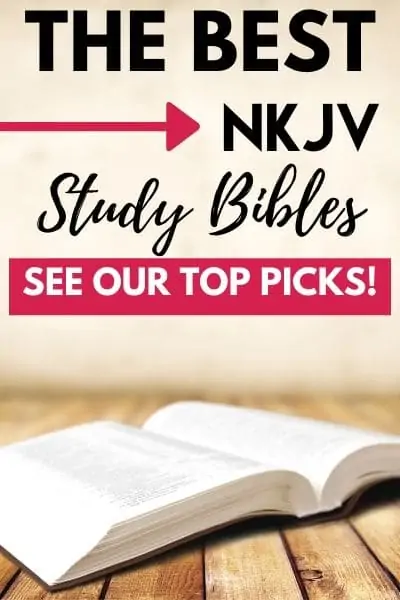 Free Bible printables are available on my free printables page.
What is an NKJV Study Bible?
The "NKJV" in an NKJV Study Bible stands for New King James Version. It's the English translation of the Bible.
Study Bibles are different from regular Bibles. A study Bible has a commentary section that helps you understand the Bible verses. The commentary section is usually near the bottom section of the Bible on each page.
Another unique feature of a study Bible is an introduction to each book of the Bible. This helps you get a better understanding of when the book was written and who wrote it.
Many study Bibles have maps near the back of the Bible that give you visual locations. They are a great way to deepen your study.
Making the decision to purchase an NKJV Study Bible is a very important decision. Everyone has different preferences. Some people prefer detailed maps and another person may want a more in-depth commentary. Study Bibles have their own unique features.
The NKJV Study Bible
As I mentioned above, the best NKJV study Bible really depends on what you prefer. The NKJV Bibles below have different formats, charts, maps, etc. The purpose is to help you find the best NKJV study Bible for you. Let's look at them more in-depth to see which one you like best.
NKJV Know The Word Study Bible Red Letter Edition
Three different ways to study the Bible: Book by Book, Verse by Verse, Topic by Topic
Book introductions
Words of Jesus in red
Two-color interior page design
Comprehensive list of theological notes
Concordance
This NKJV Red Letter Edition Study Bible breaks the Bible into easy-to-understand segments. The three easy ways to study the Bible will help you become a regular student of the Word. The Book by Book method takes you through the main points of each book of the Bible. The Verse by Verse method helps you to dig deeper by studying God's Word at a verse level. The Topic by Topic method covers 21 key theological topics and guides you through the main themes in the Bible.
NKJV Hardcover Study Bible Full Color
More than 15,000 verse-by-verse study notes
Bible times and culture notes
Word studies with Strong's numbers
Cross-reference system
In-text maps and charts
Book introductions, outlines, and timelines
Full-length articles, concordance, and color maps
This NKJV full-color study is a complete resource for study. It includes thousands of notes, articles, extensive cross-references, and contributions from well-known evangelical scholars. This study version is accurate and gives clarity to the New King James Version. The full-color features in this Bible make it a great option to help you study the Bible in a deeper way.
Sale
NKJV Study Bible Large Print
Full-color page designs
Full-color maps, charts & reconstructions
Extensive book introductions, commentary notes, and concordance
Essays on practical and theological issues
Feature-length articles on the origin and transmission of the Bible
One-year and three-year Bible reading plans
A "King's English" glossary of terms
Presentation page & family registry
This NKJV Study Bible Large Print is perfect for everyone. This is the hardcover version. There is a leather version of this Bible as well. Each one features over 15,000 study notes, 141 photos, 59 maps, and much more. The two-column text setting and the center-column cross-references make it easier to study the Bible. You can mix up your study with one of the reading plans built into this study Bible.
Do You Have a Favorite NKJV Study Bible?
These are our favorite Study Bibles in the New King James Bible. If you have a favorite NKJV Study Bible, we'd love to hear what it is. Leave us a comment below to share your experience. We love hearing from our readers so we can provide the best products.
Our family has been blessed with several study Bibles. We have different versions that mix it up a bit. We also find that it's easier to memorize scripture from the Bible with different versions. We are so thankful for all the different versions put out by these publishers. We are praying you find the best Bible for you!