38 Scriptures on Prayer Plus! Free Printable
This article may contain affiliate links. I may earn money from the companies mentioned in this post with no additional cost to you. Please read my disclosure policy for more info. All Bible quotations are from the New King James Version (NKJV) unless otherwise stated Bible Copyright Attribution.
Prayer is a popular topic in the Bible. It's mentioned over 300 times and is the number one way to communicate with God.
Praying to God through Jesus allows us to have a personal relationship with our Father. Scriptures on prayer show us real examples of how people prayed.
When I made the decision to follow Jesus, I started studying my Bible and educating myself about prayer. Bible verses about prayer helped me learn the importance of prayer in my life.
Prayer in the Bible
The word "prayer" is used often in the world. People pray to different gods and idols in their lives. Prayer in the Bible is the only prayer that's effective.
Praying to gods and idols will result in empty answers. We serve a living God who knows everything about us. He created us, He has a plan for us, and He knows our beginning and our end.
The Bible tells us to make all of our requests known to God (Phil. 4:6). We are to ask and He will answer according to His will. His answer may not always be what we want but we need to trust the Lord and know that He works everything out for our good (Romans 8:28).
How to Pray to God
Praying to God should be part of our day. It doesn't have to be a certain time of the day or a certain number of times a day. It should be as often as you want to seek Him.
I find myself praying to God throughout the day. You can simply start your prayer by saying "Father" and continue by thanking and praising Him, then make your requests known to Him and let Him know your desires, then conclude your prayer by saying in Jesus' name.
Our ultimate goal in prayer should be to fulfill God's will for our lives. We may want something to work out a specific way but ultimately God knows what's best. We should be presenting our requests to Him while surrendering to His will. We need to let go and let God handle it.
He sent Jesus to die for our sins which opened the door to communicating directly with Him. He wants us to ask because He loves us so much.
Free Prayer PDF Printable
I created this free prayer pdf so you take these verses on prayer with you. All you need to do is click this free prayer pdf printable link to get the free printable, print it on card stock (this is what I use), cut it out, punch a hole in the corner, and use a loose leaf ring (this is what I use) to secure it.
You can also laminate (this is what I use) them if you'd like. It will help keep them in good condition. I pray that you can benefit from this free prayer pdf printable.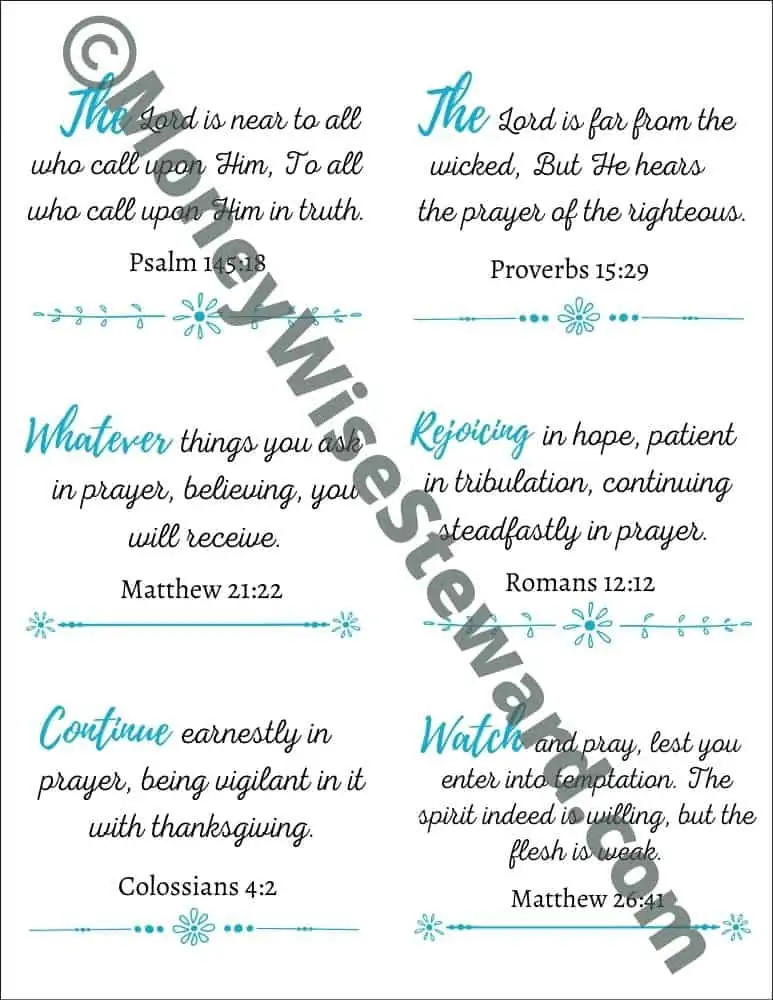 Scriptures on Prayer
As I mentioned above, prayer is important and should be a part of your day. There are real examples of the power of prayer in the Bible. You may have even heard testimonies of the power of prayer from someone you know.
We should be praying for our family, praying for our children, praying for others and ourselves. Communicating with God often will help create a personal relationship with Him. Even though we can't see Him physically, He is right there with us.
I'm excited to share these Bible verses about prayer. I'm praying that you will see the importance of prayer and that you need to apply it to your life.
Bible Verses about Prayer
The Bible has many different versions available. The verses about prayer below are from the New King James Version.
I listed these prayer scriptures in the order of the books of the Bible below.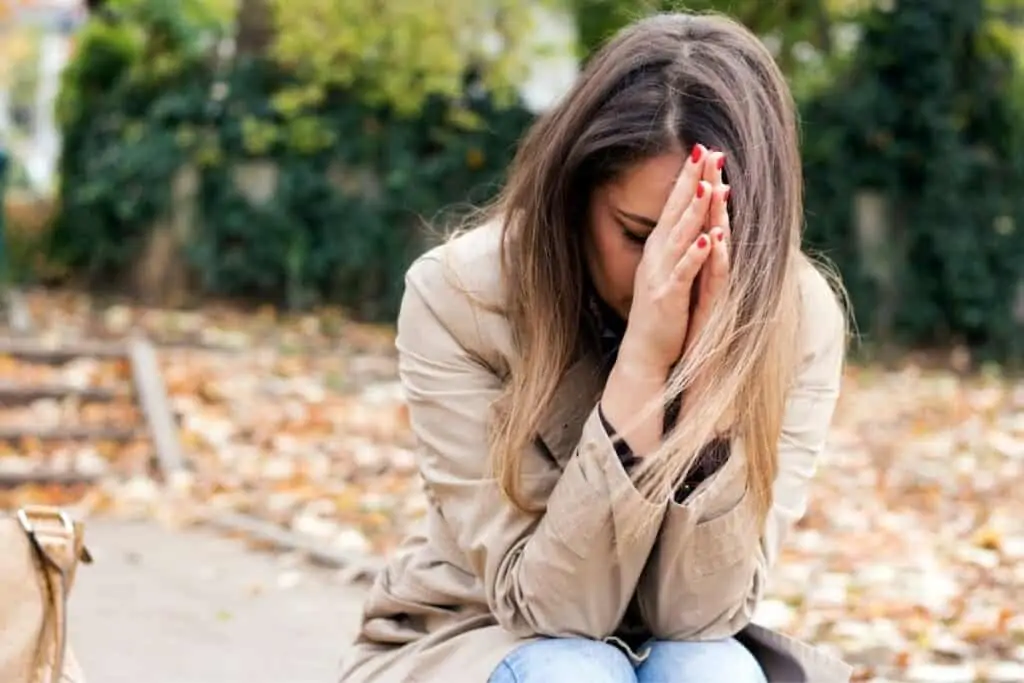 Verses about Prayer in the Old Testament
2 Chronicles 7:14 – If My people who are called by My name will humble themselves, and pray and seek My face, and turn from their wicked ways, then I will hear from heaven, and will forgive their sin and heal their land.
Ezra 8:23 – So we fasted and entreated our God for this, and He answered our prayer.
Job 22:27 – You will make your prayer to Him, He will hear you, And you will pay your vows.
Psalms on Prayer
Psalm 4:1 – Hear me when I call, O God of my righteousness! You have relieved me in my distress; Have mercy on me, and hear my prayer.
Psalm 17:6 – I have called upon You, for You will hear me, O God; Incline Your ear to me, and hear my speech.
Psalm 34:6 – This poor man cried out, and the Lord heard him, And saved him out of all his troubles.
Psalm 66:19 – But certainly God has heard me; He has attended to the voice of my prayer.
Psalm 102:17 – He shall regard the prayer of the destitute, And shall not despise their prayer.
Psalm 141:2 – Let my prayer be set before You as incense, The lifting up of my hands as the evening sacrifice.
Psalm 145:18 – The Lord is near to all who call upon Him, To all who call upon Him in truth.
Proverbs 15:8 – The sacrifice of the wicked is an abomination to the Lord, But the prayer of the upright is His delight.
Proverbs 15:29 – The Lord is far from the wicked, But He hears the prayer of the righteous.
Jeremiah 29:12 – Then you will call upon Me and go and pray to Me, and I will listen to you.
Jeremiah 33:3 – 'Call to Me, and I will answer you, and show you great and mighty things, which you do not know.'
Scriptures on Prayer in the New Testament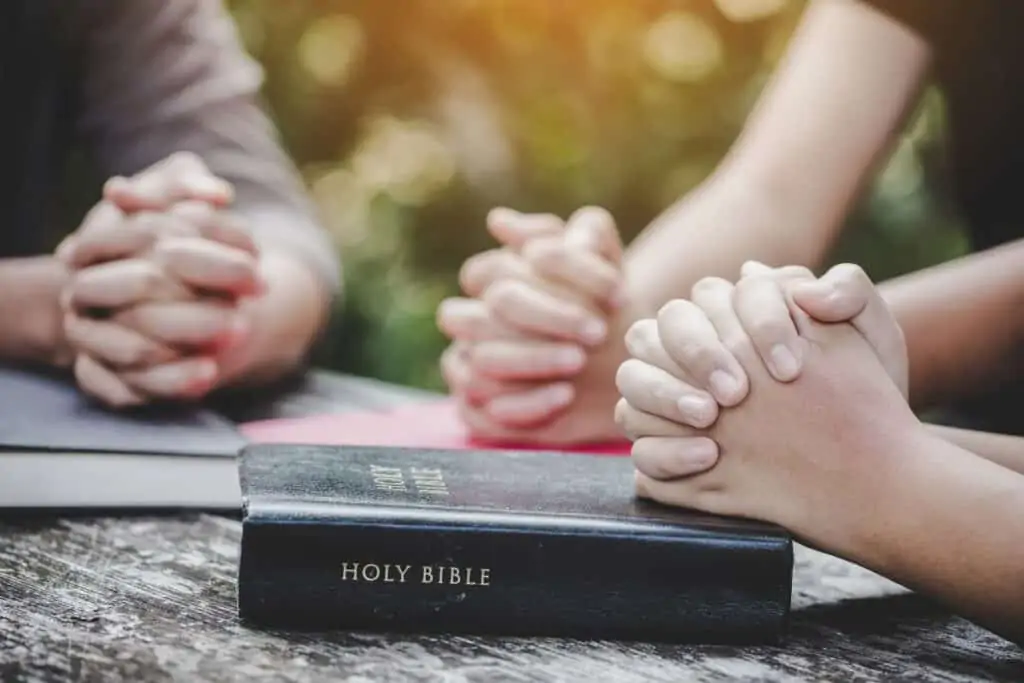 Matthew 5:44 – But I say to you, love your enemies, bless those who curse you, do good to those who hate you, and pray for those who spitefully use you and persecute you
Matthew 6:6 – But you, when you pray, go into your room, and when you have shut your door, pray to your Father who is in the secret place; and your Father who sees in secret will reward you openly.
Matthew 6:7 – And when you pray, do not use vain repetitions as the heathen do. For they think that they will be heard for their many words.
Matthew 7:11 – If you then, being evil, know how to give good gifts to your children, how much more will your Father who is in heaven give good things to those who ask Him!
Matthew 21:22 – And whatever things you ask in prayer, believing, you will receive.
Matthew 26:41 – Watch and pray, lest you enter into temptation. The spirit indeed is willing, but the flesh is weak.
Mark 11:24 – Therefore I say to you, whatever things you ask when you pray, believe that you receive them, and you will have them.
Mark 11:25 – And whenever you stand praying, if you have anything against anyone, forgive him, that your Father in heaven may also forgive you your trespasses.
Luke 6:12 – Now it came to pass in those days that He went out to the mountain to pray, and continued all night in prayer to God.
Luke 6:27-28 – But I say to you who hear: Love your enemies, do good to those who hate you, bless those who curse you, and pray for those who spitefully use you.
Luke 18:1 – Then He spoke a parable to them, that men always ought to pray and not lose heart
Romans 8:26 – Likewise the Spirit also helps in our weaknesses. For we do not know what we should pray for as we ought, but the Spirit Himself makes intercession for us with groanings which cannot be uttered.
Romans 12:12 – Rejoicing in hope, patient in tribulation, continuing steadfastly in prayer;
Ephesians 6:18 – Praying always with all prayer and supplication in the Spirit, being watchful to this end with all perseverance and supplication for all the saints
Philippians 4:6 – Be anxious for nothing, but in everything by prayer and supplication, with thanksgiving, let your requests be made known to God.
Colossians 4:2 – Continue earnestly in prayer, being vigilant in it with thanksgiving;
1 Thessalonians 5:17 – Pray without ceasing
1 Timothy 2:8 – I desire therefore that the men pray everywhere, lifting up holy hands, without wrath and doubting;
James 1:6 – But let him ask in faith, with no doubting, for he who doubts is like a wave of the sea driven and tossed by the wind.
James 5:13 – Is anyone among you suffering? Let him pray. Is anyone cheerful? Let him sing psalms.
James 5:16 – Confess your trespasses to one another, and pray for one another, that you may be healed. The effective, fervent prayer of a righteous man avails much.
1 Peter 4:7 – But the end of all things is at hand; therefore be serious and watchful in your prayers.
1 Peter 3:12 – For the eyes of the Lord are on the righteous, And His ears are open to their prayers; But the face of the Lord is against those who do evil.
1 John 5:14-15 – Now this is the confidence that we have in Him, that if we ask anything according to His will, He hears us. And if we know that He hears us, whatever we ask, we know that we have the petitions that we have asked of Him.
What Are Your Favorite Scriptures on Prayer?
These scriptures on prayer are such a blessing. They remind us about the importance of prayer in our lives. My favorite Bible verses on prayer are Psalm 34:6 and Psalm 145:18. They remind me that God hears me and answers prayer.
I highly recommend memorizing your favorite verses about prayer so you can keep them close to you at all times!
Check out more Bible verses:
Bible Verses about Encouragement