28 Bible Verses about Anxiety Plus! Free Printable
This article may contain affiliate links. I may earn money from the companies mentioned in this post with no additional cost to you. Please read my disclosure policy for more info. All Bible quotations are from the New King James Version (NKJV) unless otherwise stated Bible Copyright Attribution.
Anxiety is a real problem. We are all faced with it at some point in our life. The result of anxiety comes down to how we handle it. I personally suffer from anxiety so I can relate.
I'm working on a more in-depth post about my experience with anxiety and how I'm managing it. In the meantime, I thought it would be a great idea to share bible verses about anxiety because they are the key to overcoming your anxiety.
I say this because the Bible teaches us to cast our cares on Him (1 Peter 5:7). Worry, fear, and anxiety all fall into the same category, one basically causes the other.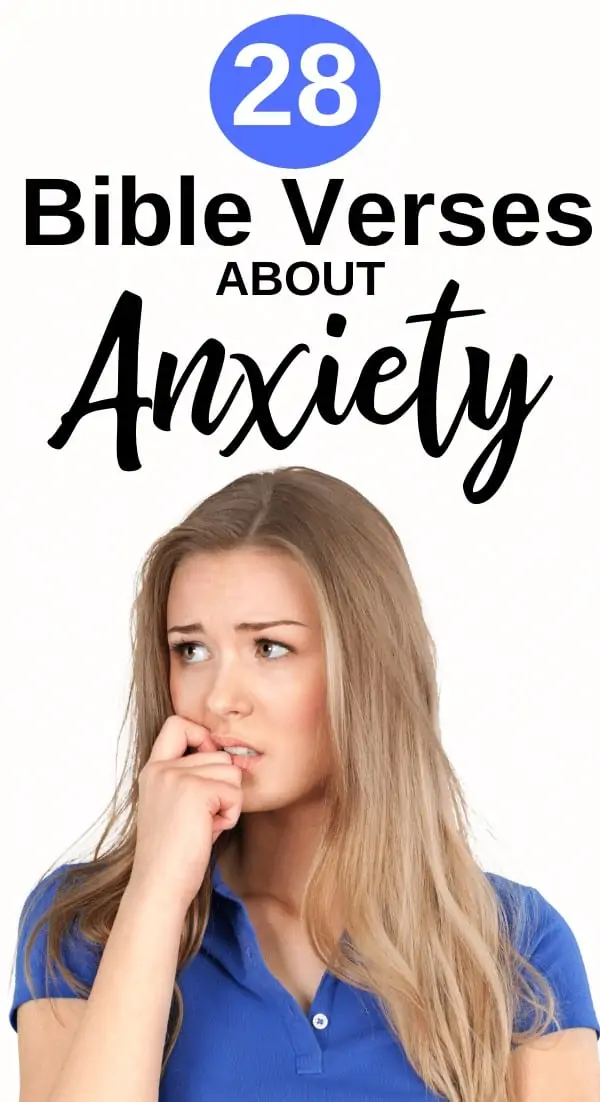 Scripture for Anxiety
Worry causes fear and that causes anxiety. Anxiety causes worry and that causes fear. They are all intertwined with each other.
The important thing to remember is that God has not given us a spirit of fear. He has given us a spirit of power, love, and a sound mind (2 Timothy 1:7).
We can overcome anxiety with Jesus' help. Jesus tells us that we are overcomers if we believe He is the Son of God (1 John 5:4-5).
Anxiety in the Bible is Real
There are real accounts of people suffering from anxiety. The Bible provides Bible verses on anxiety as a resource to help us rest in Him.
Bible verses about anxiety help us trust God. Anxiety is a downward spiral. It will continue to bring you down until you make a decision to overcome it.
The Bible is full of God's promises. One of my favorite promises is God telling us that He will supply all our needs (Phil 4:19).
God loves us so much and He knows what's best for us in every situation. Praying to God for wisdom is an important step in dealing with anxiety.
The purpose of this post is to share Bible verses about anxiety. You can use these scriptures for anxiety as a tool to overcome anxiety.
These verses about anxiety are perfect for anyone who struggles with anxiety. These specific Anxiety Bible verses have helped me so much during my battles with anxiety.
Remember to pray for wisdom and cast your cares on Him. He will never fail you (Joshua 21:45).
Free Printable Verses about Anxiety
I made these verses about anxiety free printable notecards so they are easy to take with you.
All you need to do is click this Anxiety Bible verse free printable link to get the free printable, print it on card stock (this is what I use), cut it out, punch a hole in the corner, and use a loose-leaf ring (this is what I use) to secure it.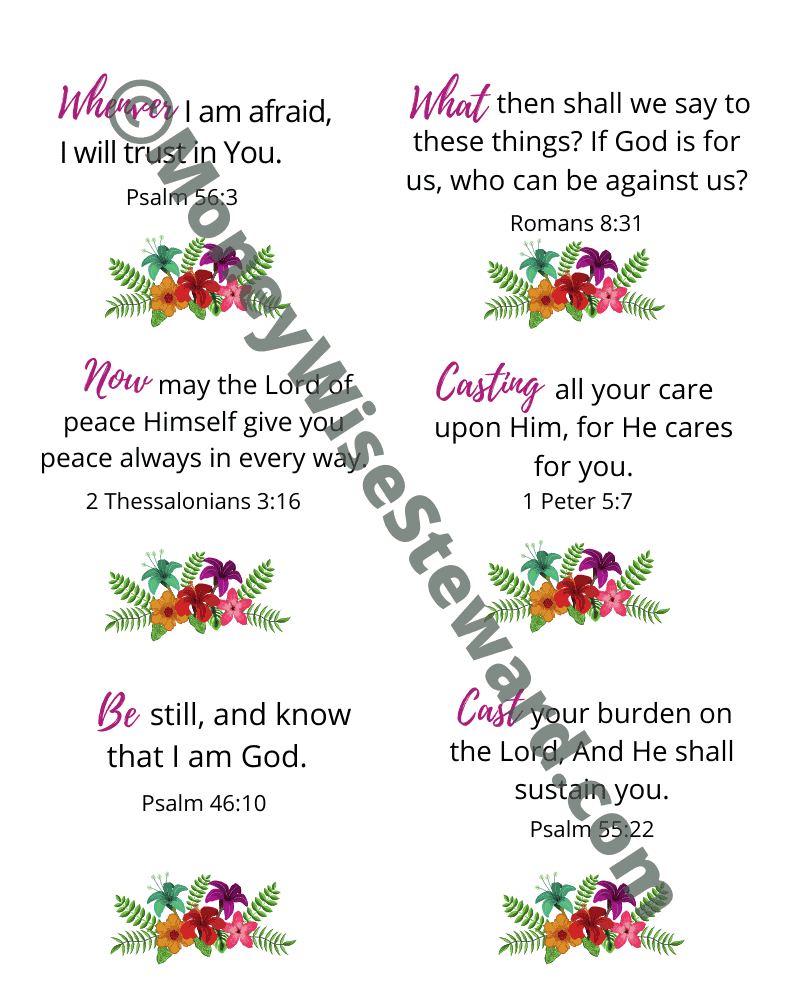 You can also laminate (this is what I use) them if you'd like. It will help keep them in good condition. I pray that you can benefit from this free anxiety printable.
Anxiety Scripture
The Bible has many different versions available. The words of encouragement below are from the New King James Version.
Bible Verses About Anxiety in the Old Testament
Psalms for Anxiety
Psalm 3:3-4 – But You, O Lord, are a shield for me, My glory and the One who lifts up my head. I cried to the Lord with my voice, And He heard me from His holy hill. Selah
Psalm 23:4 – Yea, though I walk through the valley of the shadow of death, I will fear no evil; For You are with me; Your rod and Your staff, they comfort me.
Psalm 37:3-4 – Trust in the Lord, and do good; Dwell in the land, and feed on His faithfulness. Delight yourself also in the Lord, And He shall give you the desires of your heart.
Psalm 46:10 – Be still, and know that I am God; I will be exalted among the nations, I will be exalted in the earth!
Psalm 55:22 – Cast your burden on the Lord, And He shall sustain you; He shall never permit the righteous to be moved.
Psalm 56:3 – Whenever I am afraid, I will trust in You.
Psalm 112:7 – He will not be afraid of evil tidings; His heart is steadfast, trusting in the Lord.
Psalm 143:8 – Cause me to hear Your lovingkindness in the morning, For in You do I trust; Cause me to know the way in which I should walk, For I lift up my soul to You.
Psalm 121:1-2 – A Song of Ascents. I will lift up my eyes to the hills– From whence comes my help? My help comes from the Lord, Who made heaven and earth.
Bible Verses to Help with Anxiety
Proverbs 3:5-6 – Trust in the Lord with all your heart, And lean not on your own understanding; In all your ways acknowledge Him, And He shall direct your paths.
Proverbs 12:25 – Anxiety in the heart of man causes depression, But a good word makes it glad.
Isaiah 43:1-3 – But now, thus says the Lord, who created you, O Jacob, And He who formed you, O Israel: "Fear not, for I have redeemed you; I have called you by your name; You are Mine. When you pass through the waters, I will be with you; And through the rivers, they shall not overflow you. When you walk through the fire, you shall not be burned, Nor shall the flame scorch you. For I am the Lord your God, The Holy One of Israel, your Savior; I gave Egypt for your ransom, Ethiopia, and Seba in your place.
Jeremiah 29:11 – For I know the thoughts that I think toward you, says the Lord, thoughts of peace and not of evil, to give you a future and a hope.
Scriptures for Anxiety in the New Testament
Matthew 6:25-27 – Therefore I say to you, do not worry about your life, what you will eat or what you will drink; nor about your body, what you will put on. Is not life more than food and the body more than clothing? Look at the birds of the air, for they neither sow nor reap nor gather into barns; yet your heavenly Father feeds them. Are you not of more value than they? Which of you by worrying can add one cubit to his stature?
Matthew 6:33 – But seek first the kingdom of God and His righteousness, and all these things shall be added to you.
Matthew 6:34 – Therefore do not worry about tomorrow, for tomorrow will worry about its own things. Sufficient for the day is its own trouble.
Matthew 11:28-30 – Come to Me, all you who labor and are heavy laden, and I will give you rest. Take My yoke upon you and learn from Me, for I am gentle and lowly in heart, and you will find rest for your souls. For My yoke is easy and My burden is light.
Bible Scriptures for Anxiety
Luke 12:25 – And which of you by worrying can add one cubit to his stature?
John 14:27 – Peace I leave with you, My peace I give to you; not as the world gives do I give to you. Let not your heart be troubled, neither let it be afraid.
Romans 8:31 – What then shall we say to these things? If God is for us, who can be against us?
Romans 8:35-39 – Who shall separate us from the love of Christ? Shall tribulation, or distress, or persecution, or famine, or nakedness, or peril, or sword? As it is written: "For Your sake we are killed all day long; We are accounted as sheep for the slaughter." Yet in all these things we are more than conquerors through Him who loved us. For I am persuaded that neither death nor life, nor angels nor principalities nor powers, nor things present nor things to come, nor height nor depth, nor any other created thing, shall be able to separate us from the love of God which is in Christ Jesus our Lord.
Colossians 3:15 – And let the peace of God rule in your hearts, to which also you were called in one body; and be thankful.
1 Corinthians 10:13 – No temptation has overtaken you except such as is common to man; but God is faithful, who will not allow you to be tempted beyond what you are able, but with the temptation will also make the way of escape, that you may be able to bear it.
Calming Bible Verses
Philippians 4:6-7 – Be anxious for nothing, but in everything by prayer and supplication, with thanksgiving, let your requests be made known to God; and the peace of God, which surpasses all understanding, will guard your hearts and minds through Christ Jesus.
2 Thessalonians 3:16 – Now may the Lord of peace Himself give you peace always in every way. The Lord be with you all.
Hebrews 12:1-2 – Therefore we also, since we are surrounded by so great a cloud of witnesses, let us lay aside every weight, and the sin which so easily ensnares us, and let us run with endurance the race that is set before us, looking unto Jesus, the author and finisher of our faith, who for the joy that was set before Him endured the cross, despising the shame, and has sat down at the right hand of the throne of God.
Hebrews 13:6 – So we may boldly say: "The Lord is my helper; I will not fear. What can man do to me?
1 Peter 5:7 – Casting all your care upon Him, for He cares for you.
Bible Quotes About Anxiety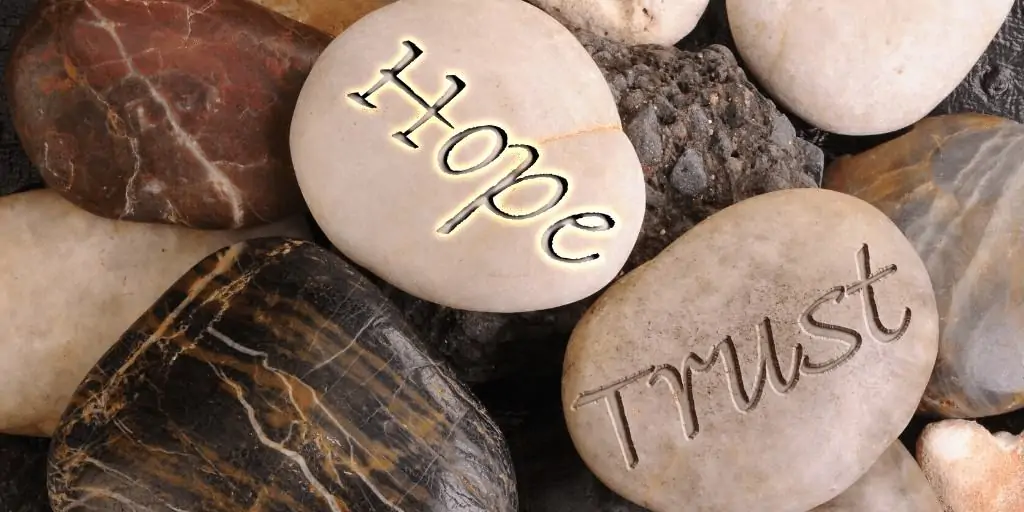 These Anxiety Bible quotes have been really encouraging to me. I'm praying that they will be an encouragement to you too!
"Anxiety does not empty tomorrow of its sorrows, but only empties today of its strength." – Charles Spurgeon
"The little troubles and worries of life may be as stumbling blocks in our way, or we may make them stepping-stones to a nobler character and to Heaven. Troubles are often the tools by which God fashions us for better things." – Henry Ward Beecher
"As you walk through the valley of the unknown, you will find the footprints of Jesus both in front of you and beside you." – Charles Stanley
"No one can pray and worry at the same time." – Max Lucado
"A Christian's freedom from anxiety is not due to some guaranteed freedom from trouble, but to the folly of worry and especially to the confidence that God is our Father, that even permitted suffering is within the orbit of His care." – John Stott
"Where does your security lie? Is God your refuge, your hiding place, your stronghold, your shepherd, your counselor, your friend, your redeemer, your savior, your guide? If He is, you don't need to search any further for security." – Elisabeth Elliot
"The beginning of anxiety is the end of faith, and the beginning of true faith is the end of anxiety." – George Mueller
"Our yesterdays present irreparable things to us; it is true that we have lost opportunities that will never return, but God can transform this destructive anxiety into a constructive thoughtfulness for the future. Let the past sleep, but let it sleep on the bosom of Christ. Leave the Irreparable Past in His hands, and step out into the Irresistible Future with Him." – Oswald Chambers
What are your Favorite Bible Verses about Anxiety?
My favorite scriptures for anxiety are John 14:27, Philippians 4:6-7, and Psalm 3:3-4.
These Bible verses have got me through some tough times. I've memorized these scriptures so I can keep them close to my heart when I face anxiety.
Check out more Bible Verses: