We all experience fear at some point in life. Thankfully, as believers, we can trust God to protect us. We can express our faith and encourage others not to fear by wearing Christian apparel.
Our I Will Not fear Christian clothing collection is inspired by Psalm 118:6, "The Lord is on my side; I will not fear. What can man do to me?". NKJV
Our full collection of I Will Not Fear Christian Clothing is below. This design comes in multiple colors and sizes. Click on "view product" to see the different sizes and color variations.
There is a flat shipping rate of $5.95 on all orders under $35. We offer free shipping on all orders over $35. There is no coupon code required. We are currently only shipping to the USA.
Click this Christian clothing shop link to view our entire store. You can view the clothing reviews for these apparel items in the comment section below.
Here are pictures of my daughters wearing our I Will Not Fear Christian Apparel. All of the items we sell are made of great quality and are comfortable.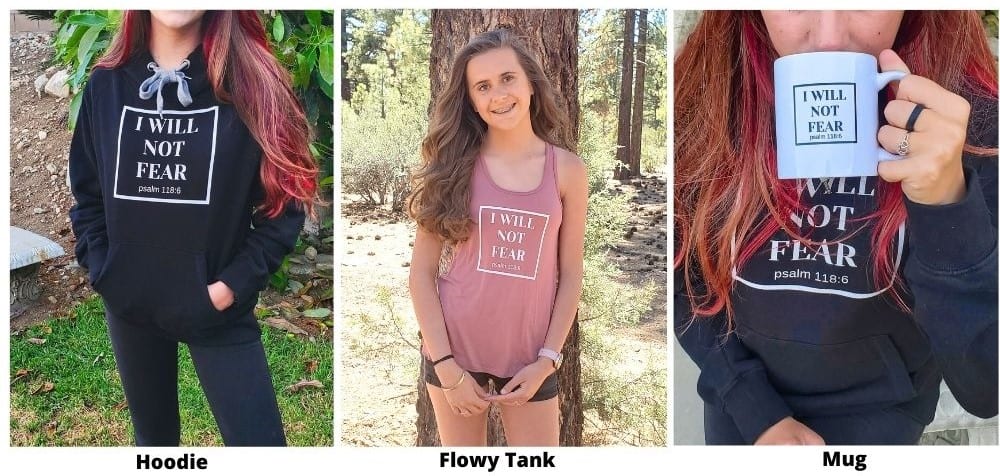 What Does the Bible Say About Fear?
There is so much going on all around the world that can make us feel afraid. We fear for our kids, our spouses, our finances, our safety, etc.
The Bible tells us to not fear. We are called to trust the Lord and remember that He is in control of our lives. He knows our life from beginning to end.
How Can We Overcome Fear?
The first thing we need to remember is that our minds are a battlefield. Everything that comes into our minds needs to be tested with the Word of God.
2 Corinthians 10:5 says, "We demolish arguments and every pretension that sets itself up against the knowledge of God, and we take captive every thought to make it obedient to Christ." NIV
We need to take our thoughts captive and trust that the Lord is in control. If we allow ourselves to think about thoughts that don't line up with Christ, we start to worry and fear.
God has given us a spirit with a sound mind, not a spirit of fear (2 Timothy 1:7). We need to recognize that if we are fearing something, it's not from the Lord.
Sure, our flesh can act on our emotions but we need to realize that our emotions and feelings can lead us astray. The Bible is the only Truth.
We need to read our Bible's so we can learn more about fear in the Bible and pray to Jesus for protection.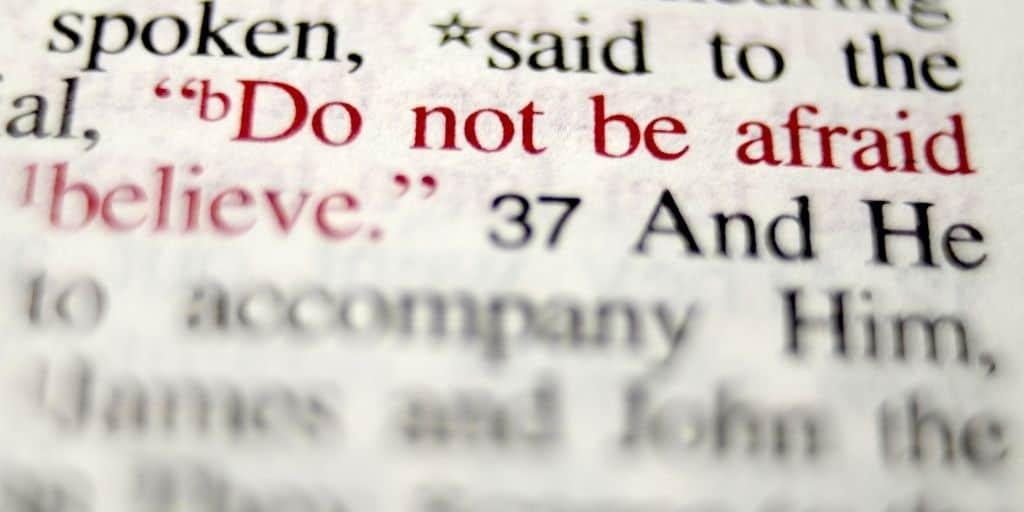 Scripture on Fear
Here are some of my favorite Bible verses about fear. I love how the Bible gives us wisdom about every situation we face.
You should try to memorize these scriptures on fear so you are armed when fear tries to come in. If memorizing is hard for you, make 3×5 notecards of these Bible verses and keep them with you at all times.
God's Word is our armor and we can use it to get through anything in life. Making the decision to have faith instead of fear will keep you comforted and at peace.
The Bible verses about fear below are from the ESV.
Scripture on Fear from the Old Testament
"You shall not fear them, for it is the LORD your God who fights for you." Deuteronomy 3:22
"Be strong and courageous. Do not fear or be in dread of them, for it is the LORD your God who goes with you. He will not leave you or forsake you." Deuteronomy 31:6
"Have I not commanded you? Be strong and courageous. Do not be frightened, and do not be dismayed, for the LORD your God is with you wherever you go." Joshua 1:9
"Even though I walk through the valley of the shadow of death, I will fear no evil, for you are with me; your rod and your staff, they comfort me." Psalm 23:4
"The LORD is my light and my salvation; whom shall I fear? The LORD is the stronghold of my life; of whom shall I be afraid?" Psalm 27:1
"I sought the LORD, and he answered me and delivered me from all my fears." Psalm 34:4
"When I am afraid, I put my trust in you." Psalm 56:3
"The LORD is on my side; I will not fear. What can man do to me?" Psalm 118:6-7
"Say to those who have an anxious heart, "Be strong; fear not! Behold, your God will come with vengeance, with the recompense of God. He will come and save you." Isaiah 35:4
"Fear not, for I am with you; be not dismayed, for I am your God; I will strengthen you, I will help you, I will uphold you with my righteous right hand." Isaiah 41:10
"For I am the LORD your God who takes hold of your right hand and says to you, Do not fear; I will help you. 14 Do not be afraid, you worm Jacob, little Israel, do not fear, for I myself will help you," declares the LORD, your Redeemer, the Holy One of Israel." Isaiah 41:13-14
"But now thus says the LORD, he who created you, O Jacob, he who formed you, O Israel: "Fear not, for I have redeemed you; I have called you by name, you are mine." Isaiah 43:1
Bible Verses about Fear in the New Testament
"Peace I leave with you; my peace I give to you. Not as the world gives do I give to you. Let not your hearts be troubled, neither let them be afraid." John 14:27
"But overhearing what they said, Jesus said to the ruler of the synagogue, "Do not fear, only believe." Mark 5:36
"For they all saw him and were terrified. But immediately he spoke to them and said, "Take heart; it is I. Do not be afraid." Mark 6:50
"For I am sure that neither death nor life, nor angels nor rulers, nor things present nor things to come, nor powers, nor height nor depth, nor anything else in all creation, will be able to separate us from the love of God in Christ Jesus our Lord." Romans 8:38-39
"Do not be anxious about anything, but in everything by prayer and supplication with thanksgiving let your requests be made known to God." Philippians 4:6-7
"But even if you should suffer for righteousness' sake, you will be blessed. Have no fear of them, nor be troubled" 1 Peter 3:14
"There is no fear in love, but perfect love casts out fear. For fear has to do with punishment, and whoever fears has not been perfected in love." 1 John 4:18
"When I saw him, I fell at his feet as though dead. But he laid his right hand on me, saying, "Fear not, I am the first and the last" Revelation 1:17