6 Ways the Lord is My Shepherd
This article may contain affiliate links. I may earn money from the companies mentioned in this post with no additional cost to you. Please read my disclosure policy for more info. All Bible quotations are from the New King James Version (NKJV) unless otherwise stated Bible Copyright Attribution.
Psalms 23 is a very well-known verse even if you aren't a Christian. It is a foundational verse that comforts so many Christians and even those who may not fully believe in Jesus.
People from all kinds of beliefs and denominations find true comfort in those words written by David. They bring hope during times of need and during times of grieving.
It's also common to hear at a funeral as it reminds people that God is always with His children and that death isn't the end. This helps us to be comforted in walking through our day-to-day life, remembering that the Lord is my shepherd I shall not want.
When we meditate on this verse and really soak it all in, we can see that God is our Good Shepherd. When we receive salvation through Jesus, we have freedom in Christ because He died on the cross for our sins over 2000 years ago.
We don't have to face anything without God. The good news is He is always on our side. He has already won the victory. We may go through some bad storms and good times but He is all we need and nothing more. If you have Christ then you have enough, you don't lack a single thing.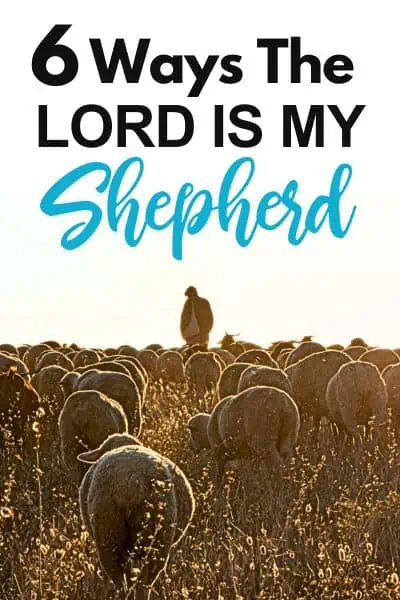 What is a Shepherd?
A Shepherd takes care of His flock, not leaving a single one behind. King David gave us a good perspective on how God is portrayed as the Good Shepherd.
Sheep are fully dependent on their shepherds. They are completely under His care and they find security and safety through the shepherd. The amazing thing is, the sheep can follow and obey the shepherd instantly because of their instincts.
As we read in many books of the Bible, shepherds are representations of a leader. Sheep are defenseless and that is why having a Shepherd to lead them is so important. A shepherd not only looks after His sheep, but he watches out for any enemies and will defend them at any moment.
We see through Bible study that David was the shepherd in his family. He was the one who was called to protect his flock and guide them. Today, you don't really think of sheep as being valuable but during biblical times they were extremely valuable.
The shepherd would watch over his flock every day and night. A shepherd not only tends to the sheep's needs but also herds them to better land, feeds them, guards them, and makes sure they have a good source of water to drink.
They keep count of them to make sure every single one is accounted for. They don't just do the bare minimum; a shepherd takes the best care of their sheep. They will always try to lead them to better pastures and away from any harm.
Just like shepherds, God guards and guides us daily and throughout our whole lives. He is the ultimate good shepherd, and His children are his sheep. God says our worth is more valuable than rubies. If we truly believe this, we will know our identity in Christ.
We are so valuable to God no matter who we are or how much we have sinned. God is with us and cares for us more than anyone else in the world. He is the perfect Shepherd whom we can trust. He shelters under his arms in times of trouble.
Where Does the Bible say the Lord is my Shepherd?
As you read throughout the Bible the term 'Shepherds' is used 37 times and 'sheep' is mentioned over 500 times which is more than any other animal in the Bible. The Bible talks about the Lord is my shepherd in Psalms 23, written by King David.
In the Old Testament God is described as a shepherd in several verses.
"And he blessed Joseph, and said: "God, before whom my fathers Abraham and Isaac walked, The God who has fed me all my life long to this day," Genesis 48:15
"And when the Chief Shepherd appears, you will receive the crown of glory that does not fade away." Psalm 23:1
"Save Your people, And bless Your inheritance; Shepherd them also, And bear them up forever." Psalm 28:9
"He will feed His flock like a shepherd; He will gather the lambs with His arm, And carry them in His bosom, And gently lead those who are with young." Isaiah 40:11
"Hear the word of the Lord, O nations, And declare it in the [a]isles afar off, and say,
'He who scattered Israel will gather him, And keep him as a shepherd does his flock.'" Jeremiah 31:10
"The LORD their God will save his people on that day as a shepherd saves his flock. They will sparkle in his land like jewels in a crown." Zachariah 9:16
"When he saw the crowds, he had compassion on them, because they were harassed and helpless, like sheep without a shepherd." Matthew 9:36
"I am the good shepherd; and I know My sheep, and am known by My own. As the Father knows Me, even so I know the Father; and I lay down My life for the sheep." John 10:14-15
"And when the Chief Shepherd appears, you will receive the crown of glory that does not fade away." 1 Peter 5:4
"For the Lamb at the center of the throne will be their shepherd; 'he will lead them to springs of living water. 'And God will wipe away every tear from their eyes.'" Revelation 7:17
We see the Lord as our Shepherd, then, now, and always. It's meant to resonate within our hearts and that's how we can find true contentment. When David was talking about lacking nothing he meant finding contentment in God.
If we have God on our side, that's all we need. We don't have to worry because He provides us with all our needs and leads us to better places. We can rest in Him and find peace when we are still in His presence.
We need to let go and let God guide the way for us. Let Him guide you, obey His Word, and follow Him just like sheep follow their shepherd. He will strengthen you as you go through the hard trials and seasons of life.
The Lord is My Shepherd Psalm
"The Lord is my shepherd; I shall not want. He makes me to lie down in green pastures; He leads me beside the still waters. He restores my soul; He leads me in the paths of righteousness For His name's sake.

Yea, though I walk through the valley of the shadow of death, I will fear no evil; For You are with me; Your rod and Your staff, they comfort me.

You prepare a table before me in the presence of my enemies; You anoint my head with oil; My cup runs over. Surely goodness and mercy shall follow me All the days of my life; And I will dwell in the house of the Lord Forever." Psalm 23
Ways the Lord is My Shepherd
We would be absolutely lost without a shepherd to help guide us in life and guard us through danger. We need a shepherd to lead us through it all.
1. God Holds Us
A shepherd owns his sheep, they are his property. The good shepherd created us, we are His. He bought us with a price, paid our debt, and cares for us with unfailing love.
2. God Provides For Us
A shepherd provides his sheep with suitable drinking water and nourishing food. Our Lord provides us with all of our needs. Despite how much we have sinned, we are still so blessed beyond all measure.
The Lord is so gracious with us that He not only provides for our needs but He blesses us beyond our need.
3. God Leads Us
As Christians, we go through many hard trials and face so much unknown. A shepherd leads his flock to better things and better places. We cannot go through life and get out of the pit of darkness without God's light to carry us through.
The Lord leads us through the dark times and all the good. He makes sure we all are accounted for at all times.
4. God Restores Us
Sheep are fearful animals and very defenseless. As Christians, we are quite similar. At times we become afraid and blind. We face struggles, we get hurt, and we often worry during times of hard trials.
God is our security. He's the good shepherd and makes sure we can rest and be still in His presence. He provides shelter for us where we can find contentment and true peace.
When we rest in the Lord we can fully relax and lie down. For there is nothing to fear when the Lord is watching over us always.
5. God Guides Us
A good shepherd guides his sheep to better pastures and knows just the right path to take. He guides us from going the wrong way and where we can get lost.
Without the good shepherds' direction, we would be left to go astray. But the Lord continues to guide us and guides us through the weary places to a better path.
6. God Protects Us
The good shepherd guides his sheep to better pastures but before reaching the destination, there will be some valleys they will need to go through. As we are walking with the Lord each day and onward toward Heaven, we will face hard times.
We all will have to go through valleys and storms. God's light will help us through even in the darkest of places. He can see beyond the distance that we can see with our eyes and knew us before we were even born.
He protects us and guides us through life. The good shepherd prospers us. When we are saved we are a new creation. God always finds the good even during the trials we face.
God pours out so much love and grace towards us that our cup is running over constantly with blessings. We are prosperous and rich because we are as valuable as rubies and rich in Christ.