Spiritual Warfare Explained: 6 Ways to Win the Spiritual Battle
This article may contain affiliate links. I may earn money from the companies mentioned in this post with no additional cost to you. Please read my disclosure policy for more info. All Bible quotations are from the New King James Version (NKJV) unless otherwise stated Bible Copyright Attribution.
I used to think of the trials and tribulations in my life in non-spiritual terms. This led me to come up with non-spiritual solutions. But as I've been studying the Bible, I've learned the power of spiritual solutions.
To think of spiritual solutions, we need to acknowledge that a spiritual battle is going on. We are so busy wondering about the reason behind the trials and tribulations in our lives that we often forget that a spiritual war is going on. We are actually fighting evil forces.
Spiritual warfare is not just a physical battle but also a mental and emotional one in which our minds are the battlefields. In this article, I will talk about what exactly spiritual warfare is and how to win the spiritual battle.
What Is Spiritual Warfare?
Spiritual warfare is the battle against the forces of evil in the world. Whether we acknowledge it or not, spiritual warfare is real and damaging. The devil is constantly trying to win over our hearts and deprive us of God's love.
To understand spiritual war, let us compare it to physical war where groups, such as governments, states, and countries engage in intense conflict to compete over territory, resources, and power. In spiritual warfare, the battle is between the devil and us. The devil wants to gain power and control over us. He wants to separate us from our Lord.
It's important that we understand how spiritual warfare works so we can fight against these evil forces. If we are not in a strong relationship with our Father in heaven, we will be led astray by the devil in no time.
It is crucial to guard our hearts, take our thoughts captive and be watchful to identify and win the spiritual battle.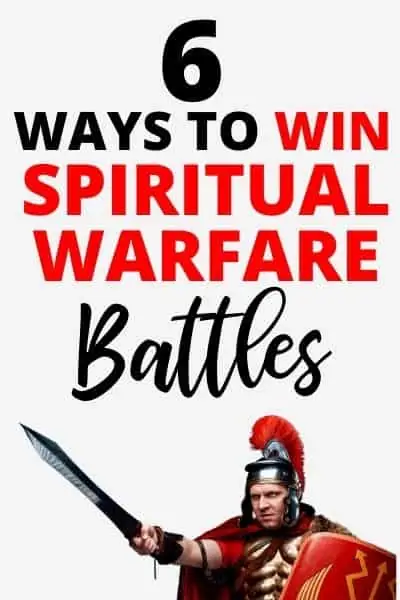 What Does The Bible Say About Spiritual Warfare?
The Bible has clear records of several instances of demonic activity.
Paul talks about how to win the spiritual war in Ephesians 6:10-13 ESV:
"Finally, be strong in the Lord and in the strength of his might. Put on the whole armor of God, that you may be able to stand against the schemes of the devil. For we do not wrestle against flesh and blood, but against the rulers, against the authorities, against the cosmic powers over this present darkness, against the spiritual forces of evil in the heavenly places. Therefore take up the whole armor of God, that you may be able to withstand in the evil day, and having done all, to stand firm."
The Bible warns us to be sober-minded and keep a watchful eye on the devil who prowls around like a roaring lion.
"Be sober-minded; be watchful. Your adversary the devil prowls around like a roaring lion, seeking someone to devour." 1 Peter 5:8 ESV
Paul highlights that Satan disguises himself as an angel of light to deceive his victims.
"And no wonder, for even Satan disguises himself as an angel of light." 2 Corinthians 11:14 ESV
Paul further describes "who" we wrestle against in spiritual war in Ephesians 6:12 ESV:
"For we do not wrestle against flesh and blood, but against the rulers, against the authorities, against the cosmic powers over this present darkness, against the spiritual forces of evil in the heavenly places."
All these scriptures confirm the existence of demonic activity and spiritual warfare. The scripture also tells us how our leaders fought in spiritual warfare and won the battle.
For instance, Satan tried to turn Job against God by taking all his wealth, property, and even his children. But Job had unwavering faith in the Lord which resulted in Satan failing miserably. Consequently, God showered His blessings upon Job and even increased his lifespan by 140 years.
How To Fight Spiritual Warfare
Memorizing Bible verses, studying the Truth, and knowing who I am in Christ have helped me understand the keys to success in spiritual warfare. What has helped me the most is praying in perseverance and truly believing that I will never be shaken with the Lord on my side.
Below are a few actionable steps to fight spiritual warfare and win the battle.
1. Acknowledge The War
The first and most important step to win a spiritual war is to become aware of the devil and the spiritual warfare you are in. Satan has chosen our mental space as his battlefield. He messes it up, makes us think he is the good guy, and attracts us to sinful actions, trying to turn us against the Lord.
The signs that you are in a spiritual attack include sudden trials and tribulations, overwhelming fear and anxiety, slipping away from God's paths, and having a troubled relationship with Him.
When you acknowledge that you are in a war, you suddenly become cautious and consciously call out trying to improve your relationship with God.
The Bible clearly states the consequences of lack of knowledge in Hosea 4:6 ESV:
"My people are destroyed for lack of knowledge; because you have rejected knowledge, I reject you from being a priest to me. And since you have forgotten the law of your God, I also will forget your children."
2. Put on the Armor of God
Paul tells us to put on the whole armor of God to fight against the schemes of the devil.
"Put on the whole armor of God, that you may be able to stand against the schemes of the devil." Ephesians 6:11 ESV
But what does it mean to put on the armor of God?
There are 6 pieces of God's Armor and they each protect us differently. We put on each piece of God's Armor to protect ourselves. Every day, the evil forces are looking for an opportunity to try to turn us against God. We need to wear each piece of the Armor of God for full protection.
3. Pray Without Ceasing
When you put your trust in God and submit your worries and anxieties to Him, you become fully equipped for the spiritual battle.
Paul tells the Thessalonians to give thanks in all circumstances and pray without ceasing.
"Rejoice always, pray without ceasing, give thanks in all circumstances; for this is the will of God in Christ Jesus for you." 1 Thessalonians 5:16-18 ESV
When you seek His presence continually, it becomes impossible for Satan to drive a wedge between you and God. That is how powerful prayer is.
To pray without ceasing, you need to make time for prayer every day and integrate prayer into the tasks of your daily life (like during chores, etc). Talk to God like you talk to your closest friend. Pray for spiritual vision and ask the Lord to open your eyes to see the actions of the evil forces.
The Bible clearly demonstrates how Jesus prayed without ceasing. He prayed in the mornings, in the evenings, and before and after every event in his life.
4. Breathe the Word of God
Let me remind you of the power of God's Word through Hebrews 4:12 ESV :
"For the word of God is living and active, sharper than any two-edged sword, piercing to the division of soul and of spirit, of joints and of marrow, and discerning the thoughts and intentions of the heart."
God's Word is so powerful that when I meditate on the scriptures, I feel sudden soothing waves of calmness gushing over me. His Word is the most powerful spiritual weapon one can use in spiritual battles.
When faced with temptations, Jesus used the Word of God as his primary spiritual weapon. He always quoted the Word of God using the phrase "It is written…".
So every time you feel evil trying to bring you down, hit the forces with powerful Bible verses.
5. Praise The Lord
Praise is another powerful spiritual weapon that can defeat Satan. When we praise God even when we are at our weakest points, it confuses the enemy.
Being able to praise God in the middle of the biggest trials in our lives reflects our unfaltering belief in our Father. This makes the enemy feel defeated. Praise Him in every circumstance.
Shout to God with loud songs of joy (Psalm 47:1)
Lift up your hands (Psalm 63:4)
Praise His name with dancing (Psalm 149:3)
6. Have Unwavering Faith in God
I feel so powerless when my faith begins to waver. Every time I reach the brink of exhaustion, I turn the pages of my Bible to 1 John 5:4-5 ESV:
"For everyone who has been born of God overcomes the world. And this is the victory that has overcome the world—our faith. Who is it that overcomes the world except the one who believes that Jesus is the Son of God?"
It is crucial to have unwavering faith in our beloved Father to fight against the evil forces in this world. James assures us that the devil will flee if we submit ourselves to God (James 4:7).
Spiritual Warfare Prayers
I trust God more than I trust myself. When I grow impatient while waiting for His answer, I remind myself that God's timing is perfect.
Our Father wants us to open our hearts and submit all our worries before Him. When you are in a spiritual battle, ask Him to give you the courage and wisdom to fight evil forces. Be yourself and describe what you are going through. Talk to Him like you talk to your best friend.
Below are a few Spiritual Warfare prayers that will help you tap into His power and bring down your enemies.
Prayer for Strength in Spiritual Warfare
God in Heaven, I am constantly being pulled down by the evil forces in the world. My enemy is at work trying to push me towards worldly temptations. Lord, I need strength and courage to fight this spiritual battle. I want to reject all evil forces and resist the devil so that he would stop trying to turn me against you. Father, please make me brave and strengthen me to fight this battle. I will not be able to fight, let alone face, the spiritual forces without you. Open my eyes to your will and desires so that I can walk closer with you. All praise goes to you, my Savior. Amen.
Prayer for Guidance in Spiritual Warfare
Almighty God, the spiritual battle feels intense these days. Watch over my paths and guide me in everything I do. I want to resist the devil and win the battle. Forgive me, Father, for the times I turned away from You and lured towards worldly temptations. I choose you for the rest of my life. O Lord, put my enemies to shame and save me from his evil plots. Bless me with your wisdom and cover me with your presence. Amen.
Prayer for Hope in Spiritual Warfare
Heavenly Father, I feel alone and discouraged. My enemies are trying hard to lure me into evil acts and worldly temptations. Protect me from the violent hands of the devil, Lord. Fill me up with hope and give me the strength to stand up and bring down my enemies. Father, please set me free from this hopelessness and frustration. Help me confront my enemies with your Word as my secret weapon. My miracle worker, you are my hope and refuge. With your holy armor, I can destroy my enemies and win this battle. Amen.
Spiritual Warfare Scriptures
The Bible has many different versions available. The verses below about Spiritual Warfare are from the English Standard Version (ESV). I listed these Spiritual Warfare scriptures in order of the books of the Bible below.
Deuteronomy 20:1 – When you go out to war against your enemies, and see horses and chariots and an army larger than your own, you shall not be afraid of them, for the Lord your God is with you, who brought you up out of the land of Egypt.
2 Chronicles 20:15 – And he said, "Listen, all Judah and inhabitants of Jerusalem and King Jehoshaphat: Thus says the Lord to you, 'Do not be afraid and do not be dismayed at this great horde, for the battle is not yours but God's.
Isaiah 54:17 – No weapon that is fashioned against you shall succeed, and you shall refute every tongue that rises against you in judgment. This is the heritage of the servants of the Lord and their vindication from me, declares the Lord."
Matthew 4:10-11 – Then Jesus said to him, "Be gone, Satan! For it is written, "'You shall worship the Lord your God and him only shall you serve.'" Then the devil left him, and behold, angels came and were ministering to him.
Luke 10:19 – Behold, I have given you authority to tread on serpents and scorpions, and over all the power of the enemy, and nothing shall hurt you.
John 10:10 – The thief comes only to steal and kill and destroy. I came that they may have life and have it abundantly.
2 Corinthians 10:3-4 – For though we walk in the flesh, we are not waging war according to the flesh. For the weapons of our warfare are not of the flesh but have divine power to destroy strongholds.
2 Thessalonians 3:3 – But the Lord is faithful. He will establish you and guard you against the evil one.
1 Timothy 6:12 – Fight the good fight of the faith. Take hold of the eternal life to which you were called and about which you made the good confession in the presence of many witnesses.
1 Peter 5:8 – Be sober-minded; be watchful. Your adversary the devil prowls around like a roaring lion, seeking someone to devour.
Are You Using Your Spiritual Weapons to Fight the Spiritual Battle?
The Bible gives us Spiritual weapons to defeat the enemy. Taking the time to study the Bible will help you learn how to use these weapons. Don't allow yourself to get weary. Remember to "look up" because Jesus is coming and He already won the battle (John 16:33).
Don't lose hope in Jesus. Stand strong in your faith. He is with us and gives us the strength to press on. The Bible is full of prophecy and if you study your Bible, you can see how it will all end. Jesus has the VICTORY!