45 Scriptures on Peace Plus! Free Printable
This article may contain affiliate links. I may earn money from the companies mentioned in this post with no additional cost to you. Please read my disclosure policy for more info. All Bible quotations are from the New King James Version (NKJV) unless otherwise stated Bible Copyright Attribution.
We live in a world where peace is becoming less and less common. There's so much confusion about the Truth which causes division.
Thankfully, there are plenty of scriptures on peace in the Bible. We all suffer from situations that steal our peace and joy.
If the Bible is our Truth then we don't have to settle for that.
The Bible tells us specifically that the enemy comes only to steal, kill and destroy. He doesn't want us to experience the peace that Jesus came to give us.
"The thief comes only to steal and kill and destroy. I came that they may have life and have it abundantly." John 10:10 ESV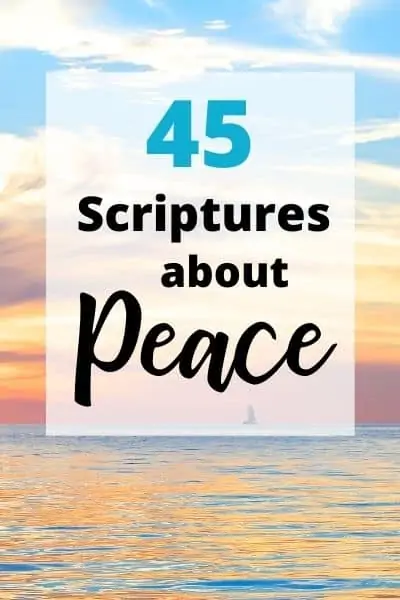 What Does the Bible Say About Peace?
The Bible says peace comes from within you. There is no promise in the Bible that says we will have peace in this world. In fact, there are Bible verses that say as Christians we will experience trouble.
"These things I have spoken unto you, that in me ye might have peace. In the world ye shall have tribulation: but be of good cheer; I have overcome the world." John 16:33 KJV
Jesus tells us in the Bible verse about peace above to be of good cheer because He has overcome the world.
Having peace comes through faith in Jesus Christ. As a believer, we should be comforted with peace knowing Jesus already overcame the world.
The Bible is full of promises to the believer. These promises speak about God and His unfailing love for us. We need to rest in Jesus and trust that He is with us and will comfort us with peace.
Bible Verses about Peace
Peace is an important topic to study. If we don't hold on to peace, we will fall into the trap of the world.
In order to learn more about peace in the Bible, you need to study your Bible. I'm going to share some of my favorite verses about peace and I pray that this will encourage you to memorize these scriptures.
They will help you remember what Jesus came to give you personally. When you are in a place where you are being challenged remember these Bible scriptures on peace they will give you peace and comfort.
Free Printable Verses About Peace
I made these printable Bible verses about peace so you can take them with you. I love keeping 3 x 5 cards with me so I can reference Bible verses on the go.
All you need to do is click this free printable link to get your free download, print it on card stock (this is what I use), cut it out, punch a hole in the corner, and use a loose-leaf ring (this is what I use) to secure it.
You can also laminate (this is what I use) them if you'd like. It will help keep them in good condition. I pray that you will benefit from these free Bible scriptures on peace.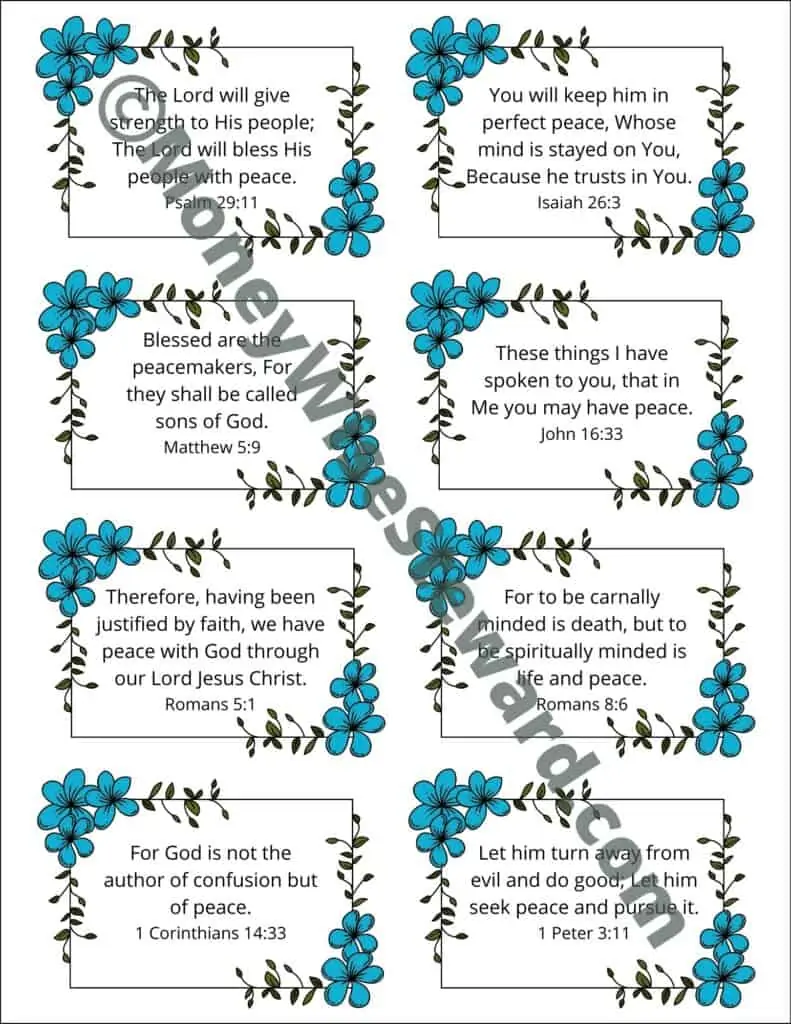 Scriptures on Peace
The Bible has many different versions available. The Bible scriptures below are from the New King James Version.
I listed these peace verses in order of the books of the Bible below.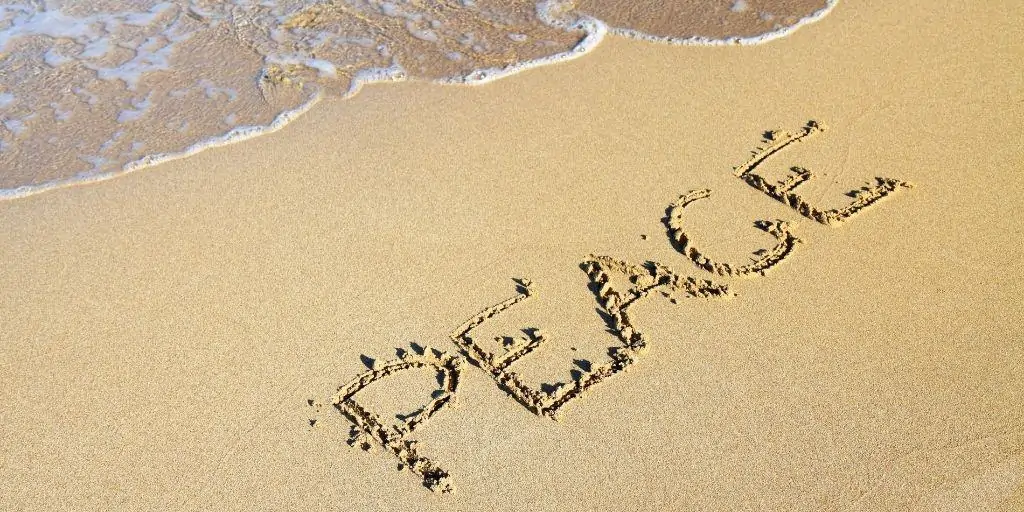 Bible Verses about Peace in the Old Testament
Numbers 6:24 – 26 – The Lord bless you and keep you; The Lord make His face shine upon you, And be gracious to you; The Lord lift up His countenance upon you, And give you peace.
Psalms for Peace
Psalm 4:8 – I will both lie down in peace, and sleep; For You alone, O Lord, make me dwell in safety.
Psalm 29:11 – The Lord will give strength to His people; The Lord will bless His people with peace.
Psalm 34:14 – Depart from evil and do good; Seek peace and pursue it.
Psalm 37:37 – Mark the blameless man, and observe the upright; For the future of that man is peace.
Psalm 72:7 – In His days the righteous shall flourish, And abundance of peace, Until the moon is no more.
Psalm 85:8 – I will hear what God the Lord will speak, For He will speak peace To His people and to His saints; But let them not turn back to folly.
Psalm 119:165 – Great peace have those who love Your law, And nothing causes them to stumble.
Proverbs 3:17 – Her ways are ways of pleasantness, And all her paths are peace.
Proverbs 12:20 – Deceit is in the heart of those who devise evil, But counselors of peace have joy.
Proverbs 16:7 – When a man's ways please the Lord, He makes even his enemies to be at peace with him.
Peace in Christ
Isaiah 9:6 – For unto us a Child is born, Unto us a Son is given; And the government will be upon His shoulder. And His name will be called Wonderful, Counselor, Mighty God, Everlasting Father, Prince of Peace.
Isaiah 26:3 – You will keep him in perfect peace, Whose mind is stayed on You, Because he trusts in You.
Isaiah 26:12 – Lord, You will establish peace for us, For You have also done all our works in us.
Isaiah 32:17 – The work of righteousness will be peace, And the effect of righteousness, quietness and assurance forever.
Isaiah 52:7 – How beautiful upon the mountains Are the feet of him who brings good news, Who proclaims peace, Who brings glad tidings of good things, Who proclaims salvation, Who says to Zion, "Your God reigns!"
Isaiah 53:5 – But He was wounded for our transgressions, He was bruised for our iniquities; The chastisement for our peace was upon Him, And by His stripes we are healed.
Isaiah 54:10 – For the mountains shall depart And the hills be removed, But My kindness shall not depart from you, Nor shall My covenant of peace be removed," Says the Lord, who has mercy on you.
Isaiah 55:12 – For you shall go out with joy, And be led out with peace; The mountains and the hills Shall break forth into singing before you, And all the trees of the field shall clap their hands.
Daniel 10:19 – And he said, "O man greatly beloved, fear not! Peace be to you; be strong, yes, be strong!" So when he spoke to me I was strengthened, and said, "Let my lord speak, for you have strengthened me."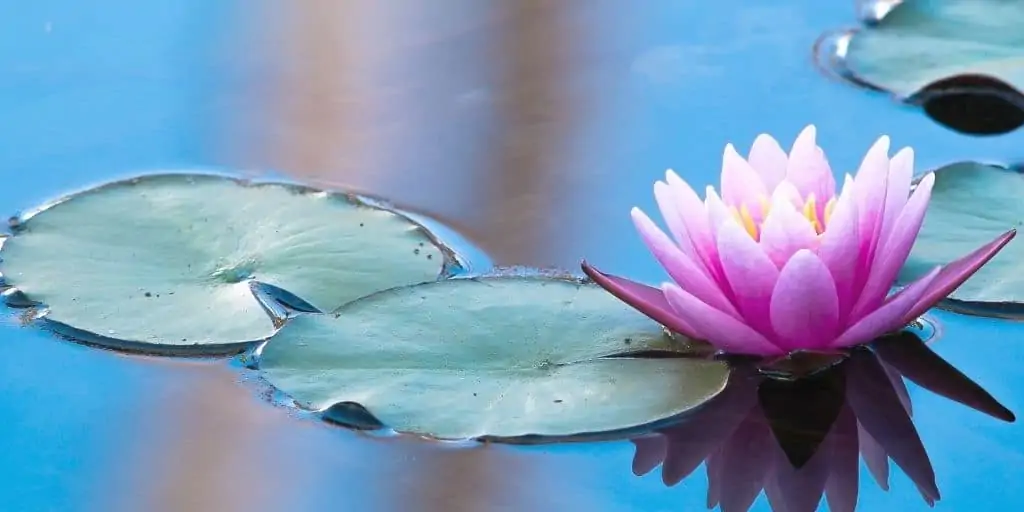 Verses about Peace in the New Testament
Matthew 5:9 – Blessed are the peacemakers, For they shall be called sons of God.
John 14:27 – Peace I leave with you, My peace I give to you; not as the world gives do I give to you. Let not your heart be troubled, neither let it be afraid.
John 16:33 – These things I have spoken to you, that in Me you may have peace. In the world you will have tribulation; but be of good cheer, I have overcome the world.
Romans 5:1 – Therefore, having been justified by faith, we have peace with God through our Lord Jesus Christ,
Romans 8:6 – For to be carnally minded is death, but to be spiritually minded is life and peace.
Romans 12:18 – If it is possible, as much as depends on you, live peaceably with all men.
Romans 14:17 – For the kingdom of God is not eating and drinking, but righteousness and peace and joy in the Holy Spirit.
Romans 14:19 – Therefore let us pursue the things which make for peace and the things by which one may edify another.
Romans 15:13 – Now may the God of hope fill you with all joy and peace in believing, that you may abound in hope by the power of the Holy Spirit.
Romans 16:20 – And the God of peace will crush Satan under your feet shortly. The grace of our Lord Jesus Christ be with you. Amen.
Bible Verses about Peace and Comfort
1 Corinthians 14:33 – For God is not the author of confusion but of peace, as in all the churches of the saints.
2 Corinthians 13:11 – Finally, brethren, farewell. Become complete. Be of good comfort, be of one mind, live in peace; and the God of love and peace will be with you.
Galatians 5:22-23 – But the fruit of the Spirit is love, joy, peace, longsuffering, kindness, goodness, faithfulness, gentleness, self-control. Against such there is no law.
Ephesians 2:14-16 – For He Himself is our peace, who has made both one, and has broken down the middle wall of separation, having abolished in His flesh the enmity, that is, the law of commandments contained in ordinances, so as to create in Himself one new man from the two, thus making peace, and that He might reconcile them both to God in one body through the cross, thereby putting to death the enmity.
Ephesians 4:3 – Endeavoring to keep the unity of the Spirit in the bond of peace.
Ephesians 6:15 – And having shod your feet with the preparation of the gospel of peace.
Philippians 4:6-7 – Be anxious for nothing, but in everything by prayer and supplication, with thanksgiving, let your requests be made known to God; and the peace of God, which surpasses all understanding, will guard your hearts and minds through Christ Jesus.
Philippians 4:9 – The things which you learned and received and heard and saw in me, these do, and the God of peace will be with you.
Peace in Christ
Colossians 3:15 – And let the peace of God rule in your hearts, to which also you were called in one body; and be thankful.
1 Thessalonians 5:23 – Now may the God of peace Himself sanctify you completely; and may your whole spirit, soul, and body be preserved blameless at the coming of our Lord Jesus Christ.
2 Thessalonians 3:16 – Now may the Lord of peace Himself give you peace always in every way. The Lord be with you all.
Hebrews 12:14 – Pursue peace with all people, and holiness, without which no one will see the Lord:
1 Peter 3:11 – Let him turn away from evil and do good; Let him seek peace and pursue it.
2 John 1:3 – Grace, mercy, and peace will be with you from God the Father and from the Lord Jesus Christ, the Son of the Father, in truth and love.
Jude 1:2 – Mercy, peace, and love be multiplied to you.
What Are Your Favorite Scriptures on Peace?
My favorite scriptures on peace are Isaiah 26:3 and 1 Peter 3:11. Overall, these Bible verses have helped me stay encouraged and remind me that Jesus gave me peace.
Keep God close and He will give you the peace that surpasses all understanding.
Here are More Bible Verses to Guide You