20 Bible Verses About Hope Plus! Free Printable
This article may contain affiliate links. I may earn money from the companies mentioned in this post with no additional cost to you. Please read my disclosure policy for more info. All Bible quotations are from the New King James Version (NKJV) unless otherwise stated Bible Copyright Attribution.
While going through the daily hardships and struggles, it can be difficult to have what we need most: Hope.
Whenever I need encouragement to overcome the struggles, I always turn to the Bible verses about hope throughout the Bible. Studying the Truth will remind us of God's ultimate provision that is promised in the scriptures.
In this article, I've rounded up a few of my favorite verses about hope.
Whether you're struggling with your worry, anxiety, stress, or physical health, I pray that these scriptures on hope help you in this difficult time to see the light at the end of the tunnel.
What is Hope?
Hope is a feeling of expectation that something good will happen in the future. It is a feeling of trust that a certain thing will happen the right way.
Hope can also be referred to as optimism that motivates us to keep going.
The importance of hope can be appreciated only when we understand hopelessness. If there is no hope, it can be highly intimidating to look beyond what is currently happening in our lives.
However, the true definition of hope is different in the scriptures. hope in the Bible is a firm assurance that things in God's timing are certain to take place.
Christians around the world are familiar with the theme of hope as it is found throughout the Holy Bible.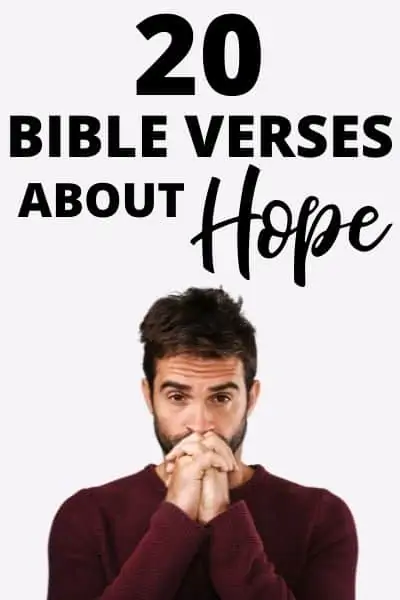 Hope in the Bible
It is important to understand that Earthly hope is different from Heavenly hope.
Earthly hope involves one being relatively sure that things are going to work out. Whereas hope in the Bible talks about events that are certainly going to take place.
There are a number of Bible verses about hope, involving the resurrection of the dead, the fulfillment of promises given to Israel, eternal life, the return of Christ, and the salvation of God.
Hope undeniably fills hearts with joy and peace through the power of God. Let us all believe that God is faithful and He will complete what He has begun.
Free Verses on Hope PDF Printable
I created this free verses on hope pdf so you take these scriptures on hope with you. All you need to do is click this free verses on hope pdf printable link to get the free printable, print it on card stock (this is what I use), cut it out, punch a hole in the corner, and use a loose leaf ring (this is what I use) to secure it.
You can also laminate (this is what I use) them if you'd like. It will help keep them in good condition. I pray that you can benefit from this free verses on hope pdf printable.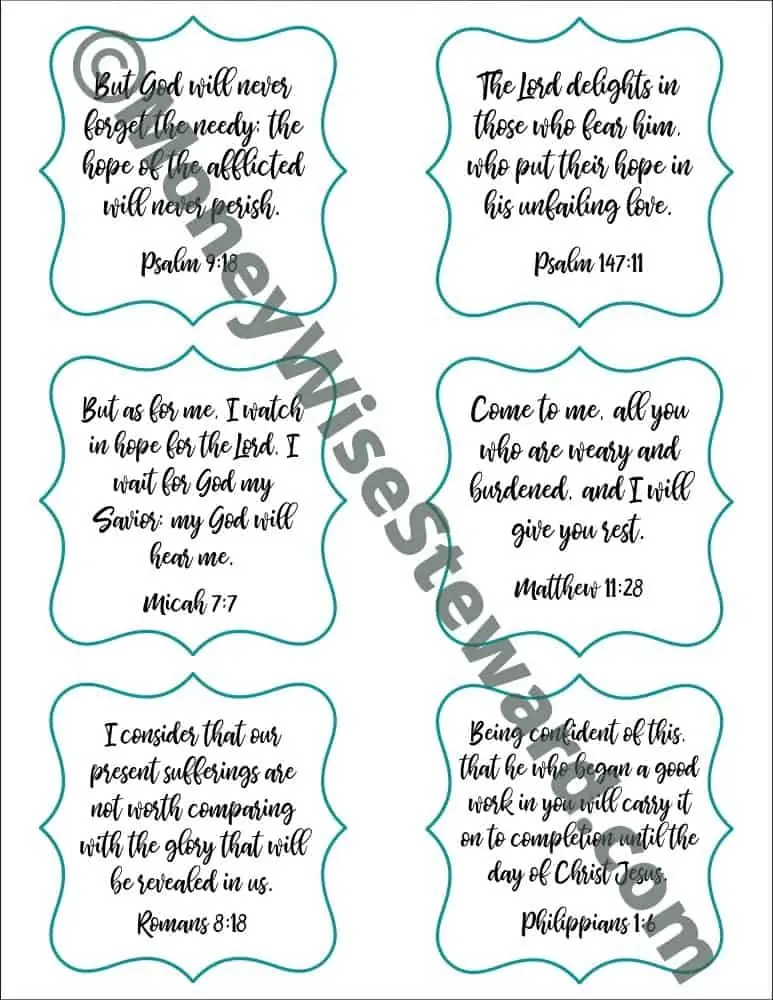 Bible Verses About Hope
The Bible has many different versions available. The Bible verses about hope below are from New International Version (NIV).
I listed these verses about hope in order of the books of the Bible below.
Scriptures on Hope in the Old Testament
Psalms About Hope
Psalm 9:18 – But God will never forget the needy; the hope of the afflicted will never perish.
Psalm 33:18-19 – But the eyes of the Lord are on those who fear him, on those whose hope is in his unfailing love, to deliver them from death and keep them alive in famine.
Psalm 62:5-6 – Yes, my soul, find rest in God; my hope comes from him. Truly he is my rock and my salvation; he is my fortress, I will not be shaken.
Psalm 121:7-8 – The Lord will keep you from all harm— he will watch over your life; the Lord will watch over your coming and going both now and forevermore.
Psalm 147:11– the LORD delights in those who fear him, who put their hope in his unfailing love.
Bible Verses About Hope and Faith
Isaiah 40:31 – but those who hope in the LORD will renew their strength. They will soar on wings like eagles; they will run and not grow weary, they will walk and not be faint.
Isaiah 43:1-2 – But now, this is what the LORD says— he who created you, Jacob, he who formed you, Israel: "Do not fear, for I have redeemed you; I have summoned you by name; you are mine. When you pass through the waters, I will be with you; and when you pass through the rivers, they will not sweep over you. When you walk through the fire, you will not be burned; the flames will not set you ablaze.
Jeremiah 17:7 – But blessed is the one who trusts in the Lord, whose confidence is in him.
Jeremiah 29:11 – "For I know the plans I have for you," declares the Lord, "plans to prosper you and not to harm you, plans to give you hope and a future."
Micah 7:7 – But as for me, I watch in hope for the Lord, I wait for God my Savior; my God will hear me.
Scriptures on Hope in the New Testament
Bible Verses About Hope in Hard Times
Matthew 11:28 – Come to me, all you who are weary and burdened, and I will give you rest.
Mark 9:23 – " 'If you can'?" said Jesus. "Everything is possible for one who believes."
Romans 8:18 – I consider that our present sufferings are not worth comparing with the glory that will be revealed in us.
Romans 15:4 – For everything that was written in the past was written to teach us, so that through the endurance taught in the Scriptures and the encouragement they provide we might have hope.
Romans 15:13 – May the God of hope fill you with all joy and peace as you trust in him, so that you may overflow with hope by the power of the Holy Spirit.
Bible Verses About Hope and Strength
2 Corinthians 4:18 – So we fix our eyes not on what is seen, but on what is unseen, since what is seen is temporary, but what is unseen is eternal.
Philippians 1:6 – Being confident of this, that he who began a good work in you will carry it on to completion until the day of Christ Jesus.
Colossians 3:1-2 – Since, then, you have been raised with Christ, set your hearts on things above, where Christ is, seated at the right hand of God. Set your mind on things above, not on earthly things.
1 Peter 1:13 – Therefore, with minds that are alert and fully sober, set your hope on the grace to be brought to you when Jesus Christ is revealed at his coming.
1 Peter 5:10 – And the God of all grace, who called you to his eternal glory in Christ, after you have suffered a little while, will himself restore you and make you strong, firm, and steadfast.
What Are Your Favorite Bible Verses About Hope?
These scriptures on hope are such a blessing. They remind us about the importance of having hope in our lives. My favorite Bible verses on hope are Isaiah 40:31 and Philippians 1:6. They remind me that God has a plan and He will carry me through.
I highly recommend memorizing your favorite scriptures about hope so you can keep them close to you at all times!
Check out more Bible verses:
Bible Verses About The New Year