20 New Year Bible Verses to Start The New Year Right
This article may contain affiliate links. I may earn money from the companies mentioned in this post with no additional cost to you. Please read my disclosure policy for more info. All Bible quotations are from the New King James Version (NKJV) unless otherwise stated Bible Copyright Attribution.
Along with the New Year come new goals, higher hopes, and well-intentioned resolutions. I always turn to the Bible for encouragement to start over and live my life according to God's will.
God has amazing plans for us. And His plans are for us to prosper in Him.
I love memorizing scriptures about love, hope, and overcoming obstacles from different Books of the Bible. Bible verses about God's promises also help me with studying the Truth in depth.
I pray that these New Year Bible verses help you start over, set new goals for the year, and start the New Year right.
New Years Scripture to Start the New Year
You can have a new beginning with the Lord by spending quality time with Him and building a closer relationship with Him.
With God all things are possible.
This powerful phrase means that when God is on our side, we can accomplish anything we want to do.
We tend to misinterpret these words as a guarantee that we can get whatever we want if we're a child of God. However, we must realize that God has complete control over our lives.
All we can do is submit to Him and trust Him to do what is best for us. This New Year, let us reflect on God's Goodness and trust Him with our lives.
Reflecting on God's Goodness
As followers of Jesus, we believe in the fundamental truth "God is Good!".
In spite of everything that has happened in our lives, the good and the bad, it is important to believe that God never leaves us. He offered us the best gift that has ever been given: his only son, the Lord Jesus.
In ourselves we are nothing. In ourselves, we do not deserve the blessings of God. However, in Christ, each one of us is precious to God. Think about the grace of God and count your blessings one by one.
But of course, sometimes we look back and feel that we were not blessed at all, especially after difficult and challenging times.
But we have to understand that all of the good things we have today are a result of what Jesus did for us – he chose to accept death on the Cross for us, for the redemption of mankind.
Be assured today that we are never alone. God is always with us and He will always provide for us.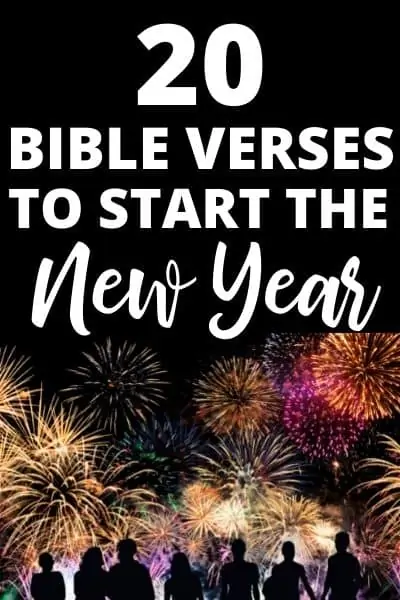 New Years Bible Verses
The Bible has many different versions available. The New Year Bible Verses below are from The English Standard Version (ESV).
New Years Scripture in the Old Testament
Deuteronomy 7:13 – He will love you, bless you, and multiply you. He will also bless the fruit of your womb and the fruit of your ground, your grain and your wine and your oil, the increase of your herds and the young of your flock, in the land that he swore to your fathers to give you.
Joshua 1:9 – Have I not commanded you? Be strong and courageous. Do not be frightened, and do not be dismayed, for the LORD your God is with you wherever you go.
Psalm 98:1 – Oh sing to the Lord a new song, for he has done marvelous things! His right hand and his holy arm have worked salvation for him.
Psalm 20:4 – May he grant you your heart's desire and fulfill all your plans!
Proverbs 16:9 – The heart of man plans his way, but the LORD establishes his steps.
Proverbs 3:5-6 – Trust in the LORD with all your heart, and do not lean on your own understanding. In all your ways acknowledge him, and he will make straight your paths.
Isaiah 40:31 – But they who wait for the LORD shall renew their strength; they shall mount up with wings like eagles; they shall run and not be weary; they shall walk and not faint.
Isaiah 43:18-19 – Remember not the former things, nor consider the things of old. Behold, I am doing a new thing; now it springs forth, do you not perceive it? I will make a way in the wilderness, and rivers in the desert.
Jeremiah 29:11 – For I know the plans I have for you, declares the LORD, plans for welfare and not for evil, to give you a future and a hope.
Zephaniah 3:17 – The LORD your God is in your midst, a mighty one who will save; he will rejoice over you with gladness; he will quiet you by his love; he will exult over you with loud singing.
New Years Scripture in the New Testament
Matthew 6:25-26 – Therefore I tell you, do not be anxious about your life, what you will eat or what you will drink, nor about your body, what you will put on. Is not life more than food, and the body more than clothing? Look at the birds of the air: they neither sow nor reap nor gather into barns, and yet your heavenly Father feeds them. Are you not of more value than they?
John 13:34-35 – A new commandment I give to you, that you love one another: just as I have loved you, you also are to love one another. By this all people will know that you are my disciples, if you have love for one another.
Romans 8:18 – For I consider that the sufferings of this present time are not worth comparing with the glory that is to be revealed to us.
2 Corinthians 5:17 – Therefore, if anyone is in Christ, he is a new creation. The old has passed away; behold, the new has come.
2 Corinthians 9:8 – And God is able to make all grace abound to you, so that having all sufficiency in all things at all times, you may abound in every good work.
Philippians 4:6 – do not be anxious about anything, but in everything by prayer and supplication with thanksgiving let your requests be made known to God.
Philippians 4:13 – I can do all things through him who strengthens me.
Philippians 4:19 – And my God will supply every need of yours according to his riches in glory in Christ Jesus.
James 1:17 – Every good gift and every perfect gift is from above, coming down from the Father of lights, with whom there is no variation or shadow due to change.
Peter 1:3 – Blessed be the God and Father of our Lord Jesus Christ! According to his great mercy, he has caused us to be born again to a living hope through the resurrection of Jesus Christ from the dead.
What Bible Verse Inspires Your Most About the New Year?
Every Bible Verse is inspiring in one way or another. Since we are focusing on the New Year, I feel really inspired by Jeremiah 29:11. It gives me hope and reminds me that God has a plan for my life.
Finding God in your life and taking Him at His Word is one of the most important parts of the Christian walk. I'd love to hear your favorite Bible verse for the New Year. Let me know in the comments below.
Check out more Bible verses: