10 Free Printable Bible Verses That Will Bless You
This article may contain affiliate links. I may earn money from the companies mentioned in this post with no additional cost to you. Please read my disclosure policy for more info. All Bible quotations are from the New King James Version (NKJV) unless otherwise stated Bible Copyright Attribution.
We are so incredibly blessed to open a Bible and read it. God's Word is the most powerful weapon we have in our lives and we get to hold it in our hands.
That's why I love surrounding myself with God's Truth. One of my favorite ways to do this is with Printable Bible verses. They are a great way to take your favorite scripture with you.
Keeping Bible verses close to our hearts helps us battle the trials we encounter. We can memorize Bible verses and use them to take our thoughts captive and resist the devil.
"Submit yourselves, then, to God. Resist the devil, and he will flee from you" James 4:7 NIV
Free Printable Bible Verses
I love making printable Bible verses. I'm excited to share some of my favorite scripture printables with you.
Below you will find the Bible printables I have made so far. I will be making more as time goes on. I will add them here as I make them.
These are completely free printable Bible verses. There is no sign-up required to download them. Each link will lead to my article with a free printable Bible verse pdf.
All my Bible printables are available on my free Bible printables page.
Free Scripture Card Printables
There are so many types of free Bible printables. I love making scripture notecard printables and 8×10 printables.
Here are the printable scripture cards I have made so far. Just click on the link below the image to download your copy.
Once you download the free printable, print it on card stock (this is what I use), cut out the scripture cards, punch a hole in the corner, and use a loose-leaf ring (this is what I use) to secure them.
You can also laminate them if you want to protect them. They would make a great Christian gift to bless someone.
Free Printable Bible Verses About Faith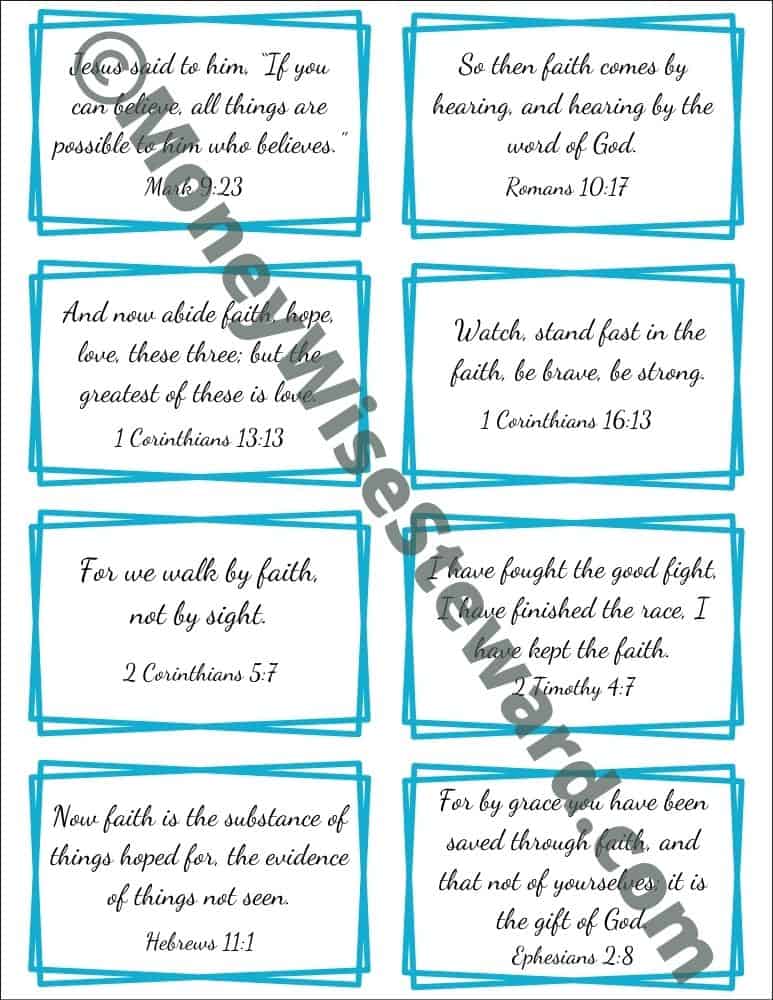 Faith is so important when it comes to being a Christian. We are called to have faith without seeing a result. We put our faith in so many things but the most important place to have our faith is in Jesus Christ.
You can get this free Bible printable about faith by clicking on this faith link.
Trusting God Free Bible Verse Printable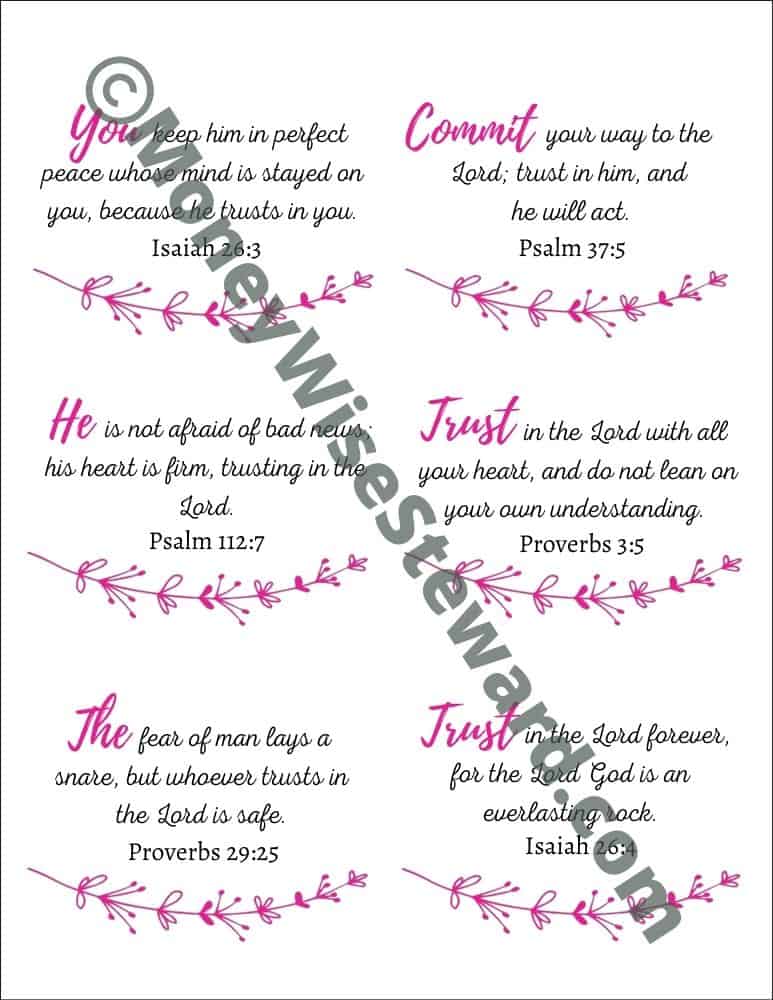 Trusting God is hard for most of us. We question what God's doing in our lives. If we could just trust His plan and remember that He works everything out for our good we would be able to rest.
You can get this free Bible printable by clicking on this trusting God link.
Daily Prayer Printable Bible Verses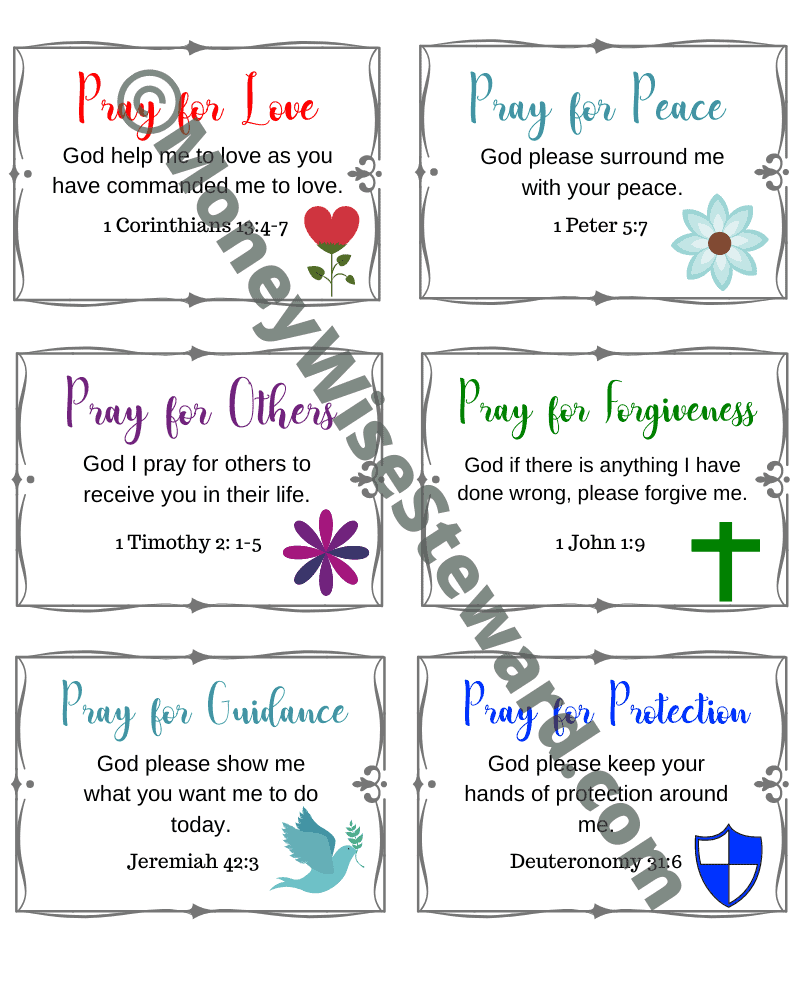 This printable is specifically focused on prayer. These are daily prayers that we should be praying for. These printable verses will help remind you to pray daily even if you don't know what to pray for.
You can get these free printable Bible verse cards by clicking on this prayers to pray daily link.
Encouraging Bible Verse Cards Printable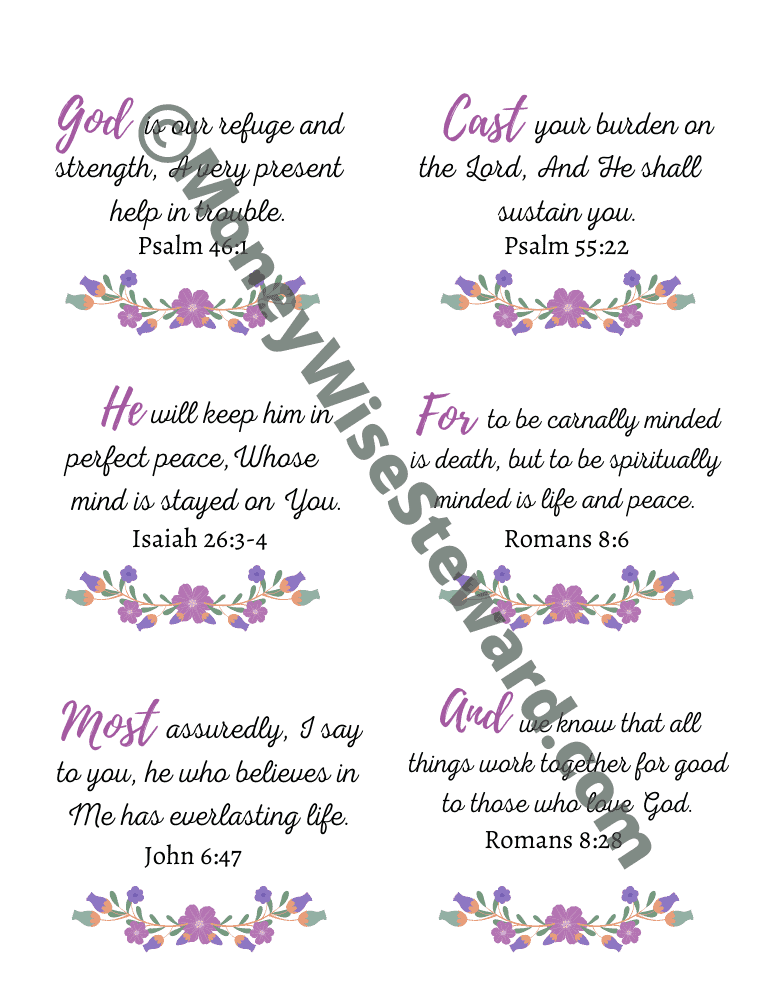 We all need encouragement and we can receive it daily from Jesus. There are several encouraging Bible verses in the Bible. These are just a few that I like to keep close to my heart.
Get your free encouragement Bible printable by clicking on this encouraging scriptures link.
Anxiety Scripture Printables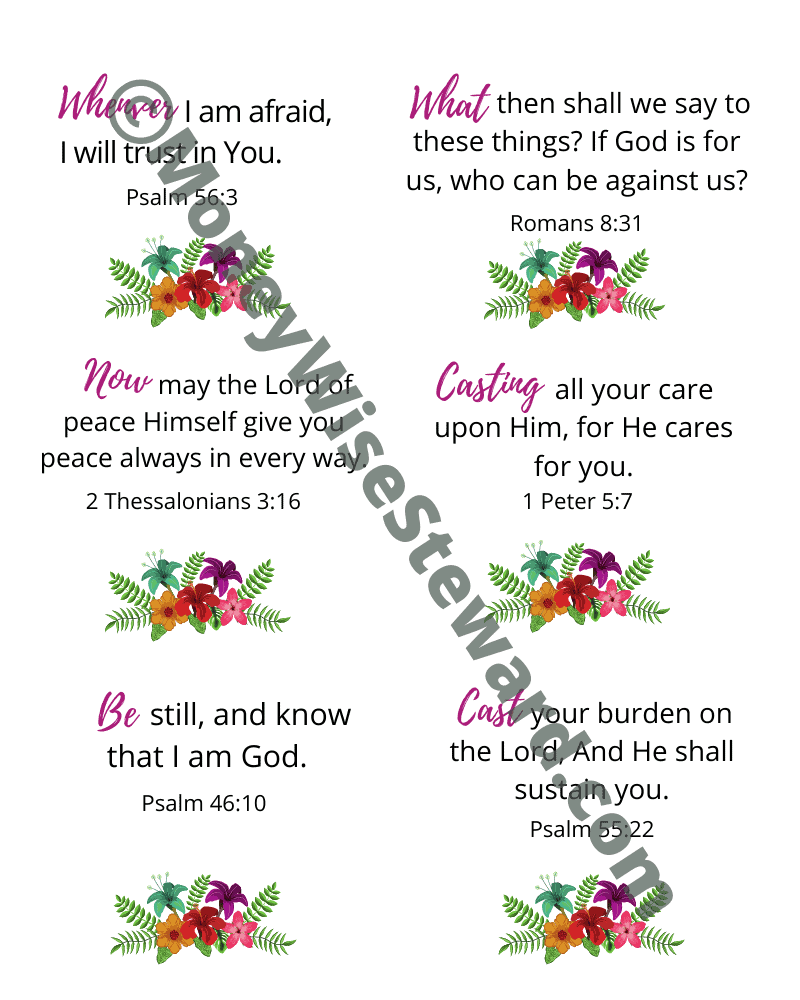 I've suffered from anxiety for several years. Thankfully, I found Jesus and He saved me from my struggle with fear and anxiety. It still tries to consume me but now I have God's Word to stand on.
These Bible verses help me remember who is in charge and it's not me, thank God. You can get this free anxiety printable by clicking this anxiety scriptures link.
Free Printable Bible Verses About Marriage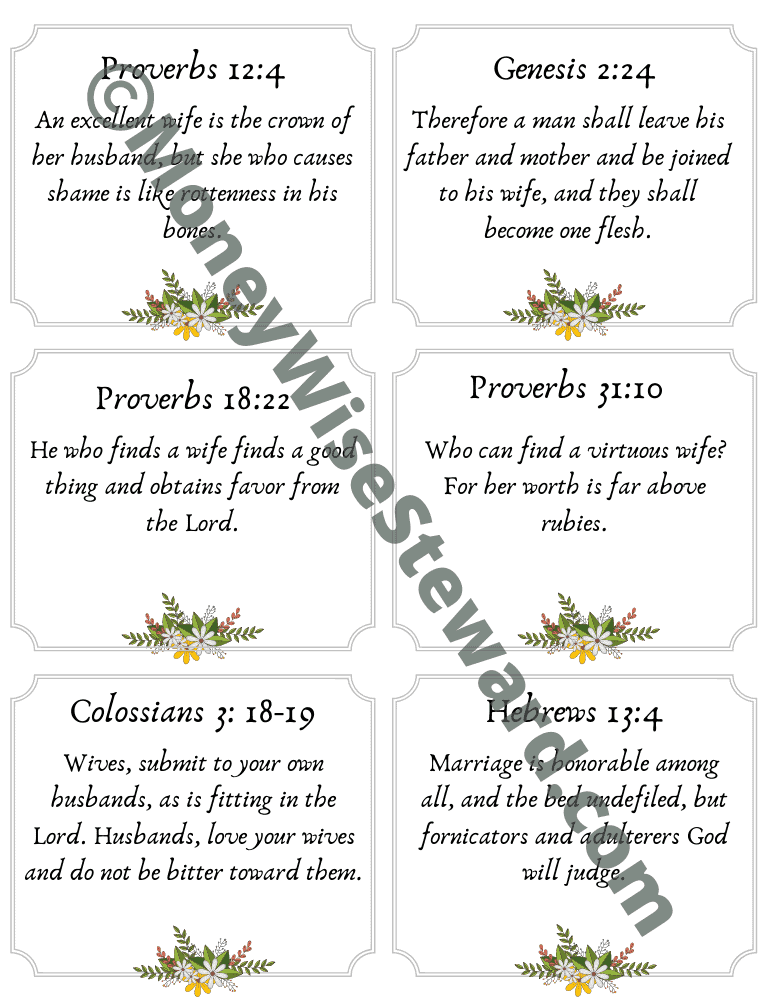 Marriage is such a wonderful blessing. If you are married, I'm sure you are aware of the blessing and the struggle. Ultimately, in a marriage, we are to serve one another and focus on making each other holy.
These marriage Bible verses are a great reminder that God designed marriage. Get your free Bible printable about marriage by clicking this marriage scriptures link.
Free Scripture Printables About Peace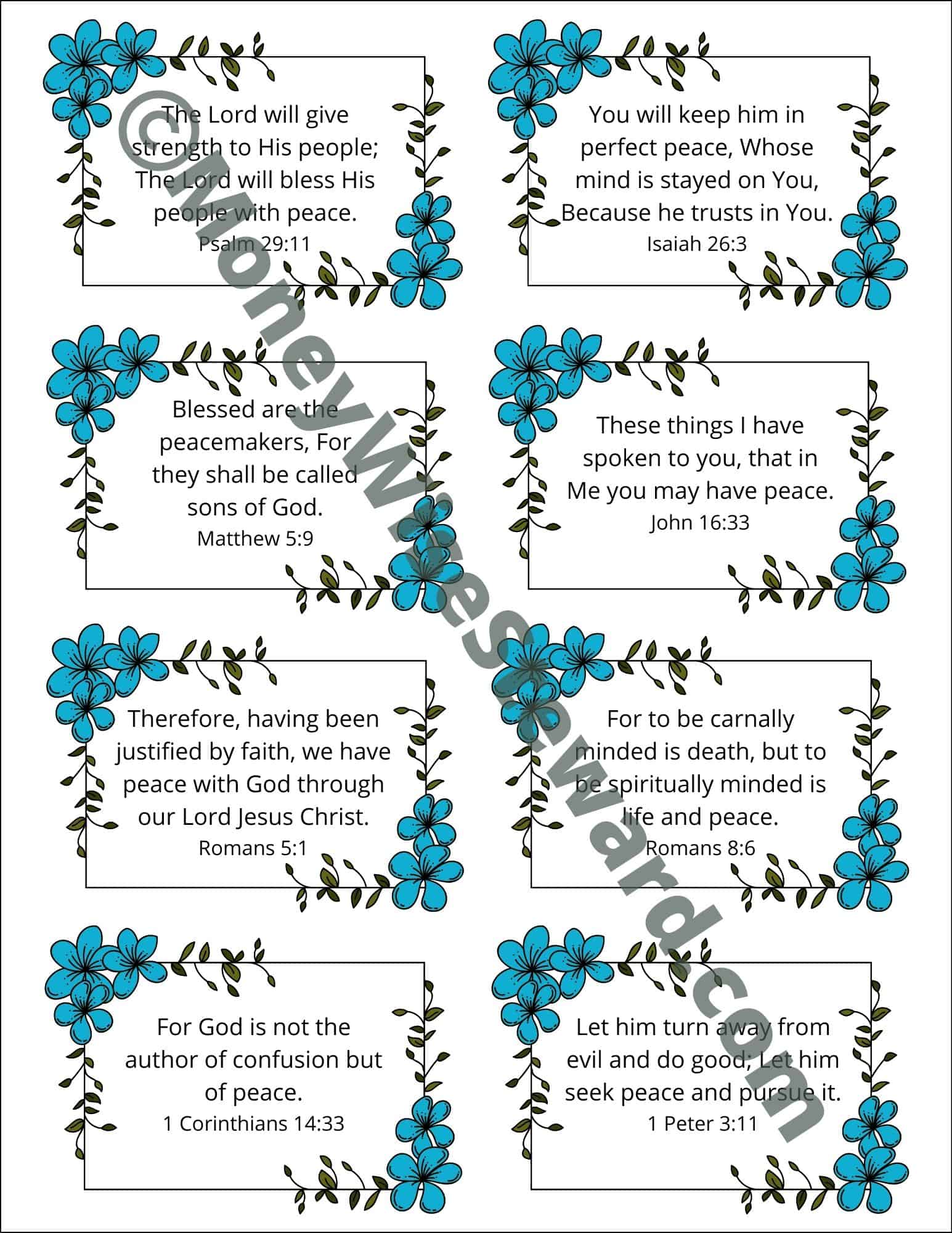 Jesus came to give us peace. We live in a world where it feels like we can't obtain peace since there is always a spiritual war going on. The Truth is, we can if we rest in Jesus.
These printable Bible verses about peace are a great reminder of how we can experience peace. Get this free printable by clicking this scriptures about peace link.
Free Printable Bible Verses About Forgiveness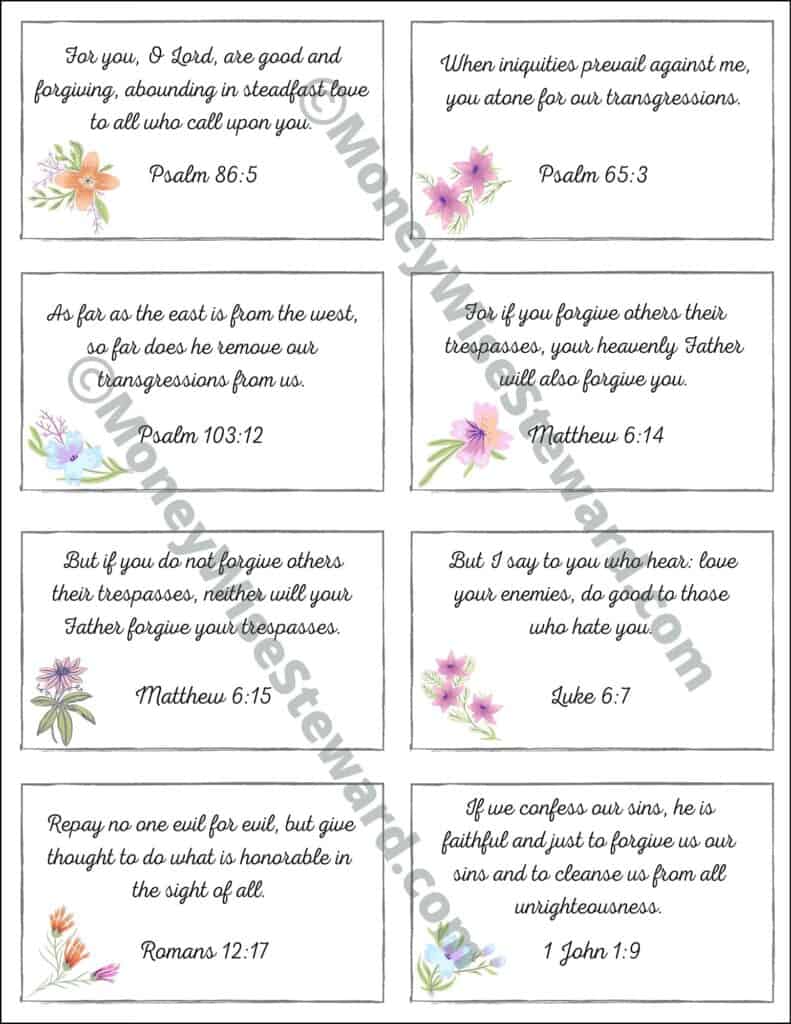 Forgiveness is hard for most people. The Bible tells us that we are to forgive others just as God forgives us. Even though this may be hard, we can call on the Lord to give us the strength to forgive.
This free printable Bible verses pdf can help you remember that forgiveness is something we are called to do as believers in Christ. Click this free printable Bible verses on forgiveness link to get your free download.
Free Bible Verse Cards Printable About Hope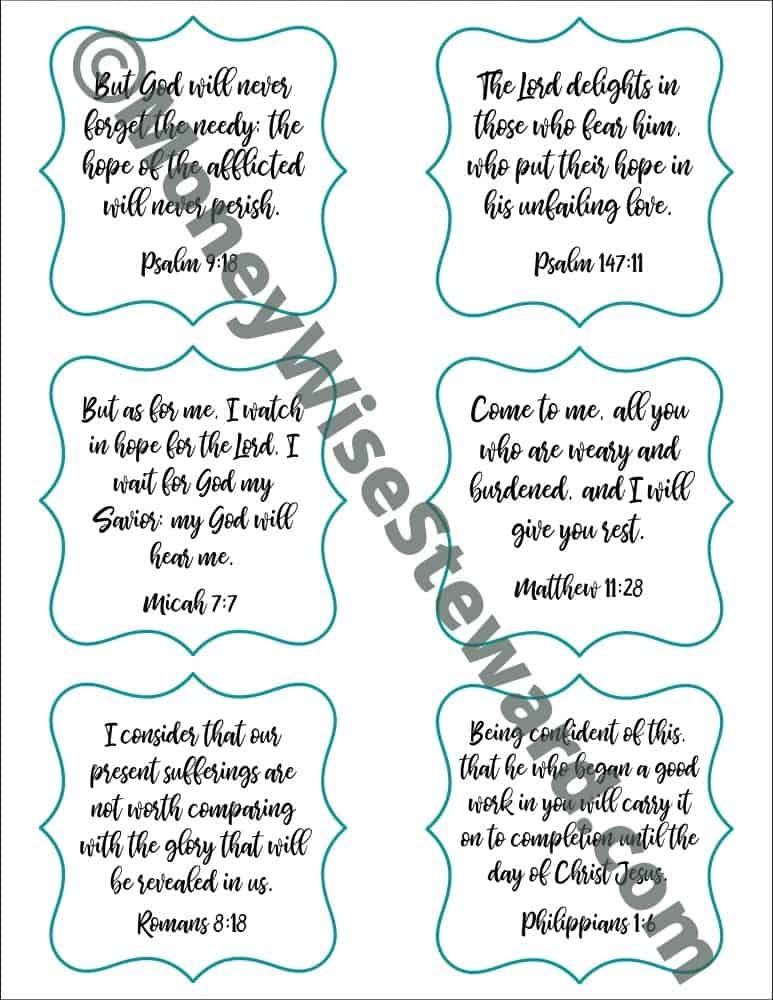 Hope is a common word for a Christian. In order for us to keep our eyes up in this world, we need to have hope in Jesus Christ. The Bible tells us that God is always with us and will give us rest.
You should keep these printable Bible verses on hope close to your heart. It's easy to become weary if we don't have hope. Click this free printable scriptures on hope link to get your free printable pdf.
Free Scripture Printables on Trusting God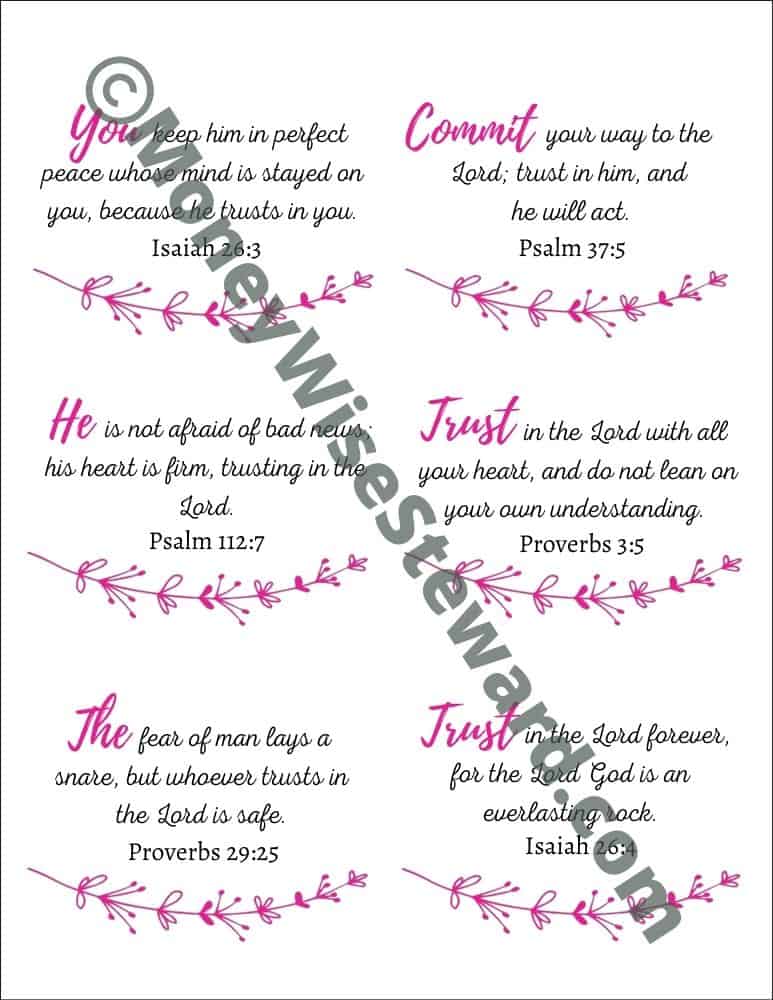 Trusting the Lord should be at the top of our list as Christians. The Bible makes it clear that God knows our beginning and our end and that He cares for us. If we trust God, we know He will always do what's best for us.
We should desire that God's will be done in our lives. His timing is perfect and we can trust Him with that. Grab these free printable verses on trusting God pdf.
Bible Verse Card Printable on Prayer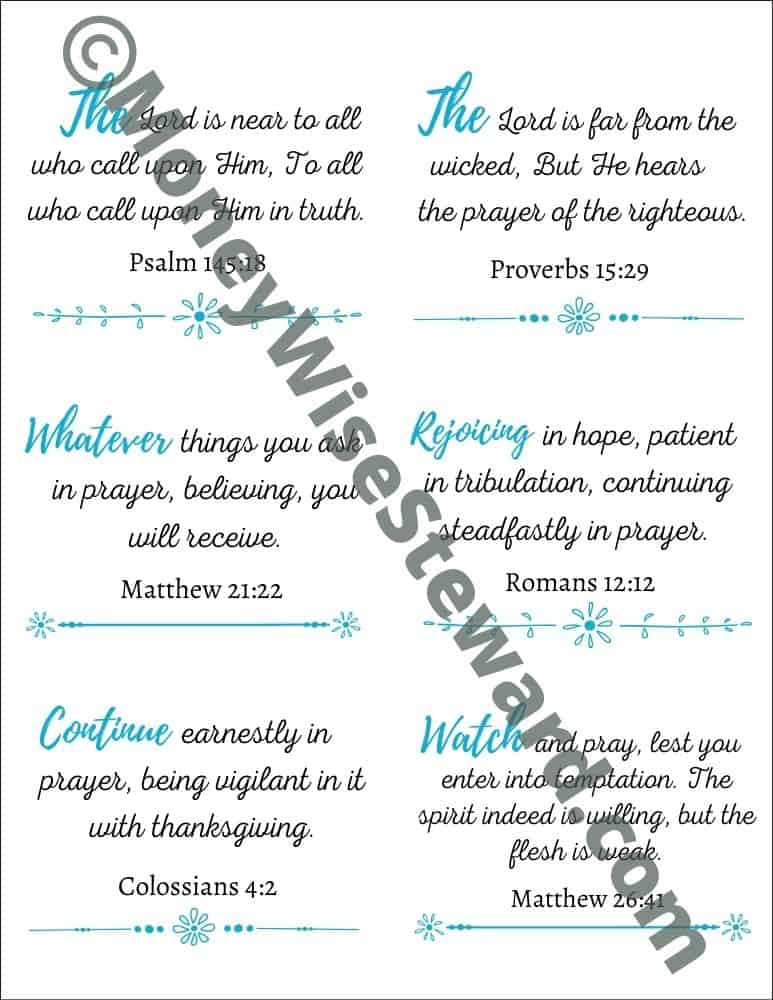 Prayer is how we communicate with God. There is no specific way to pray. Praying means we are communicating with God and that can be done while we are driving, cleaning, etc.
Thes printable Bible verses about prayer remind us just how important prayer is. Grab your free prayer printable.
Free Printable Bible Verses About Worry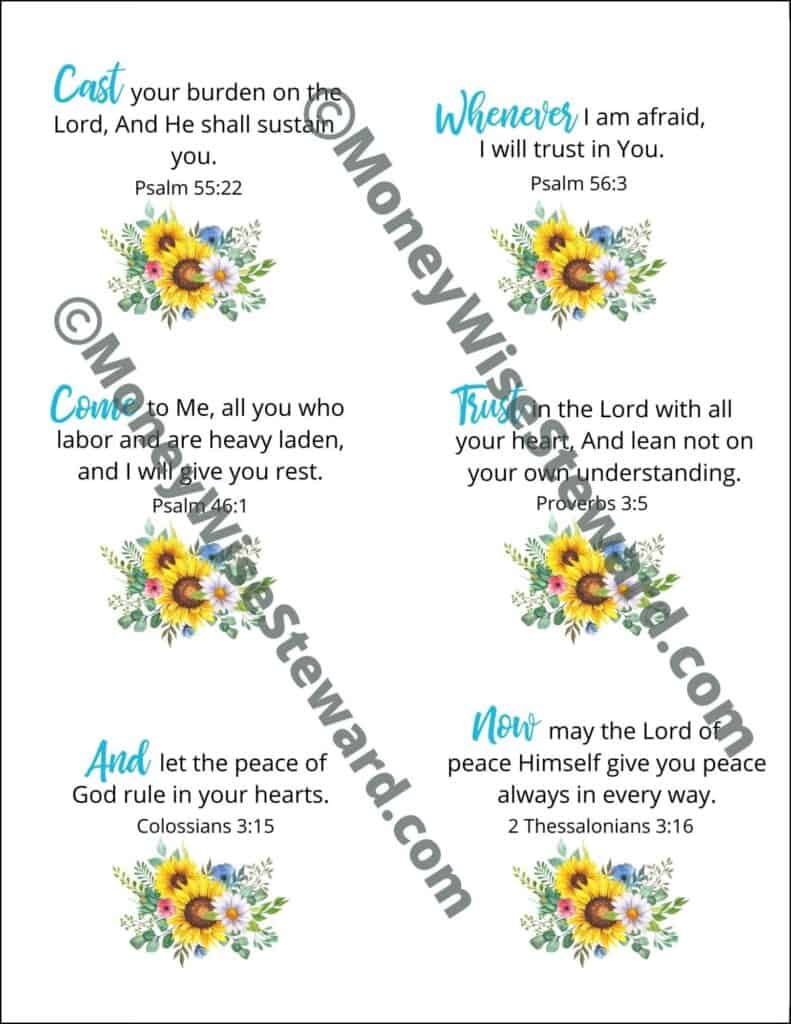 We all worry at some point in our lives. There is a long list of things we can worry about. If we believe the Bible then we would believe that worrying doesn't add anything to our lives. We don't have control over our lives but God does.
We need to let go and let God handle everything in our lives. Click this free printable Bible verse on worry link to download this free pdf.
Free Scripture Printables on Stress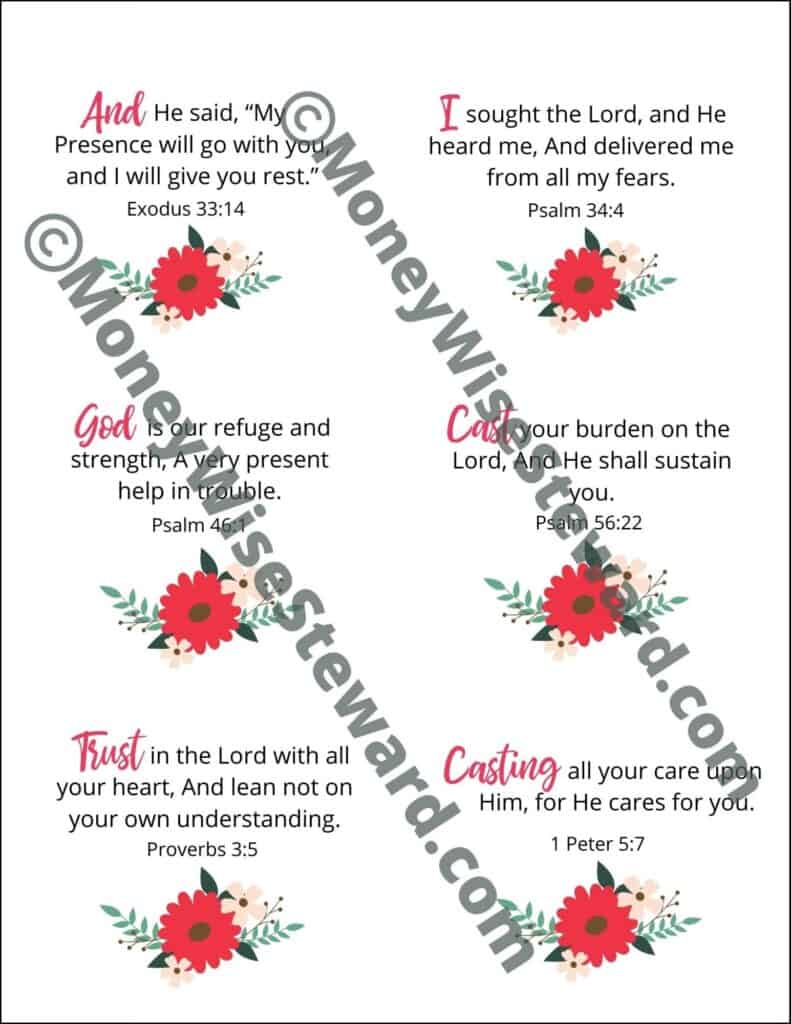 God hears us and will deliver us if we allow Him to. Stress is common for most but we don't have to allow it to overtake us. Lean on the Lord and remember that we don't always understand everything He is doing.
Pray about your stress and use these verses on stress to remind you that God hears you. Click this free Bible verses printables on stress to get your free download.
Free Printable Bible Verses to Frame
These are the 8×10 printable Bible verses to frame that I've made. Print them on 8 1/2 x 11 paper and cut them to fit in an 8×10 frame.
If you're looking for something more heavy-duty than paper, try printing them on card stock.
Free Printable Bible Verses on Gods Promises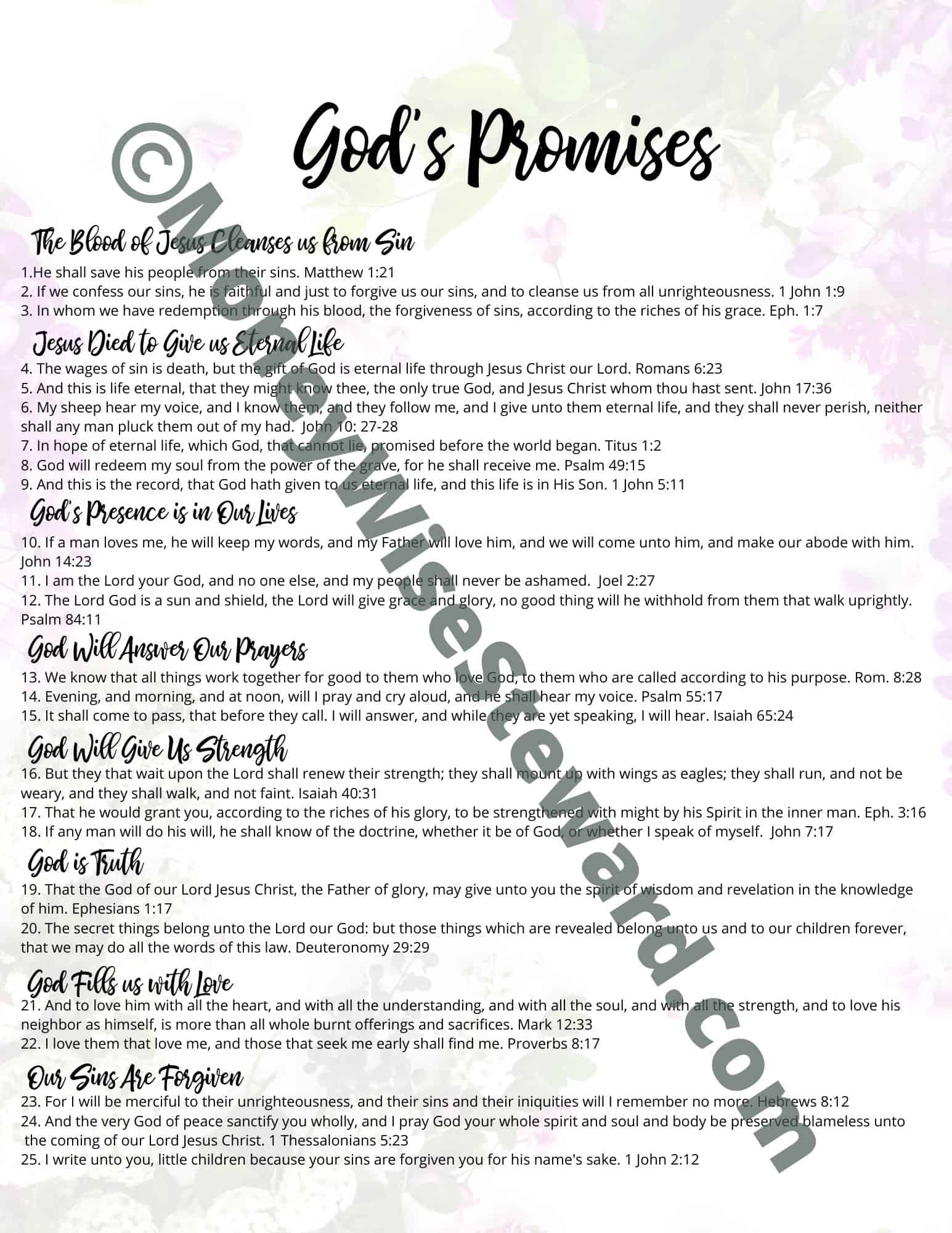 The Bible is full of everything we need to know to navigate life. One of my favorite things in the Bible is God's promises. They lift me up and help me stay focused on my purpose and hope.
These printable Bible verses are a great way to keep God's promises out in the open for everyone to see. Get your free printable by click this God's promises link.
Names of God Free Bible Verse Printable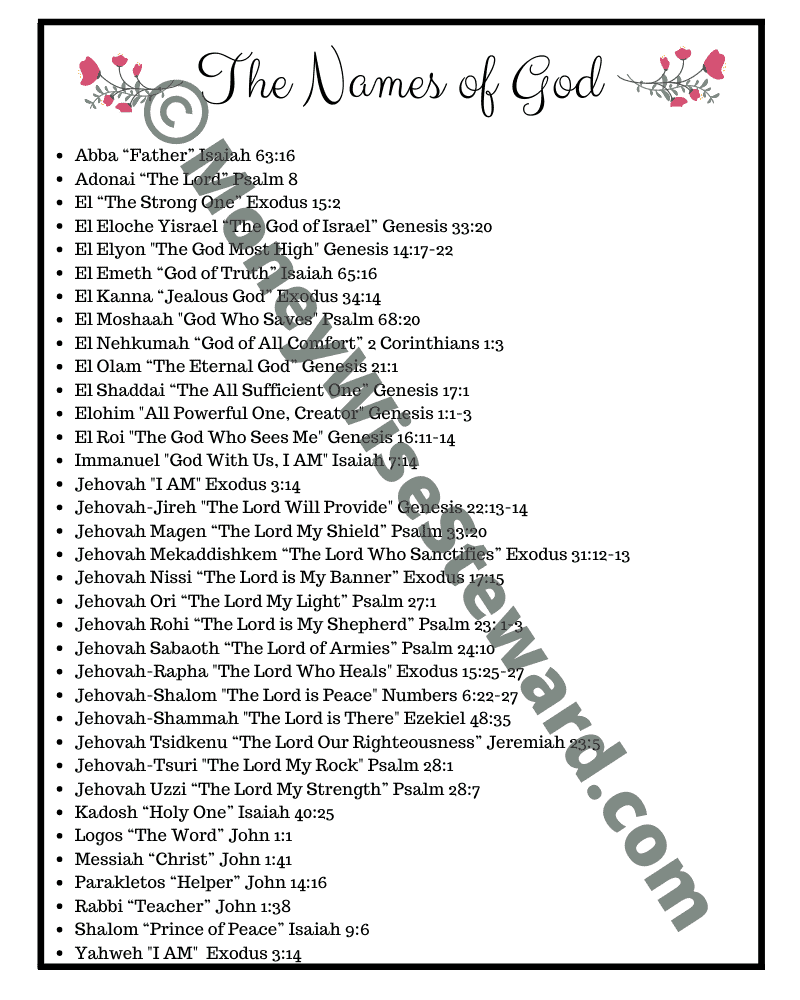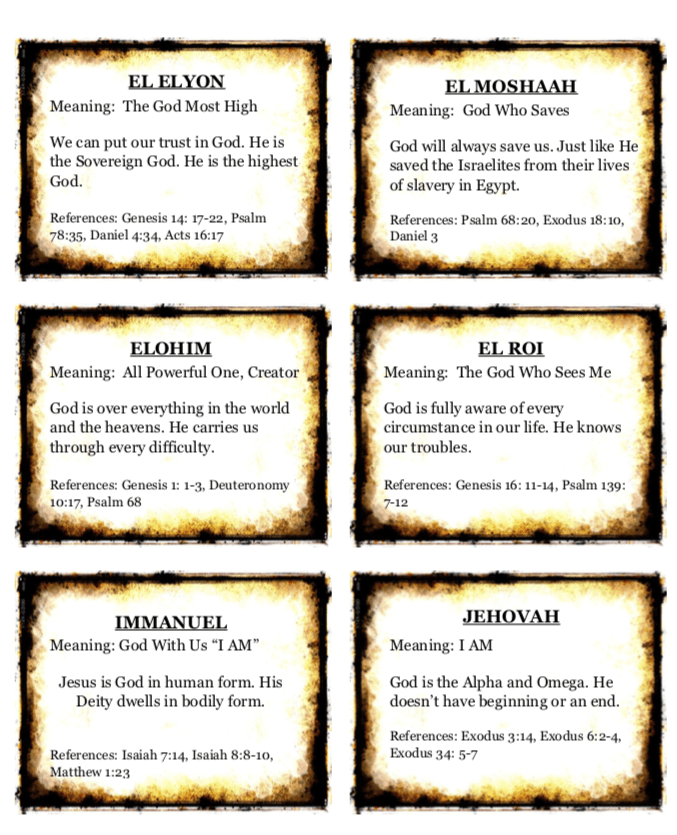 The Names of God are powerful. This printable is just a few of the many Names of God. There are over 900 names and titles of God in the Bible.
I made an 8×10 printable and scripture cards for this one. Get your free printable Bible verse pdf by click this Names of God in the Bible link. You'll be able to download each one.
The Beatitudes Free Scripture Printables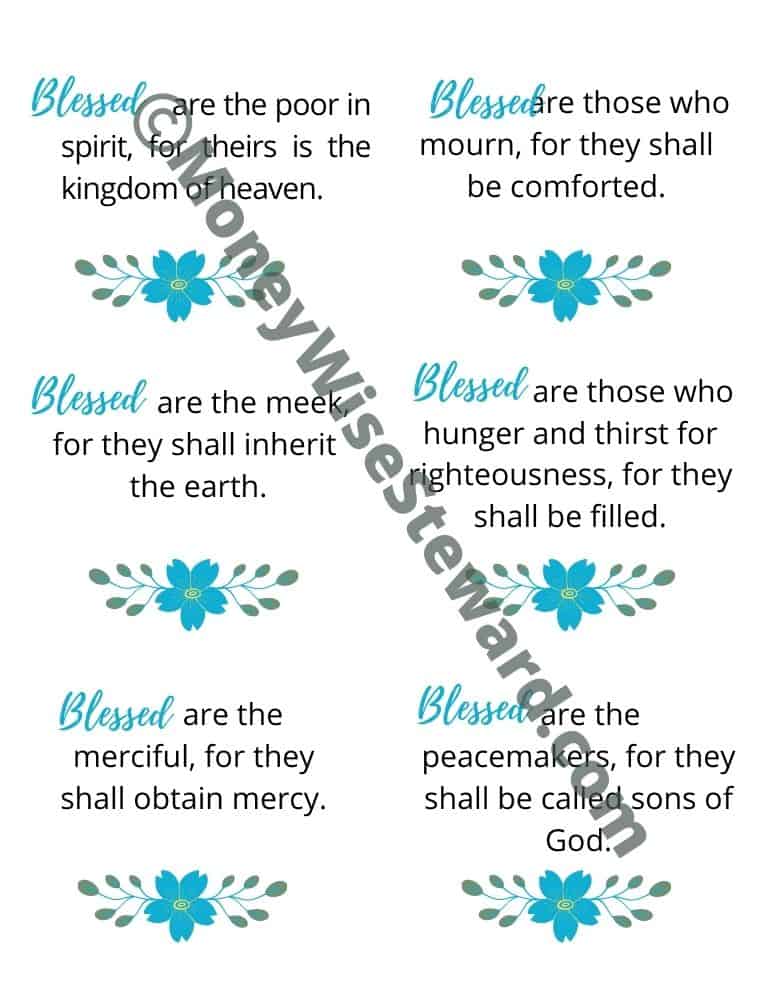 There are 8 beatitudes in the Bible. Each beatitude comes with a blessing. These blessings are an encouragement for us as believers.
There are free scripture card printables and a free 8×10 printable for this one.  Click this the 8 beatitudes printable. You'll be able to download each one.
What Free Printable Bible Verses PDFS Are Your Favorite?
I love creating free printables. I'd love to hear what printables are your favorite. Do you have any requests for scripture printables? If so, leave them in the comments below and I will work on getting them posted here.