5 Ways To Overcome Trials and Tribulations
This article may contain affiliate links. I may earn money from the companies mentioned in this post with no additional cost to you. Please read my disclosure policy for more info. All Bible quotations are from the New King James Version (NKJV) unless otherwise stated Bible Copyright Attribution.
At some point in our lives, we have all faced trials and tribulations. It is common to feel hopeless and scared, especially when you don't know how to deal with them.
When I face trials in life, I turn to God. I deal with the challenges in my life by studying the Bible and learning from the Books of the Bible. Fellowshiping with my loved ones also helps me gain clarity on how to solve a problem.
Here I will talk about five ways to overcome trials and tribulations in life. I hope you gain insight into the purpose behind trials in life and the ways to deal with them.
Trials and Tribulations
If one thing is certain in life, it's that trials and tribulations will come upon everyone in different stages of life. Some of the most common trials and tribulations include health issues, money problems, accidents, troubled relationships, and the death of loved ones.
Regardless of how big or small the hardship is, we often feel helpless when we are facing them. We may find it difficult to think clearly and come up with logical solutions. We may even reach a point where we can't handle our emotions anymore.
It is crucial to remind ourselves of God's will during these times. As children of God, we know that our Father has a plan for each one of us and He will provide. In the long run, His plan is always better than ours.
Trials in life are also a part of God's plan to make us stronger. Remember that He is in full control of our lives and all things are done for a purpose.
Trials And Tribulations Meaning
Trials and tribulations definition is simply the challenging problems we are forced to face in life. In Biblical terms, tests and trials have a purpose. These are not just hardships, but rather a test of our endurance and an opportunity to grow in Christ.
The intensity and duration of tests and trials will not be the same in everyone's lives. But regardless of the impact of the problem, we are put to test most likely due to our lack of faith.
When we grow distant from God, we experience troubles in life. These trials are for us to grow in faith and walk closer to God. Pray with confidence and use the resources God has given us to overcome the challenges.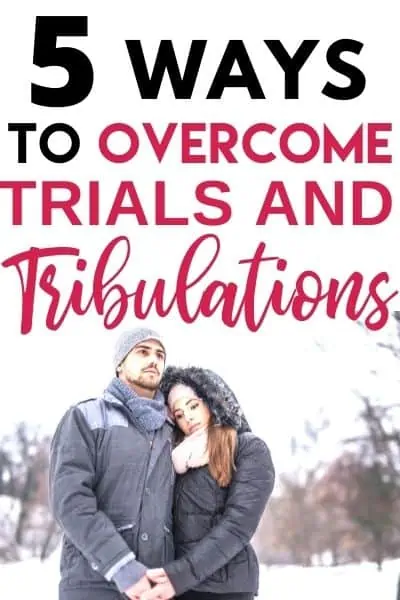 Ways To Overcome Trials and Tribulations
God has a purpose for each and every one of our problems. The key is to accept the situation, pray to God, and trust in Him to deal with the challenges. Here are my recommendations on how to overcome trials and tribulations.
1. Pause to Reflect
When faced with challenges in life, take a moment to think about the possible reasons for the problem. Is it because of your actions? Have you grown distant from God? How is your walk with God? Is there something you can learn from this obstacle?
Reflect on God's blessings and the things in life for which you are thankful and grateful. Ask yourself if your motives and actions are in accordance with God's intentions. Think of ways in which you can live your life God's way. Draw close to God and you will find Him in your life.
Remind yourself of the verse Joshua 1:9 (ESV) – "Have I not commanded you? Be strong and courageous. Do not be frightened, and do not be dismayed, for the LORD your God is with you wherever you go."
2. Pray
When I face challenges in life, I pray. I pray for others and myself. I pray for courage and patience, for endurance and hope. Remind yourself that our Father is the most powerful being that exists. He will protect His children at all costs. Pray for your needs and wait patiently.
God's timing is perfect. Accepting that He knows what's best for us can help us stay content in our situation. The Power of prayer has been proven throughout the years. He is faithful.
Here is a prayer for overcoming obstacles.
Heavenly Father, thank you for your everlasting love and blessings. As I face challenges in life, please give me the strength and courage to overcome them. I know no obstacle is insurmountable with you. I ask that you help me deal with my earthly problems. My Miracle-worker, set my heart free from worries and fear. Turn my setbacks into triumphs and navigate my life, Lord. I trust you with my life. Through Jesus Christ, our Lord. Amen.
3. Trust God
We know our past and present. But God knows our past, present, and future. And everything we will go through in the future is a part of His plan and His will. If you believe that all trials and tribulations are God's arrangements, you will be able to trust in Him with all your heart.
To stay strong during challenging times, it is crucial to have unshakeable faith. His power is immeasurable and His greatness is unsearchable. Above all, He wants His children to believe Him and trust in Him. Let go and let God handle your situation.
4. Journal
Journaling your thoughts is one of the most effective ways to renew your mind and evoke mindfulness. Jot down your stress and worries along with the possible solutions to the problems.
Write down your past problems and how you overcame them. Bible Journal about inspiring characters from the Bible who have gone through trials and tribulations. Job's suffering is the biggest example of patience and endurance during challenging times.
Job lost his children, all his property and suffered from severe physical pain. But he had unwavering faith in God. Even when his wife encouraged him to curse God, Job remained quiet.
He praised God, continued to show faith, and was persistent in his loyalty. In the end, God showered His blessings upon Job: doubled fortune, 10 children, and a lifespan of another 140 years.
5. Self-Care
Sometimes we forget to take care of ourselves, especially during difficult times. Self-care helps us relax and clear our minds. Only then can we take reasonable and logical solutions to our problems.
I would suggest going for a long walk and reflecting on the trials and tribulations in your life. Observe the life of plants, birds, and animals. Incorporate gratitude into your routine. Listen to worship music and praise God.
Simple acts like these often present you with a number of eye-opening moments and ideas to deal with the different problems in life.
Trials and Tribulations Bible Verses
The Bible has many different versions available. The verses about trials and tribulations below are from the English Standard Version.
Exodus 14:14 – The LORD will fight for you, and you have only to be silent.
Isaiah 41:13 – For I, the LORD your God, hold your right hand; it is I who say to you, "Fear not, I am the one who helps you."
John 16:33 – "I have said these things to you, that in me you may have peace. In the world you will have tribulation. But take heart; I have overcome the world."
Romans 5:3-5 – Not only that, but we rejoice in our sufferings, knowing that suffering produces endurance, and endurance produces character, and character produces hope, and hope does not put us to shame, because God's love has been poured into our hearts through the Holy Spirit who has been given to us.
Romans 8:18 – For I consider that the sufferings of this present time are not worth comparing with the glory that is to be revealed to us.
1 Corinthians 10:13 – No temptation has overtaken you that is not common to man. God is faithful, and he will not let you be tempted beyond your ability, but with the temptation he will also provide the way of escape, that you may be able to endure it.
1 Thessalonians 5:16-18 – Rejoice always, pray without ceasing, give thanks in all circumstances; for this is the will of God in Christ Jesus for you.
James 1:2-4 – Count it all joy, my brothers, when you meet trials of various kinds, for you know that the testing of your faith produces steadfastness. And let steadfastness have its full effect, that you may be perfect and complete, lacking in nothing.
1 Peter 4:12-13 – Beloved, do not be surprised at the fiery trial when it comes upon you to test you, as though something strange were happening to you. But rejoice insofar as you share Christ's sufferings, that you may also rejoice and be glad when his glory is revealed.
1 Peter 5:10 – And after you have suffered a little while, the God of all grace, who has called you to his eternal glory in Christ, will himself restore, confirm, strengthen, and establish you.
Trials and Tribulations Give Us An Opportunity To Grow
Looking back has allowed me to see that my relationship with Christ has grown through trials in my life. I know it's hard to count these trials as joy. Being in the trial is the hardest but if we take God for His Word then we know we can overcome the trial.
Have there been trials and tribulations in your life that have brought you closer to the Lord? I'd love to hear about them. Let me know in the comments below. We can encourage one another through testimonies of His goodness.