22 Bible Verses About Stress Plus! Free Printable
This article may contain affiliate links. I may earn money from the companies mentioned in this post with no additional cost to you. Please read my disclosure policy for more info. All Bible quotations are from the New King James Version (NKJV) unless otherwise stated Bible Copyright Attribution.
The Bible is the best resource for everything we experience in our lives. You don't have to dig around for Bible verses about stress, pain, anxiety, and struggle.
There are so many Bible verses to guide you through tough times as well as good times. The best way to study the Bible is to focus on the topic you are studying or struggling with. Today, I want to share Bible verses about stress.
Studying what the Bible says about stress can help us manage our stress while allowing the Lord to work in our lives.
I've personally experienced a lot of stress in my life. Once I gave my life to Jesus, I had a better understanding of how to manage my stress.
The Bible verses about stress helped me so much. If you're struggling with stress, I recommend that you memorize the scripture about stress. It's a great way to arm yourself against the enemy during your battles.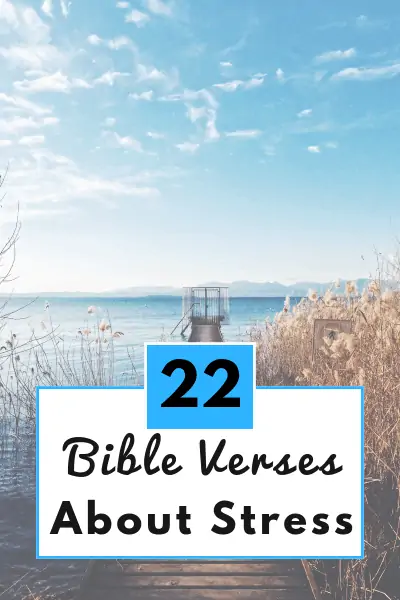 What Does the Bible Say About Stress ?
Stress is not specifically mentioned in the Bible. However, the Bible does speak about worry, anxiety, and struggles. These things definitely create stress.
The Bible gives us clear answers on how we are to deal with these issues. The most common cause of stress is financial. Other things that can cause stress are family, jobs, health, and even ministry.
The first step to managing stress is having faith in Jesus Christ to obtain salvation. Jesus does not guarantee a stress-free life but He does give us hope. We will all endure stress in this life but with Jesus' help, we can overcome our trials.
The only one that can give us the strength to get through stress is Jesus. Believing in Jesus leads you to trust Him in all things, and all parts of our lives. It's up to us to make the choice of how we will deal with stress.
Bible Verses About Stress Free Printable
I created this free verses on stress pdf so you take these Bible Verses on stress with you. All you need to do is click this free verses on stress pdf printable link to get the free printable, print it on card stock (this is what I use), cut it out, punch a hole in the corner, and use a loose leaf ring (this is what I use) to secure it.
You can also laminate (this is what I use) them if you'd like. It will help keep them in good condition. I pray that you can benefit from these free Bible Verses on stress pdf printable.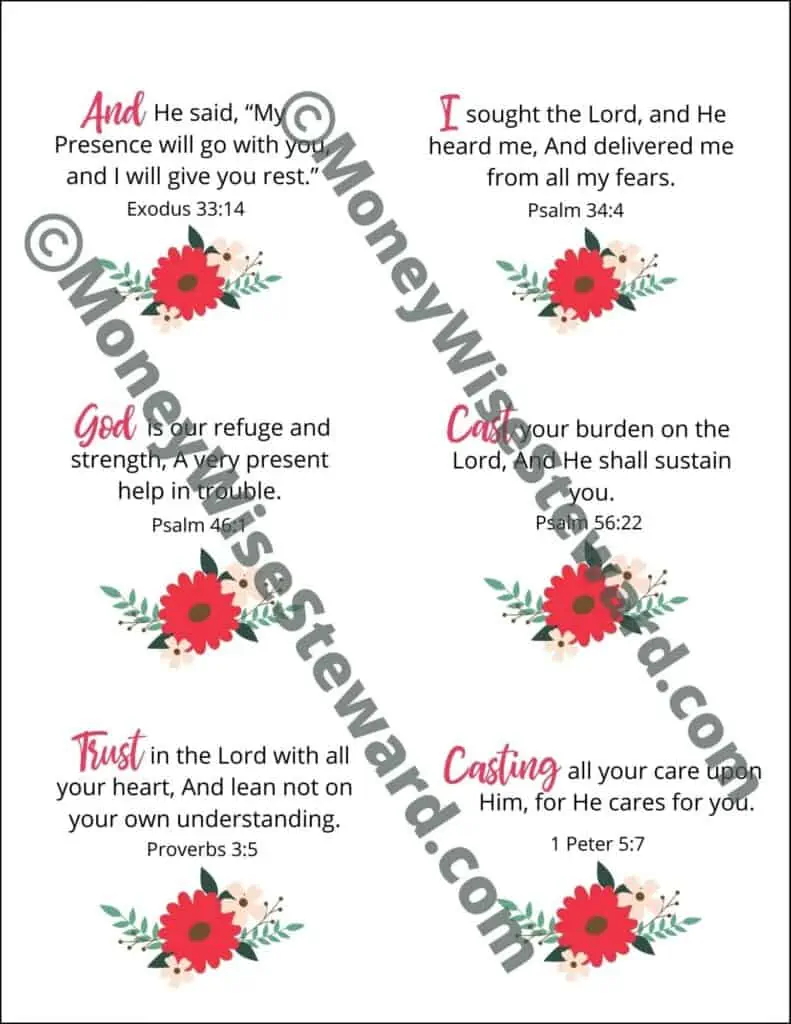 Scriptures For Stress
The Bible has many different versions available. The verses about stress below are from the New King James Version.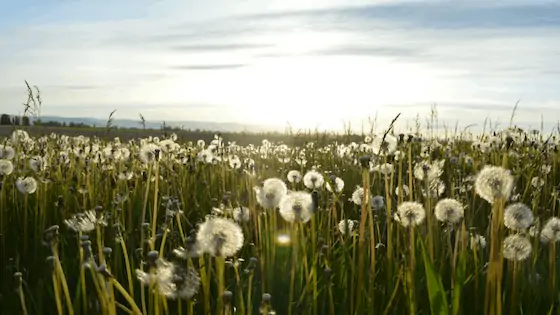 Bible Verses about Stress in the Old Testament
Exodus 33:14 – And He said, "My Presence will go with you, and I will give you rest."
Deuteronomy 31:8 – And the Lord, He is the One who goes before you. He will be with you, He will not leave you nor forsake you; do not fear nor be dismayed.
Joshua 1:9 – Have I not commanded you? Be strong and of good courage; do not be afraid, nor be dismayed, for the Lord your God is with you wherever you go.
Psalm 27:13-14 – I would have lost heart unless I had believed. That I would see the goodness of the Lord In the land of the living. Wait on the Lord; Be of good courage, And He shall strengthen your heart; Wait, I say, on the Lord!
Bible Verses For Stressful Times
Psalm 34:4 – I sought the Lord, and He heard me, And delivered me from all my fears.
Psalm 46:1-3 – God is our refuge and strength, A very present help in trouble. Therefore we will not fear, Even though the earth be removed, And though the mountains be carried into the midst of the sea; Though its waters roar and be troubled, Though the mountains shake with its swelling. Selah
Psalm 55:22 – Cast your burden on the Lord, And He shall sustain you; He shall never permit the righteous to be moved.
Proverbs 3:5-6 – Trust in the Lord with all your heart, And lean not on your own understanding; In all your ways acknowledge Him, And He shall direct your paths.
Isaiah 41:10 – Fear not, for I am with you; Be not dismayed, for I am your God. I will strengthen you, Yes, I will help you, I will uphold you with My righteous right hand.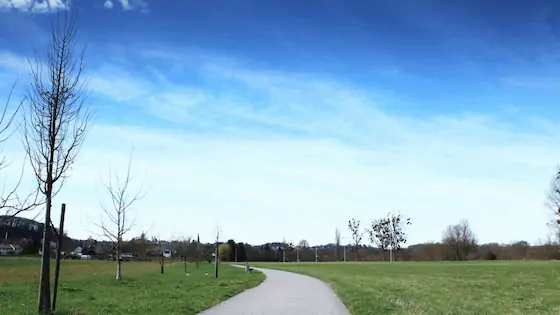 Bible Verses about Stress in the New Testatment
Matthew 6:25 – Therefore I say to you, do not worry about your life, what you will eat or what you will drink; nor about your body, what you will put on. Is not life more than food and the body more than clothing?
Matthew 28:20 – teaching them to observe all things that I have commanded you; and lo, I am with you always, even to the end of the age. Amen.
Luke 12: 25-26 – And which of you by worrying can add one cubit to his stature? If you then are not able to do the least, why are you anxious for the rest?
John 14:1 – Let not your heart be troubled; you believe in God, believe also in Me.
Bible Verses For Stress Relief
John 14:27 – Peace I leave with you, My peace I give to you; not as the world gives do I give to you. Let not your heart be troubled, neither let it be afraid.
Romans 5: 3-5 – And not only that but we also glory in tribulations, knowing that tribulation produces perseverance; and perseverance, character; and character, hope. Now hope does not disappoint, because the love of God has been poured out in our hearts by the Holy Spirit who was given to us.
Romans 8: 28-29 – And we know that all things work together for good to those who love God, to those who are the called according to His purpose. For whom He foreknew, He also predestined to be conformed to the image of His Son, that He might be the firstborn among many brethren.
2 Corinthians 1:3-4 – Blessed be the God and Father of our Lord Jesus Christ, the Father of mercies and God of all comfort, who comforts us in all our tribulation, that we may be able to comfort those who are in any trouble, with the comfort with which we ourselves are comforted by God.
Bible Verses to Help With Stress
2 Corinthians 1:9-10 – Yes, we had the sentence of death in ourselves, that we should not trust in ourselves but in God who raises the dead, who delivered us from so great a death, and does deliver us; in whom we trust that He will still deliver us.
Philippians 4:6-7 – Be anxious for nothing, but in everything by prayer and supplication, with thanksgiving, let your requests be made known to God; and the peace of God, which surpasses all understanding, will guard your hearts and minds through Christ Jesus.
2 Thessalonians 3:16 – Now may the Lord of peace Himself give you peace always in every way. The Lord be with you all.
James 1:2-4 – My brethren, count it all joy when you fall into various trials, knowing that the testing of your faith produces patience. But let patience have its perfect work, that you may be perfect and complete, lacking nothing.
1 Peter 5:7 – casting all your care upon Him, for He cares for you.
My favorite Bible verses about stress are Proverbs 5:3-6 and John 14:27. What are your favorite Bible verses about Stress?
Check out more Bible Verses:
Scripture about Serving Others