23 Bible Verses About Worry Plus! Free Printable
This article may contain affiliate links. I may earn money from the companies mentioned in this post with no additional cost to you. Please read my disclosure policy for more info. All Bible quotations are from the New King James Version (NKJV) unless otherwise stated Bible Copyright Attribution.
The word "worry" is probably pretty familiar to you. We live in a world where there are a lot of terrible things happening. This causes us to worry about things in our lives.
Thankfully, we can rely on the Word of God to get us through worrying. When we study the Bible, we can find many Bible verses about worry in the Bible.
It's easy for us to give in to worry when we are experiencing hard things or are experiencing pain. The good news is that we have a Savior who loves and cares for us.
As Christians, we are to look to Him during troubling and overwhelming times. I've experienced a lot of stress in my life from trying to manage my life alone. This led to worrying and being anxious. It's only when I fully surrender myself to Jesus that I can overcome these things.
Today, I want to share Scriptures about worry that have helped me and can help you get through these tough times.
I encourage you to memorize these Bible verses so you can always remember God's strength and power within you.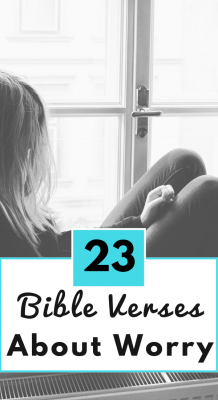 Worry In The Bible
The Bible makes it clear that Christians are not to worry. We learn in several Bible verses about worry that we should be praying about all our concerns rather than worrying about them.
We shouldn't worry about physical things like clothes and food. Jesus makes it clear that our heavenly Father will take care of all our needs so there is no reason to worry.
You may ask yourself … Why does God want to deal with my problems? The answer is because He loves us. He is concerned about every detail of our life. When we surrender our worry to God, He promises to give us peace and understanding.
Below you will find verses about worry and worry quotes. I'm praying that they will help you to stop worrying.
Bible Verses About Worry Free Printable
I created this free verses on worry pdf so you take these Bible Verses on worry with you. All you need to do is click this free verses on worry pdf printable link to get the free printable, print it on card stock (this is what I use), cut it out, punch a hole in the corner, and use a loose leaf ring (this is what I use) to secure it.
You can also laminate (this is what I use) them if you'd like. It will help keep them in good condition. I pray that you can benefit from these free Bible Verses on worry pdf printable.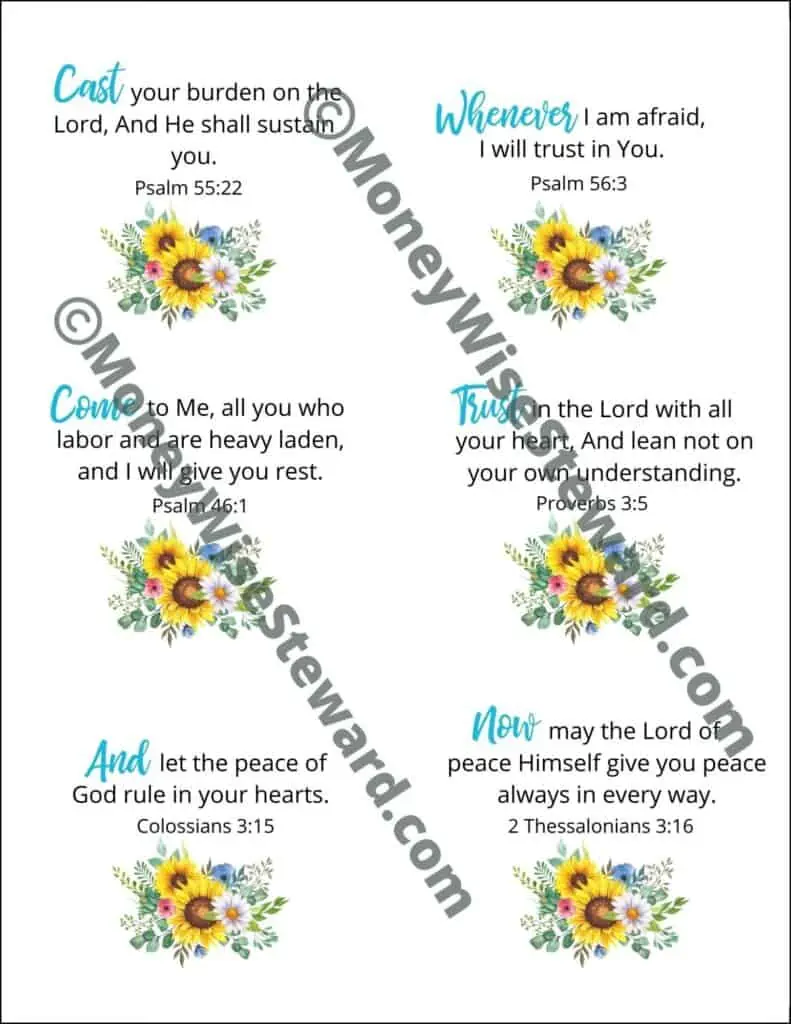 Scriptures About Worry
The Bible has many different versions available. The verses about worry below are from the New King James Version.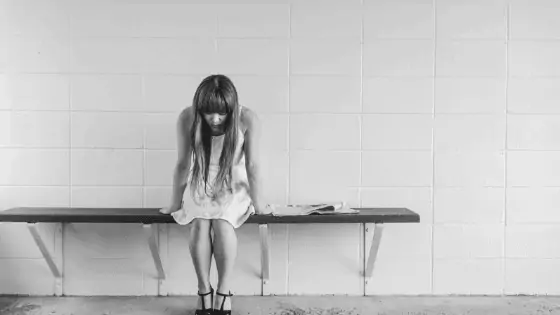 Do Not Worry Bible Verses in the Old Testament
Psalm 23:4 – Yea, though I walk through the valley of the shadow of death, I will fear no evil; For You are with me; Your rod and Your staff, they comfort me.
Psalm 46:10 – Be still, and know that I am God; I will be exalted among the nations, I will be exalted in the earth!
Psalm 55:22 – Cast your burden on the Lord, And He shall sustain you; He shall never permit the righteous to be moved.
Psalm 56:3 – Whenever I am afraid, I will trust in You.
Bible Verses About Stress And Worry
Psalm 112:7 – He will not be afraid of evil tidings; His heart is steadfast, trusting in the Lord.
Psalm 121:1-2 – A Song of Ascents. I will lift up my eyes to the hills. From whence comes my help? My help comes from the Lord, Who made heaven and earth.
Proverbs 3:5-6 – Trust in the Lord with all your heart, And lean not on your own understanding; In all your ways acknowledge Him, And He shall direct your paths.
Proverbs 12:25 – Anxiety in the heart of man causes depression, But a good word makes it glad.
Isaiah 43:1-3 – But now, thus says the Lord, who created you, O Jacob, And He who formed you, O Israel: "Fear not, for I have redeemed you; I have called you by your name; You are Mine. When you pass through the waters, I will be with you; And through the rivers, they shall not overflow you. When you walk through the fire, you shall not be burned, Nor shall the flame scorch you. For I am the Lord your God, The Holy One of Israel, your Savior; I gave Egypt for your ransom, Ethiopia and Seba in your place.
Jeremiah 29:11 – For I know the thoughts that I think toward you, says the Lord, thoughts of peace and not of evil, to give you a future and a hope.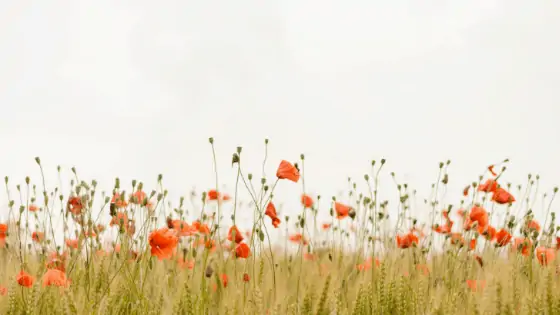 Bible Verses About Worry In The New Testament
Matthew 6:25-34 – Therefore I say to you, do not worry about your life, what you will eat or what you will drink; nor about your body, what you will put on. Is not life more than food and the body more than clothing? Look at the birds of the air, for they neither sow nor reap nor gather into barns; yet your heavenly Father feeds them. Are you not of more value than they? Which of you by worrying can add one cubit to his stature? So why do you worry about clothing? Consider the lilies of the field, how they grow: they neither toil nor spin; and yet I say to you that even Solomon in all his glory was not arrayed like one of these. Now if God so clothes the grass of the field, which today is, and tomorrow is thrown into the oven, will He not much more clothe you, O you of little faith? Therefore do not worry, saying, 'What shall we eat?' or 'What shall we drink?' or 'What shall we wear?' For after all these things the Gentiles seek. For your heavenly Father knows that you need all these things. But seek first the kingdom of God and His righteousness, and all these things shall be added to you. Therefore do not worry about tomorrow, for tomorrow will worry about its own things. Sufficient for the day is its own trouble.
Matthew 11:28-30 – Come to Me, all you who labor and are heavy laden, and I will give you rest. Take My yoke upon you and learn from Me, for I am gentle and lowly in heart, and you will find rest for your souls. For My yoke is easy and My burden is light.
Luke 12:24-34 – Consider the ravens, for they neither sow nor reap, which have neither storehouse nor barn; and God feeds them. Of how much more value are you than the birds? And which of you by worrying can add one cubit to his stature? If you then are not able to do the least, why are you anxious for the rest? Consider the lilies, how they grow: they neither toil nor spin; and yet I say to you, even Solomon in all his glory was not arrayed like one of these. If then God so clothes the grass, which today is in the field and tomorrow is thrown into the oven, how much more will He clothe you, O you of little faith? And do not seek what you should eat or what you should drink, nor have an anxious mind. For all these things the nations of the world seek after, and your Father knows that you need these things. But seek the kingdom of God, and all these things shall be added to you. Do not fear, little flock, for it is your Father's good pleasure to give you the kingdom. Sell what you have and give alms; provide yourselves money bags which do not grow old, a treasure in the heavens that does not fail, where no thief approaches nor moth destroys. For where your treasure is, there your heart will be also.
John 14:27 – Peace I leave with you, My peace I give to you; not as the world gives do I give to you. Let not your heart be troubled, neither let it be afraid.
Do Not Worry Scripture
Romans 8:31 – What then shall we say to these things? If God is for us, who can be against us?
Romans 8:38-39 – For I am persuaded that neither death nor life, nor angels nor principalities nor powers, nor things present nor things to come, nor height nor depth, nor any other created thing, shall be able to separate us from the love of God which is in Christ Jesus our Lord.
1 Corinthians 10:13 – No temptation has overtaken you except such as is common to man; but God is faithful, who will not allow you to be tempted beyond what you are able, but with the temptation will also make the way of escape, that you may be able to bear it.
Philippians 4: 6-7 – Be anxious for nothing, but in everything by prayer and supplication, with thanksgiving, let your requests be made known to God; and the peace of God, which surpasses all understanding, will guard your hearts and minds through Christ Jesus.
Colossians 3:15 – And let the peace of God rule in your hearts, to which also you were called in one body; and be thankful.
Bible Verses About Fear And Worry
2 Thessalonians 3:16 – Now may the Lord of peace Himself give you peace always in every way. The Lord be with you all.
Hebrews 12: 1-2 – Therefore we also, since we are surrounded by so great a cloud of witnesses, let us lay aside every weight, and the sin which so easily ensnares us, and let us run with endurance the race that is set before us, looking unto Jesus, the author and finisher of our faith, who for the joy that was set before Him endured the cross, despising the shame, and has sat down at the right hand of the throne of God.
Hebrews 13:5-6 – Let your conduct be without covetousness; be content with such things as you have. For He Himself has said, "I will never leave you nor forsake you." So we may boldly say: "The Lord is my helper; I will not fear. What can man do to me?"
1 Peter 5:6-8 – Therefore humble yourselves under the mighty hand of God, that He may exalt you in due time, casting all your care upon Him, for He cares for you. Be sober, be vigilant; because your adversary the devil walks about like a roaring lion, seeking whom he may devour.
Worry Quotes
"Worry does not empty tomorrow of its sorrow. It empties today of its strength." Corrie Ten Boom
"Most Christians are being crucified on a cross between two thieves: Yesterday's regret and tomorrow's worries." Warren Wiersbe
"While we worry about how fast we grow, God is concerned about how strong we grow." Rick Warren
"No one can pray and worry at the same time." Max Lucado
"Worry is the antithesis of trust. You simply cannot do both. They are mutually exclusive." Elisabeth Elliot
"Worry, like a rocking chair, will give you something to do, but it won't get you anywhere." Vance Havner
"What is needed for happy effectual service is simply to put your work into the Lord's hand, and leave it there. Do not take it to Him in prayer, saying, "Lord, guide me, Lord, give me wisdom, Lord, arrange for me," and then arise from your knees, and take the burden all back, and try to guide and arrange for yourself. Leave it with the Lord, and remember that what you trust to Him you must not worry over nor feel anxious about. Trust and worry cannot go together." Hannah Whitall Smith
"It is not worrying, but rather trusting and abiding in the peace of God that will crush anything that Satan tries to do to us. If the Lord created the world out of chaos, He can easily deal with any problem that we have. Rick Joyner
"Knowing that God is faithful, it really helps me to not be captivated by worry. But knowing that He will do what He has said, He will cause it to happen, whatever He has promised, and then it causes me to be less involved in worrying about a situation." Josh McDowell
What Are Your Favorite Scriptures About Worry?
It's important to arm ourselves with God's Word in every area of life. My favorite Bible verses about worry are John 14:27 and Romans 8:31. What are your favorite Bible verses about worry?
Check out more Bible Verses:
Scripture about Blessing Others