I'm so excited to share my tips to earn extra money. One thing I really enjoy is learning how I can earn extra money on the side.  I'm a stay at home mom and I've always felt limited when it came to where to earn money.  I worked for a few years as a Real Estate Agent before I started my family.  I really enjoyed that job but it meant I couldn't be home with my kids.  After a lot of prayer, my husband I decided to downsize our lifestyle so we could afford for me to stay at home.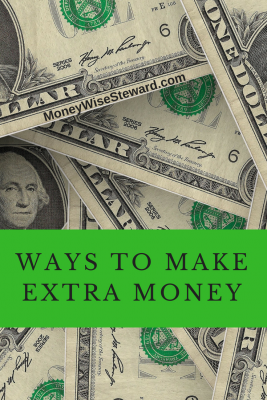 I love being a stay at home mom but I also love earning extra money. I'm excited to share this journey with you!  My goal is to share all the top ways to earn extra money.  There are so many options now with the internet growing. So many companies are going virtual which means you can find the best way to earn extra money for you.
Whether you have a 1 hour a day or multiple hours to offer.  This is the place where you will find the tips to earn extra money.
Earning extra money on the side can serve many purposes.
If you're in debt (most of us are), you can start paying that down.
If you've been needing a vacation or want to take one more often, it can help you save.
If your finances are tight, it might help you loosen up a little bit.
You might reach your goal of retirement sooner.
You may have the option to not leave your home to earn extra money. This can save you on gas and other expenses.
You can be more generous.
Tips to Earn Extra Money Online
Teach International Students Online. Tutoring online is available in several different subjects. The pay is different depending on the subject and some jobs may require a certification or degree.  There may also be tutor opportunities available in your area. You can use your teaching skills by teaching ESL to Chinese students in the comfort of your own home. Check out my post about how Jen likes to teach kids English online.
Design and Build Websites. If you have the talent to design and/or create websites you should check out the listing on Flexjobs.
Take Surveys. Surveys will give you a little extra money each month. Check out my post about the 7 best sites to get paid for surveys. Here are some of my favorite survey companies:  Inbox Dollars, Ipsos I-say, Swagbucks, Survey Junkie, My Points Surveys, Toluna Surveys and Pinecone Research.
Get Paid to Search Online. Swagbucks is one of my favorite ways to earn free gift cards online. All you do is search through their search engine (instead of Google for example) and you earn points.  You can redeem your points for gift cards.  Visit Swagbucks to sign up today.
Become a Virtual Assistant. There are many companies today looking for virtual assistants. The nice thing is you can find virtual assistant jobs with flexible hours. This become a virtual assistant and work from home guide is a great place to start. You can also check out this great guide on how to get started as a virtual assistant.
Get Cash Back Shopping Online. Did you know you can get cash back at most stores when you shop online? I've earned over $700 in cash back! The best part is you can shop how your normally would shop online. The best cash back site is Ebates. They are the most dependable and they do pay. Check out my step by step instructions on how to get paid to shop online with Ebates.
Sell your Gift Cards. Have you received a gift card that you don't want? You sell your gift cards online and get money. Sites like Raise.com can help you earn 80-90% of the amount on the card.
Teach a Skill Online. Do you have a skill you can teach? You can create your own online teaching course and earn money. Check out Udemy and see what you can offer.
Offer your Services. If you have a service to offer you can list your services on Fiverr.  They are the largest freelance service marketplace.  Examples of services to offer include logo design, video lessons, writing, online research for writers. Check out Fiverr to get started.
Start a Blog. Having a blog is a lot of fun. I'll be posting more in-depth posts about my own blogging experience.
Additional Ways to Earn Income
Become an Uber or Lyft Driver. From what I hear, Uber and Lyft provide exceptional pay. They allow you to be your own boss. Read my become a driver for Lyft post to learn more.
Become a Notary. Notary certification is given by the state. The cost is usually less than $100. Check out how to get a notary certification.
Child Care Service. You can provide child care. If you love children, this would be a blessing to you and the child. It will also give you some extra income on the side.
Be a Substitute Teacher at the Gym.  I have a friend who fills in for the gym teacher a few times a month. She gets around $20 per class. This is like getting paid to workout. If you are going to the gym anyway, this would be perfect!
Pet Sit for Extra Income. We are always looking for someone to pet sit our little dog. He doesn't do well at boarding facilities because he needs so much attention. This would be great if you love animals.
Clean Houses. I'm not a huge fan of cleaning and would love to have someone clean my house.  I have a friend who cleans to make money on the side. She has options available to just have a bathroom cleaned if needed.  You can offer "a la carte" cleaning services or full-service cleaning.
Become a Photographer. You don't have to have a full-blown business to achieve this.  Every year I hire someone to take my kids school pictures. I love nature pictures. They usually take us to a forest nearby to take the school pictures.  This last year, I was charged $20 per child.  I have three kids and this only took the person 30 mins. She made $60 for a half an hour! She doesn't even print the photos. She sends me the files and I get them printed.
Check out my post about how Steve started his own product photography business.
Start a Car Detailing Service. I have a friend that has a car detailing business.  It doesn't have to be big. You can have just a couple customers and make good money on the side. I prefer having my car cleaned by him than by the car wash. He does a great job and the price is about the same.
I will be adding to this list and posting more in-depth tips to earn extra money.  Earning extra money on the side can take minimal time.  It's up to you how much time you want to put into it.
Make sure to head over and check out ways to save money and If you haven't created a budget, you'll want to get started on that. Check out my easy ways to create a budget.
I'd love to hear about how you save money on the side.  Feel free to contact me anytime.