16 Bible Verses about Marriage Plus! Free Printable
This article may contain affiliate links. I may earn money from the companies mentioned in this post with no additional cost to you. Please read my disclosure policy for more info. All Bible quotations are from the New King James Version (NKJV) unless otherwise stated Bible Copyright Attribution.
Did you know that the Bible has all the instructions we need to live life? Because of this, there are many different topics to study in the Bible. I haven't experienced them all but I have experienced a lot of them.
The best way to study the Bible is to focus on the topic you are studying. Today, I want to share Bible verses about marriage.
Studying what the Bible says about marriage can help us stay focused on the purpose of marriage. I've been married for over 19 years. It can be a bumpy road at times but my husband and I know that our commitment is a covenant of marriage that can't be broken.
I really have to focus on Jesus in order to fulfill my role as a Biblical wife and submissive wife. Read more about how to become a Proverbs 31 Woman.
We work really hard at having a Christ-Centered Marriage. Studying Bible verses about marriage has really helped us to keep our marriage Christ-Centered.
What Does the Bible Say About Marriage?
Marriage is defined in the books of the Bible as a covenant. It's a plan for God's creation. The union of a man and a woman in marriage is a lifelong commitment. The Bible shows us that marriage is the most intimate human relationship.
In a marriage, a man and woman support each other and their relationship is built on love and faithfulness. The Bible has everything we need to know about the covenant of marriage.
Marriage Scriptures Free Printable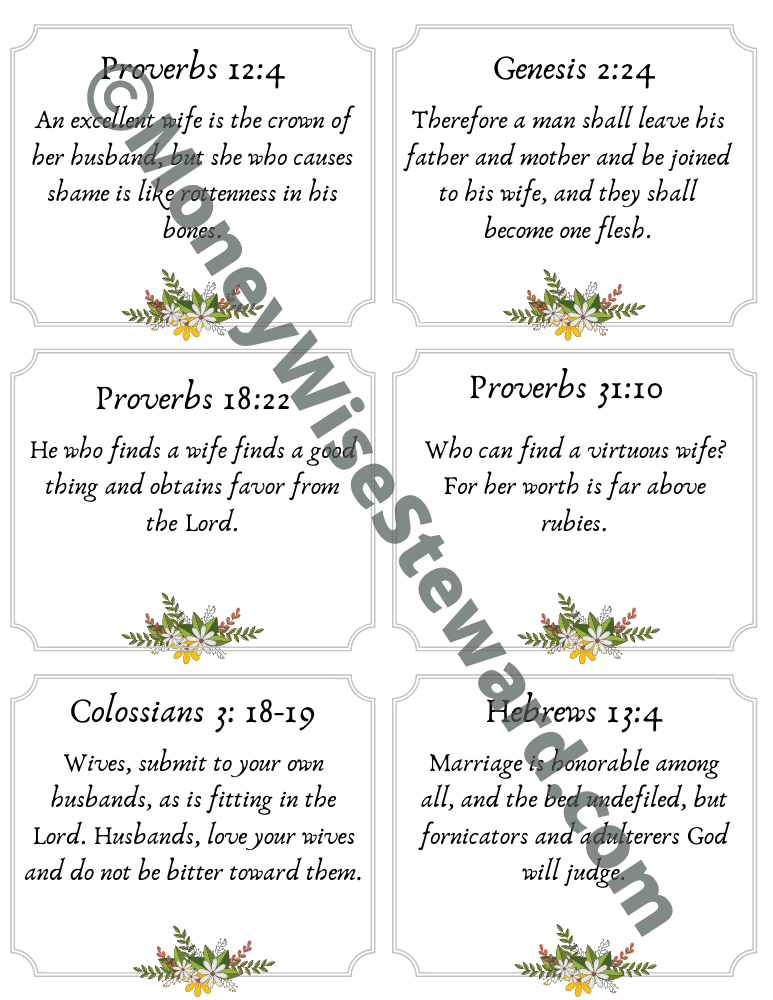 I created these marriage scripture cards so you can keep them with you. Just click this free marriage printable link to get your free download.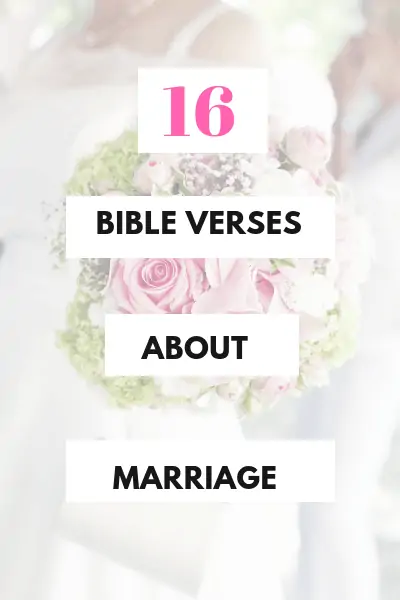 Marriage Scriptures
The Bible has many different versions available. The Bible verses about marriage below are from the New King James Version.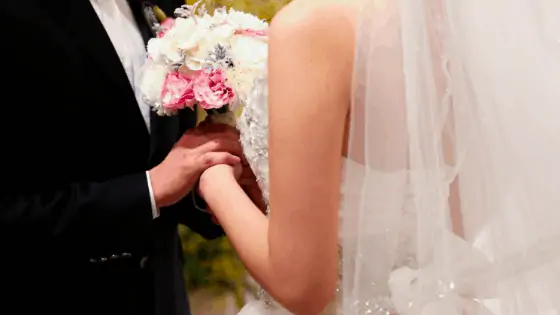 Bible Verses About Marriage in the Old Testament
Genesis 1:27-28 "So God created man in His own image; in the image of God He created him; male and female He created them. Then God blessed them, and God said to them, "Be fruitful and multiply; fill the earth and subdue it; have dominion over the fish of the sea, over the birds of the air, and over every living thing that moves on the earth."
Genesis 2:24 "Therefore a man shall leave his father and mother and be joined to his wife, and they shall become one flesh."
Deuteronomy 24:5 "When a man has taken a new wife, he shall not go out to war or be charged with any business; he shall be free at home one year, and bring happiness to his wife whom he has taken."
Proverbs 5:18-19 "Let your fountain be blessed, and rejoice with the wife of your youth. As a loving deer and a graceful doe, let her breasts satisfy you at all times; And always be enraptured with her love."
Proverbs 12:4 "An excellent wife is the crown of her husband, but she who causes shame is like rottenness in his bones."
Bible Verses about Love and Marriage
Proverbs 18:22 "He who finds a wife finds a good thing and obtains favor from the Lord."
Proverbs 31:10 "Who can find a virtuous wife? For her worth is far above rubies."
Ecclesiastes 9:9 "Live joyfully with the wife whom you love all the days of your vain life which He has given you under the sun, all your days of vanity; for that is your portion in life, and in the labor which you perform under the sun."
Isaiah 62:5 "For as a young man marries a virgin, So shall your sons marry you, and as the bridegroom rejoices over the bride, so shall your God rejoice over you."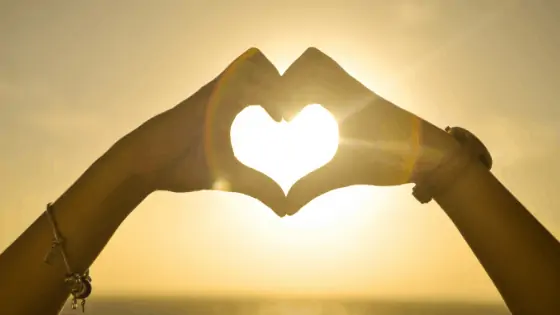 Bible Verses About Marriage in the New Testament
Matthew 19:4-6 "And He answered and said to them, "Have you not read that He who made them at the beginning 'made them male and female,' and said, 'For this reason, a man shall leave his father and mother and be joined to his wife, and the two shall become one flesh'? So then, they are no longer two but one flesh. Therefore what God has joined together, let not man separate."
Mark 10:6-9 "But from the beginning of the creation, God 'made them male and female.' 'For this reason a man shall leave his father and mother and be joined to his wife, and the two shall become one flesh'; so then they are no longer two, but one flesh. Therefore what God has joined together, let not man separate."
1 Corinthians 7:1-7 "It is good for a man not to touch a woman. Nevertheless, because of sexual immorality, let each man have his own wife, and let each woman have her own husband. Let the husband render to his wife the affection due her, and likewise also the wife to her husband. The wife does not have authority over her own body, but the husband does. And likewise, the husband does not have authority over his own body, but the wife does. Do not deprive one another except with consent for a time, that you may give yourselves to fasting and prayer; and come together again so that Satan does not tempt you because of your lack of self-control. But I say this as a concession, not as a commandment. For I wish that all men were even as I myself. But each one has his own gift from God, one in this manner and another in that.
Biblical Verses About Marriage in the Bible
1 Corinthians 7:10-11 "Now to the married I command, yet not I but the Lord: A wife is not to depart from her husband. But even if she does depart, let her remain unmarried or be reconciled to her husband. And a husband is not to divorce his wife."
Ephesians 5:22-33 "Wives, submit to your own husbands, as to the Lord. For the husband is head of the wife, as also Christ is head of the church; and He is the Savior of the body. Therefore, just as the church is subject to Christ, so let the wives be to their own husbands in everything. Husbands, love your wives, just as Christ also loved the church and gave Himself for her, that He might sanctify and cleanse her with the washing of water by the word, that He might present her to Himself a glorious church, not having spot or wrinkle or any such thing, but that she should be holy and without blemish. So husbands ought to love their own wives as their own bodies; he who loves his wife loves himself. For no one ever hated his own flesh, but nourishes and cherishes it, just as the Lord does the church. For we are members of His body, of His flesh and of His bones. "For this reason, a man shall leave his father and mother and be joined to his wife, and the two shall become one flesh." This is a great mystery, but I speak concerning Christ and the church. Nevertheless let each one of you in particular so love his own wife as himself, and let the wife see that she respects her husband."
Colossians 3: 18-19 "Wives, submit to your own husbands, as is fitting in the Lord. Husbands, love your wives and do not be bitter toward them."
Hebrews 13:4 "Marriage is honorable among all, and the bed undefiled, but fornicators and adulterers God will judge."
Christian Marriage Quotes
Here are some of my favorite Christian marriage quotes.
"God created marriage. No government subcommittee envisioned it. No social organization developed it. Marriage was conceived and born in the mind of God." – Max Lucado
"To encounter Christ is to touch reality and experience transcendence. He gives us a sense of self-worth or personal significance because He assures us of God's love for us. He sets us free from guilt because He died for us and from paralyzing fear because He reigns. He gives meaning to marriage and home, work and leisure, personhood and citizenship." – John Robert Walmsley Stott
"As God by creation made two of one, so again by marriage, He made one of two." – Thomas Adam
"Sexual expression within a marriage is not an option or an extra. It is certainly not, as it has sometimes been considered, a necessary evil in which spiritual Christians engage only to procreate children. It is far more than a physical act. God created it to be the expression an experience of love on the deepest human level and to be a beautiful and powerful bond between husband and wife." – John MacArthur
"God intends and expects marriage to be a lifetime commitment between a man and a woman, based on the principles of biblical love. The relationship between Jesus Christ and His church is the supreme example of the committed love that a husband and wife are to follow in their relationship with each other." – John C. Broger
"Marriage is a total commitment and a total sharing of the total person with another person until death." – Wayne Mack
"A married person does not live in isolation. He or she has made a promise, a pledge, a vow, to another person. Until that vow is fulfilled and the promise is kept, the individual is in debt to his marriage partner. That is what he owes. "You owe it to yourself" is not a valid excuse for breaking a marriage vow but a creed of selfishness." – R.C. Sproul
"Many marriages would be better if the husband and the wife clearly understood that they are on the same side." – Zig Ziglar
"To solve a marriage problem, you have to talk with each other about it, choosing wisely the time and place. But when accusations and lengthy speeches of defense fill the dialogue, the partners are not talking to each other but past each other. Take care to listen more than you speak. If you still can't agree on a solution, consider asking a third party, without a vested interest, to mediate." – R.C. Sproul
What Are Your Favorite Marriage Bible Verses?
My favorite Bible verses about marriage are Genesis 2:24 and Proverbs 18:22. Studying the Bible can help you get a deeper understanding of marriage.
Check out more Bible Verses: