29 Bible Verses About Forgiveness Plus! Free Printable
This article may contain affiliate links. I may earn money from the companies mentioned in this post with no additional cost to you. Please read my disclosure policy for more info. All Bible quotations are from the New King James Version (NKJV) unless otherwise stated Bible Copyright Attribution.
There's no denying that all of us have done wrong. There are times when we desire forgiveness and times when others ask for our forgiveness.
Forgiveness is a very powerful act. There are many layers to it that are closely associated with love. After all, to forgive is to love. And there is no better guide that teaches the power and importance of forgiveness than the Bible.
When I need advice on forgiving others and forgiving myself, I pray to the Holy Spirit for guidance. There are a number of Bible verses about forgiveness. Studying the Truth and memorizing scripture has helped me learn more about God's forgiveness.
What Is Forgiveness?
Forgiveness is simply a deliberate decision to let go of the lingering anger towards a person or a group of people who have hurt you. The act of forgiving is undoubtedly easier said than done. But it eases the forgiver's pain and neutralizes resentment.
Forgiving yourself is equally important as confessing your sins and forgiving others. Forgiveness is so powerful; forgiveness encourages compassion. It is key to inner freedom.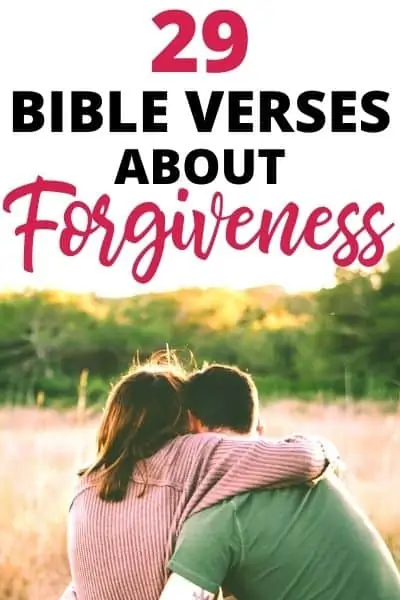 Forgiveness in the Bible
The Bible teaches us that forgiveness is essential to grow as children of God. Forgiveness and healing are closely related.
Forgive others who have hurt you even if they do not deserve it. If you have done wrong, confess your sins and trust in Jesus, He will forgive you.
The forgiveness we receive from God is closely tied to us forgiving others. Scripture tells us the following in Matthew:
"For if you forgive men their trespasses, your heavenly Father will also forgive you. But if you do not forgive men their trespasses, neither will your Father forgive your trespasses." Matthew 6:14-15 NKJV
One wonderful thing about forgiving is that it frees up the forgiver's mind; it reduces stress levels and brings peace. If you want to ask for forgiveness, confess your sins to the Father in prayer.
Here are my takeaways from the Bible on forgiveness.
All of Us Need Forgiveness
It is no surprise that all of us have sinned and desire forgiveness. If you have done wrong, confess your sins to our Father and pray for the strength to forgive yourself and stay away from doing wrong. He forgives us with open arms when we ask.
Forgive Others That Hurt You
Only if we forgive others will God forgive us. As His children, we should not hold a grudge or lingering anger toward others. Forgive them even when they don't deserve it. In the end, forgiving others will bring us peace, joy, hope, and renewal of our minds.
Forgive Yourself
Self-forgiveness is underrated. When we go too hard on ourselves with negative thoughts and self-deprecating comments, we are blaming ourselves for our flaws. We need to take out thoughts captive and take ownership of them by confessing to the Lord. Forgive yourself and work on not making the same mistakes.
Scriptures on Forgiveness Free Printable
I created these free verses on forgiveness pdf so you take these Bible Verses on forgiveness with you. All you need to do is click this free verses on forgiveness pdf printable link to get the free printable, print it on card stock (this is what I use), cut it out, punch a hole in the corner, and use a loose-leaf ring (this is what I use) to secure it.
You can also laminate (this is what I use) them if you'd like. It will help keep them in good condition. I pray that you can benefit from these free Bible Verses on forgiveness pdf printable.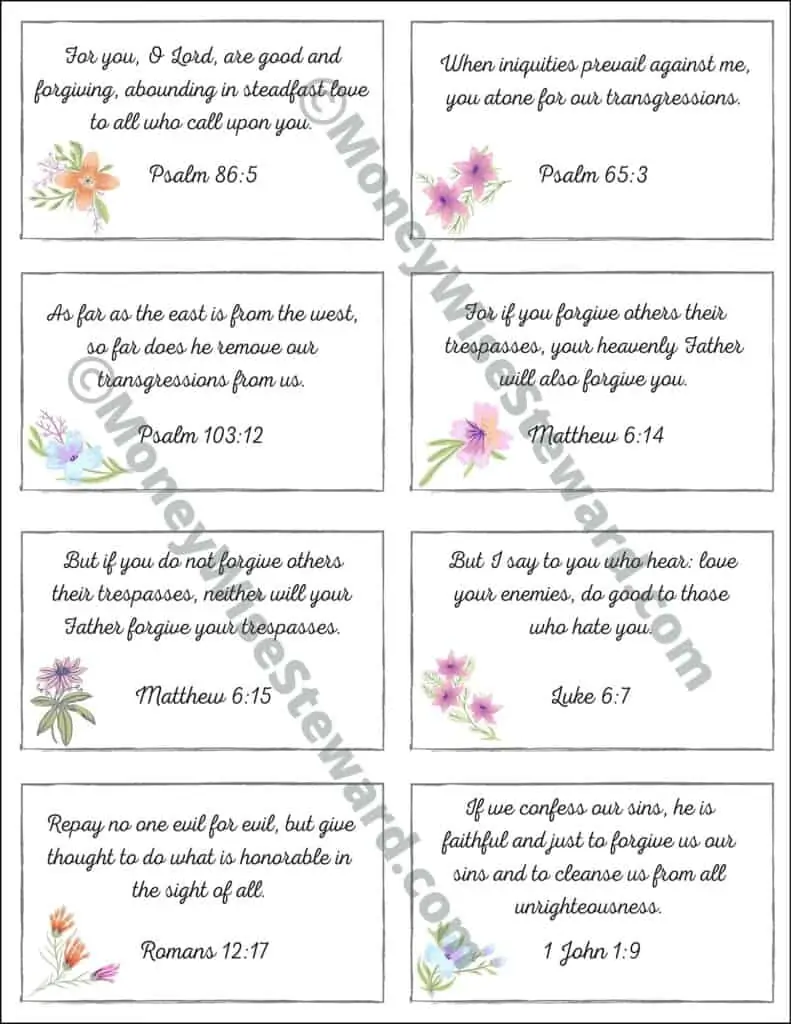 Bible Verses about Forgiveness
The Bible has many different versions available. The Bible verses about forgiveness below are from the English Standard Version.
Scriptures on Forgiveness in the Old Testament
Leviticus 19:18 – You shall not take vengeance or bear a grudge against the sons of your own people, but you shall love your neighbor as yourself: I am the LORD.
Numbers 14:19 – Please pardon the iniquity of this people, according to the greatness of your steadfast love, just as you have forgiven this people, from Egypt until now."
2 Chronicles 30:9 – For if you return to the LORD, your brothers and your children will find compassion with their captors and return to this land. For the LORD your God is gracious and merciful and will not turn away his face from you, if you return to him."
Psalm 32:1-2 – Blessed is the one whose transgression is forgiven, whose sin is covered. Blessed is the man against whom the LORD counts no iniquity, and in whose spirit there is no deceit.
Psalm 65:3 – When iniquities prevail against me, you atone for our transgressions.
Psalm 86:5 – For you, O Lord, are good and forgiving, abounding in steadfast love to all who call upon you.
Psalm 103:12 – As far as the east is from the west, so far does he remove our transgressions from us.
Proverbs 15:1 – A soft answer turns away wrath, but a harsh word stirs up anger.
Proverbs 17:9 – Whoever covers an offense seeks love, but he who repeats a matter separates close friends.
Proverbs 28:13 – Whoever conceals his transgressions will not prosper, but he who confesses and forsakes them will obtain mercy.
Isaiah 1: 18 – "Come now, let us reason together", says the LORD, "though your sins are like scarlet, they shall be as white as snow; though they are red like crimson, they shall become like wool."
Jeremiah 31:34 – And no longer shall each one teach his neighbor and each his brother, saying, 'Know the LORD,' for they shall all know me, from the least of them to the greatest, declares the LORD. For I will forgive their iniquity, and I will remember their sin no more."
Daniel 9:9 – To the Lord our God belong mercy and forgiveness, for we have rebelled against him.
Scriptures on Forgiveness in the New Testament
Matthew 6:12 – And forgive us our debts, as we also have forgiven our debtors.
Matthew 6:14 – For if you forgive others their trespasses, your heavenly Father will also forgive you.
Matthew 6:15 – But if you do not forgive others their trespasses, neither will your Father forgive your trespasses.
Matthew 18:21-22 – Then Peter came up and said to him, "Lord, how often will my brother sin against me, and I forgive him? As many as seven times?" Jesus said to him, "I do not say to you seven times, but seventy-seven times.
Mark 11:25 – And whenever you stand praying, forgive, if you have anything against anyone, so that your Father also who is in heaven may forgive you your trespasses."
Luke 6:27 – But I say to you who hear: love your enemies, do good to those who hate you.
Luke 6:37 – Judge not, and you will not be judged; condemn not, and you will not be condemned; forgive, and you will be forgiven.
Luke 17:3-4 – Pay attention to yourselves! If your brother sins, rebuke him, and if he repents, forgive him, and if he sins against you seven times in the day, and turns to you seven times, saying, 'I repent,' you must forgive him."
John 13:34 – A new commandment I give to you, that you love one another: just as I have loved you, you also are to love one another.
Romans 12:17 – Repay no one evil for evil, but give thought to do what is honorable in the sight of all.
Ephesians 1:7 – In him we have redemption through his blood, the forgiveness of our trespasses, according to the riches of his grace.
Ephesians 4:31-32 – Let all bitterness and wrath and anger and clamor and slander be put away from you, along with all malice. Be kind to one another, tenderhearted, forgiving one another, as God in Christ forgave you.
Colossians 3:13 – Bearing with one another and, if one has a complaint against another, forgiving each other; as the Lord has forgiven you, so you also must forgive.
Hebrews 8:12 – For I will be merciful toward their iniquities, and I will remember their sins no more.
James 5:16 – Therefore confess your sins to one another and pray for one another, that you may be healed. The prayer of a righteous person has great power as it is working.
1 John 1:9 – If we confess our sins, he is faithful and just to forgive us our sins and to cleanse us from all unrighteousness.
Bible Quotes About Forgiveness
Here are some of my favorite forgiveness Bible quotes.
"I can forgive, but I cannot forget, is only another way of saying, I will not forgive. Forgiveness ought to be like a canceled note – torn in two, and burned up, so that it never can be shown against one." – Henry Ward Beecher
"We win by tenderness. We conquer by forgiveness." – Frederick W. Robertson
"Forgiveness is the giving, and so the receiving, of life." – George Macdonald
"God pardons like a mother, who kisses the offense into everlasting forgiveness." – Hannah More
"The voice of sin is loud, but the voice of forgiveness is louder." – Dwight L. Moody
"To be a Christian means to forgive the inexcusable, because God has forgiven the inexcusable in you." – C.S. Lewis
"Forgiveness doesn't make the other person right, it makes you free." – Stormie Omartian
"We are not perfect, forgive others as you would want to be forgiven." – Catherine Pulsifer
"If you do not practice empathy and forgiveness for your actions, it will be impossible to practice empathy with others." – Laura Raskin
Check out more Bible verses:
Scriptures about Giving Thanks
Bible Verses about Forgiveness