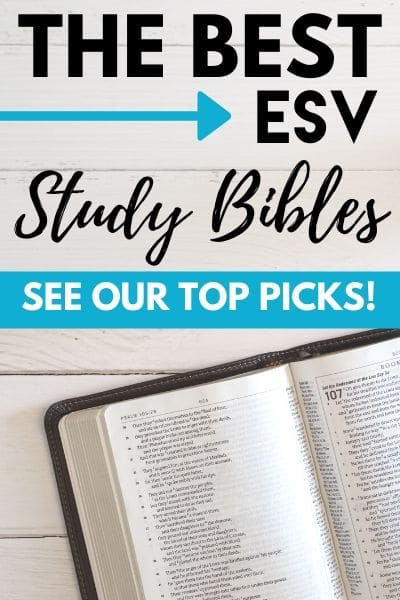 Making the decision to receive Jesus is life-changing. Getting to know Him better is done through Bible study, constant prayer and worship. Equipping yourself with a good study Bible can help you understand the scripture as read it.
My goal here is to help you find a study Bible that will grow your walk with Christ. In this post, I will be focusing on sharing the best ESV study Bible.
Arming yourself with God's Truth is the most important thing you can do as a Christian. The Bible contains everything you need to live a life that glorifies God.
"All Scripture is God-breathed and is useful for teaching, rebuking, correcting and training in righteousness, so that the servant of God may be thoroughly equipped for every good work." – 2 Timothy 3:16 NIV
The Bible is the authority on what is right and what is wrong. If you don't take the time to study the Bible, you won't know the difference between the two. Lines will become blurred and you will find your self compromising God's Truth.
Being equipped to stand for God takes discipline. We can't get to know someone if we don't put the time into knowing them.
Over the years, I've invested in a few study Bibles and a pocket Bible. They have helped me grow and continue to equip me in my walk with Christ.
There are many different versions of the Bible available. We each have different preferences when it comes to choosing a study Bible. Thankfully, there are multiple ESV Study Bibles available. Today we will be looking at the different ESV study Bibles and their unique features.
What is an ESV Study Bible? 
The "ESV" in an ESV Study Bible stands for English Standard Version. It's the literal translation of the Bible to contemporary English.
A study Bible differs from a regular Bible. Study Bibles contain a commentary that helps you research Bible verses as you read them. They also feature an introduction to each book of the Bible so you can get a better understanding of who wrote the book and what time it took place.
Most study Bibles have maps that give you visual locations so you can deepen your study. There are also other features that vary for each Bible.
Deciding what ESV study Bible you want is a very important decision. Everyone learns at different levels. One person may prefer more detailed maps while another person may want an in-depth commentary.
Each study Bible has its own unique features. Let's look at them more in-depth to see which one you like best.
Keep in mind that the best ESV study Bible really depends on your personal preference. The ESV Bibles we will explore have different formats, charts, maps, and more.  The idea is to help you find the best ESV study Bible for you.
The Best ESV Study Bible
ESV Study Bible Large Print
Over 20,000 study notes
80,000+ cross-references to quickly reference other Bible verses
200+ charts to clarify the stories in the Bible
240 two-color maps and illustrations to help bring the Bible to life
The ESV Large Print Study Bible was designed to help you study the Bible deeper. This edition features a highly readable, large-print type. The extensive study notes, charts, maps, and articles make this study Bible a great resource for personal Bible study and teachers of God's Word.
ESV Study Bible Leather
Wide Margins for notes
Key Words in the Biblical Text Coded to Strong's Numbers for easy reference
Dictionary entry for all the words in the Bible text
Introductions for each book of the Bible
Red Letter Edition
This ESV leather study Bible is perfect for determining the real meaning of a word that was translated into Scripture.  Since most of us are not familiar with the original language, we are not able to determine how the word in the original text was used. This study Bible will help you see the differences between these words.
This Hebrew-Greek Key Word Study Bible points out the keywords of the original languages and gives you a clear explanation of their meaning. This Bible contains a whole library of biblical help.
Sale
ESV Study Bible Personal Size
Features 1,120 pages
Less than 1″ thick
Double-column, paragraph format
Concordance with over 12,000 references
Full-color maps
This personal size ESV Study Bible is 5.375 x 8.375 in size. A study Bible doesn't have to big and bulky. This is a perfect study Bible to take on the go. It's available in a few other designs if you want a different look.
You will notice that this study Bible has fewer features than the larger ones. Again this is a preference and it fully depends on what you are looking for in a study Bible.  This may work for you if you don't want to carry around a large study Bible.
Sale
ESV Thinline Bible (Black)
Used Book in Good Condition
ESV Bibles by Crossway (Author)
English (Publication Language)
1120 Pages - 03/25/2003 (Publication Date) - Crossway (Publisher)
Do You Have a Favorite ESV Study Bible?
These are our favorite Study Bibles in the English Standard Version. If you have a favorite ESV Study Bible, we'd love to hear what it is. Leave us a comment below to share your experience. We love hearing from our readers so we can provide the best products.
Our family has been blessed with multiple study Bibles. Some of them are different versions which make it fun to study.  We all have a different preference in our versions.