22 Bible Verses about Trusting God Plus! Free Printable
This article may contain affiliate links. I may earn money from the companies mentioned in this post with no additional cost to you. Please read my disclosure policy for more info. All Bible quotations are from the New King James Version (NKJV) unless otherwise stated Bible Copyright Attribution.
We as Christians are called to trust the Lord. This is one of the hardest things to do in my opinion.
I can read the Bible and learn everything about the God who created me but then…I need to trust Him with my life.
There are multiple Bible verses about trusting God in the Bible and many examples of people actually trusting Him. Studying the Bible helps us understand how we are can trust Him.
The encouraging part about people trusting God in the Bible is that we see the outcome of their trust. This gives us the ability to trust God because He is faithful.
What Does the Bible Say about Trusting God?
Scriptures on trusting God make it very clear that we are to trust the Lord with our life. He created us and knew us before He formed us in the womb (Jeremiah 1:5).
He has a plan for us and will work everything out for our good if we walk according to His will (Romans 8:28). This means we can trust Him because He is in control.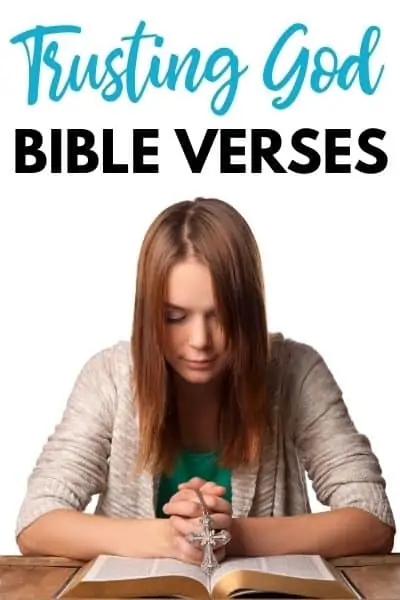 Trusting God Verses
Scriptures on trust have helped me understand how God wants me to trust Him. When we surrender our life and receive Jesus as our Lord and Savior, the trust process begins.
"Trust in the Lord with all your heart, And lean not on your own understanding; In all your ways acknowledge Him, And He shall direct your paths." Proverbs 3:5-6 NKJV
In order to walk with Jesus, we need to fully surrender our life to His will. We need to stop walking in our old ways and walk in faith.
When I accepted Jesus Christ into my life, I knew I couldn't do it on my own. I knew I needed to repent because the road I was walking was bad for me.
The Holy Spirit filled me with the desire to be born again and start a new life trusting in Jesus.
Bible Verses about Trusting God
Scriptures on trusting God are an important area to study. If we don't trust God, how can we have faith in His plan for us?
We are blessed to have the opportunity to study the Bible and learn firsthand what God is trying to teach us. It begins with having the faith to trust Him.
Memorizing these Bible verses would be a great way to keep these scriptures on trust close to your heart. We need to be equipped with His Truth to navigate the world.
I'm praying that these Bible verses will help you Trust in Jesus. Keep these Bible verses close to your heart so you can use them as part of God's Armor.
I don't know about you but I'm attacked daily about questioning God's goodness. Take your thoughts captive and use these scriptures about trust to fill your heart and mind.
Free Printable Scriptures on Trust
I made these printable Bible verses about trusting God so you can take them with you. I love keeping 3 x 5 cards with me so I can reference Bible verses on the go.
All you need to do is click this free printable link to get your free download, print it on card stock (this is what I use), cut it out, punch a hole in the corner, and use a loose-leaf ring (this is what I use) to secure it.
You can also laminate (this is what I use) them if you'd like. It will help keep them in good condition. I pray that you will benefit from these free trusting God scriptures.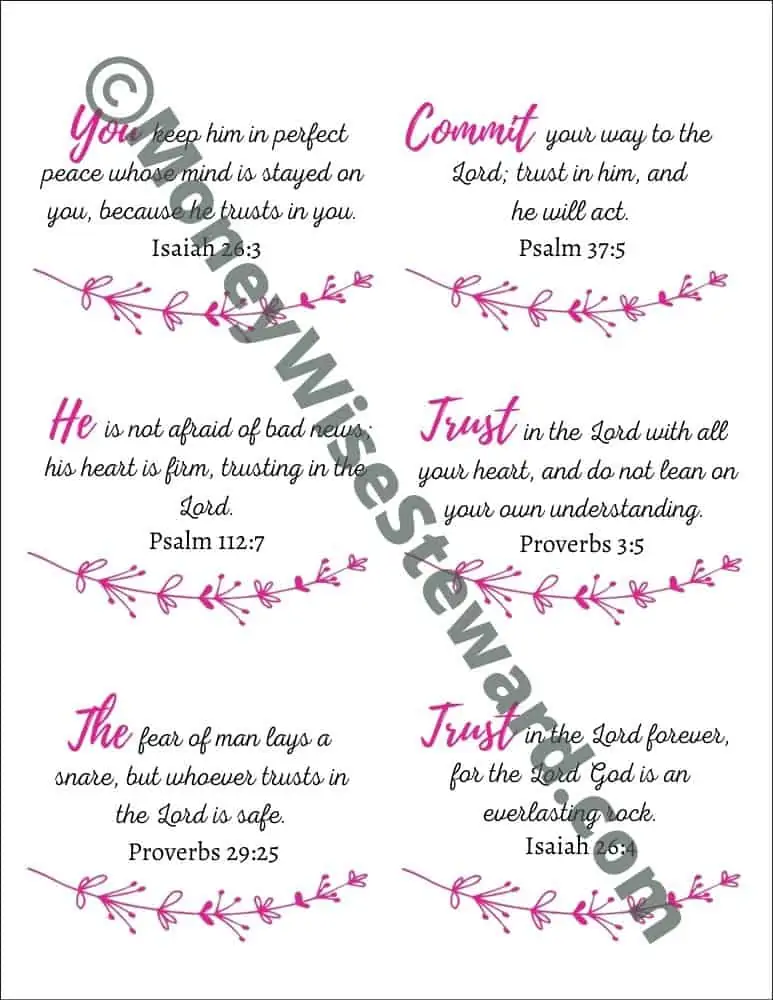 Scriptures on Trusting God
The Bible has many different versions available. The Bible scriptures below are from the English Standard Version.
I listed these trust verses in order of the books of the Bible below.
Bible Verses about Trusting God in the Old Testament
Joshua 1:9 – Have I not commanded you? Be strong and courageous. Do not be frightened, and do not be dismayed, for the LORD your God is with you wherever you go.
Psalms about Trusting God
Psalm 9:10 – And those who know your name put their trust in you, for you, O LORD, have not forsaken those who seek you.
Psalm 20:7 – Some trust in chariots and some in horses, but we trust in the name of the LORD our God.
Psalm 28:7 – The LORD is my strength and my shield; in him my heart trusts, and I am helped; my heart exults, and with my song I give thanks to him.
Psalm 32:10 – Many are the sorrows of the wicked, but steadfast love surrounds the one who trusts in the LORD.
Psalm 37:4-6 – Delight yourself in the LORD, and he will give you the desires of your heart. Commit your way to the LORD; trust in him, and he will act. He will bring forth your righteousness as the light, and your justice as the noonday.
Psalm 56:3-4 – When I am afraid, I put my trust in you. In God, whose word I praise, in God I trust; I shall not be afraid. What can flesh do to me?
Psalm 62:7-8 – On God rests my salvation and my glory; my mighty rock, my refuge is God. Trust in him at all times, O people; pour out your heart before him; God is a refuge for us. Selah
Psalm 91:1-2 – He who dwells in the shelter of the Most High will abide in the shadow of the Almighty. I will say to the LORD, "My refuge and my fortress, my God, in whom I trust."
Psalm 112:6-7 – For the righteous will never be moved; he will be remembered forever. He is not afraid of bad news; his heart is firm, trusting in the LORD.
Psalm 118:8 – It is better to take refuge in the LORD than to trust in man.
Psalm 143:8 – Let me hear in the morning of your steadfast love, for in you I trust. Make me know the way I should go, for to you I lift up my soul.
Proverbs 3:5-6 – Trust in the LORD with all your heart, and do not lean on your own understanding. In all your ways acknowledge him, and he will make straight your paths.
Proverbs 29:25 – The fear of man lays a snare, but whoever trusts in the LORD is safe.
Isaiah 12:2 – "Behold, God is my salvation; I will trust, and will not be afraid; for the LORD GOD is my strength and my song, and he has become my salvation."
Isaiah 26:3-4 – You keep him in perfect peace whose mind is stayed on you, because he trusts in you. Trust in the LORD forever, for the LORD GOD is an everlasting rock.
Jeremiah 17:7-8 – "Blessed is the man who trusts in the LORD, whose trust is the LORD. He is like a tree planted by water, that sends out its roots by the stream, and does not fear when heat comes, for its leaves remain green, and is not anxious in the year of drought, for it does not cease to bear fruit."
Jeremiah 29:11 – For I know the plans I have for you, declares the LORD, plans for welfare and not for evil, to give you a future and a hope.
Bible Verses about Trusting God in the New Testament
Matthew 6:25-26 – "Therefore I tell you, do not be anxious about your life, what you will eat or what you will drink, nor about your body, what you will put on. Is not life more than food, and the body more than clothing? Look at the birds of the air: they neither sow nor reap nor gather into barns, and yet your heavenly Father feeds them. Are you not of more value than they?
John 10:10 – The thief comes only to steal and kill and destroy. I came that they may have life and have it abundantly.
Philippians 4:19 – And my God will supply every need of yours according to his riches in glory in Christ Jesus.
Hebrews 11:6 – And without faith it is impossible to please him, for whoever would draw near to God must believe that he exists and that he rewards those who seek him.
Hebrews 13:8 – Jesus Christ is the same yesterday and today and forever.
Trust God Quotes
Here are some quotes about trusting God from some of my favorite influencial Christians.
"The more you believe and trust God, the more limitless your possibilities become for your family, your career – for your life!" – Rick Warren
"The Bible says we can only get to heaven by trusting in God through his Son, Jesus Christ. And we don't have to earn God's love or work our way into heaven. " – Rick Warren
"Instead of worrying, we're to thank God for his promise to work everything together for good, trusting in his sovereign grace." – Randy Alcorn
"There is an antidote to our fears – trust. If we trust God more, we can fear less. What a comforting promise." – Max Lucado
"Never be afraid to trust an unknown future to a known God." – Corrie Ten Boom
"Faith isn't the ability to believe long and far into the misty future. It's simply taking God at His Word and taking the next step." – Joni Erickson Tada
"If you wish to know God, you must know his Word. If you wish to perceive His power, you must see how He works by his Word. If you wish to know His purpose before it comes to pass, you can only discover it by His Word." –– Charles Spurgeon
What are your Favorite Verses about Trusting God?
Thankfully we can trust God by believing His Word. My favorite scriptures on trusting God are Isaiah 26:3-4 and Psalm 118:8. I'm so blessed to be able to hold onto His Words.
Remember, that He is in control and has a great plan for your life (Jeremiah 29:11).
Here are More Bible Verses to Guide You
Scripture about Helping Others