7 Reasons I Can Do All Things Through Christ
This article may contain affiliate links. I may earn money from the companies mentioned in this post with no additional cost to you. Please read my disclosure policy for more info. All Bible quotations are from the New King James Version (NKJV) unless otherwise stated Bible Copyright Attribution.
While facing some really hard trials and tribulations in his life, Paul wrote these words "I can do all things through Christ who strengthens me". This Bible verse is recited by many Christians because it is uplifting and really encouraging.
God gives us strength that goes beyond what we can even imagine and that is what Paul realized despite the pain and threat of death. Sometimes moments that we face, seem like they're never-ending, or just hard to take on that day.
God's strength gives us reassurance that everything will be okay. Christ's strength doesn't reach only the surface or even last for just a sliver of the moment.
It hits deep within the hard times and through the worst pain. When we are weak, His strength goes deep and it's more powerful than what we can truly comprehend.
What Does "I Can Do All Things Through Christ" Mean?
"I can do all things through Christ" gives us hope through the spiritual warfare, struggles, and hardships that we face. When you read this verse, you'll see that Paul was communicating with the Philippian church.
He shared how he had learned to be content no matter the circumstances he endured. He found his contentment not through being well-fed or through his circumstances. Paul found contentment through Jesus Christ just like we can today.
Every day, we may go through a lot or a little. And some days are harder than other days. When we find, contentment through God, we can find the eternal joy of the Lord. As you read through scripture, Paul's letter shows us that he was trying to share that wisdom.
Regardless of what circumstances we are in, we can still have contentment, peace, and joy. The power of Jesus Christ in you alone is enough.
It's amazing when you think about the books of the Bible and how others found contentment and made the decision to choose joy when they were on shaky ground. While sitting in prison, in a weary spot, where he couldn't rely on himself or his own strength, Paul wrote about where his strength came from.
Imagine what it felt like to be in a cold and dark cell. He had absolutely nothing yet he had everything. He had what matters and it was because he had God. Christ gives us all the strength we need and that's why you can do all things through Christ.
Where Does the Bible Say that "I Can Do All Things Through Christ"?
Philippians 4:13 says:
"I can do all things through him who strengthens me." (ESV)
Through Bible study and memorizing scripture the Holy Spirit can help us find contentment in the midst of life. It's not easy, but through Christ, we can preserve it. Just like the parting of the red sea, God didn't make the water fully disappear, He simply parted the sea to make a way.
That is exactly who God is. He makes a way for us, even when it feels like there's no way and no way out of the pit we are in. Sometimes things in life don't go the way we hope they would but God always works things out for our good.
Whatever you are facing today, you are not alone, and you can face tomorrow because of our Lord and Savior Jesus Christ.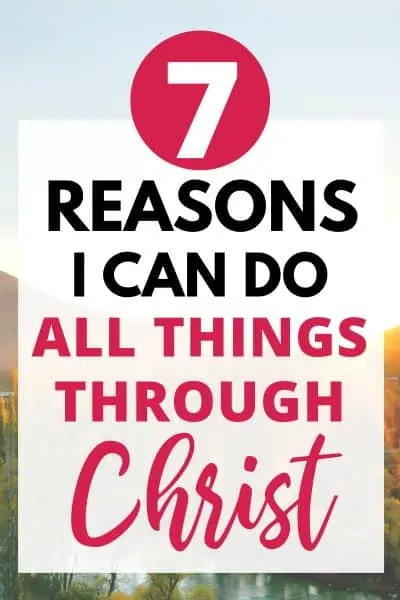 Reasons I Can Do All Things Through Christ and You Can Too
This scripture can challenge us to be content, it gives us a good perspective on how we can view things. All we need is Jesus, that's what Paul was trying to tell the church. He wanted them to know that we can be content in Christ alone.
God promises to give us peace, hope, wisdom, joy, and strength for whatever we face in our everyday life. God responds to our faith by fulfilling His promises in our lives. He has a plan for us and it will be fulfilled.
1. God Cares for You
God will take care of all your needs and answer your prayers. Sometimes it will not be how we thought it will go or how we wanted our prayers to be answered but He is faithful to supply us with everything we need according to His will.
"Ask, and it will be given to you; seek, and you will find; knock, and it will be opened to you." Matthew 7:7
"And my God will supply every need of yours according to his riches in glory in Christ Jesus." Isaiah 41:13
2. God Works Everything Out for your Good
Everything works out because God has a purpose. God knew our way before we were born. While we sometimes can only see one outcome, He knows what is best for us.
"And we know that for those who love God all things work together for good, for those who are called according to his purpose." Romans 8:28
"The Lord will fight for you, and you have only to be silent." Exodus 14:14
3. God is with You
God is with us every single day, through all the trials we face, every step of the way, and He promises to protect us. There is nothing that can separate us from God.
"It is the Lord who goes before you. He will be with you; he will not leave you or forsake you. Do not fear or be dismayed." Deuteronomy 31:8
"When you pass through the waters, I will be with you; and through the rivers, they shall not overwhelm you; when you walk through fire you shall not be burned, and the flame shall not consume you." Isaiah 43:2
"No man shall be able to stand before you all the days of your life. Just as I was with Moses, so I will be with you. I will not leave you or forsake you." Joshua 1:5
4. God has a Plan for You
God created us all with a purpose and a plan. He created all the stars, Heaven, and Earth, and He knows you by name. You are fearfully and wonderfully made in His image.
"For I know the plans I have for you, declares the Lord, plans for welfare and not for evil, to give you a future and a hope." Jeremiah 29:11
"Fear not, for I am with you; be not dismayed, for I am your God; I will strengthen you, I will help you, I will uphold you with my righteous right hand." Isaiah 41:10
5. God gives you Peace
Just like Paul wrote in his letter, no matter the circumstances we face, and the trials we endure, God promises to give us peace. We can find contentment through each day and we can find the peace and eternal joy of the Lord.
"I have said these things to you, that in me you may have peace. In the world you will have tribulation. But take heart; I have overcome the world." John 16:33
"You keep him in perfect peace whose mind is stayed on you, because he trusts in you." Isaiah 26:3
6. God gives you Rest and Strength
No matter how low we feel, we can fully rely on the strength of the Lord. God doesn't want you to carry the burden of the weight of this world. When we grow weary and tired, we need to lift it up to the Lord. God promises to give us rest and we can trust that His strength will carry us through.
"Come to me, all who labor and are heavy laden, and I will give you rest. Take my yoke upon you, and learn from me, for I am gentle and lowly in heart, and you will find rest for your souls." Matthew 11:28-29
"But they who wait for the Lord shall renew their strength; they shall mount up with wings like eagles; they shall run and not be weary; they shall walk and not faint." Isaiah 40:31
7. God gives you Freedom and Eternal Life
God is faithful to us and fulfills His promise to us. When we confess our sins and accept Jesus Christ as our Lord and Savior, He cleans us from our unrighteousness and forgives us. God sent His one and only Son to die on the cross for our sins so that we may have eternal life and a relationship with Christ.
"For God so loved the world, that he gave his only Son, that whoever believes in him should not perish but have eternal life." John 3:16
"So if the Son sets you free, you will be free indeed." John 8:36