6 Ways To Wait On The Lord Patiently
This article may contain affiliate links. I may earn money from the companies mentioned in this post with no additional cost to you. Please read my disclosure policy for more info. All Bible quotations are from the New King James Version (NKJV) unless otherwise stated Bible Copyright Attribution.
It is human nature to get frustrated while waiting for someone. We become restless while waiting for the mail, for someone to pick up our call, or even while waiting in a queue. So waiting on the Lord is unquestionably challenging.
While we wait upon the Lord, we tend to listen to the worldly temptations that lead us astray spiritually. But even during these incredibly hard times, God wants us to remain his beloved children, obey his commands, and lead a good Christian life.
Studying the Bible and memorizing Bible verses has helped me better understand how to wait on the Lord patiently. In this article, I will share ways I've learned to wait upon the Lord.
What Does Wait on the Lord Mean?
A few years ago, I thought that waiting on the Lord simply meant just waiting for him to answer my prayers and that all I had to do was go about my day.
But then I realized that I cannot just pray endlessly and expect God to put everything in place. I understood that I needed to focus on being patient, trusting God, and being a blessing to others.
But you may ask, what exactly do you mean by waiting on the Lord?
To wait on the Lord is to accept and believe that God will act at the right time. To wait on the Lord is to have unwavering faith, a brightness of hope, unswerving dedication, relentless love, and unshakeable trust in our Father.
Waiting on the Lord involves submitting all our worries and anxieties before Him. Our God tells us to not be anxious about anything (Philippians 4:6) and to trust Him with all our hearts (Proverbs 3:5).
What Does the Bible Say About Waiting on the Lord?
King David beautifully describes the meaning of waiting on the Lord in Psalm 27:
"Wait on the LORD: Be of good courage, and he shall strengthen thine heart: Wait, I say, on the LORD" – Psalm 27:14 KJV
The Bible has inspiring examples of believers who patiently waited on the Lord and received abundant blessings from God. The story of Abraham, Joseph, Job, and many others shows that God is good to those who wait upon Him.
Abraham Waiting on the Lord
After Abraham asks God for a son who can inherit all his wealth, God makes a covenant and promises offspring despite Sarah being 75 years old. Abraham had an abiding faith in God even when there was no room for hope and waited for nearly 25 years! He was 100 years old when Isaac was born (Genesis 21:5).
Joseph Waiting on the Lord
The life of Joseph is also a great example of waiting on the Lord. Joseph's brothers sold him into slavery, jealous of their father's love for him. He was taken to Egypt and ended up in jail for a crime he did not commit.
Even in such difficult times, he completely trusted God and did not let go of his faith. Two years later, he was released from prison to interpret Pharaoh's dreams. He then became ruler of the land, second to King Pharaoh, and was in power when his family visited Egypt for food during the famine.
Both Abraham and Joseph trusted the Lord with all their hearts while waiting for Him. They were strong and courageous at heart and did not let anyone or anything waver their faith. God showed up at the right time and showered His blessings upon them and their families.
So remind yourself that God is working for our good, even when we don't see Him. He wants us to lead our lives on the right paths, away from worldly temptations and sinful actions. He wants us to cast our worries on Him and patiently wait for Him.
"Even youths shall faint and be weary, and young men shall fall exhausted; but they who wait for the Lord shall renew their strength; they shall mount up with wings like eagles; they shall run and not be weary; they shall walk and not faint" Isaiah 40:30-31.
We may have several plans for our life but remember, only the purpose of the Lord will prevail.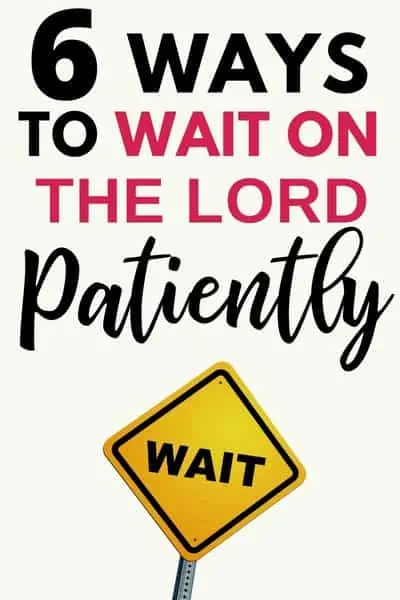 How to Wait on the Lord
There are certain things you need to do while waiting on the Lord. You need to reflect on yourself and see if your actions are in line with His will. Below are a few actionable ways to wait on the Lord.
Trust Him
Trusting the Lord during times of waiting can be challenging. When we do not receive an immediate answer, we start doubting Him. But our Father wants us to believe that He has a plan for us.
I don't mean believing that He will give us what we want, but that He will act and provide when the time is right. He does not lie. He does not change. Jesus Christ is the same yesterday, today, and forever (Hebrews 13:8).
If you are struggling with trusting God, the best place to start is the Bible. Seek Truth in scripture and meditate on the different Bible verses about trusting God.
While waiting for Him, understand that life will not always be easy. God did not promise us a life without trials and temptations. But He promised us that He will be there for us to help us and strengthen us, for He is our God (Isaiah 41:10).
Be Patient
Being patient has become more difficult than ever, especially in a world that runs on technology. If you are someone who easily gets tired of waiting, you're not alone.
Waiting on the Lord requires immense patience. God's work is not limited to a time frame and no one can predict His timing.
Peter wrote in 2 Peter 3:8-9:
"with the Lord one day is as a thousand years, and a thousand years as one day. The Lord is not slow to fulfill his promise as some count slowness, but is patient toward you, not wishing that any should perish, but that all should reach repentance."
No matter how long it takes, God will act at the right time. He is patient with us when we repent and turn to Him.
Patience is directly related to trust. We need to trust Him and His timing in order to patiently wait for Him. Meditate on His word and cultivate patience while waiting on the Lord. He has everything under control.
Seek Him Continually
Paul encourages us to seek the Lord continually in 1 Thessalonians 5:16-18:
"Rejoice always, pray without ceasing, in everything give thanks; for this is the will of God in Christ Jesus for you."
All of us have become neglectful of God and pursued worldly happiness at some point in our lives. This happens when we do not seek him continually.
When we pray without ceasing, our actions and decisions naturally come in line with God's will. How do you pray without ceasing? You praise Him every day, thank Him for His blessings, sing a worship song, and study the Bible.
Avoid Sin
Our Father wants us to obey his commandments and refrain from sinful actions in life.
"If you love me, you will keep my commandments." – John 14:15
The most effective way to avoid sin is to avoid the temptation to sin. Ask yourself when you are most tempted to commit sin. This may be a group of people or a situation. Avoid hanging out with people who encourage you to deviate from God's commands.
If you have committed a sin, repent and ask God for forgiveness. He is faithful and will forgive you but you need to ask Him.
Be Kind to Others
Scripture constantly reminds us to be kind. Paul the Apostle equates love with kindness.
"Love is patient, love is kind and is not jealous" – 1 Corinthians 13:4
Kindness is rare in today's world. As children of God, we should live in kindness and compassion and lend a helping hand to those in need. Our Father wants His children to be a shining example of kindness for all.
"But I say to you who hear: Love your enemies, do good to those who hate you, bless those who curse you, and pray for those who spitefully use you" – Luke 6:27-28
So while waiting for the Lord, smile more, listen to what others have to say, and be encouraging and spread kindness.
Stay Positive
It is easy to lose heart while waiting on the Lord. That is why we should stay positive and have an optimistic outlook during these times.
A few ways in which you can cultivate positivity include practicing gratitude, surrounding yourself with positive people, exercising regularly, and focusing on what you already have.
When it becomes difficult to stay positive, take a walk in nature, sing worship songs, and try giving positive energy to others. I know that staying positive is easier said than done. But it is important to train our brains to think positively.
In Romans 12:2, Paul urges us to renew our minds:
"And do not be conformed to this world, but be transformed by the renewing of your mind, that you may prove what is that good and acceptable and perfect will of God."
But remember that it is perfectly alright to not be positive all the time. We all feel exhausted and discouraged every now and then. However, the key is to eventually rise above it all and get back on your feet.
Wait on the Lord Verses
The Bible has different versions available. These Bible verses about waiting on the Lord are from the New King James Version. I listed these wait on the Lord verses in order of the books of the Bible below.
Psalm 27:14 – Wait on the Lord; Be of good courage, And He shall strengthen your heart; Wait, I say, on the Lord!
Psalm 37:7 – Rest in the Lord, and wait patiently for Him; Do not fret because of him who prospers in his way, Because of the man who brings wicked schemes to pass.
Psalm 37:34 – Wait on the Lord, And keep His way, And He shall exalt you to inherit the land; When the wicked are cut off, you shall see it.
Psalm 52:8-9 – But I am like a green olive tree in the house of God; I trust in the mercy of God forever and ever. I will praise You forever, Because You have done it; And in the presence of Your saints I will wait on Your name, for it is good.
Psalm 130:5 – I wait for the Lord, my soul waits, And in His word I do hope.
Isaiah 30:18 – Therefore the Lord will wait, that He may be gracious to you; And therefore He will be exalted, that He may have mercy on you. For the Lord is a God of justice; Blessed are all those who wait for Him.
Isaiah 40:31 – But those who wait on the Lord shall renew their strength; They shall mount up with wings like eagles, They shall run and not be weary, They shall walk and not faint.
Micah 7:7 – Therefore I will look to the Lord; I will wait for the God of my salvation; My God will hear me.
Romans 8:24-25 – For we were saved in this hope, but hope that is seen is not hope; for why does one still hope for what he sees? But if we hope for what we do not see, we eagerly wait for it with perseverance.
2 Peter 3:9 – The Lord is not slack concerning His promise, as some count slackness, but is longsuffering toward us, not willing that any should perish but that all should come to repentance.