The Best NIV Study Bible | See Our Top Picks
This article may contain affiliate links. I may earn money from the companies mentioned in this post with no additional cost to you. Please read my disclosure policy for more info. All Bible quotations are from the New King James Version (NKJV) unless otherwise stated Bible Copyright Attribution.
Studying the Bible is such a blessing. Thankfully, we have the freedom to study God's Word as often as we'd like. We have no excuse to be lukewarm Christians or nonbelievers. God's Word is readily available to us.
Having a good study Bible is important to help us understand God's Word. Study Bibles are great because they provide a further explanation of each Bible verse.
They can help you understand the scripture as you read it. As you know, there are many different Bible translations available. In this post, I will be focusing on sharing the Best NIV Study Bible.
I love studying the Bible so I have invested in a few different study Bibles. I also have a pocket Bible that I keep in my purse.
Having a Bible near me is so important and has helped me grow in my walk with Christ. Everyone has different preferences when choosing the best study Bible for them. The good news is there are multiple New International Version Study Bibles available.
So we will be looking at different NIV Study Bibles and their unique features. Don't forget to get a Bible cover to protect your study Bible. There are also some nice Bible highlighters and Bible tabs that can aid you in your study of the Bible.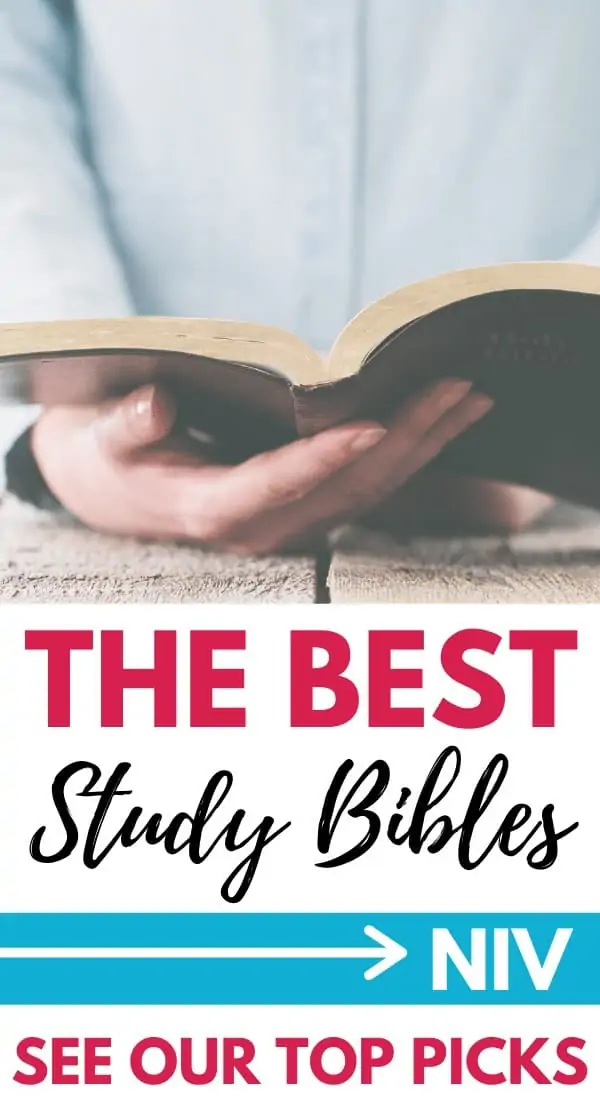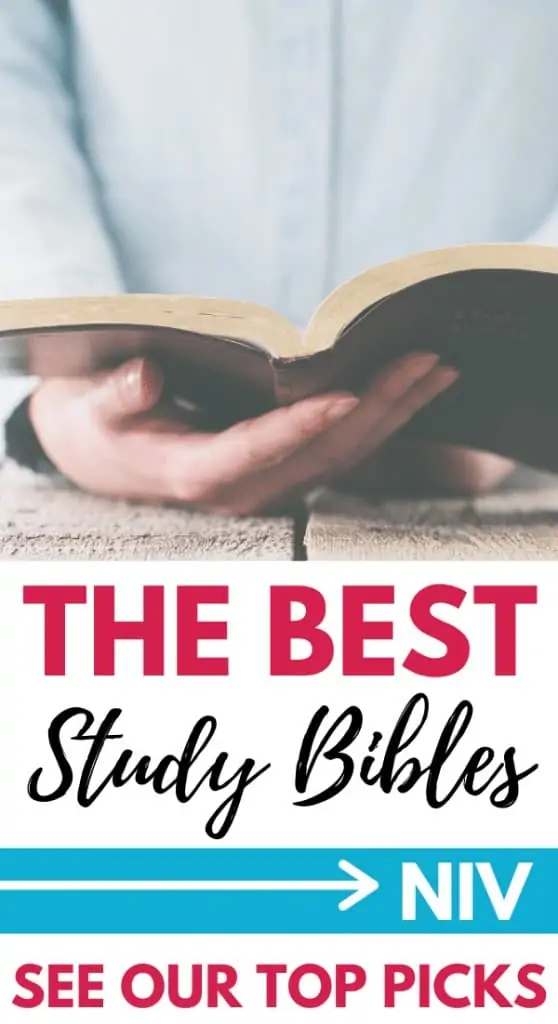 Free Bible printables are available on my free Bible printables page.
What is a Study Bible?
A Study Bible features a commentary that can help you better understand the Bible. Each book has an introduction that will help you better understand the time the book was written and the author of that book.
You will also find maps that give you visual locations to help you while you are studying. Sometimes there are more features but these are the standard features for most study Bibles.
Choosing an NIV Study Bible that fits you is a very important step. Everyone learns at different levels so you'll want to be sure to pick the one that works for you. Some people really enjoy looking at colorful maps while other people may want an in-depth commentary.
Each study Bible has its own special features. Looking at them more in-depth will help you make a decision on which one works best for you.
The best NIV study Bible really depends on your personal preference. The New International Version Study Bibles we will be looking at feature different types of charts, formats, maps, etc.
My goal is to help you narrow down the best NIV study Bible for you.
Best NIV Study Bibles
NIV Study Bible Hardcover
A complete text of the accurate, readable, and clear New International Version (NIV).
Over 20,000 study notes, with icons to make important information easy to spot.
Introductions and outlines provide valuable background information for each book of the Bible.
In-text maps, charts, diagrams, and illustrations visually clarify the stories in the Bible.
16 pages of full-color maps plus timelines and presentation page.
This New International Version Study Bible is a hardcover. It brings the Bible to life with full-color photographs.
My favorite feature is that it highlights areas of special interest so you can study the characters and personal application more in-depth. This is an award-winning study Bible.
Sale
NIV Study Bible Soft Cover
A complete text of the accurate, readable, and clear New International Version (NIV)
Introductions provide valuable background information for each book of the Bible
Cross-reference system
In-text subject headings
Verse-by-verse study notes
NIV concise concordance
Full-color Bible maps
Words of Jesus in red
Leathersoft cover lays flat when open
8-point type size
This NIV Study Bible has a soft cover and is one of the best study Bible. It's also available in hardcover if you prefer that. This study Bible has an easy-to-use layout.
The straight forward study notes help you understand God's Truth. It's perfect for both beginners and experienced students of the Bible.
Sale
NIV Life Application Large Print Study Bible
Life Application Notes
Personality Profiles
Book Introductions
Maps and Charts
Large Print
This NIV Life Application Study Bible Large Print is a softcover. This is a unique study Bible that explains difficult passages but it also shows you how to take it personally.
I love this because God's Word speaks into all parts of our lives. Another great feature is the real-life questions that are answered in this study Bible.
Sale
What's Your Favorite NIV Study Bible?
These are our favorite New International Version Study Bibles. We've been able to bless our kids and each other with study Bibles.
They have helped us all so much when studying Bible verses. The NIV translation is a newer and more modern bible translation.
What do you think about these NIV Study Bibles? I'd love to hear if you think there is a better New International Version Study Bible.
Leave us a comment below to share your experience. We love hearing from our readers so we can provide the best products!