The Best 4 Bible Highlighters | See Our Top Picks
This article may contain affiliate links. I may earn money from the companies mentioned in this post with no additional cost to you. Please read my disclosure policy for more info. All Bible quotations are from the New King James Version (NKJV) unless otherwise stated Bible Copyright Attribution.
I keep a lot of Bible verses from different books of the Bible close to my heart. I read them when I need guidance on navigating my life, when I need help trusting Him, and for encouragement in knowing that He is watching over and protecting me.
While studying the scriptures, I write notes on the sides and mark Bible verses using my Bible highlighters. I love highlighting Bible verses about faith, verses about God's love, the promises of God, attributes of God, and the scriptures I want to memorize.
I'm so grateful for the Bible highlighting system because it helps me grow in my walk with Jesus. You may want to consider blessing someone with a set of Bible highlighters, they make an excellent Christian gift.
I'm so excited to share the best Bible highlighters with you today!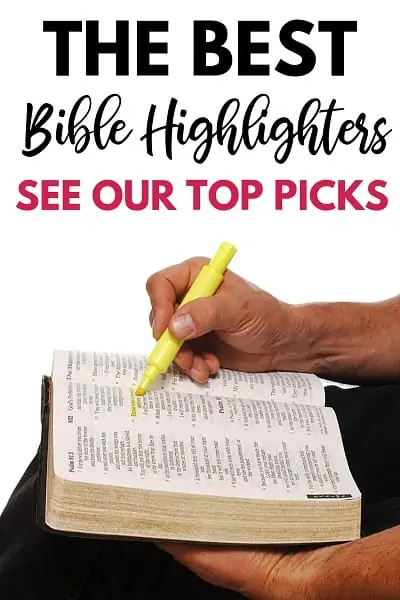 The Best Bible Highlighters
While purchasing highlighters for your Bible, you need to ensure that they are Bible-safe highlighters.
A good Bible highlighter has the following features:
Won't bleed on the backside of the paper
Dries fast on paper, so it won't smudge
Consistent and smooth distribution of ink
Tip-sharpening feature
Below you'll find the best Bible highlighters with all or most of these features. Happy shopping!
1. Gel Bible Highlighters
Pack of 8 no-bleed gel highlighters
Won't dry out if left uncapped
Twist-up stick design
Can be sharpened for fine tip
Here's an excellent pack of 8 vibrant colored no-bleed highlighters. They dispense a good amount of ink without bleeding or smearing. Whether you have heavy hand pressure or do a second layer, the ink will stay vibrant for a long time without bleeding.
Two notable features are the twist-up stick design and the tip sharpening. To use the highlighters, simply take off the cap and twist it. And if you want a fine tip, you can sharpen the highlighters.
Overall, these gel highlighters are easy to hold and one of the best highlighters out there for Bible journaling.
Sale
2. Dry Bible Highlighters
The set includes 4 dry highlighters

Refillable dry highlighters

No bleed, including thin Bible pa

ges

Button to advance lead

The set comes in a sturdy storage pouch 
Here's another set of 4 Bible-safe highlighters. These no-bleed dry highlighters are bright-colored and refillable. To get a fine tip, you just need to push the button to advance the lead instead of sharpening it. 
The highlighter set comes in a sturdy storage pouch. 
G.T. Luscombe Company, Inc. Bible Dry Highlighting Kit | No Bleed Eco-Friendly Rorsefillable Dry Highlighters | No Sharpening | No Smearing or Fading | Yellow, Blue, Pink, Green (Set of 4)
Bible Safe Dry Highlighters, Set Includes 4 Eye-Catching Bright Colors (Yellow, Blue, Green, Pink)
Refillable Dry Highlighter is Economical and Environmentally Friendly
Won't Bleed Through any Paper Including Thin Bible Paper. Archival Quality Will Not Fade or Smear Other Inks
No Sharpening Necessary, Just Push Button to Advance Lead
Set Comes in A Sturdy Storage Pouch with Bible Color Code. Perfect for Bible Study, Journaling, Color Coding, and so Much More
English (Publication Language)
3. Color Code Bible Highlighters
No bleed color code highlighters and pens

The set includes 5 dry highlighters and 5 colored Bible pens

Gel highlighters come with a twist-up design and the pens come with a fine tip

Can be sharpened for fine tip
If you want to use both highlighters and pens, here's a set of no-bleed color-code Bible highlighters. 
The highlighters come with a twist-up design. Simply take off the cap and twist the highlighters. You can also sharpen the tip for better precision. These Bible pens are fine ballpoint pens that glide smoothly on paper.
To sum up, this highlighter and pen set is a great Christian gift idea!
Sale
BLIEVE- Bible Study Kit With Gel Highlighters And Pens No Bleed Through, Amazing Bible Highlighter and Pens Fine Tip set Planner Supplies Gifts (10 Pack)
BIBLE STUDY SUPPLIES - The Bible highlighters and pens no bleed includes x5 Dry Highlighter x5 Colored Bible Pens for journaling
BIBLE SAFE - No bleed through thin paper like the regular markers do. The gel highlighter and fine point ball pens are Bible friendly
GEL HIGHLIGHTERS - The wax makes a great medium for the ink because it keeps the ink from soaking through to the other side of the page.
BIBLE PENS - No Smear, Draw Smooth, Fast Dry and Consistent writing. Ball pen design will prevent ink bleed.
HELPFUL BOOK ACCESSORIES- These Bible journaling items come with all that you need to embrace your faith and engage with scripture through art in a colorful, organized and creative way
AMAZING DESIGNS - Enjoy your journal time with the scripture markers and beautiful pens with great quality and unique designs
A PERFECT GIFT - A great way to surprise your loved ones with a great set of Bible accessories.
4. Bible Journaling Highlighters
Includes 10 Bible gel highlighters and 8 Bible pens

No bleed and no smear even on very thin pages

Bible pens have a smooth and pointed tip

Can be sharpened for fine print
This 18-pack Bible journaling highlighter set includes 10 Bible gel highlighters and 8 Bible pens. This vibrant-colored set is an excellent option if you're looking for Bible journaling highlighters. Even on very thin pages, the highlighters won't bleed or smear. 
These highlighters are similar to crayons. They are extremely soft and smooth. They can also be sharpened if you want a finer tip.
These Bible pens have smooth and pointed tips. You can use the pens to write over the highlighted text or simply underline the text.
Sale
Mr. Pen- Bible Journaling Kit, 18 Pack (10 Bible Gel Highlighter, 8 Bible Pens), Bible Highlighters and Pens No Bleed, Gel Highlighters, Bible Pens, Bible Pens and Highlighters No Bleed, Gifts, Gift
The Bible Journaling Supplies Includes 10 Gel Highlighter/Bible Highlighter 8 Colored Bible Pens
Both Pens And Highlighters Don't Bleed Through Any Paper Including Magazines And Bibles. No Smear, Smooth, Won't Dry Out If Left Uncapped
Every Colored Pen And Highlighter Is Made With High-Quality Materials
These Bible Journaling Items Come With All That You Need To Embrace Your Faith And Start Engaging With Scripture Through Art In A Visual And Creative Way
Amazing Gift To Surprise Your Loved Ones With A Great Set Of Bible Accessories.
How To Highlight Your Bible
In this Bible highlighting guide, you'll find the easiest and most efficient Bible highlighting system – Color Coding.
Using color coding in your Bible makes scripture learning fun and meaningful. This system involves assigning different colors to different subjects like commandments, promises, parables, prophecies, etc.
Below are a few ideas to help you learn how to highlight your Bible using the color code system. Simply use different colors to highlight the following:
Scriptures you want to memorize
The promises of God – those you look up to as a child of God
The attributes of God – loving, merciful, strong, mighty, etc
Bible Verses on a particular topic – verses that will help you conquer worry and fear and if you are dealing with anxiety and/or depression
Commandments – in both Old and New Testaments.
Another way is to simply highlight the words and phrases that stand out to you while studying scripture.
Why is Bible Highlighting Important?
Bible highlighting helps us emphasize the importance of sections, phrases, and words that are relevant to our lives.
Personally, I find the Bible highlighting system extremely useful to keep track of who God is, His Truth, the power of prayer testimonies, and prophecies. This has also helped me understand more about His character, His promises, man's sinfulness, and our need for our Savior Jesus.
If you are someone who wants to study the Bible more in-depth, the Bible highlighting system is one of the best ways to understand the text better and to grow closer to God.
What's the Difference Between Bible Highlighters and Pens?
Bible highlighters and pens are different from regular highlighter markers. This is because the pages in the Bible are usually very thin.
Bible highlighters are typically no-bleed highlighters. This means that the highlighters do not contain any ink, so they won't bleed on the backside of the paper even if you have heavy hand pressure or do a second layer.
Another difference between Bible highlighters and regular highlighters is the color. Bible highlighters are usually lighter than regular highlighters, so they don't overpower the text.
You'll also find different types of highlighters in the markets, specifically gel highlighters, dry highlighters, wet highlighters, and colored pens. These differ in the type of pigment used and the sharpness of the tip.
What's Your Favorite Highlighter?
These highlighters are at the top of my list. I'd love to hear about which ones are your favorite. Thankfully, there are a few different types to choose from.
More Study Tools: