24 Encouraging Bible Verses Plus! Free Printable
This article may contain affiliate links. I may earn money from the companies mentioned in this post with no additional cost to you. Please read my disclosure policy for more info. All Bible quotations are from the New King James Version (NKJV) unless otherwise stated Bible Copyright Attribution.
The words that come out of our mouths are powerful. We all struggle at times and long for words of encouragement. It's important to stay in tune with others so you can bless others with words of encouragement.
We all face trials. Some are expected and some are not expected. They are both hard and using encouraging Bible verses can help. The first thing we need to acknowledge is God's love for us. He loves us and works everything for our good (Romans 8:28).
Learning how to trust God through these situations is important. Allowing ourselves to worry about life or stress about a situation will bring us down even more. One of God's many promises in the Bible tells us that God will supply all our needs (Phil 4:19). This, of course, is according to His will.
God's will is the best thing for us. He knows what's best for us in every situation, God's timing is always right. Praying to God for wisdom should be your top priority. He can speak to you and give you words of encouragement right from the Bible.
The purpose of this post is to help you share words of encouragement. You can use these encouraging Bible verses as words of encouragement. These encouraging Bible verses are perfect for any man, woman, kid, or friend that needs encouragement.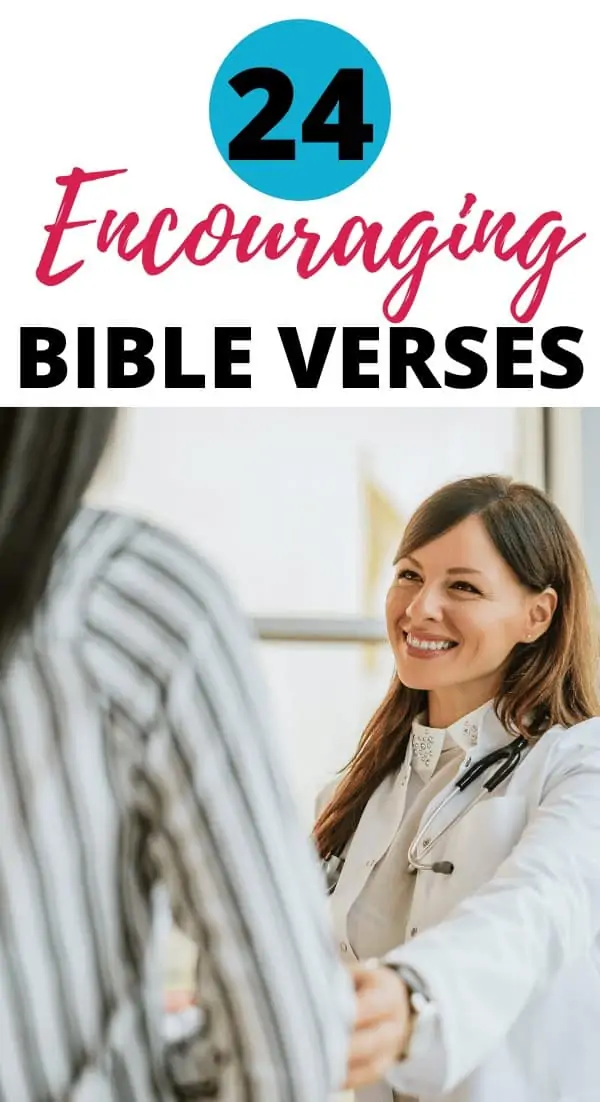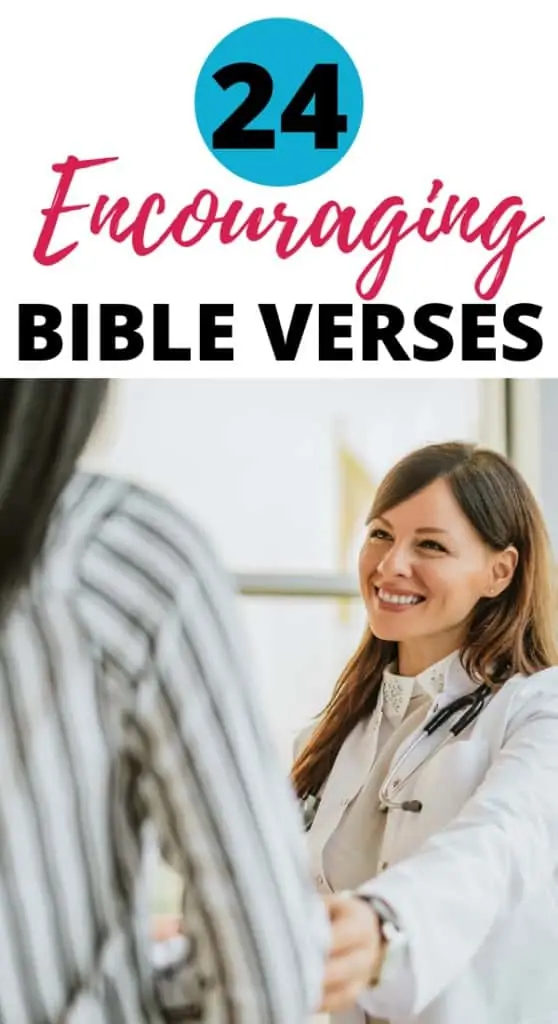 Free Printable Encouragement Cards
I made these encouraging Bible verse free printable notecards so they are easy to take with you. All you need to do is click this encouraging Bible verses free printable link to get the free printable, print it on card stock (this is what I use), cut it out, punch a hole in the corner, and use a loose leaf ring (this is what I use) to secure it.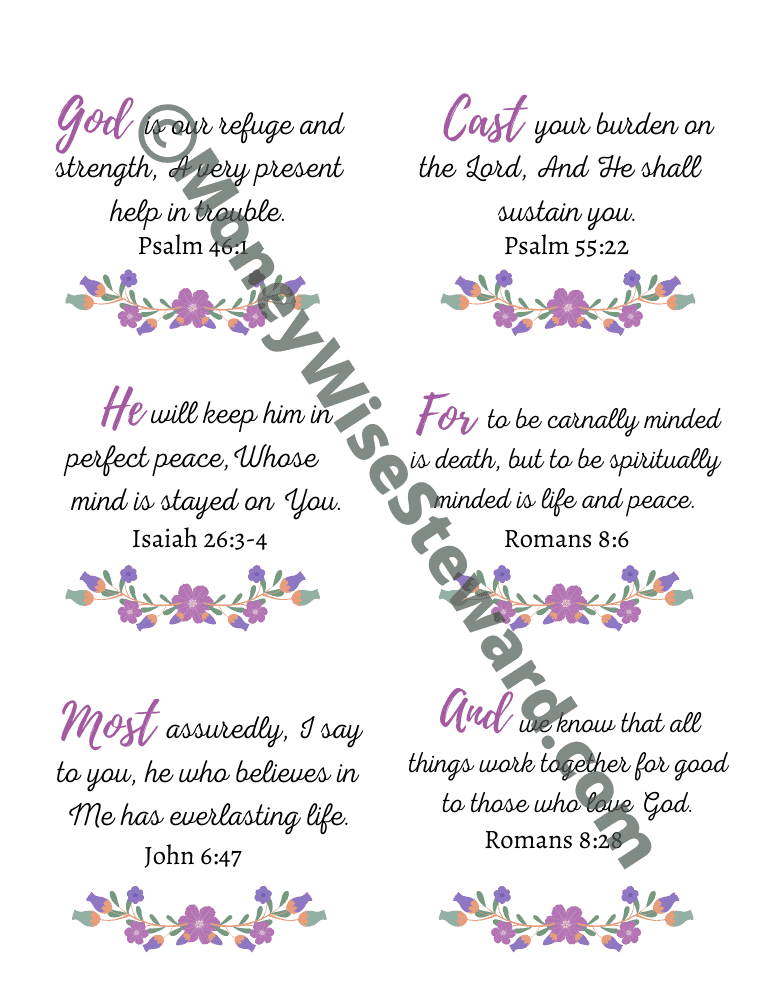 You can also laminate (this is what I use) them if you'd like. It will help keep them in good condition. I pray that you can benefit from this encouraging Bible verse printable.
Encouraging Scriptures
The Bible has many different versions available. The words of encouragement below are from the New King James Version.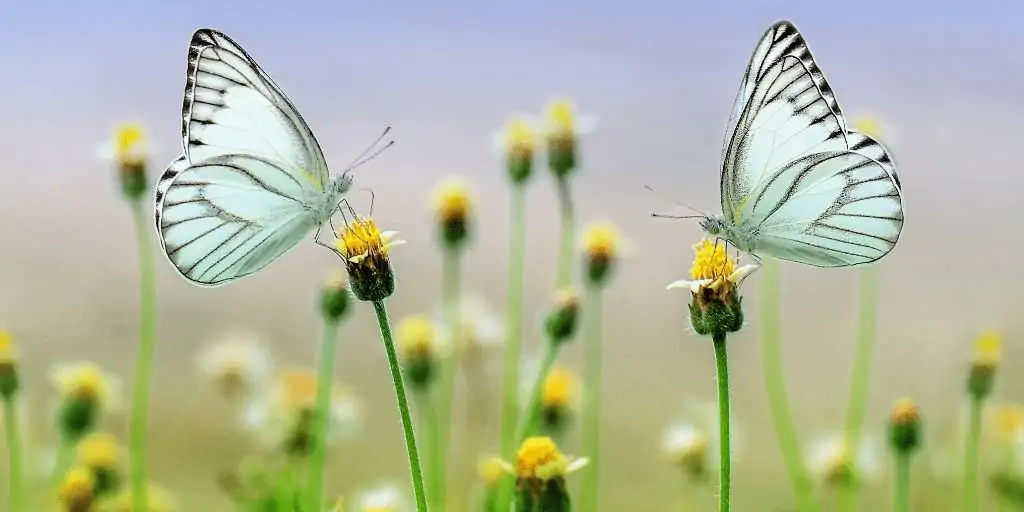 Bible Verses for Encouragement in the Old Testament
Deuteronomy 31:8 – And the Lord, He is the One who goes before you. He will be with you, He will not leave you nor forsake you; do not fear nor be dismayed.
Psalm 23:4 – Yea, though I walk through the valley of the shadow of death, I will fear no evil; For You are with me; Your rod and Your staff, they comfort me.
Psalm 32:7 – You are my hiding place; You shall preserve me from trouble; You shall surround me with songs of deliverance. Selah
Psalm 34:10 – The young lions lack and suffer hunger; But those who seek the Lord shall not lack any good thing.
Psalm 46:1 – God is our refuge and strength, A very present help in trouble.
Psalm 55:22 – Cast your burden on the Lord, And He shall sustain you; He shall never permit the righteous to be moved.
Psalm 121:1-2 – I will lift up my eyes to the hill, From whence comes my help? My help comes from the Lord, Who made heaven and earth.
Bible Verses of Encouragement And Peace
Isaiah 26: 3-4 – You will keep him in perfect peace, Whose mind is stayed on You, Because he trusts in You. Trust in the Lord forever, For in Yah, the Lord, is everlasting strength.
Isaiah 49:13 – Sing, O heavens! Be joyful, O earth! And break out in singing, O mountains! For the Lord has comforted His people, And will have mercy on His afflicted.
Isaiah 40:28-31 – Have you not known? Have you not heard? The everlasting God, the Lord, The Creator of the ends of the earth, Neither faints nor is weary. His understanding is unsearchable. He gives power to the weak, And to those who have no might, He increases strength. Even the youths shall faint and be weary, And the young men shall utterly fall, But those who wait on the Lord Shall renew their strength; They shall mount up with wings like eagles, They shall run and not be weary, They shall walk and not faint.
Jeremiah 29:11 – For I know the thoughts that I think toward you, says the Lord, thoughts of peace and not of evil, to give you a future and a hope.
Zephaniah 3:17 – The Lord your God in your midst, The Mighty One, will save; He will rejoice over you with gladness, He will quiet you with His love, He will rejoice over you with singing.
Encouraging Bible Verses in the New Testament
Matthew 11:28-29 – Come to Me, all you who labor and are heavy laden, and I will give you rest. Take My yoke upon you and learn from Me, for I am gentle and lowly in heart, and you will find rest for your souls.
John 6:47 – Most assuredly, I say to you, he who believes in Me has everlasting life.
John 14:27 – Peace I leave with you, My peace I give to you; not as the world gives do I give to you. Let not your heart be troubled, neither let it be afraid.
John 16:33 – These things I have spoken to you, that in Me you may have peace. In the world, you will have tribulation, but be of good cheer, I have overcome the world.
Romans 8:6 – For to be carnally minded is death, but to be spiritually minded is life and peace.
Romans 8:28 – And we know that all things work together for good to those who love God, to those who are the called according to His purpose.
Bible Verses of Encouragement That Bring Comfort
Romans 8:38-39 – For I am persuaded that neither death nor life, nor angels nor principalities nor powers, nor things present nor things to come, nor height nor depth, nor any other created thing, shall be able to separate us from the love of God which is in Christ Jesus our Lord.
1 Corinthians 13:12 – For now we see in a mirror, dimly, but then face to face. Now I know in part, but then I shall know just as I also am known.
2 Corinthians 4:16-18 – Therefore we do not lose heart. Even though our outward man is perishing, yet the inward man is being renewed day by day. For our light affliction, which is but for a moment, is working for us a far more exceeding and eternal weight of glory, while we do not look at the things which are seen, but at the things which are not seen. For the things which are seen are temporary, but the things which are not seen are eternal.
Ephesians 3:17-21 – That Christ may dwell in your hearts through faith; that you, being rooted and grounded in love, may be able to comprehend with all the saints what is the width and length and depth and height— to know the love of Christ which passes knowledge; that you may be filled with all the fullness of God. Now to Him who is able to do exceedingly abundantly above all that we ask or think, according to the power that works in us, to Him be glory in the church by Christ Jesus to all generations, forever and ever. Amen.
James 1:2-4 – My brethren, count it all joy when you fall into various trials, knowing that the testing of your faith produces patience. But let patience have its perfect work, that you may be perfect and complete, lacking nothing.
1 John 3:1-3 – Behold what manner of love the Father has bestowed on us, that we should be called children of God! Therefore the world does not know us, because it did not know Him. Beloved, now we are children of God; and it has not yet been revealed what we shall be, but we know that when He is revealed, we shall be like Him, for we shall see Him as He is. And everyone who has this hope in Him purifies himself, just as He is pure.
Encouraging Bible Quotes
Here are some of my favorite encouraging Bible quotes.
"My home is in heaven. I'm just traveling through this world." —Billy Graham
"This life was not intended to be the place of our perfection, but the preparation for it." —Richard Baxter
"Faith is taking the first step even when you don't see the whole staircase." —Martin Luther King Jr.
"God is more glorified in us when we are most satisfied in him." —John Piper
"You will never need more than he can supply." —J.I. Packer
"True faith means holding nothing back. It means putting every hope in God's fidelity to His Promises." ― Francis Chan
"The stars may fall, but God's promises will stand and be fulfilled." – J. I. Packer
"Let God's promises shine on your problems." – Corrie ten Boom
What are your Favorite Encouraging Scriptures?
My favorite encouraging Bible verses are Psalm 46:1, Isaiah 40-28-31, and John 14:27. These Bible verses have got me through some very tough times. I've memorized them so I can keep them close to my heart as words of encouragement.
Check out more Bible Verses To Strengthen And Encourage You
Bible Verses about Serving Others
Bible Verses about Blessing Others
Bible Verses about Thanksgiving