4 Undeniable Ways the Joy of the Lord is My Strength
This article may contain affiliate links. I may earn money from the companies mentioned in this post with no additional cost to you. Please read my disclosure policy for more info. All Bible quotations are from the New King James Version (NKJV) unless otherwise stated Bible Copyright Attribution.
When we accept the Lord's provision of righteousness by grace we come to the fullness of "The joy of the Lord is my strength". This unites us to fully enjoy His presence.
We find divine strength from God Himself, through His grace, and through His joy. Have you ever noticed when you're going through a tough time, laughter can change your emotions almost instantly? Joy is a beautiful thing especially when we fully embrace His joy.
No matter the circumstances that we face we can embrace joy. For the Lord is my strength and He carries me through every single day.
What Does the Joy of the Lord Mean?
The joy of the Lord is everlasting and never-ending. When we abide in Christ, gladness comes from knowing God while being filled with the Holy Spirit. He is the very foundation of our lives, the firm foundation, and the solid rock we stand on.
Even if we don't feel or see Him working in our lives, we need to remember that nothing can happen without Him and that He is in the process of working for our good. Through every breath and step that we take, we can face tomorrow because we know that the joy of the Lord is our strength, and His mercies are new every morning.
Joy in the Lord comes through our faith in Jesus Christ as our Lord and Savior. It also comes in many other ways through forgiveness, repentance, and prayer. We gain the joy of the Lord by fellowship with other believers and by serving His kingdom.
Each day, we get the opportunity to embrace the ultimate joy that God gives us. It can be just as simple as taking a moment to be still while being surrounded by all of His creation. By Breathing in the fresh air and taking it all.
We can find the joy of the Lord even through our trials and tribulations. It may not feel like it comes easy, so we need to remember to open up our eyes to it. While we're washing the dishes, we can just talk to God, or play worship music, etc.
Joy comes through the little precious moments we give to the Lord. It comes from knowing God and spending time with Him. Spending time in God's Word, studying the Bible, and getting to know Him daily can help us tune into God's love and joy.
Where in the Bible Does it Say the Joy of the Lord is My Strength?
Nehemiah 8:10 says:
"Then he said to them, "Go your way. Eat the fat and drink sweet wine and send portions to anyone who has nothing ready, for this day is holy to our Lord. And do not be grieved, for the joy of the Lord is your strength." (ESV)
As you read through the books of the Bible, it's amazing to see how the joy of the Lord was the strength of the people in the Bible. The verse in Nehemiah is one of the most known verses for Christians.
Memorizing scripture helps us find that joy from the Lord when we need a simple reminder. Through Bible study, people have drawn inspiration and hope from the Bible for thousands of years. It will continue being a source of encouragement that we need when facing a hardship, a trial, or even when we are in a good season.
God's Word lifts us up and as we read through Bible verses, we can see how God's strength carried through everyone. We all know about the story of David and Goliath. David found the source of strength from embracing the joy of the Lord.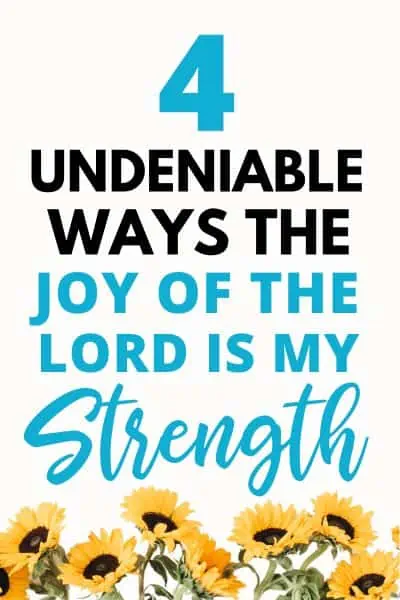 Ways the Joy of the Lord is My Strength
Having a relationship with Jesus is how we can obtain the joy of the Lord. This gives us the very strength to reach for God's provision of salvation and love. His grace provides us with His almighty strength. Connecting with Him in prayer, talking to Him as a friend, serving, and honoring Him with everything that we have are ways for us to receive it.
His power and His strength are made perfect in weakness. We can trust in Him knowing that His grace is sufficient for us. There is nothing that we can do to stop it. Eternal joy continues despite hardship. God has promised that joy will come and it will last eternally while sorrows and suffering will pass.
1. Studying the Bible
The Bible is the pathway to His light and to His wisdom. The beautiful thing about reading and studying God's Word is that it will never return void. We can read over Psalms many times and God will teach us something new.
We know that studying scripture is another way for the Lord to communicate with us. We can learn something new when we fully dig in. If you ever feel like you don't hear God, open up your Bible and He will speak to you.
2. Prayer
Prayer is the direct line to communicate with God. It can be a simple and short prayer like a 5-minute prayer here and there throughout the day, or an hour just you and Him. It is a divine connection that draws us closer to Him and strengthens our relationship.
Many verses in the Bible talk about how God is our friend so prayer doesn't have to be anything fancy. God loves hearing us talk to Him even about the small things. Just like best friends, you should tell God everything, and you will grow closer to Him.
3. Fellowship
You can feel the joy of the Lord by being around other believers. Worshipping in church, having a Bible study, or even enjoying a cup of coffee and a chat together are great ways to fellowship.
The Holy Spirit can be felt sometimes stronger when you are united with other people. God created us to fellowship. He wants us to connect with other believers. His presence fills us with joy especially when we are fellowshipping together.
4. Serving
It brings gladness to the Lord when we serve His kingdom. Serving may look different from your neighbor, your friend, or even yourself. The beauty is we can serve the Lord and honor Him in so many ways every single day.
Whether it's by going to work, doing a 9-5 job, going on a missionary trip, becoming a pastor, volunteering, etc. Serving the Lord and honoring Him through everything that we do fills us with His presence and joy.
The Joy of the Lord is My Strength Scripture
"And in every province and in every city, wherever the king's command and his edict reached, there was gladness and joy among the Jews, a feast and a holiday. And many from the peoples of the country declared themselves Jews, for fear of the Jews had fallen on them." Esther 8:17
"For his anger is but for a moment, and his favor is for a lifetime. Weeping may tarry for the night, but joy comes with the morning." Psalm 30:5
"So also you have sorrow now, but I will see you again, and your hearts will rejoice, and no one will take your joy from you." John 16:22
"May the God of hope fill you with all joy and peace in believing, so that by the power of the Holy Spirit you may abound in hope." Romans 15:13
"Though you have not seen him, you love him. Though you do not now see him, you believe in him and rejoice with joy that is inexpressible and filled with glory, obtaining the outcome of your faith, the salvation of your souls." 1 Peter 1:8-9
"Though I have much to write to you, I would rather not use paper and ink. Instead I hope to come to you and talk face to face, so that our joy may be complete." 2 John 1:12
The Joy of the Lord is My Strength Quotes
"Joy is the serious business of Heaven." – C.S. Lewis
"The very nature of Joy makes nonsense of our common distinction between having and wanting." – C.S. Lewis
"If a thing is free to be good it is also free to be bad. And free will is what has made evil possible. Why, then, did God give them free will? Because free will, though it makes evil possible, is also the only thing that makes possible any love or goodness or joy worth having." – C.S. Lewis
"Joy, not grit, is the hallmark of holy obedience. We need to be light-hearted in what we do to avoid taking ourselves too seriously. It is a cheerful revolt against self and pride." – Richard J. Foster
"Holy joy will be oil to the wheels of our obedience." -Matthew Henry
"The world looks for happiness through self-assertion. The Christian knows that joy is found in self-abandonment. 'If a man will let himself be lost for My sake,' Jesus said, 'he will find his true self." – Elisabeth Elliot
"I do not find much joy in simple morality or in trying to rise above my culture. I find joy in the face of Christ." -Paul Washer