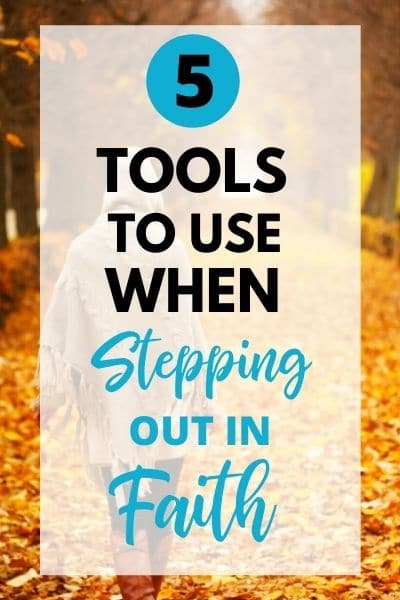 What does it take to step out in faith? We may think of those who bungee jump or walk a tightrope over skyscrapers are daredevils. But taking God's hand is no small feat, and for many, it can be terrifying initially.
What Does it Mean to Step Out in Faith?
Stepping out in faith requires us to give our trust, our ways, and qualms to God. We must be willing to relinquish control and put it all in the hands of our Father.
So, how does one step out? My suggestion to you is to look toward the scriptures and use your five senses for stepping out in faith. Most people are utilizing at least one of the five senses to carry on in a physical sense daily.
But our God, the Creator, and Maker of our senses knew that we could apply our sensory to build our faith as well.
Stepping Out in Faith
1. Use Your Sense of "Taste" 
So, why is taste important? We can take a look at Psalm 34:8 which reads:
"Oh, taste and see that the Lord is good; Blessed is the man who trusts in Him!" NKJV
Taste simply means to try or test something. Have you recently tried a new food? You may not have initially wanted to, or maybe you just took a teeny tiny bite.
But then the thing that you were scared to try is now your new favorite food. You might even consume it several times a week now.
This concept can be applied to the "tasting" of our faith. We may be led to believe that stepping out in faith is a gigantic gesture. However, God is not always asking us to take huge leaps.
In fact, Jesus explains that we only need a mustard seed of faith (Matthew 17:19-21). Sometimes, that "taste", that test, that step could be a simple yes.
The Bible also calls for us to try the Spirit by the Spirit (1 John 4:1-5). In order for us to step out in faith, we must be willing to try and consider that we may end up liking the result. And, our steps in faith may even become larger.
You might be reading this and be saying, "Well, I don't like everything new that I try". However, those things that God is calling us to do or taste always works out for the good of our lives (Romans 8:28).
2. Use Your "Eye Sight" 
Psalms 34:8 already tells us that we will be able to see the goodness of the Lord just by taking small steps of faith. But there are several references to our sight that can be applied to faith-building.
2 Corinthians 5:7 tells us that "we walk by faith, not by sight". We have to make sure that we are not deceived by our physical sight or the way that situations may appear. Fear can easily creep in when we are not looking through a spiritual lens. But, the key is to focus on Jesus above all else.
The Apostle Peter showed us what it could look like if we keep our sights on Jesus in Matthew 14:22-31. Peter began to walk on water, but he panicked when he "saw the wind". Yet, Jesus never had Peter out of his sight and ended up questioning Peter's faith.
We can look at Joshua and Caleb and determine that they did not go off their physical sight. Moses designated several explorers to check out the land of Canaan, which God promised to the Israelites.
But, the majority of the explorers felt that the Israelites could not get past the mighty foe in the land. Joshua and Caleb believed that the land could be possessed and as a result of stepping out in faith, these two did indeed see the land (Numbers 13:30; Numbers 14:6-9, 38).
3. Use Your Sense of "Smell"
Many of us desire to live in a way that is pleasing to our Father. Living a life of faith is like a beautiful fragrance that is pleasing to God. Ephesians 5:2 explains that Jesus is our example of leaving a good fragrance for God through his offering and sacrifice.
"We are to walk in love, as Christ also has loved us and has given Himself for us, an offering and a sacrifice to God for a sweet-smelling aroma." (New King James Version)
There may be things that God is asking you (in faith) to offer or sacrifice to him today to create a sweet-smelling aroma. When God calls us to stretch our faith and we don't do it, we are actually showing our distrust of Him or our unbelief. Not to mention the metaphorical stench, we may leave behind.
The story of the three Hebrew boys is also a testament of stepping out in faith and the sense of smell. Daniel 3:26-28 tells us Meshach, Shadrach, and Abed-Nego were literally untouched and did not smell of smoke despite being thrown in an extra hot furnace because of their faith.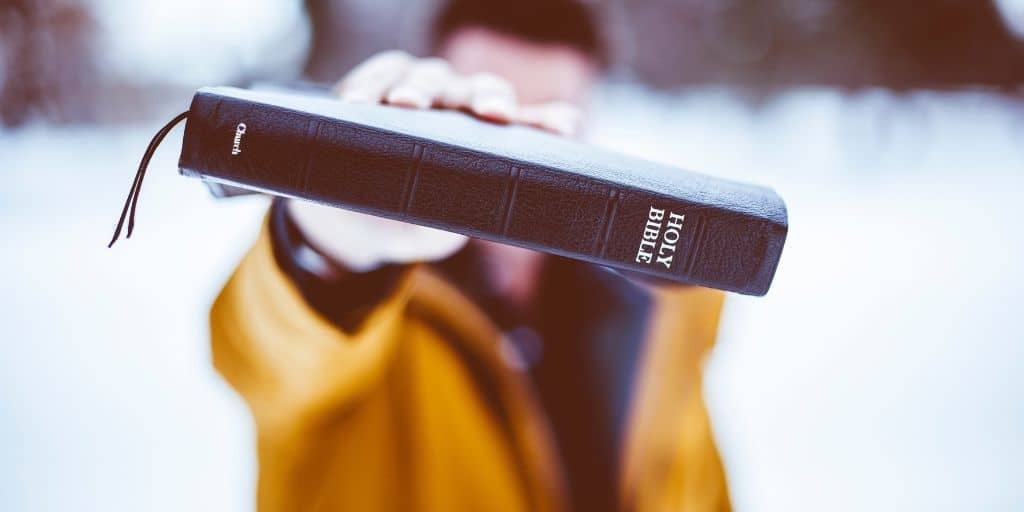 4. Use Your Sense of "Touch"
The woman with an issue of blood teaches us all what it looks like to step out in faith through touch. In Matthew 9:19-21, it says this ailing woman believed she would find healing in touching the clothes of Jesus. In fact, Jesus recognized her faith, and the woman was healed (Matthew 9:22).
When we want to step out in faith, we have to be willing to hold onto God. Isaiah 41:10 lets us know that God won't leave us and that he will protect us with his mighty right hand. Although we may not see it, God continues to put his love and care around us, especially when we align ourselves in His will.
5. Use Your Ability to Hear
It is much more calming to step out in faith when we know that we are hearing from God. Yet, we may be looking for something that is loud and very clear. We want to hear something that would be hard for our next-door neighbor to miss.
But God's voice is not always a play-by-play call or a thundering noise. Some have even described it as a still small voice.
Have You Been Hesitant to Step out in Faith?
If you have been hesitant to step out in faith and cannot decipher the voice of God, here are some suggestions.
Be Still – Sometimes, you just need to get to a quiet place. Once in that place, take the time to pray. You must also be willing to take yourself out of the equation. You have to look past your wants and desires to see how God would have you step out in faith. Jesus said not my will but God's will be done (Luke 22:42).
Read Your Bible – Our instruction as believers is through the Word of God. Our answers, the calms to our fears, and the push towards an audacious faith can be found here.
Hear God's message from others – Church attendance, Faithful friends and mentors are key to keep the focus on the right things and build your confidence for stepping out in faith (Romans 10:17)
Remove Distractions – We have to make sure that we make time for God. Our days are often dictated by a gigantic to-do list, but we have to look at our time with our Father as essential. We must constantly do inventory over our lives to ensure that we do not have people or possessions that are not in God's Will.
You have what it takes to start stepping out in faith. Utilize your senses to help you make the first step. Start with just one, and commit to using that sense to glorify God.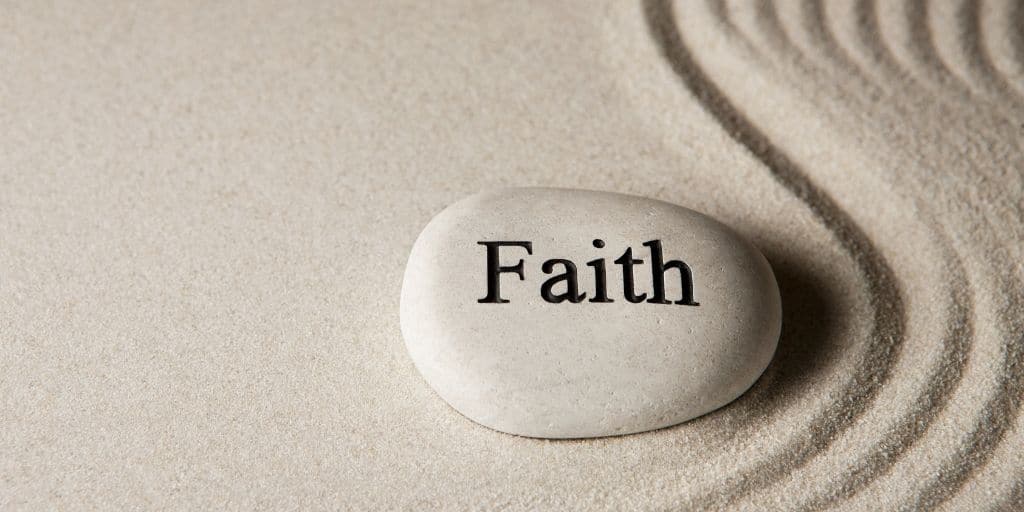 Stepping Out in Faith Quotes
"Leave the broken, irreversible past in God's hands, and step out into the invincible future with Him."  Oswald Chambers
"Faith sees the invisible, believes the unbelievable, and receives the impossible." Corrie Ten Boom
"Faith as Paul saw it, was a living, flaming thing leading to surrender and obedience to the commandments of Christ." A.W. Tozer
"The safest place in all the world is in the will of God, and the safest protection in all the world is the name of God." Warren Wiersbe
"Meet your fears with faith." Max Lucado
"Good works do not make a good man, but a good man does good works." Martin Luther
"One often sees a call only in retrospect. This too is God's design. God often reinforces our faith after we trust him, not before." Ravi Zacharias
"Faith is taking the first step even when you don't see the whole staircase." Martin Luther King Jr.
"Faith begins with a backward look at the cross, but it lives with a forward look at the promises." John Piper
"The beautiful thing about this adventure called faith is that we can count on Him never to lead us astray." Chuck Swindoll
"Faith is not the belief that God will do what you want. Faith is the belief that God will do what is right." Max Lucado
"He calls us to trust him so completely that we are unafraid to put ourselves in situations where we will be in trouble if He doesn't come through." Francis Chan
"Sainthood lies in the habit of referring the smallest actions to God. Faith is the art of holding onto things your reason has once accepted in spite of your changing moods." C.S. Lewis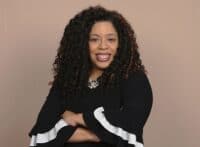 Shannon Duke is the blogger behind Saving Shannon, where she provides tools and encouragement for women to grow their faith, overcome negative emotions, and achieve their goals. She is also a Pastor's Wife, mom to a rambunctious toddler, and a woman trying to lean into God more every day. Her new 10-day devotional Mind Games addresses how to use God's Word to overcome negative thoughts and self-talk.