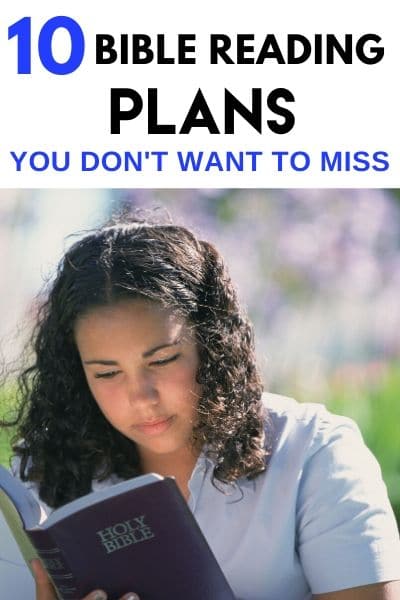 I love reading my Bible but I don't always have the time to study the Bible. This is where Bible reading plans come in. They are more like a daily devotional that allow you to be fed with God's Word.
Bible Reading Plans vs Bible Study
There is a difference between Bible reading plans and Bible study. They are both a great way to get into God's Word. I'm going to explain the difference between them so you have a better understanding.
Bible reading plans are a great way for you to read through the Bible quickly and still get familiar with the overall scripture. They are typically focused on a specific topic or timeframe.
Bible study is a deeper study of God's Word.  The goal is to gain an understanding of the scripture thoroughly by asking questions, studying words, finding cross-references, and taking the time to meditate on it.
There is no set way to approach scripture
The Bible instructs us in righteousness so we may be filled with the spirit and pleasing to God.
"All Scripture is given by inspiration of God, and is profitable for doctrine, for reproof, for correction, for instruction in righteousness, that the man of God may be complete, thoroughly equipped for every good work." 2 Timothy 3:16-17.
If we want to follow Christ, we need to know Him intimately. If we don't read the Bible, we won't know much about Him.
The Bible contains everything we need to grow spiritually
The will for our life (2 Timothy 3:16)
Nourishment for our souls (Matthew 4:4, John 6:63)
Discernment  (Hebrews 4:12)
Teaches us righteousness (Psalm 119:9)
The power to overcome (Ephesians 6:17)
Contains promises we can trust (Revelation 2:7)
We should be in God's Word daily. There is no rule for how long or how deep. I attend a woman's Bible study weekly which gives me a deeper study of the Bible. Right now we are going through the book of Proverbs. It's taken us almost 2 years because we have been digging deeper to gain more understanding.
In the off time of that Bible study, I follow a Bible reading plan or read a devotional. We have to be careful not to turn Bible time into a chore. God is not condemning you if you miss a day. His desire is for you to know Him and follow His commandments.
"Jesus replied, "If anyone loves Me, he will keep My word. My Father will love him, and we will come to him and make Our home with him. " John 14:23
Bible Reading Plans
Depending on where you are in life, Bible reading plans may be a perfect fit for you. There are all types of reading plans available.  These are the most popular types:
Chronological Bible reading plan
One year Bible reading plan
Daily Bible reading plan
Bible reading plan for beginners
A specific topic reading plan
Monthly Bible reading plans
There are many different places to find reading plans. They're available on apps, websites, etc. Since I'm one of those that gets distracted by devices, I'm going to share some of my favorite printable Bible reading plans.
They are free to print and you can take them with you and read them without any distractions. I'll also share some online Bible reading plan apps with you at the end of this article.
Daily Bible Reading Plans
These printable reading plans are some of my favorites. They are the best Bible reading plans that don't require you to give any of your information. I've found a lot of Bible reading plans that want you to sign up via email to receive them.
There's nothing wrong with signing up for emails but sometimes receiving a lot of emails can be overwhelming. These printable Bible reading plans are perfect for beginners and are easy to download and print.
1. Prayer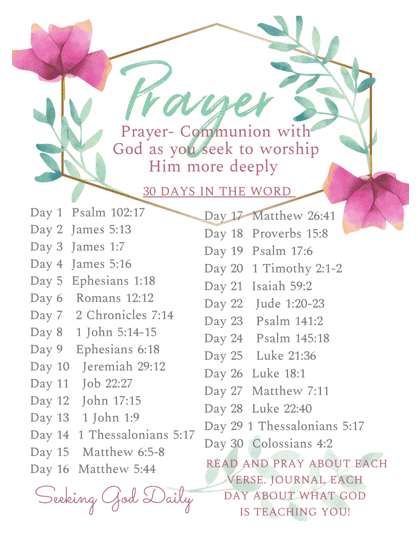 This daily reading plan is for 30 days. Each day you read a Bible verse on prayer. Learning how to seek God daily through prayer is a great way to grow in your personal relationship with Christ. Click this prayer daily reading plan link to get your download.
2. God's Vision 
This is a 40-day reading plan that takes you through some of the greatest stories in the Bible. Each account shows you how God used their situations for good! Click this God's vision reading plan link to get your download.
3.  Increasing My Faith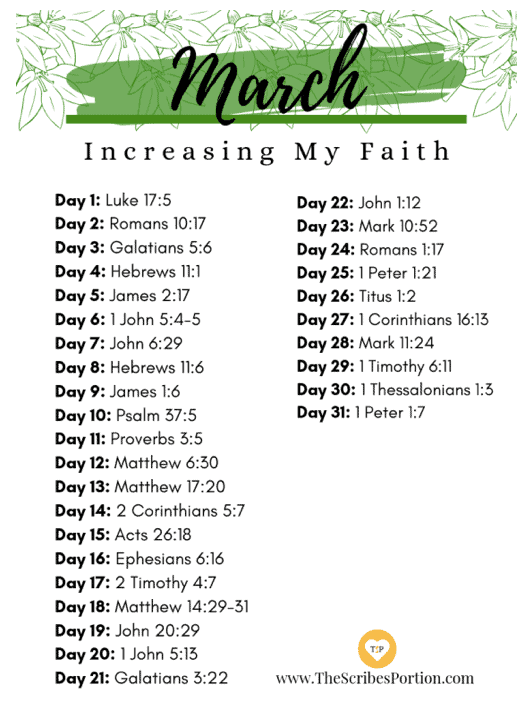 This reading plan focuses on increasing your faith. Each day has a specific Bible verse to read that is related to faith. There are many more printable plans available making this more of a yearly Bible reading plan. Click this increasing my faith reading plan to get your download.
4. God's Faithfulness 
Remembering God's faithfulness is so important. Knowing He will always be there for me gives me comfort. This reading plan teaches just that. Each verse focuses on God's faithfulness. Click this God's faithfulness Bible reading plan to get your download.
5. Do Not Fear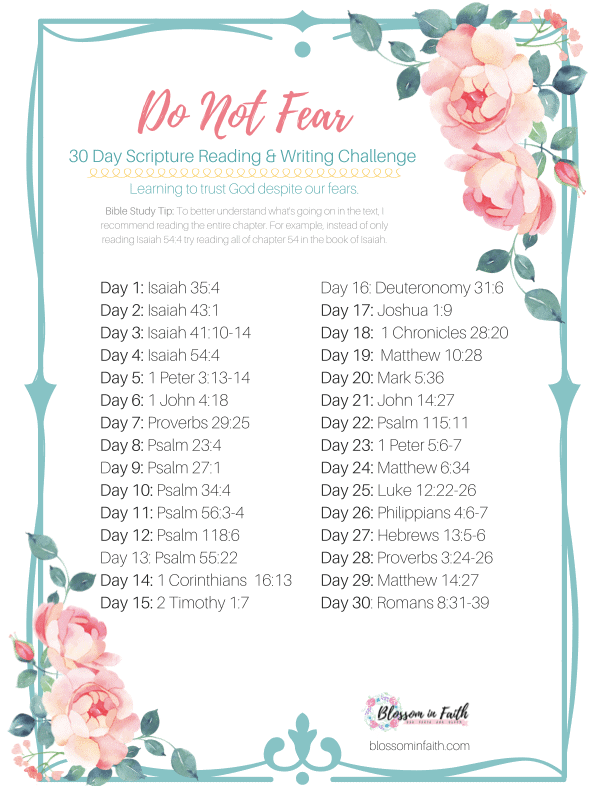 This reading plan focuses on fear. These 30 bible verses on fear will teach you that God doesn't want us to fear. He has it handled and we need to put our trust in Him.  Click this do not fear Bible reading plan to get your download.
6. He Is Risen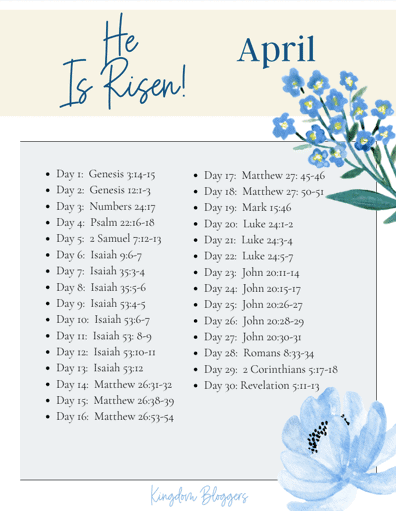 Celebrate the resurrection of Jesus with this Bible reading plan. It focuses on all the Bible verses related to the resurrection. Click this He is risen Bible reading plan to get your free download.
7.  Armor of God 
This Armor of God printable reading plan takes you through the Armor of God. Each Bible verse teaches you more about each part of the armor. Click this Armor of God Bible reading plan to get your free download.
Online Bible Reading Plans
As promised, here is a list of popular online Bible reading plans. They are a mix of websites and apps that have many different types of reading plans available.
8. YouVersion Bible App – Features any type of Bible reading plan you can think of.
9. One Year Bible Online – Features one-year bible plans and chronological reading plans.
10. Bible Study Tools – Reading plans include old testament and new testament and by book order.
The Top Christian Podcasts for Women
What are your favorite Bible Reading Plans?
I'd love to hear about your favorite reading plans. Like I mentioned above, I love printable Bible reading plans. They are easier for me to focus on. I'm easily distracted.
I'm praying that you will find a plan that works for you so you can further your walk with Christ.