Completely Free Printable Bible Verse Coloring Pages
This article may contain affiliate links. I may earn money from the companies mentioned in this post with no additional cost to you. Please read my disclosure policy for more info. All Bible quotations are from the New King James Version (NKJV) unless otherwise stated Bible Copyright Attribution.
Immersing ourselves in God's Word keeps us focused on our path in this world. Keeping yourself connected through studying the Bible and prayer is a must for growth.
Another great way to do this is by coloring Bible verse coloring pages. You can color your favorite Bible verses and display them for everyone to see.
Scripture coloring pages would also make a great Christian gift for friends or family. Just print them, color them, frame them and then wrap them up and give them as a gift.
I've personally received Christian coloring pages as gifts and they've definitely encouraged me and are still a blessing to me today.
Free Printable Bible Verse Coloring Pages
I've created printable Bible coloring sheets with scripture that speak to me personally. I thought it would be fun to share these Bible coloring pages with you too.
Coloring scripture is very relaxing and it can even help you memorize scripture. The more you look at the scripture, the more it stays in your mind.
The scripture coloring pages I have created a perfect for adults and would even work for kids. Basically, anyone who loves to color can benefit from them.
Scripture Coloring Pages for Adults
Ever since I started this website, I've been praying for ways to bless others. God has given me some abilities that I've been able to share and further His kingdom.
He brought Christian coloring pages to my mind several months ago and since then I've been working on making some so I can share them with you.
My goal is to make as many as I can over time so I'm going to dedicate this page specifically to Bible verse coloring pages.
I will continue adding free Bible coloring pages to this page so be sure to check back often.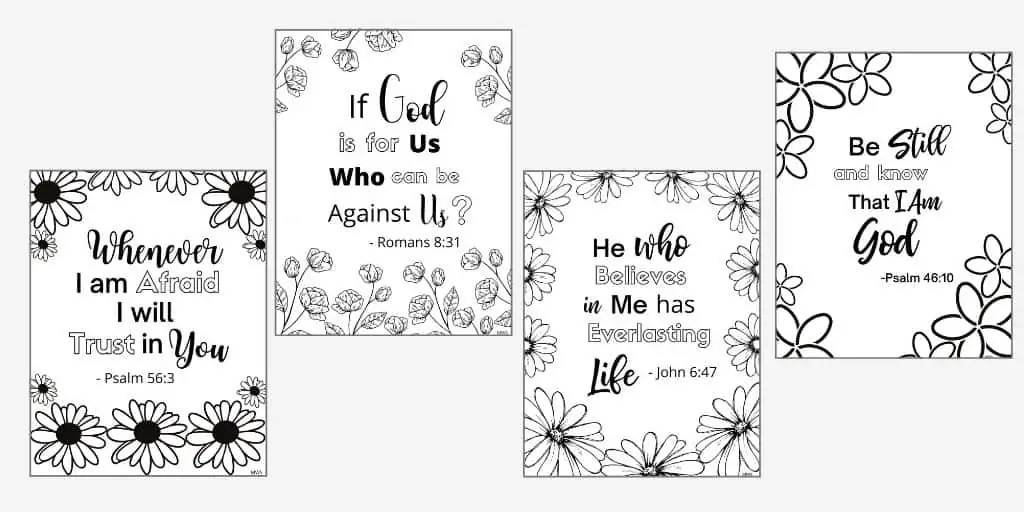 Bible Coloring Pages
There are many ways for us to surround ourselves with scripture. Like I mentioned above, Bible coloring pages are a great way to do this.
If you are interested in more free ways to immerse yourselves in scripture, you may want to check out these free printable Scripture resources I've created:
Bible Verse Coloring Pages
Hopefully, you can benefit from these free Bible resources above. If you are blessed by them, I would love it if you could share them with friends and family so everyone can benefit.
Now on to the free Bible coloring pages I created. These free printable Bible verse coloring pages feature scripture that is close to my heart.
These are Bible verses that I need to remember every day to get through to the next. I'm praying that they will be helpful to you as well.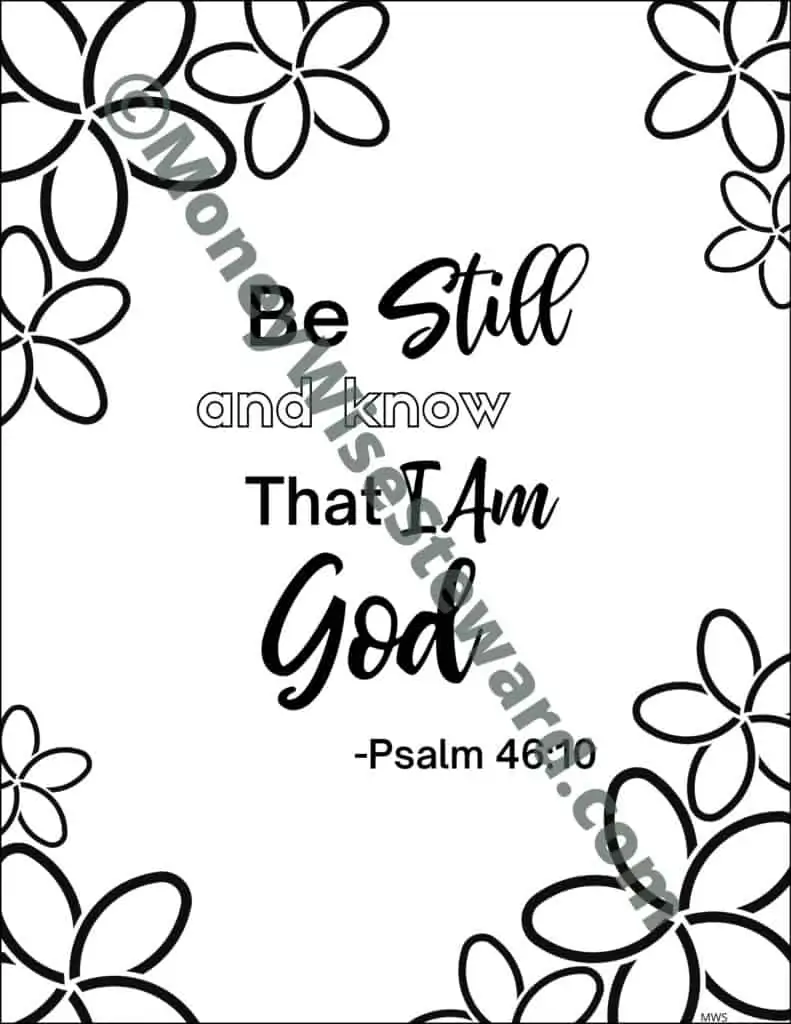 Be Still and Know Free Bible Coloring Page
This scripture coloring page features the verse from Psalm 46:10, NIV "Be Still and Know that I am God". This Bible verse is a reminder that God is in control.
We experience so many different situations every day. If we can use this verse to remember that God is in control and we need to rest in Him, we would grow closer to Him and get through our day easier.
This printable Bible coloring page can be downloaded here.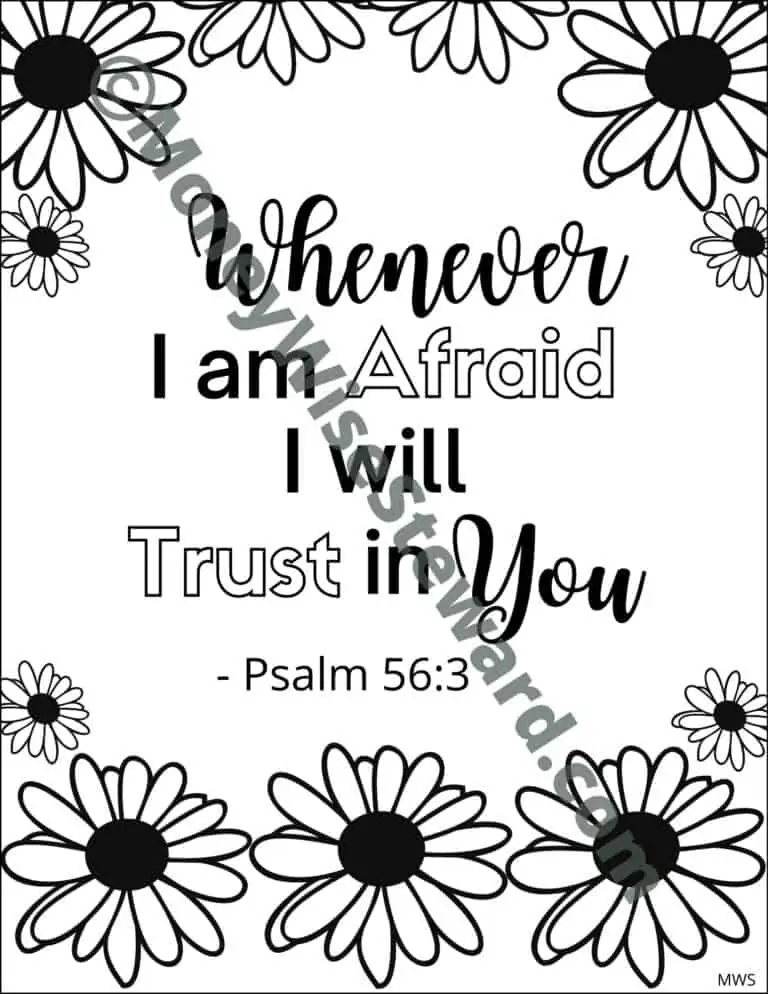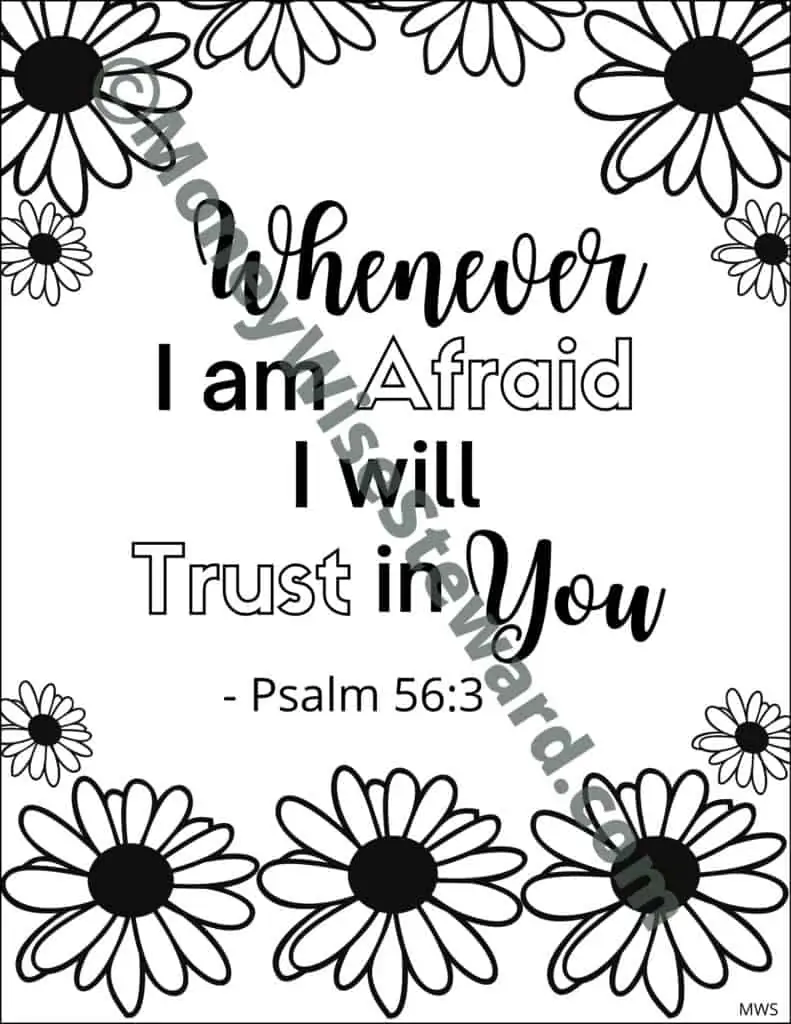 Whenever I am Afraid Scripture Coloring Page
Let's face it, fear is something we all experience. This Christian coloring page features the scripture from Psalm 56:3 NKJV "Whenever I am afraid I will trust in you".
Fear isn't a bad thing unless we allow it to keep us from trusting in the Lord. The emotion of fear will come and go but if we have faith that God is in control, we will be comforted in our fear.
This Bible verse coloring page can be downloaded here.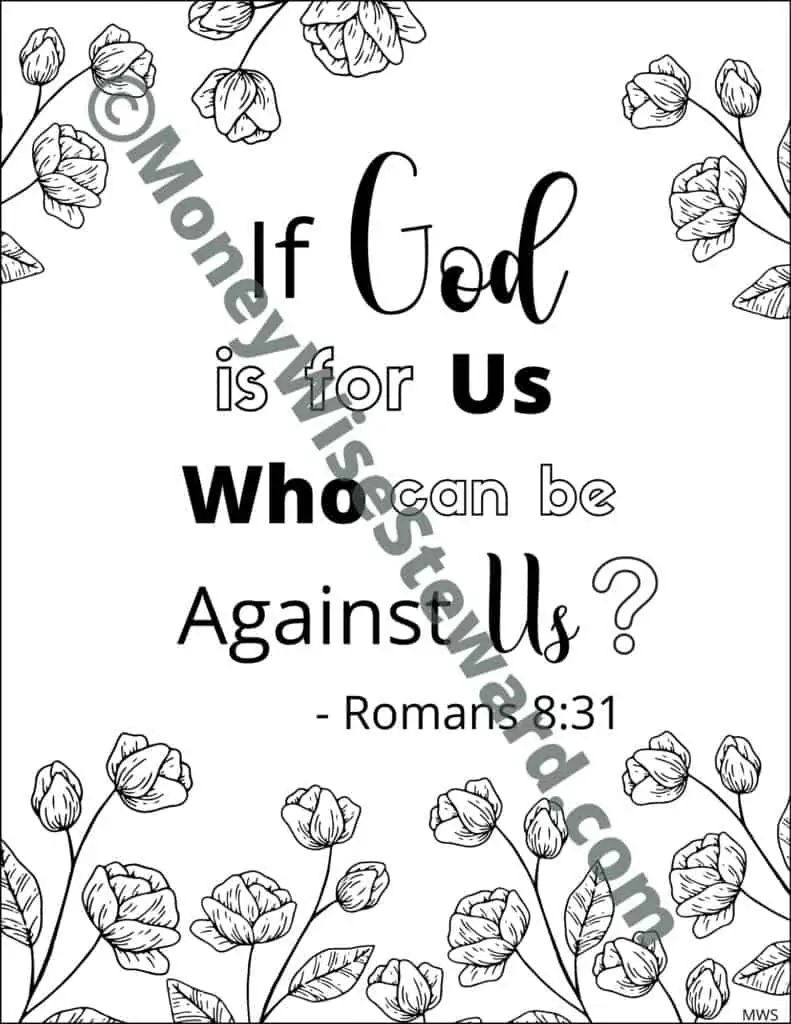 If God is For Us Bible Coloring Page
There are times when we forget that God is on our side. This Bible coloring sheet features the verse from Romans 8:31 NIV, "If God is for us who can be against us?".
This Bible verse reminds us that there is no condemnation for those who are in Christ Jesus. No one can come against us. We can do all things through Christ's strength.
This scripture coloring page is free to download here.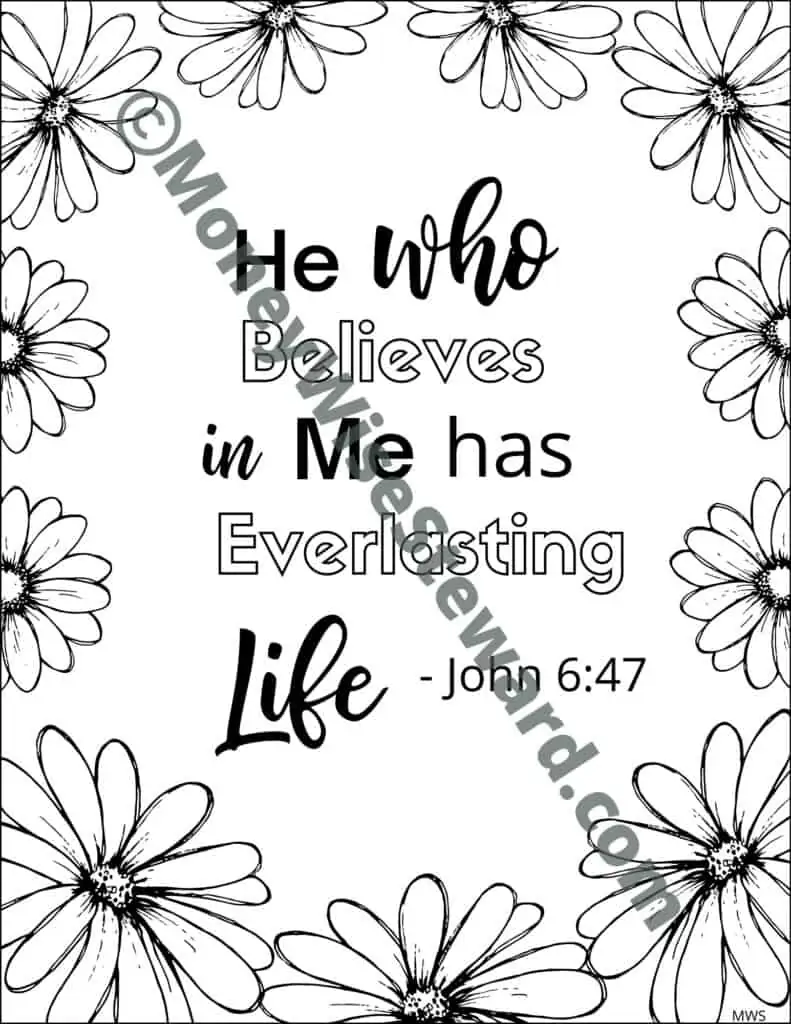 He Who Believes Bible Coloring Sheet
If you are a Christian then you should know that you have everlasting life when you believe in Jesus Christ.
This Bible coloring page features the scripture from John 6:47 NKJV "He who believes in me has everlasting life".
Remembering God's promise about our salvation is the foundation of our faith. He promises us eternal life with Him when we leave this earth.
While we are here, He gives us the Holy Spirit to guide us. The Spirit guides us into all Truth and convicts us from right and wrong. What an amazing gift we have received!
This Bible coloring page is free to download here.
What are your Favorite Bible Verse Coloring Pages?
These are the Bible verse coloring pages that I have created so far. There are so many Bible verses that are close to my heart.
I'm hoping to add more to this article soon. Do you have any suggestions for Bible coloring pages? I'd love to hear about your ideas.
I'm always looking for suggestions on specific Bible verses and styles that would be fun to color. Let me know your ideas in the comments below.