7 Powerful Prayers For Family Protection
This article may contain affiliate links. I may earn money from the companies mentioned in this post with no additional cost to you. Please read my disclosure policy for more info. All Bible quotations are from the New King James Version (NKJV) unless otherwise stated Bible Copyright Attribution.
What would you say the most important thing in your life is? You are probably thinking of your family right now! Since we love our families so much, we want to make sure that we are covering our family in prayer.
Check out these awesome and strong prayers for family protection!
Why Should You Pray for Family Protection?
Our relationship with God is first and foremost the most important thing in our lives. Without first knowing Him and growing in knowledge and love for Him, we aren't able to function really. Or maybe we can, but it won't be for His glory!
We must put our relationship with Him above any other relationship in our lives, even above our spouses and children.
God has given us beautiful gifts – our children, spouses, parents, siblings, etc… and because they are gifts from Him, we want to make sure we are taking care of them and that includes praying over them.
When we as Christians truly believe in the power of prayer, what it can do, and believe that things in heaven happen when we pray – those are the kind of prayers we want to pray over the lives of our family!
Think about it, friend – the enemy is out to steal, kill, and destroy (John 10:10 NIV) and it starts within our families because it is where he can divide us so easily and make us less effective for the kingdom of God.
For me personally, it's hard to let go of control and truly give my family to God, but here's the thing… they aren't mine to give.
He is the good and perfect gift-giver – the only one who can truly protect our family because HE loves them so much, more than we do.
Here are some specific prayers with scripture that you can pray daily over your children, marriage, extended family, and general prayers for family protection.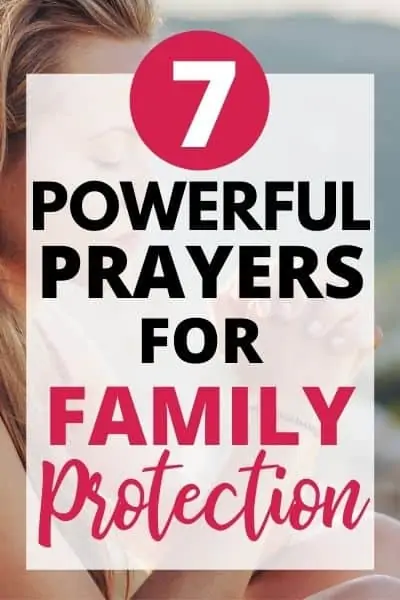 Prayer For Protection Over Your Children
It seems that every time we turn around as parents, there is some new "thing" we have to worry about when it comes to our kids, right?
Social media, things happening in our country, the influence of friends, school, pressure from others… the list could go on!
We want to make sure we are covering our children in prayer, and teaching them to pray as well.
It is so important to pray for our children before they are even born, while they are in our care, and even after they leave home. We want to hand over that fear we feel as parents to God because He is the one holding them in His hands.
God has some amazing promises for our kids in scripture, and when we pray those over them, the Will of God is being done!
Prayer of Protection For Your Children
Feel free to personalize this with your children's names.
Father God, I lift up [name] to You right now. Father, I thank You for the wonderful gift that [name] is to my spouse and I. Lord, You created them, You knit them together, knowing the purpose and plan You have for their lives. Today I asked for protection for my child. I ask in the mighty name of Jesus that You would help me to shield them from the flaming arrows that Satan throws at them. I pray You would help me to teach them Your ways so that as they grow, they will come to know You and grow in love for You. I ask that you help me do my part in protecting them, but ultimately knowing that YOU are the one who holds them in Your sovereign hands. I ask this in Jesus' name, Amen.
"Whoever fears the LORD has a secure fortress, and for their children it will be a refuge." Proverbs 14:26 NIV
Prayer For Protection Over Your Marriage
I heard a quote once that sounded something like this…
"Satan will do everything in his power to try and get you to come together BEFORE you are married, and then do everything to try and keep you apart after marriage."
I have to say, this is so true!!
Whether you are single, engaged, newly married, or celebrating 40 years of marriage, it is VITAL to pray for God's protection over your marriage.
Powerful Prayer of Protection To Pray Over Your Marriage
Father God, I thank You so much for the wonderful gift You have given me in my spouse. I lift up our marriage to You today and ask for Your protection against any scheme the enemy may have against us. I pray that You help us to communicate clearly with one another and that any distortion the enemy may put over our conversation to be rid of right now. I ask that You help us both to know that true fulfillment can only be found in You. Help us get rid of any expectations, and to put You first in our marriage. I ask this in Jesus' name, Amen.
"Above all, love each other deeply, because love covers over a multitude of sins." 1 Peter 4:8 NIV
Prayer For Family Unity
Are there times when you have a day in your household where you think, "what in the world is going on?"
Everyone seems so divided, there is constant bickering, and overall a spirit of disunity.
When we are watchful and in prayer, we can catch these times much easier! We're ready with the sword of the spirit and powerful prayers to rid Satan and his grasp on our households.
Prayer For Protection Over Your Family's Unity
Father God, I thank You so much for my family and the wonderful gift they are to me. I ask for Your protection against disunity in our family. Help us all to remain in one accord, placing You above all else. We ask in YOUR holy name that there not be a foothold for Satan in this house. I ask for Your hand of protection over our home and a peace that surpasses all understanding in our hearts. In Jesus' name Amen.
"Peace I leave with you; my peace I give you. I do not give to you as the world gives. Do not let your hearts be troubled and do not be afraid." John 14:27 NIV
General Prayers For Family Protection
Sometimes we have specific needs within our family that need to be prayed over. Those could be health needs, physical safety, mental well-being, and even for our family members who do not know the Lord.
Here are some prayers with scriptures you can write down, or bookmark this page to refer back to when these situations arise in your home!
Prayer For Health
Father God, I pray that You protect our family from any sickness, disease, or illness that tries to come into our bodies. I ask that Your mighty, healing hand be over us. If anyone is sick right now I ask that You be with the doctors that are treating them, and that You show Your glory in the situation. Help us to treat our bodies as temples, and to take care of ourselves. Thank you Lord, and I ask this in Your name, Amen.
"Is anyone among you sick? Let them call the elders of the church to pray over them and anoint them with oil in the name of the Lord." James 5:14 NIV
Prayer For Physical Protection
Father God, I ask for physical protection over my family. I pray that You would guide us in the steps we should take, and that You would direct each one of our paths. Protect us from any scheme the enemy may have. Thank you Lord, Amen.
"But the Lord is faithful, and he will strengthen you and protect you from the evil one." 2 Thessalonians 3:3 NIV
Prayer For Mental/Emotional Protection
Father God, I pray that we take on YOUR mind – the mind of Christ, and let no thought enter our brains that aren't from You. I pray that we meditate on Your Word day and night, to be able to discern what You are saying to us. I pray that You would protect my family's mental state, that Satan not have a foothold into their minds. Amen.
"Finally, brothers and sisters, whatever is true, whatever is noble, whatever is right, whatever is pure, whatever is lovely, whatever is admirable—if anything is excellent or praiseworthy—think about such things." Philippians 4:8 NIV
Prayer For Unbelieving Family
Father God, I lift up my unbelieving family to You. I pray that You would use me and my life as a light to them. I ask that You reveal your Holy Spirit to them, open their eyes and unveil their hearts, that they may come to know You, love You, and spend forever in heaven with You. You desire for ALL to come to know You, and I ask this in Your precious name, Amen.
"…to open their eyes and turn them from darkness to light, and from the power of Satan to God, so that they may receive forgiveness of sins and a place among those who are sanctified by faith in me." Acts 26:18 NIV
Strong Prayers For Family Protection
It's my hope as your sister in Christ, that you realize how important it is to pray for protection over your family! Don't give the devil a foothold in your homes and in the minds of your loved ones. Be watchful, prayerful, and continue to be an amazing warrior for Christ!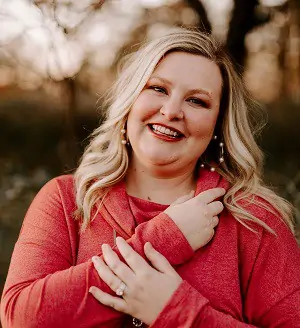 Mindy blogs over at Mindy Jones Blog where she writes about Christian motherhood, encouraging moms to raise godly kids with practical tips, resources, and authenticity.