Trusting God with your life and becoming Steadfast in the Bible is a blessing. Thankfully, Jesus came and saved us from our sin and we can have a personal relationship with Him.
Show others the Truth and your Steadfast faith by wearing Christian apparel.
Our Steadfast clothing collection is inspired by James 1:12 "Blessed is the man who remains steadfast under trial, for when he has stood the test he will receive the crown of life, which God has promised to those who love him." ESV
Our full collection of Steadfast Christian Clothing is below. This design comes in multiple colors and sizes. Click on "view product" to see the different sizes and color variations.
There is a flat shipping rate of $5.95 on all orders under $35. We offer free shipping on all orders over $35. There is no coupon code required. We are currently only shipping to the USA.
Click this Christian apparel store link to view our entire store. You can view the clothing reviews for these apparel items in the comment section below.
Here's a picture of my husband wearing our Steadfast Christian Clothing. All of the items we sell are made of great quality and are comfortable.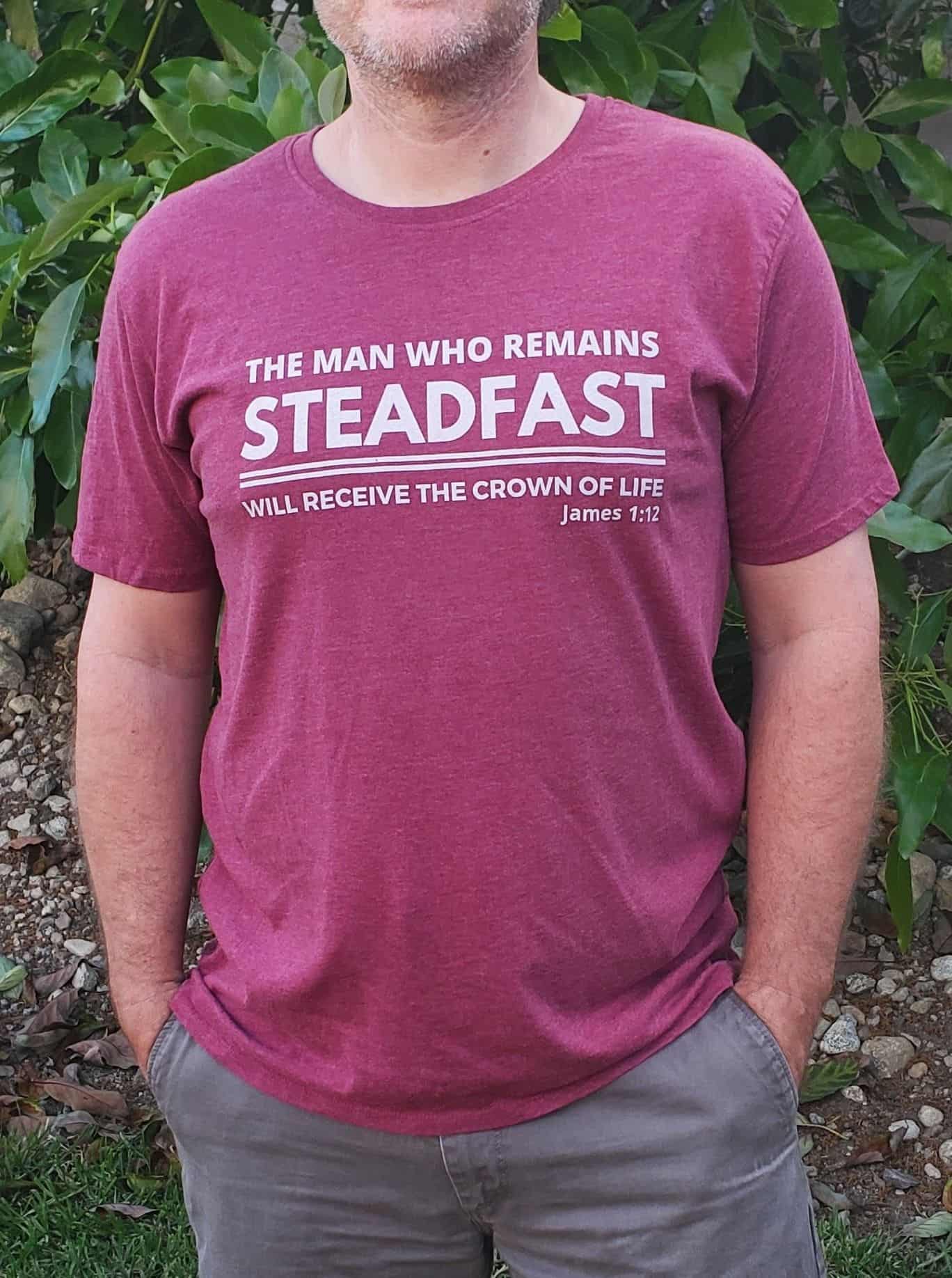 What Does Steadfast in the Bible Mean?
The definition of the word steadfast is to be firm and unwavering. The Bible uses the word steadfast and it means to be firm and unwavering in your faith.
As Christians, we should be firm in what we believe. If we are we won't allow ourselves to be moved when we face trials or difficulties. We will be steadfast and defend the Truth.
How Can I Be Steadfast in my Faith?
In order to be unmovable in our faith, we need to have a personal relationship with Jesus Christ. Making the decision to be born again should be taken seriously.
We are born into sin but Jesus saved us from sin and offers us eternal life. Once you make the decision to be born again, you need to take the time to read the Bible.
The Bible has everything you need to live a life that glorifies Christ. You must allow the Bible to become a part of your life. Allow the Bible to transform your heart and mind so your life reflects Christ.
If you don't know scripture then it can be used against you. The enemy uses scripture to twists the Trust and tries to deceive us.
In order to remain steadfast, you need to be intentional about studying the Bible. Being Steadfast in the Bible means you can identify false truths, false religions, false teachers and your faith won't be shaken.
Here are some topics that can help you grow in your walk with Christ and become steadfast in your faith:
Steadfast Bible Verses
There are multiple Bible verses about being steadfast in the Bible. Here are a few of my favorites. I'm praying these Bible verses encourage you to be steadfast in your faith.
These verses are from the NKJV unless noted otherwise.
"Then surely you could lift up your face without spot; Yes, you could be steadfast, and not fear" Job 11:15
"My heart is steadfast, O God, my heart is steadfast; I will sing and give praise." Psalm 57:7
"Create in me a clean heart, O God, And renew a steadfast spirit within me." Psalm 51:10
"For their heart was not steadfast with Him, Nor were they faithful in His covenant." Psalm 78:37
"A Song. A Psalm of David. O God, my heart is steadfast; I will sing and give praise, even with my glory." Psalm 108:1
"He will not be afraid of evil tidings; His heart is steadfast, trusting in the Lord." Psalm 112:7
"You will keep in perfect peace those whose minds are steadfast, because they trust in you." Isaiah 26:3
"Therefore, my beloved brethren, be steadfast, immovable, always abounding in the work of the Lord, knowing that your labor is not in vain in the Lord." 1 Corinthians 15:58
"If indeed you continue in the faith, grounded and steadfast, and are not moved away from the hope of the gospel which you heard, which was preached to every creature under heaven, of which I, Paul, became a minister." Colossians 1:23
"This hope we have as an anchor of the soul, both sure and steadfast, and which enters the Presence behind the veil" Hebrews 6:19
"For you know that the testing of your faith produces steadfastness. And let steadfastness have its full effect, that you may be perfect and complete, lacking in nothing." James 1:3-4 ESV
"Blessed is the man who remains steadfast under trial, for when he has stood the test he will receive the crown of life, which God has promised to those who love him." James 1:12 ESV
"You therefore, beloved, since you know this beforehand, beware lest you also fall from your own steadfastness, being led away with the error of the wicked;" 2 Peter 3:17