15+ Resurrection of Jesus Free Easter Activities for Kids
This article may contain affiliate links. I may earn money from the companies mentioned in this post with no additional cost to you. Please read my disclosure policy for more info. All Bible quotations are from the New King James Version (NKJV) unless otherwise stated Bible Copyright Attribution.
The Resurrection of Jesus is the foundation of our faith. The many names of God show us just how mighty He is. Knowing that Jesus was resurrected from the dead gives us hope in this life.
The world sees Easter with eggs and bunnies while we see it as a celebration of Jesus dying on the cross for our sins.
God saved us from our sinful nature by sending Jesus. The birth of Jesus was miraculous just like His resurrection. God's love for us is never failing.
Jesus' Resurrection is one of the most important Truths in the Bible. Without it, we would have no hope for eternal life. We need to share this Truth with everyone.
My husband and I have taught our kids about the Resurrection of Jesus Christ multiple times. They also continue to hear it through the church, youth group, and Bible studies.
As parents, we want our kids to know the real Truth of Easter. We've always allowed them to participate in Easter activities for kids because it is a day of celebration.
Because of this, I decided to share our favorite free Easter activities for kids that are Christ-centered.
This post will feature all the free Easter activities for kids in one place so you don't have to spend hours looking for them. The majority of the resources on this post will be free. Sometimes I do order items online that I really love to teach at children's church so I may list some of those items as well.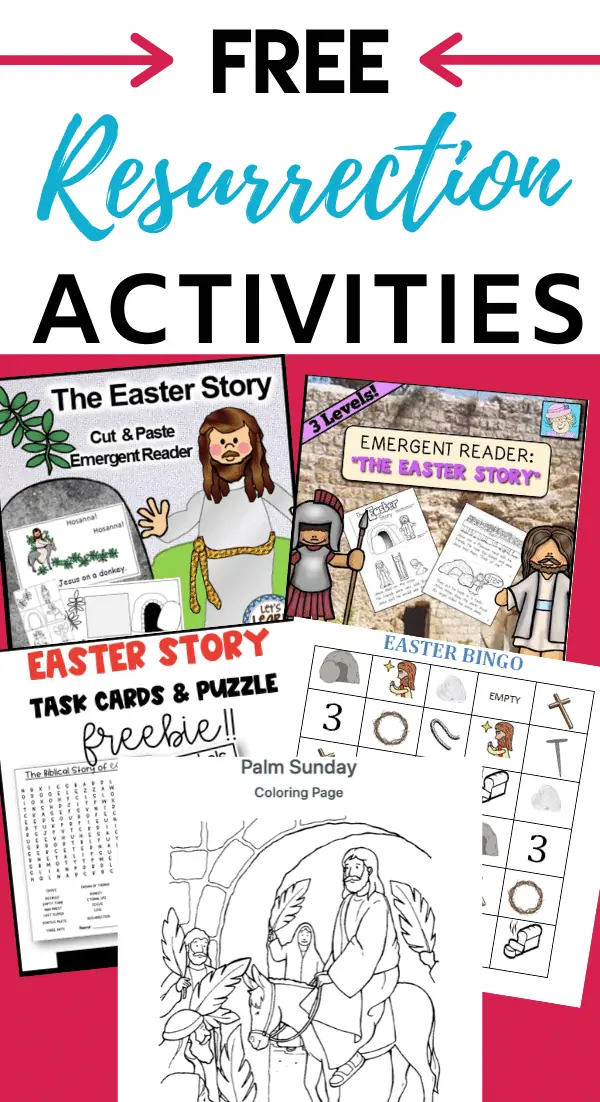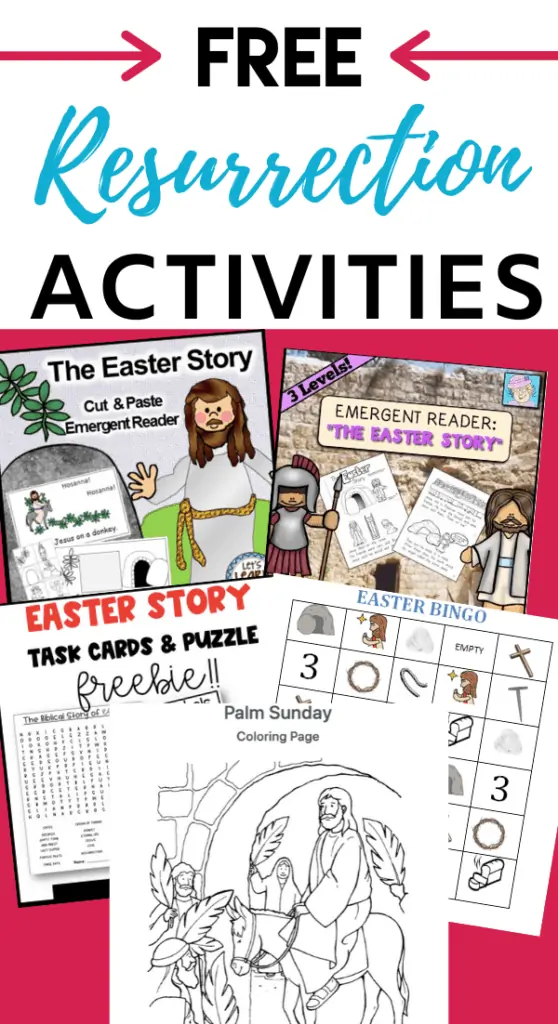 I will be breaking down the resources into the following categories:
The Easter Story for Kids
Easter Crafts for Kids
Free Easter Activities for Kids
The Resurrection of Jesus YouTube Videos and/or Related Videos
The Easter Story for Kids
The true Easter story for kids is in the Bible. If your kids haven't heard the Easter story before you should check out these story Bibles. They have cute illustrations and are a little easier for kids to understand.
Sale
Easter Crafts for Kids
It is such a blessing to teach the Bible. It can be hard to keep a child's attention for a long period so we like to include a craft when we teach. Crafts make such sweet memories.
Here are some of our favorite Easter crafts for kids (some of them are free) and Christ-centered. You may need to purchase items to complete the crafts. Most of the items can be found at your local Dollar Store.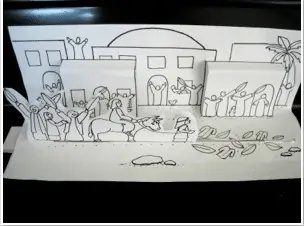 This free Easter craft has printable pop-up scenes that you can make. It starts with Palm Sunday through Jesus appearing to people after the resurrection.
The download to print this is completely free. Click this free craft link to get started.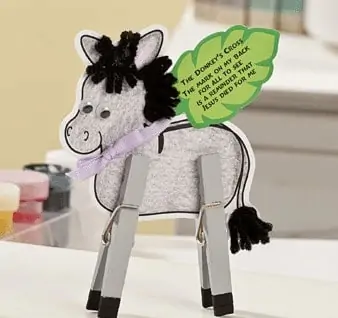 This super cute donkey represents the donkey Jesus rode on. The printable is free and comes with a leaf message on its back. Click this donkey craft link to get your free download.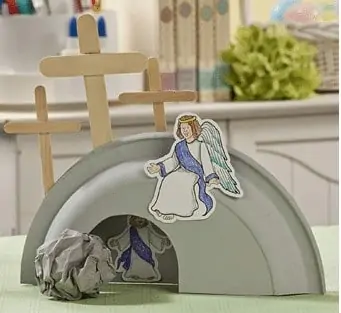 This He is Risen craft idea is a great illustration of Jesus being in the tomb. Once the stone is rolled away, He is no longer in the tomb. Click this He is Risen link to check it out. *This used to be free but now it requires a purchase. It's still a great craft.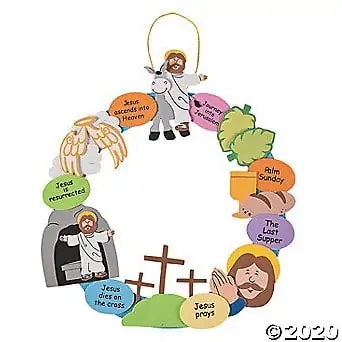 This Easter wreath is a great way to share the good news. It takes you step by step through the resurrection starting with Palm Sunday. Click this craft link to check it out. *This used to be free but now it requires a purchase. It's still a great craft.
Free Easter Activities for Kids
Easter activities are a fun way to have a Christ-centered Easter. These activities include Christ-centered Easter treats, crafts, coloring pages, and more.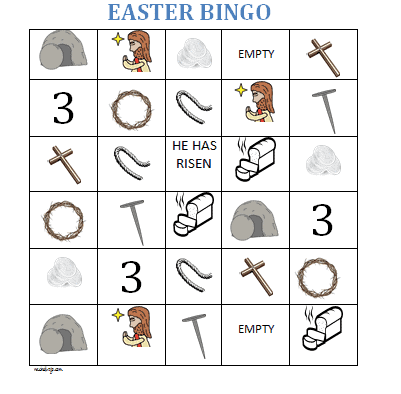 This Easter Bingo is a free printable. You can use any type of candy to use as markers. It would be fun to buy little cross candies or hearts to play this game. Click this free Bingo to get started,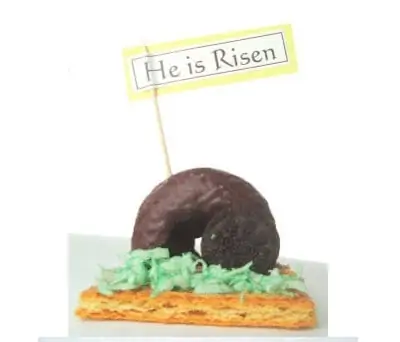 This He is Risen activity is a great illustration of the empty tomb. You can make this together and then eat it as a snack. Click this He is Risen activity to get all the details.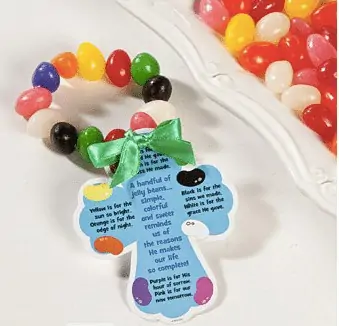 You can make a bracelet with Jelly Beans that each represents something related to the resurrection of Jesus.
This free Easter activity comes with a printable that explains the meaning of each jelly bean. Click this free activity for kids link to get the free printable.
These tasty resurrection rolls are so much fun to make. They are a great way to share the true story of Easter with your kids. Click this resurrection rolls link to get the recipe and instructions.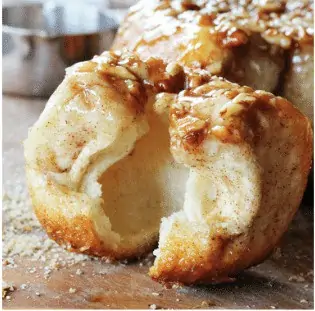 This is another great way to make an empty tomb out of a roll. This one is a sticky bun. They leave an empty space just like the resurrection rolls. Click this resurrection bun link to get this recipe.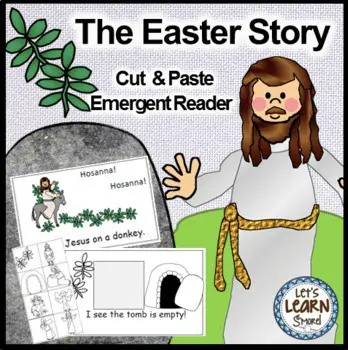 This is a Christ-centered free Easter activity. You must create an account on this site but they have lots of free downloads. Click this story link to get started.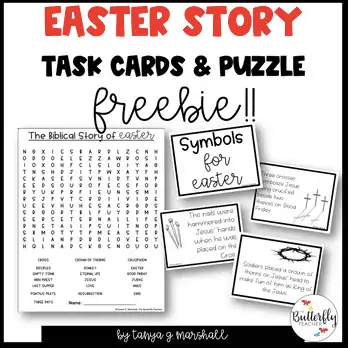 This is a Christ-centered free Easter story activity. You must create an account on this site but they have lots of free downloads. Click this puzzle link to get started.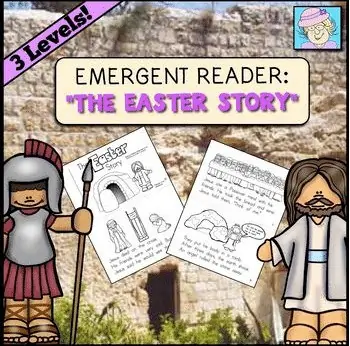 This is a free Easter story activity that focuses on Christ. You must create an account on this site but they have lots of free downloads. Click this story link to get started.
Free Easter Coloring Pages for Kids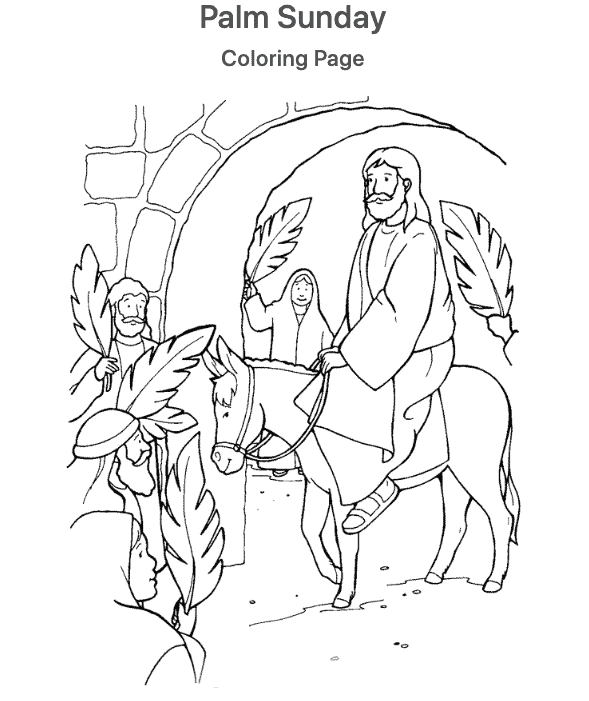 Palm Sunday– Jesus riding the donkey.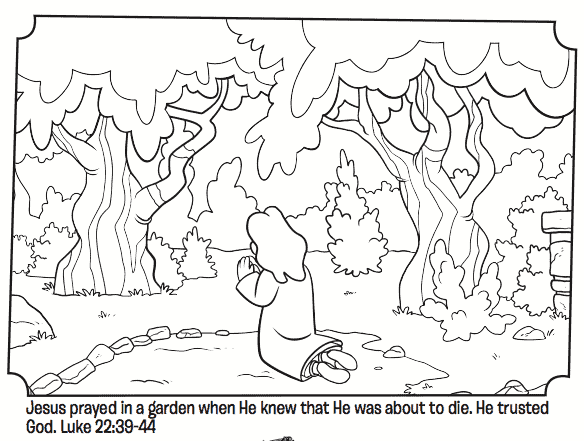 Jesus Prays in the Garden– Jesus praying in the garden of Gethsemane.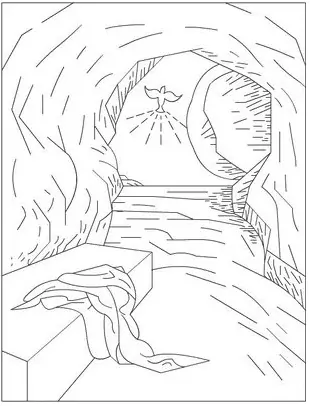 The Empty Tomb – There are other coloring pages related to this too.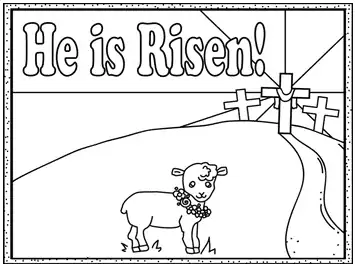 The Resurrection of Jesus Videos
I'm listing a couple of our favorite YouTube videos here. Please use caution on YouTube. The videos are not always appropriate or Biblically correct.
Sale
This is the VeggieTales video related to Easter. Click this VeggieTales link to see more of our favorites.
Sale
Family Life Resurrection Eggs — 12 Piece Easter Eggs Set with Booklet and Religious Figurines Inside — Tells The Story of Easter — Easter Eggs with Toys Inside — Eggs for Easter Egg Hun
FamilyLife's The Resurrection Eggs For Kids: Create lasting memories and bring your family together as you celebrate Easter with an exciting egg hunt tradition. These Easter Resurrection eggs come with a storybook, Easter story symbols, stickers, and access to videos from The Jesus Film Project to create a fun, truth-filled Easter interaction.
Complete Easter Story: Our Resurrection eggs Easter story comes with a beautifully illustrated, bilingual storybook (English & Spanish) that tells the story of Jesus' death and Resurrection in a fun and easy-to-understand way. This Resurrection egg set also includes access videos to The Jesus Film Project to enhance conversations with your child. These tools help parents teach the true meaning of Easter and why it is an important holiday.
Variety of Biblical symbols: Resurrection Eggs for Kids Family Life set includes 12 brightly colored plastic eggs, each with a unique symbol that depicts different parts of Jesus' life and death, including the Last Supper, the crucifixion, and the resurrection. This, along with the set of colorful Easter story stickers helps to bring the story to life and encourages children to engage with the story.
Meaningful Christian Gifts: Our plastic Easter eggs are perfect to use at home, Sunday School, children's ministry, and more. This set makes for wonderful Easter gifts for families with young children (ages 3+).
About Us: At FamilyLife, we create content and experiences to help families pursue the relationships that matter most and grow more fulfilling lives, with each other, and their communities. We understand there is a gap between the intentions we have for our families and what we actually experience in life. But this isn't what we were made for. Instead, we believe God made us to live in perfect community with Him and each other. We believe He has the resources and tools for us to bridge the gap—to make our intentions match the reality of our relationships.
Familylife (Author)
English (Publication Language)
Hopefully, this resource has been helpful to you. I will continue to add to this post as I find new things.
I'd love to hear if you have any suggestions for this post. Leave me a comment below with your suggestions.