6 Signs That God Is With You
This article may contain affiliate links. I may earn money from the companies mentioned in this post with no additional cost to you. Please read my disclosure policy for more info. All Bible quotations are from the New King James Version (NKJV) unless otherwise stated Bible Copyright Attribution.
If you are a follower of Jesus, then you know that God is omnipresent, having the ability to be present everywhere simultaneously. But do you ever feel abandoned by God? Is there ever a time when you keep asking for help but He never comes around?
Even though it may seem like God is nowhere to be seen, chances are, you are not actively looking for the signs that God is with you. It is crucial to understand that God is always with you even though He doesn't always respond the way you want Him to.
Maybe He has lent a helping hand in your situation but you have never really paid attention. Through studying the Truth and meditating on scriptures I have realized that God is right next to me wherever I go and I have nothing to fear.
In this article, I hope to encourage you and shed light on the ways you can recognize that God is with you.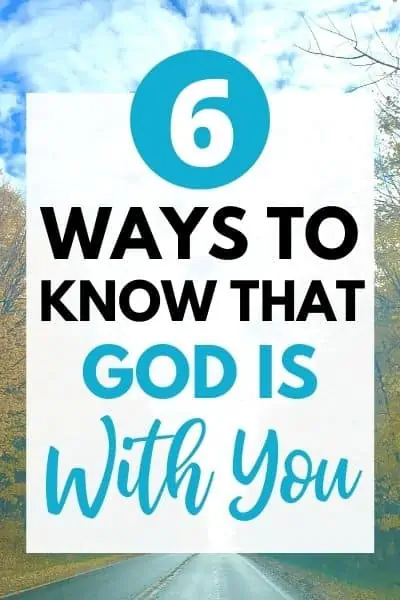 What Does "God Is With You" Mean?
God's Word assures us that God is always with us, protecting us under his wings and guiding our minds. But what does God is with you mean?
When we believe that someone is with us, we think of friendly and sweet companionship. We trust that the person will stay with us through thick and thin.
Similarly, when someone says "God is with you", the speaker refers to the steadfast love and compassion God has for us. The Bible teaches us that God always abides with His children. He is actively involved in every aspect of His creation.
He has a plan for each and every one of His children and absolutely nothing in this world can interfere with it.
Where In The Bible Does It Say God Is With You?
Immanuel is a Greek name that means "God is with us" and appears in both the Old Testament and New Testament.
The word first appears in Isaiah 7:14 where the Lord speaks to the king of Judah, Ahaz through Isaiah the prophet:
"Therefore the Lord himself will give you a sign. Behold, the virgin shall conceive and bear a son, and shall call his name Immanuel."
Immanuel refers to Jesus Christ as Jesus was God in human form. He lived among us, died for us sinners, and paid for all our sins. The Bible records that God is always with you in Joshua 1:9:
"Have I not commanded you? Be strong and courageous. Do not be frightened, and do not be dismayed, for the LORD your God is with you wherever you go."
How To Know God Is Always With You
God speaks to His children in different ways. Whether we notice Him depends on how well we know the various ways that He is speaking to us.
As children of God, it is important to believe that God always hears our prayers. The reason we feel that God isn't listening to our prayers is that God is speaking to us in one way and we are seeking him in another way.
Below are 6 different signs that God is with you wherever you go.
1. You Feel His Presence
At times God may seem deafeningly silent even when we desperately search for Him. But remember that He never changes and His love never fades. One of the best ways to feel His presence is to praise Him and study the Bible.
Whenever you get some time to yourself even if it's in the middle of a chore, speak out His name. His name holds great power and just saying His name out loud will help you feel His presence.
You can read scripture aloud and/or sing a worship song. You should go for a walk and take a look at the trees, birds, and all of His creation. When you feel His presence, you will suddenly feel at peace with yourself even if your life is stuck in stormy weather.
2. Through His Word
When a Bible verse speaks to you, the power of scripture becomes evident and you find joy and confidence. Similarly, when God speaks to you through His Word, you will feel the power of the Holy Spirit and His presence.
Studying the Word of God is one of the most effective ways to spend more time with Him and walk closer with Him.
God talks to us through His Word. So if you frequently come across the same verse or verses with the same message, consider it as a sign. Pray for wisdom and meditate on the verse to better understand what He is trying to tell you.
Look up different interpretations of the verse and refer to more than one Bible version. You can also seek help from spiritual leaders and Christian friends.
3. Through People
When you read the Bible, you will come across many people called prophets. These are people who speak God's Word to other people. Some of the major prophets in the Bible are Isaiah, Ezekiel, Daniel, etc.
Still today, God sends messages through ordinary people, commonly church leaders, mentors, and even your friends.
Have you ever encountered someone who told you just what you wanted to hear? If that person's words did not contradict God's Word, then more than likely, God was actually speaking to you through that person.
It's important to always remember that humans are imperfect. So make sure your actions always line up with what the Bible teaches us.
4. Your Intuition
Intuition is the feeling or ability to understand certain things without reasoning, proof, or evidence.
When you trust your gut instinct and make a decision, and later it proves to be the right decision, you say "I knew this was going to happen!." During moments like these, I praise God because I know He was speaking to me through my intuition.
When you are struggling to make a decision, spend some time alone and pray for wisdom. Ask yourself questions about the consequences of every possible decision, and listen to your gut feeling. If your mind immediately comes up with an answer to your question, it must be God speaking to you.
However, before you trust these feelings of intuition, make sure those actions reflect what the Bible teaches. We can deceive ourselves so it's always best to match it up to the Word of God.
5. Repetition of Problems
Have you ever felt like the same problem is happening again and again in your life? Fret not, because this might be a sign that God is with you.
When God wants to change your actions and shape your desires, He often allows trials and tribulations in our lives. But if we do not confess and learn from these lessons, He has no other option than to put us through the same trial until we decide to reevaluate our actions.
When you face hardships in life, take a break and identify the presence of sin in your life. Confess your sins and remove them from your life. Repentance leads to salvation and is key to growing closer to God.
6. Your Circumstances
Scripture teaches us that God is always with us even when there is no evidence He is. Even in the worst times, God is walking close to us with a good purpose and a plan in mind.
When we look back, we often find blocked and clear paths in our lives that lead to where we stand right now. The Bible tells us to give thanks in all circumstances because God has a plan for each and every one of His children.
If something does not go according to our plan, we need to understand that God has closed that door. Regardless of our decisions and desires, it is God's will that prevails.
God Is With You Verses
The Bible has many different versions available. The verses below about God is with you are from the English Standard Version (ESV). I listed these God is with you verses in order of the books of the Bible below.
Exodus 3:12 – He said, "But I will be with you, and this shall be the sign for you, that I have sent you: when you have brought the people out of Egypt, you shall serve God on this mountain."
Deuteronomy 31:6 – Be strong and courageous. Do not fear or be in dread of them, for it is the LORD your God who goes with you. He will not leave you or forsake you."
Joshua 1:9 – Have I not commanded you? Be strong and courageous. Do not be frightened, and do not be dismayed, for the LORD your God is with you wherever you go.
Psalm 23:4 – Even though I walk through the valley of the shadow of death, I will fear no evil, for you are with me; your rod and your staff, they comfort me.
Psalm 145:18 – The LORD is near to all who call on him, to all who call on him in truth.
Isaiah 41:10 – Fear not, for I am with you; be not dismayed, for I am your God; I will strengthen you, I will help you, I will uphold you with my righteous right hand.
Matthew 28:19-20 – Go therefore and make disciples of all nations, baptizing them in the name of the Father and of the Son and of the Holy Spirit, teaching them to observe all that I have commanded you. And behold, I am with you always, to the end of the age.
John 14:16-17 – And I will ask the Father, and he will give you another Helper, to be with you forever, even the Spirit of truth, whom the world cannot receive, because it neither sees him nor knows him. You know him, for he dwells with you and will be in you.
Hebrews 13:5 – Keep your life free from love of money, and be content with what you have, for he has said, "I will never leave you nor forsake you."
God Is With You Quotes
Here are some of my favorite God is with you quotes.
"Every time you think you're being rejected God's actually redirecting you to something better. Ask him to give you the strength to press forward." –Nick Vujicic
"The closer you are to the end of your temporal trials, the louder the voice of critics. Close your ears to the heavy downpours of their discouragements. God whispers; "I am with you!" –Israelmore Ayivor
"God doesn't have visiting hours, neither does he sleep. He's there whenever we need him." –Sarah Christmyer
"I believe that miracles happen every day. Every person is a miracle. Every moment is a miracle. If only we can open our eyes, we'll see God's love everywhere." –Bo Sanchez
"God, Who is everywhere, never leaves us. Yet He seems sometimes to be present, sometimes to be absent. If we do not know Him well, we do not realize that He may be more present to us when He is absent than when He is present." –Thomas Merton
"Even If I'm in a place where light can't sweep through, God's grace will reach me and save me." –Luffina Lourduraj