The Best Bible Tabs Plus! Get a Free Printable
This article may contain affiliate links. I may earn money from the companies mentioned in this post with no additional cost to you. Please read my disclosure policy for more info. All Bible quotations are from the New King James Version (NKJV) unless otherwise stated Bible Copyright Attribution.
Reading your Bible is the most important way to learn about God. Making the decision to become a Christian is a lifelong journey to know your creator.
The Bible has everything we need to know to navigate through this life. It's filled with real-life examples of struggles, victories, Christian living, God's promises, all the names of God, and more!
If we desire to know the Lord, we need to study our Bibles. There are 66 books in the Bible and most people don't know where all the books are. This is where Bible tabs come in.
There is normally a page at the beginning of the Bible that lists all the books of the new testament and old testament with page numbers. This is helpful but wouldn't it be easier to have a Bible tab on each book?
I received Jesus into my life a little over 10 years ago and I still get the books in the Bible confused. I know which books are in the old testament and the new testament but I get the order of the books messed up.
This is especially frustrating when I'm in church or at my women's Bible study because I feel like I'm on the spot.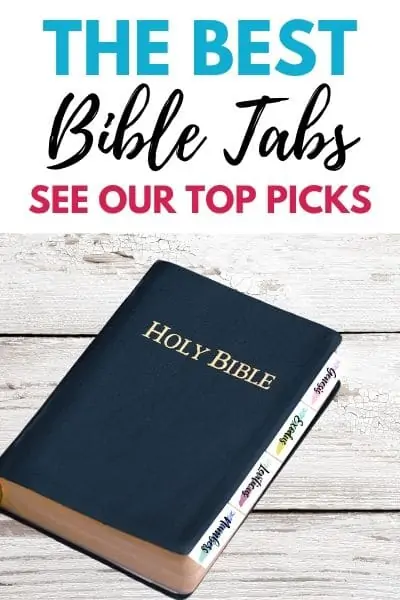 What are Bible Tabs?
Bible tabs are tabs that have the name of each book in the Bible. For example, the first book in the Bible is Genesis. The tab would say "Genesis" on it.
The tab would stick out on the side of the Bible so you can see the name of the book easier. Some Bibles have indentions on the edge of the pages that serve as Bible tabs.
Bible tabs are also known as Bible index tabs and Bible book tabs. The purpose of the tabs is to help you navigate to each Book of the Bible quicker.
Bible Tabs
Bible tabs come in all sorts of styles. Over the past few years, people have been getting really creative with their tabs. You can purchase Bible tabs or you can make DIY Bible tabs.
Making your own tabs takes extra time but it may save you money. The cost of purchasing Bible tabs is fairly inexpensive and they usually last a long time.
Ultimately, the decision is up to you. I'm going to share some of the best Bible tabs to purchase in this article. If you want to print your own, I made some free printable Bible tabs for you.
Either way, I hope you find Bible tabs that will work for you. The purpose of tabs is to help you navigate the Bible and learn God's Truth.
Free Printable Bible Tabs
I created these printable Bible tabs for you. They are free to download. All you have to do is click on this free printable Bible tabs link to get your copy.
After you have downloaded the file, just print, cut, fold in half, and attach them to your Bible pages. You can use sticker paper, glue, tape, washi tape, etc. to attach the tabs to your Bible.
These printable Bible tabs include all 66 books of the old & new testaments. Each tab is approx. 2 inches wide.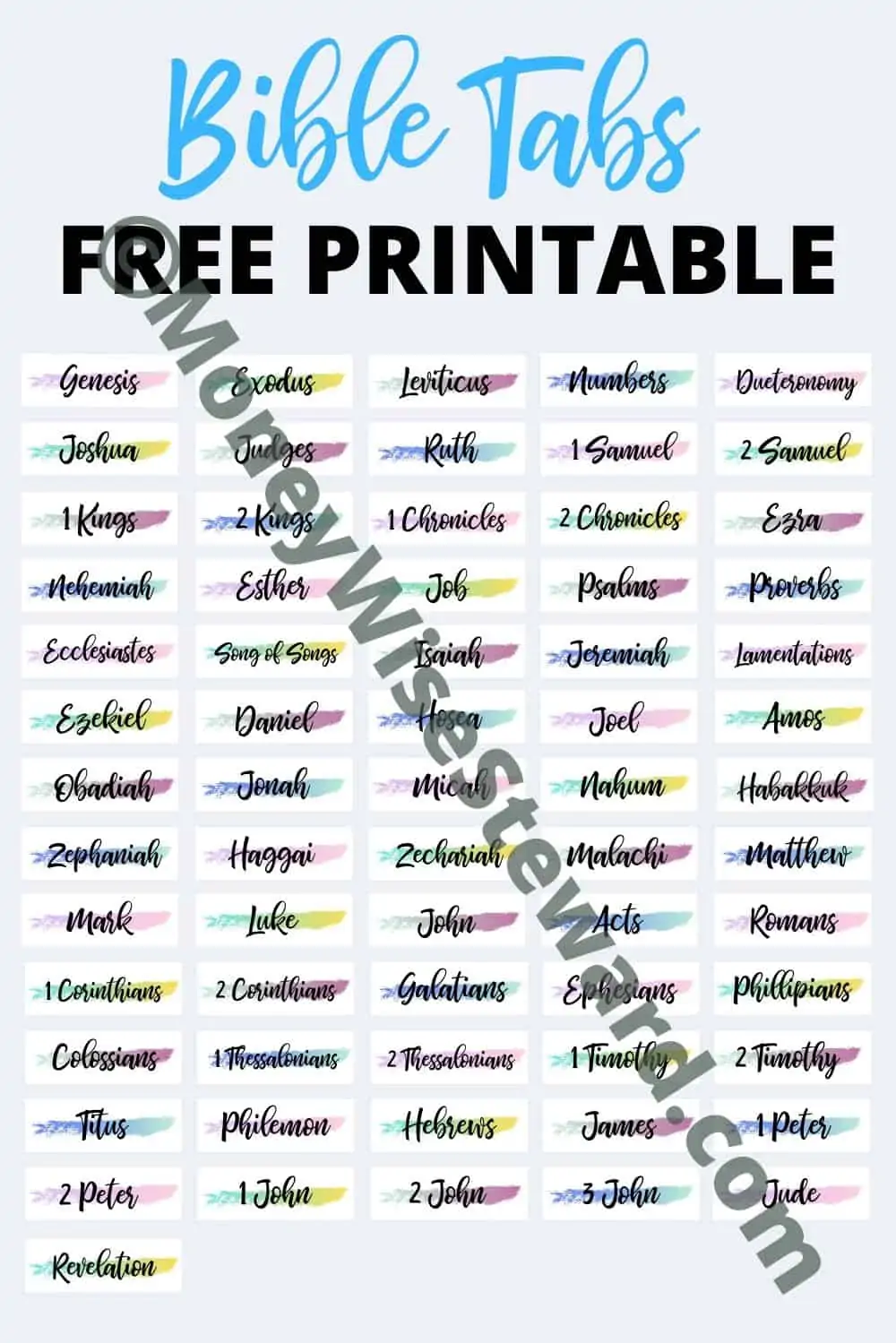 Best Bible Tabs
I'm excited to share the best Bible tabs. There are several different Bible tabs available. You can purchase ready to go Bible book tabs if you aren't interested in printing your own.
These Bible tabs come in different styles and colors. Hopefully, you will find one that works for you and your style.
Not an Amazon Prime Member? Click this 30-day free trial of Amazon Prime link to try it out today. We've had Prime for years and love it. We save so much money on shipping!
Decorative Bible Index Tabs
Easy peel-and-stick Bible index tabs make Bible study easier.
Large print – easy to read
Pre-scored for easy folding
Laminated for protection
Includes 66 books plus! 14 blank tabs
These tabs were created for women. They are stylish with different designs. They come already laminated so you don't have to worry about ruining them. I love how they are pre-scored and ready to go right when you receive them. If you like these designs, you will love these Bible Index tabs. They will really spruce up your Bible!
Sale
DiverseBee Laminated Bible Tabs (Large Print, Easy to Read), Personalized Bible Journaling Tabs, 66 Book Tabs and 18 Blank Tabs - Uniform Theme
Fun and Easy to Install: The peel-and-stick Bible index tabs are self adhesive, simply align them with the provided guide or place them creatively. The Bible stickers are pre-scored for easy folding.
Perfect Size and Durable: Carefully designed pretty Bible accessories and matte laminated for protection.They will add personality to your Bible without making it feel bulky!
84 Laminated Tabs: Includes 66 books Bible tabs Old and New Testament plus 18 blank tabs which can be personalized or used to index the books in the Catholic Bible.
Simplified Bible Navigation: No more going back to the table of contents! Excellent for Bible journaling and Bible study.
Ideal Christian Gift: Surprise someone and help them love their Bible even more!
Traditional Bible Book Tabs
Traditional style
Silver edges
Pre-cut permanent tabs
Fits bible pages from 7 to 12 in.
If you aren't into flashy tabs, you will appreciate these traditional Bible tabs. I've featured the silver foil edges here but they are also available in gold, black, and many other colors. This set includes extra tabs to mark your own life verse and for special notations.
Sale
Large Print Bible Tabs
3 letter abbreviations
Permanent adhesive
Includes a tab positioning guide
Pre-cut
These tabs are large print. They have the books of the Bible's names abbreviated. Just peel, position, and fold to affix the tab. They come in gold, silver, and rainbow. There's a total of 84 tabs that include book tabs and reference tabs.
Large Print Bible Indexing Tabs - Silver: Bible Indexing Tabs
Includes Tabs for both The Old & New Testament
84 Large Print Gold Edged Tabs Including 64 Books & 20 Reference Tabs
Extra large print features 3-letter abbreviation on both sides of the tab and complete name on the transparent gripping edge
Tab any size Bible from 7" to 12" with these pre-cut, self-adhesive tabs
Easy-to-follow instructions and Tab Positioning Guide included in each package.
Permanent adhesive so the tabs won't fall off
Tabs are printed on both sides for easy reading and quick reference
What Type of Bible Tabs are your Favorite?
As you can see there are different types of tabs to choose from. I personally love decorative tabs for my Bible. I'd love to hear what type of tabs you prefer.
Leave us a comment below to share your experience. We love hearing from our readers so we can provide the best products.