47 Names of God Plus! Get a Free Printable
This article may contain affiliate links. I may earn money from the companies mentioned in this post with no additional cost to you. Please read my disclosure policy for more info. All Bible quotations are from the New King James Version (NKJV) unless otherwise stated Bible Copyright Attribution.
A name is powerful. It tells who we are and helps people around us identify who we are. Just like God's names. There is nothing more powerful than the names of God in the Bible.
God's name is referred to as a strong tower in the Bible. We all can turn to Him and be saved. We can always trust Him to conquer whatever trials and challenges we are facing.
Since God never changes, we can rely on His character in every generation. He is always with us. He is faithful, loving, and trustworthy. He is present with us at all times, ready to protect us from our enemies.
"God is our refuge and strength, a very present help in trouble." Psalm 46:1
Studying the Word of God helps us to understand the very nature and character of God. We see several different names for God in the Bible and we can study each one to know Him better.
"For with God, nothing will be impossible." Luke 1:37
We can find hope in His name. He is the God of miracles. Don't ever believe the lie that He doesn't love you or that He doesn't care about your current circumstances. He cares about everything and He knows everything about you. He is never too busy!
Praise Him for sending Jesus to die for our sins and giving us the Holy Spirit to help guide us. He loves us so much!
The Names of God and their Meaning are important because they help us understand who He is. Knowing the names of God will help you grow closer to Him and remember that He is with us every moment and has a will for our lives.
Names of God Free Printables
I made two different Names of God free printables. Click this Names of God free printable link to get the one directly below and it will take you directly to the PDF file to download it. The Names of God printable directly below is an 8×10 and will fit beautifully in a picture frame.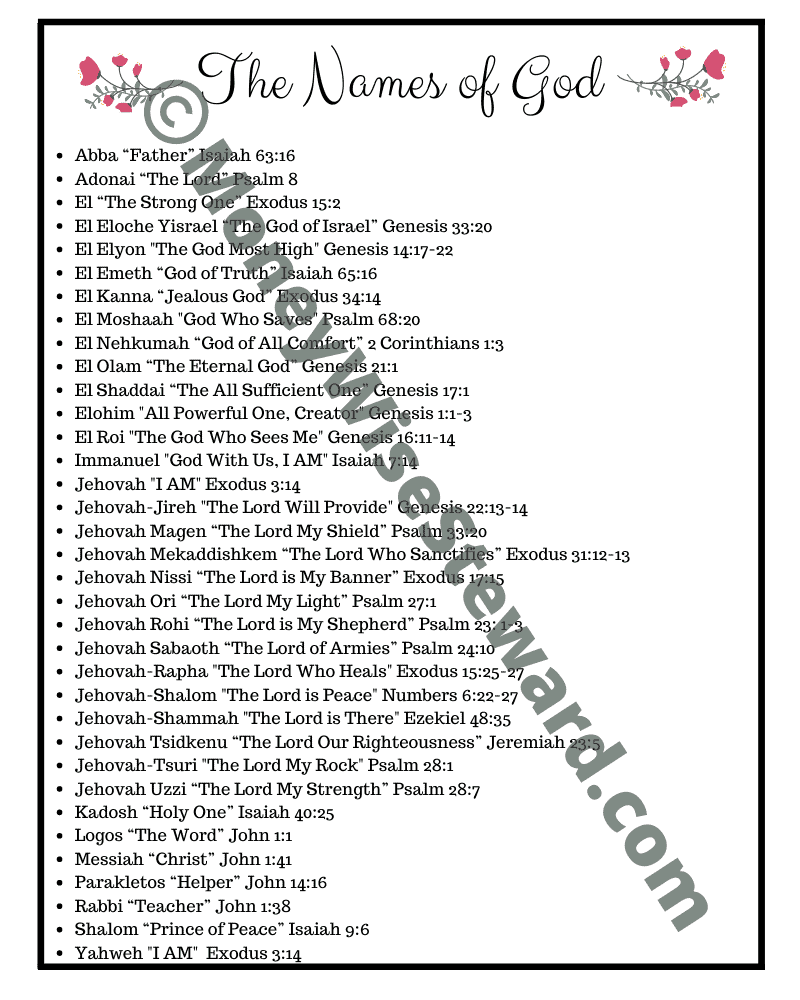 Names of God Free Printable Note Cards
I made this names of God free printable so it's easy for you to take with you. All you need to do is click this names of God free printable link, print it on card stock (this is what I use), cut them out, punch a hole in the corner, and use a loose leaf ring (this is what I use) to secure it.
You can also laminate (this is what I use) them if you'd like. It will help keep them in good condition. I pray that you can benefit from these names of God free printables.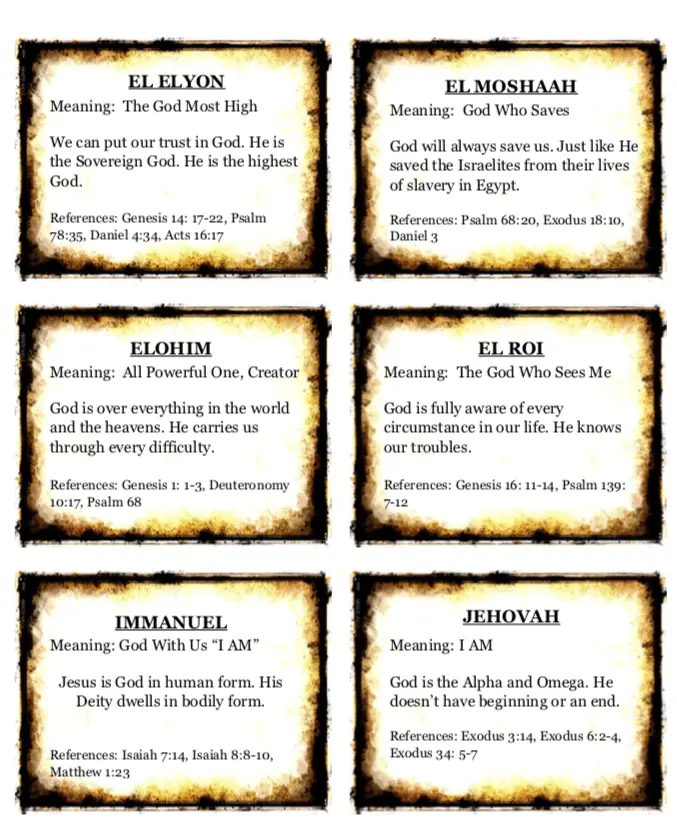 Names of God in the Bible
Names of God and Their Meaning
1. EL ELYON
God's name El Elyon means "The God Most High". It expresses the overwhelming majesty of God. God is above all Gods and there is nothing in life that is more sacred. We can put our trust in God. He is the Sovereign God.
He is greater than any darkness and any problems we may be facing. This name of God is a great reminder that God is always in control. No matter what battle or struggle we are facing, He is in control. He has conquered the grave and will never lose His power.
"Then they remembered that God was their rock, And the Most High God their Redeemer." Psalm 78:35
2. El MOSHAAH
God's name El Moshaah means "God Who Saves". We can always rely on the Lord to save us. Just like He saved the Israelites from their lives of slavery in Egypt.
He saves us from things that put us in danger. He saves us from sin. He gave us His Word so we can find answers to every problem. He is the only one who can save us, He moves mountains.
"Our God is the God of salvation; And to God the Lord belong escapes from death." Psalm 68:20
3. ELOHIM
God's name Elohim means "All Powerful One, Creator". This name refers to His power. The name Elohim is used when God spoke the world into existence.
He is over everything in the world and the heavens. He shows himself in creation. In every star in the sky, the moon, and the sunset. He carries us through every difficulty.
"For the Lord, your God is God of gods and Lord of lords, the great God, mighty and awesome, who shows no partiality nor takes a bribe." Deuteronomy 10:17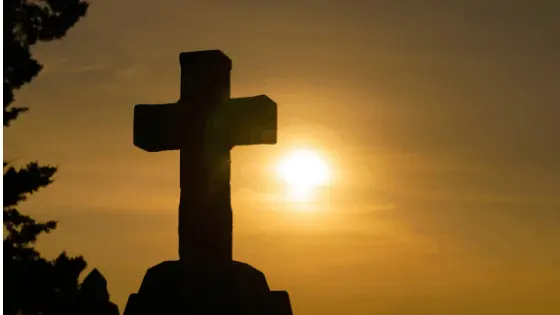 4. EL ROI
God's name El Roi means "The God Who Sees Me". God is fully aware of every circumstance (past, present, and future) in our life. He knows our troubles and wants us to rest in Him.
He numbers the hair on our head. He knows our beginning and our end. Scripture makes it clear that God never sleeps. He never misses anything that happens here.
"Before I formed you in the womb I knew you, Before you were born I sanctified you, I ordained you a prophet to the nations." Jeremiah 1:5
5. IMMANUEL
God's name Immanuel means "God With Us". He is always with us. Before Jesus ascended into heaven, He promised us that He would send us a helper (John 14:26).
The Holy Spirit dwells within a believer. Once you accept Jesus as our personal Lord and Savior, The Holy Spirit takes residence within us. The Bible tells us that our body is the temple for the Holy Spirit in 1 Corinthians 6:19-20.
What a blessing it is to have God With Us at all times. We serve an amazing God!
"Therefore the Lord Himself will give you a sign: Behold, the virgin shall conceive and bear a Son, and shall call His name Immanuel" Isaiah 7:14
6. JEHOVAH
God's name Jehovah means "I AM". God doesn't change. He always stays the same. He doesn't need anything. He doesn't have a beginning or an end. He's the Alpha and Omega!
His promises never fail. He has always been and always will be. He is the same powerful God that saves His people. We see Him saving His people in all areas of the Bible. He loves us and wants us to love him.
"And God said to Moses, "I AM WHO I AM." And He said, "Thus you shall say to the children of Israel, 'I AM has sent me to you.'" Exodus 3:14
7. JEHOVAH-JIREH
God's name Jehovah-Jireh means "The Lord Will Provide". God will provide all our needs. He provided the ram as a substitute for Isaac. He provided Jesus as the ultimate sacrifice to save us.
We see many examples of God providing for His people. God knows exactly what we need. He promises to provide and His promises never fail.
"And Abraham called the name of the place, The Lord Will Provide; as it is said to this day, "In the Mount of the Lord it shall be provided." Genesis 22:14
8. JEHOVAH RAPHA
God's name Jehovah Rapha means "The Lord Who Heals". God created our bodies and He created them in a way that they can heal when we are hurt or sick.
We can try to stay healthy with exercise and proper eating. We can consult doctors and medicine to heal us. Ultimately, God is the healer and is behind all these things. He can heal us instantly, just like He did with Naaman.
"and said, "If you diligently heed the voice of the Lord your God and do what is right in His sight, give ear to His commandments and keep all His statutes, I will put none of the diseases on you which I have brought on the Egyptians. For I am the Lord who heals you." Exodus 15:26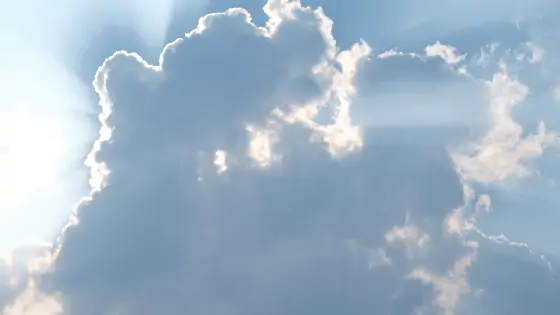 Hebrew Names of God
9. JEHOVAH SHALOM
God's name Jehovah Shalom means "The Lord is Peace". God brings us peace. He conquers our enemies. God gives us inner peace.
We see a lot of horrible things in this world. We can often find ourselves fearful, worried, and stressed. We can trust that the Lord will provide us with peace to reassure us.
"The Lord lift up His countenance upon you, And give you peace." Numbers 6:26
10. JEHOVAH SHAMMAH
God's name Jehovah Shammah means "The Lord Is There". God is with us everywhere we go. His presence is not limited. Whether it's day or night, you can be assured that He is with you.
He lives within us. He's in our lives, the church, our family, etc. He wants to be with us. No matter how you feel or where you are, the Lord is always with you.
"All the way around shall be eighteen thousand cubits, and the name of the city from that day shall be THE LORD IS THERE." Exodus 48:35
11. JEHOVAH TSURI
God's name Jehovah Tsuri means "The Lord My Rock". God is strong and solid like a rock. He protects us like a rock. We can hold onto Him because He is solid and strong.
God is with us and works things out for the good of those who love Him (Romans 8:28). We see His protection in the Bible and we can receive that same protection.
"To You I will cry, O Lord my Rock: Do not be silent to me, Lest, if You are silent to me, I become like those who go down to the pit." Psalm 28:1
12. YAHWEH
God's name Yahweh means "I AM". God never changes. He is the same yesterday, today, and forever (Hebrews 13:8). He always stays the same. He doesn't need anything. He doesn't have a beginning or end.
His promises never fail. We are faithless and He is faithful. He has always been and always will be. He is the same powerful God that saves His people. We see Him saving His people in all areas of the Bible. He loves us and wants us to love him.
"For I am the Lord, I do not change; Therefore you are not consumed, O sons of Jacob" Malachi 3:6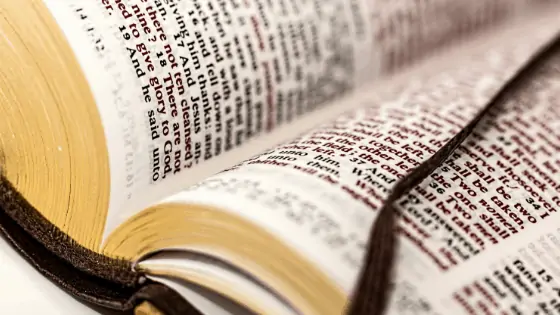 Names of God List
Here are more names of God in the Bible. I referenced each one of God's real names with where they can be found in the books of the Bible.
13. Abba "Father " Isaiah 63:16
14. Adonai " The Lord" Psalm 8
15. "Bread of Life" John 6:35
16. "Cornerstone" Ephesians 2:20
17. El "The Strong One" Exodus 15: 2
18. El Elohe Yisrael "The God of Israel" Genesis 33:20
19. El Emeth "God of Truth" Isaiah 65:16
20. El Kanna "Jealous God" Exodus 34:14
21. El Olam "The Eternal God" Genesis 21:33
22. El Nehkumah "God of All Comfort" 2 Corinthians 1:3
23. El Shaddai "The All Sufficient One" Genesis 17:1
24. "Friend" John 15:14
25. "Good Shepherd" John 10:11
26. "Great Physician" Luke 5:31-32
27. Jehovah Magen "The Lord My Shield" Psalm 33:20
28. Jehovah Mekaddishkem "The Lord Who Sanctifies" Exodus 31: 12-13
29. Jehovah Nissi "The Lord is My Banner" Exodus 17:15
30. Jehovah Ori "The Lord My Light" Psalm 27:1
31. Jehovah Rohi "The Lord is My Shepherd" Psalm 23: 1-3
32. Jehovah Sabaoth "The Lord of Armies" Psalm 24:10
33. Jehovah Tsidkenu "The Lord Our Righteousness" Jeremiah 23:5
34. Jehovah Uzzi "The Lord My Strength" Psalm 28:7
35. Kadosh "Holy One" Isaiah 40:25
36. "King of Kings" Revelation 17: 14
37. "Light of the World" John 8:12
38. Logos "The Word " John 1:1
39. "Lord" Romans 6:23
40. "Master" Luke 8:24
41. Messiah "Christ" John 1:41
42. Parakletos "Helper" John 14:16
43. Rabbi "Teacher" John 1:38
44. "Savior" Titus 1:4
45. Shalom "Prince of Peace" Isaiah 9:6
46. "Son of God" Luke 1:35
47. "The Resurrection and the Life" John 11:25
Names of God Bible Study
My kids and I did a Bible study on the different names for God and we were so blessed by it. I encourage you to take some time and study the names of God. I've compiled a few Bible study resources for you that we used to study the names of God.
♥ This book has a names of God free printable that correlates with the book.
Sale
Sale
What's Your Favorite Biblical Name of God?
My favorite Biblical name of God is "Jehovah Shammah". I love knowing that the Lord is with me all the time. It comforts me because His timing is perfect as He is with me in every moment. I'm so thankful for His presence in my life.