5 Definite Ways to Know God Has a Plan for You
This article may contain affiliate links. I may earn money from the companies mentioned in this post with no additional cost to you. Please read my disclosure policy for more info. All Bible quotations are from the New King James Version (NKJV) unless otherwise stated Bible Copyright Attribution.
God has a plan for you. He has a divine purpose for all of us. He has given each one of us unique talents and gifts of the Holy Spirit to carry out His perfect plan in His timing.
Being a Christian doesn't mean that we won't have dry seasons or face trials and tribulations but we can stay encouraged because we know that we have eternal life through Jesus Christ.
Each and every one of us makes plans for our day-to-day lives…it's a part of living. Sometimes these decisions are good for us and sometimes they are bad for us.
Our minds are always changing and so do our own plans. God is the only one who knows what is best for us and our lives. Thankfully, we can fully trust and know that God is never changing. He is the same yesterday, today, and tomorrow (Hebrews 13:8). His plan for us never wavers…His plan is perfect. He will always provide.
What Does "God Has a Plan for You" Mean?
Hebrews 13:8 tells us:
"Jesus Christ is the same yesterday, today, and forever."
The world is constantly changing but God never does. He is an all-knowing God who wants the best for his children. He wants us to prosper and draw closer to Him. He gives us hope and a future through Him.
The plans God has for us are way bigger than we could ever imagine. We will face new challenges in our life but these challenges can be used to deepen our relationship and find God in our life.
Our God loves us so much, that He sent His one and only son Jesus Christ to die for our sins to fulfill His plan for all of us. He is the same God who created you and He holds the plan, and the purpose for you, and your life.
Jeremiah 29:11 says:
"For I know the thoughts that I think toward you, says the Lord, thoughts of peace and not of evil, to give you a future and a hope."
We like to think that in Christ, we will never face any troubles, roadblocks, or endure hard seasons. This is not the case and often times we simply can't fully comprehend what God is doing in our lives. But we can trust that He is with us every step of the way in our walk on this earth.
We are going to go and grow through many circumstances that will strengthen us and our faith. God's plans for our lives are much greater than any worldly thing, material thing, or any physical blessing we receive here on this earth. We are not guaranteed tomorrow but God gives us hope for a future of salvation through Jesus.
Jesus died on the cross for our sins, and His blood is so powerful that we can be redeemed through Him. Nothing in this life, in this world, can give us true hope and peace…it only comes from the Lord. He is the maker of Heaven and earth.
God Has a Plan for Your Life
God graciously created all of us and it's so amazing to think we each have our own purpose despite the many mistakes we make. God has a plan, He is in control, and He has already won the victory. He will continue drawing us back to Him and to His plan for our life. No matter how far astray we go, He is always near to us and has a will for us.
As we read through many books of the Bible and really study the Bible verses we read, we can see specific plans He had for everyone in the Bible. For every single one of us, God's plan for us started before we were conceived as stated in Jeremiah 1:5.
"Before I formed you in the womb I knew you, before you were born I set you apart; I appointed you as a prophet to the nations."
He specifically knitted us together, in our mother's womb, at the exact time we were supposed to be created. God has a plan for your life, for everyone, that they will each come to know Him and accept Him in their hearts and be saved.
Take the time to look at all of His creations, not just the people, but also nature, and the animals. He is thorough with every detail of our lives down to our fingerprints and DNA. He created a way to fellowship with Him and with other believers that help us grow closer to Him.
He has designed us perfectly and we are fearfully and wonderfully made through His image. Through His good works, He has given us our gifts, strengths, and opportunities in our lives. We often forget to trust in the Lord who knows the exact number of hairs on our heads, knows our hearts, and knows us even more than we know ourselves.
The very gifts and strengths He has given us are to be used to make an eternal impact. His plans for our lives start to naturally unfold as we go through life and grow in our faith. We do this through maturing in knowledge, walking in obedience, and following His plan for our life.
This is why it's important to study the Bible and memorize scripture. His Word feeds us and reminds us that He is greater than who is living in the world. The Holy Spirit plays a big role in this and can help give us peace and direction along with the wisdom to follow the path of God's plan for our life.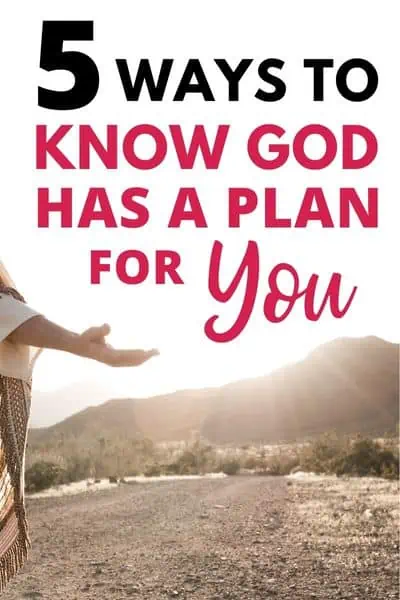 How to Know God's Plan for You
In order to know God's plan for your life, you need to have a relationship with Him. As Christians, we tend to overcomplicate things such as studying the Bible and getting stuck through the motions of religion and works.
Your relationship with Christ is the most important relationship you'll ever have and you must learn to walk with God. This needs to be more than just seeking to know about Him but actually having a personal relationship with Him.
1. Walk with God
Reading the Bible daily, praying, and talking to Him throughout the day is a great place to start when it comes to getting to know Him. You can't get to know someone if you never talk to them or spend time with them.
This will help grow your relationship with Him as well as give you the desire to fellowship with your local church. If you put God first in every area of your life, you will begin seeing His plan unravel in your life.
"Therefore you shall keep the commandments of the Lord your God, to walk in His ways and to fear Him." Deuteronomy 8:6
2. Seek God First
We need to remember to trust in Him with our whole hearts and lean on His understanding rather than our own, He is faithful. Surrender your own plans and your will to God. We can't expect Him to move in our lives if we are demanding things from Him when it isn't in His plan. We need to surrender all to Him…let go and let God.
We can plan, but ultimately His plan will always be greater than our own. Acknowledge Him and lift up your plans to Him. Commit to following His direction and He will reveal His plan for you.
"But seek first the kingdom of God and His righteousness, and all these things shall be added to you." Matthew 6:33
3. Be Obedient
God isn't a genie, someone we can just go to when we need something. We must be willing to obey all of His Word and commandments. Humbling ourselves before the Lord in obedience is a vital first step for us to see His plan for us.
Seeking godly input from godly people, like your church leaders, and even like-minded believers can help you find God's plan for you. Wisdom is a powerful trait and seeking godly advisers in our lives can be very helpful for us to navigate.
Discerning who to surround yourself with can truly help you know God's plan for your life. It's important to surround yourself with people who will be a good influence on your life and will keep you accountable.
"Now it shall come to pass, if you diligently obey the voice of the Lord your God, to observe carefully all His commandments which I command you today, that the Lord your God will set you high above all nations of the earth." Deuteronomy 28:1
4. Pursue Godly Relationships
God designed the church and created us to desire fellowship. To have a community of believers that can help build us up, and encourage us in our walk with God. Godly relationships can help you reflect on the gifts God has given you.
Applying the Fruits of the Spirit to your life can help you keep godly relationships. In turn, the godly people in your life can help you see God's plan and the purpose He has for your life. God has already equipped you specifically for what He has called you to do but sometime we can't see it for ourselves.
"He who walks with wise men will be wise, But the companion of fools will be destroyed." Proverbs 13:20
5. Listen to the Holy Spirit
There are so many distractions in life so we need to be intentional about being quiet and listening. We can hear God's voice through the Holy Spirit if we listen. We must continue studying the Bible in order to hear from Him.
We can improve our spiritual growth through prayer and knowing our identity in Christ. This can help us hear the Holy Spirit which will guide our thoughts and renew our minds. Not only is it an incredible experience to feel God's presence but this can help us get divine clarity on His plan for our lives.
"But the Helper, the Holy Spirit, whom the Father will send in My name, He will teach you all things, and bring to your remembrance all things that I said to you." John 14:26
God Has a Plan for You Verses
God's plan for you is greater than you can ever imagine…all things are possible with God. Here are Bible verses about God's plan for your life. These verses are from the NKJV.
Esther 4:24 – "For if you remain completely silent at this time, relief and deliverance will arise for the Jews from another place, but you and your father's house will perish. Yet who knows whether you have come to the kingdom for such a time as this?"
Psalm 32:8 – "The Lord is not slack concerning His promise, as some count slackness, but is longsuffering toward us, not willing that any should perish but that all should come to repentance."
Proverbs 3:5-6 – "Trust in the Lord with all your heart, And lean not on your own understanding; In all your ways acknowledge Him, And He shall direct your paths."
Jeremiah 29:11 – "For I know the thoughts that I think toward you, says the Lord, thoughts of peace and not of evil, to give you a future and a hope."
Jeremiah 1:5 – "Before I formed you in the womb I knew you; Before you were born I sanctified you; I ordained you a prophet to the nations."
Romans 8:28 – "And we know that all things work together for good to those who love God, to those who are the called according to His purpose."
God Has a Plan for You Quotes
"When we submit to God's plans, we can trust our desires. Our assignment is found at the intersection of God's plan and our pleasures." – Max Lucado
"I think God is perfect, all-powerful, and has an unstoppable plan for everyone, including those who love him and those who don't." – Kirk Cameron
"Each of us is a small part of God's plan. I'm a small part. I create paintings that are being used by God." – Thomas Kinkade
"God's plan will continue on God's schedule." – Aiden Wilson Tozer
"For you will certainly carry out God's purpose, however, you act, but it makes a difference to you whether you serve like Judas or like John." – C.S. Lewis
"God never withholds from His child that which His love and wisdom call good. God's refusals are always merciful — "severe mercies" at times but mercies all the same. God never denies us our heart desire except to give us something better." – Elisabeth Elliot
"Does it make sense to pray for guidance about the future if we are not obeying the thing that lies before us today? How many momentous events in Scripture depended on one person's seemingly small act of obedience? Rest assured: Do what God tells you to do now, depend upon it, and you will be shown what to do next." – Elisabeth Elliot
"When your will is God's will, you will have your will." – Charles Spurgeon
"God will ensure my success in accordance with His plan, not mine." – Francis Chan
"I still believe that standing up for the truth of God is the greatest thing in the world. This is the end of life. The end of life is not to be happy. The end of life is not to achieve pleasure and avoid pain. The end of life is to do the will of God, come what may." – Reverend Dr. Martin Luther King, Jr.
"Trusting God's plan is the only secret I know in the gentle art of not freaking out." – Lysa TerKeurst