7 Daily Prayers That You Should Be Praying Plus! Free Printable
This article may contain affiliate links. I may earn money from the companies mentioned in this post with no additional cost to you. Please read my disclosure policy for more info. All Bible quotations are from the New King James Version (NKJV) unless otherwise stated Bible Copyright Attribution.
Daily prayer is the most important thing you can do. I know life can get busy and sometimes causes us to say a prayer so quickly that later on in the day we ask ourselves "did I pray today?"
However, there is absolutely NOTHING more important than communicating with God. When we pray daily we are equipping ourselves to face the challenges of the day.
We never know what plans the enemy may have to try to steal our peace and our joy or to try to pull us away from serving God.
So, it's important to include each of these seven parts of daily prayer into your prayer life so you will be equipped to stand.
Daily Prayer Free Printable Cards
I made these daily prayer Bible verse free printable notecards so they are easy to take with you. All you need to do is click this daily prayer Bible verses free printable link to get the free printable.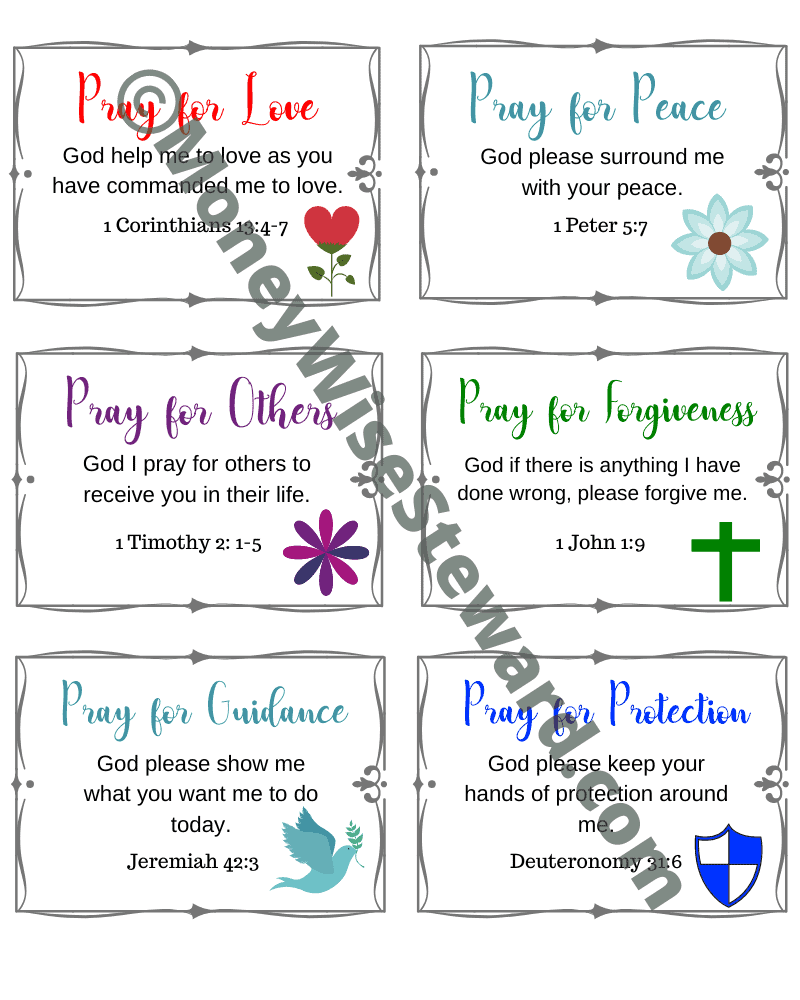 1. Daily Prayer For Love
Love is not a feeling, it's an action. An action to do right by a person, even if that person has done you wrong. The Bible speaks about love multiple times. The popular love Bible verse below tells us about love.
"Love suffers long and is kind; love does not envy; love does not parade itself, is not puffed up; does not behave rudely, does not seek its own, is not provoked, thinks no evil; does not rejoice in iniquity, but rejoices in the truth; bears all things, believes all things, hopes all things, endures all things." 1 Corinthians 13:4-7 NKJV
When we hear about senseless crimes and murders and we see so much corruption in this world it becomes easy to let our love grow dim and even cold. This is why every day we should saying a daily prayer for love.
"God help me to love as you have commanded me to love. Help me, Father, to do right by those who have done me wrong."
If we do not take the time to ask God to help us to love just as He loves us, it will not be long before we find ourselves walking in bitterness and not caring about the souls of man. Every day we should be saying a prayer for love so God can equip us to love one another.
2. Daily Prayer For Peace of Mind
Our peace of mind comes from trusting God. We trust that he is going to do just as he has said. Sometimes distractions come and we take our eyes off of God. We worry about things like:
How are we going to pay the bills?
What's going to happen if we lose everything?
Our loved ones getting sick.
Marriage problems starting.
How am I'm going to take care of everything?
Our minds become overwhelmed with worry and fear. Whatever peace we had, we lose. This is why we need a daily prayer for peace of mind.
We need to pray and ask God to surround us with his peace. When the storms of life hit we need an anchor and that anchor is Jesus Christ. The Bible tells us that we are to cast all our cares on him.
"Casting all your care upon Him, for He cares for you." 1 Peter 5:7 NKJV
It can be a struggle to remember this or to rely on this when we are in a storm. So, before the storm hits, we should be saying a daily prayer for peace of mind and ask God to surround us with his peace.
We need to be patient knowing that He is in control, God's timing is perfect. We need Him every day to help us keep our minds focused on him.
3. Daily Intercessory Prayer
The bible clearly tells us to pray for others. Sometimes prayers can be overfilled with the word "me"…Lord bless me, give me, help me, show me. The Bible verse below tells us about intercessory prayer.
"Therefore I exhort first of all that supplications, prayers, intercessions, and giving of thanks be made for all men, for kings and all who are in authority, that we may lead a quiet and peaceable life in all godliness and reverence. For this is good and acceptable in the sight of God our Savior, who desires all men to be saved and to come to the knowledge of the truth. For there is one God and one Mediator between God and men, the Man Christ Jesus." 1 Timothy 2:1-5 NKJV
There's definitely nothing wrong with taking your request before God (Philippians 4:6) but God also wants us to remember to pray intercessory prayers.
"God I pray for others to receive you in their life."
4. Daily Prayer for Protection
I can remember talking to people who shared with me how they used to sleep with their windows open and their doors unlocked. We all know that it is definitely not safe to do this in the days we are living in.
We need to say a daily prayer for protection to ask God to keep his hands of protection around us, around our children, loved ones, and even around our possessions.
We need God's protection on the highways and streets, in crowded places, on the job, in the home, or wherever we may be. We need God's protection to be upon our lives.
God does not want us to live in fear so saying a prayer for protection will give us comfort each day. We are to have confidence in His Word that he will protect us and keep us. This is one of my favorite Bible verses about being courageous.
"Be strong and of good courage, do not fear nor be afraid of them; for the Lord your God, He is the One who goes with you. He will not leave you nor forsake you." Deuteronomy 31:6 NKJV
5. Daily Prayer for Forgiveness
If we are not careful pride will step into our lives and have us justify our sins. But we need to remember that no amount of justifying in the world can justify your sins when it comes to God. The Bible tells us that if we confess our sin he will forgive us.
"If we confess our sins, He is faithful and just to forgive us our sins and to cleanse us from all unrighteousness." 1 John 1:9 NKJV
God does not want us covering up or justifying our sins. He also does not want us to feel like we cannot come to him because we have sinned.
God wants us to confess our sins and he wants us to pray for forgiveness. When we do this from the heart, God is faithful to forgive us and purify us from all unrighteousness.
We need to say a daily prayer for forgiveness. As we pray from the heart, we need to tell God "If there is anything, I have done wrong, please forgive me".
If you know that you have done something wrong, state the wrongness and ask God to forgive you. Never hold sin in your heart because you cannot hide it from God.
6. Daily Prayer for Guidance
A daily prayer for guidance is important because we are faced with making decisions throughout our day. How many times have we made decisions that we regretted or maybe we didn't make a decision because we were too afraid to decide?
When we seek God first, He will give us wisdom and knowledge. The Bible tells us that the Lord gives us wisdom, that he will show us the way to take, and that he will not forsake us.
"For the Lord gives wisdom; From His mouth come knowledge and understanding." Proverbs 2:6 NKJV
"That the Lord your God may show us the way in which we should walk and the thing we should do." Jeremiah 42:3 NKJV
"Be strong and of good courage, do not fear nor be afraid of them; for the Lord your God, He is the One who goes with you. He will not leave you nor forsake you." Deuteronomy 31:6 NKJV
In order for us to avoid some of the pitfalls in life, we need to pray for guidance. We need to seek God's guidance daily and wait on him to show us what to do.
"God show me what you want me to do today."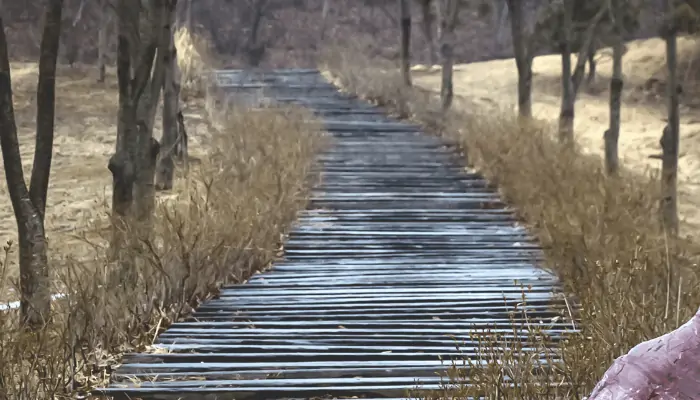 7. Daily Prayer for Faith
If we want our prayers to bring forth results, we need to pray in faith. Here are two great Bible verses about prayer.
"Confess your trespasses to one another, and pray for one another, that you may be healed. The effective, fervent prayer of a righteous man avails much." James 5:16 NKJV
"Therefore I say to you, whatever things you ask when you pray, believe that you receive them, and you will have them." Mark 11:24 NKJV
If we are going to doubt God's word, doubt his love, doubt his willingness to help us then there is no need to pray. When we pray, God wants us to believe that he is going to meet our every need.
Every day we pray, we need to be sure that we are saying our prayer in faith, believing God's word and his promises. Circumstances may sometimes cause us to feel unsure if God is going to do it. So if this is the case our prayer should be
"Lord increase my faith. Help me to believe your word".
Even if this means asking God to do this every day, keep asking him and stay in God's word. The Bible tells us that faith comes by hearing.
"So then faith comes by hearing, and hearing by the word of God." Romans 10:17 NKJV
Meditate on God's word and His promises. God will show himself strong on your behalf and cause your faith to increase.
Don't Forget Daily Prayer
All 7 daily prayers can be incorporated into one prayer. It only takes a few minutes of your time to include each part as you pray.
The main thing is that as you say your daily prayer, let it be from your heart. When you do this God's Holy Spirit will lead and guide you in all other things.
"Then you will call upon Me and go and pray to Me, and I will listen to you." Jeremiah 29:12 NKJV