Things to Be Grateful For and Thankful For Plus! Free Printable
This article may contain affiliate links. I may earn money from the companies mentioned in this post with no additional cost to you. Please read my disclosure policy for more info. All Bible quotations are from the New King James Version (NKJV) unless otherwise stated Bible Copyright Attribution.
Do you know people that walk around moping like the beloved Eeyore?
"Could be worse. Not sure how, but it could be."

– Eeyore, Winnie the Pooh
Do you catch yourself being a bit like Eeyore? Expecting the worse or not seeing the good? If your answer is, "Well, maybe a little." I would like to challenge you to change your perspective. Start by saying this:
There are So Many Things to be Grateful For and Thankful For Every Day!
Next, commit to a little daily exercise. What if you daily jotted down just one thing that you were thankful or grateful for in an entire year?
Do you think that the simple act of saying, "I am thankful for____" would help you retrain your brain to focus on the positive things in this treasured life?
Do you think it could have an impact on how you view things around you? Would that simple act of being grateful each and every day have an impact on your mood and attitude?
Would finishing (or starting) your day with the thought "God, I am grateful for ____ today?" help you see all the ways God is right there?
The Bible talks about this very topic. Here's what it says in Philippians 4:8, KJV
"Finally, brethren, whatsoever things are true, whatsoever things are honest, whatsoever things are just, whatsoever things are pure, whatsoever things are lovely, whatsoever things are of good report; if there be any virtue, and if there be any praise, think on these things."
The answer to all my probing questions is a resounding, "Yes". Looking for goodness and writing it down does have an impact on your mood, attitude, and how you see things around you. It just takes a little focus.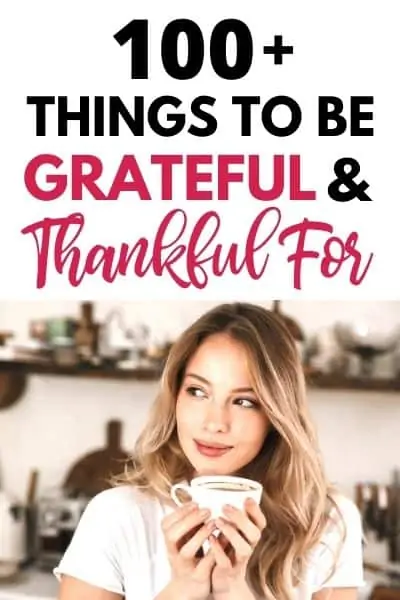 Why Should I Make a Gratitude List?
The way I keep my focus on being grateful and on what is worthy of praise is by journaling. I find the act of writing things down is a great way to help my brain do that very thing – to focus on the good.
I often tell my kids to be grateful for what they have rather than focus on what they don't have. Journaling a gratitude list can help with this focus.
I personally like to begin my day with a nice cup of coffee (Yes! I'm being grateful for my yummy-warm cup.) and take that time to write out my thoughts.
Writing my thoughts down sets the tone of my day. It helps me see God's goodness all around me.
Journaling things I'm thankful and grateful for with a warm cup of coffee works best for me. Some people prefer to reflect on their day and journal at night or a combination of the two. Do whichever works for you.
How Do I Start Making a Gratitude List?
Now you may be thinking what kind of things should I put on this gratitude list? How do I get started? You could simply list what you are grateful for or what are you thankful for on a piece of paper or in a blank journal book.
I also like to find and create resources to help guide the journaling process. I have created a free resource called "One Good Thing" which is a daily reflection journal that gives you a space a day to jot something down every day of the year. Easy, peasy (and pretty).
For those of you that want to dig a little deeper, grab a pen and some paper and start writing. You will be amazed how this exercise will redirect your thinking and improve your daily outlook on gratitude and thankfulness.
Are You Ready to Accept this Challenge of Daily Gratitude and Thankfulness?
Let's begin! Below is a list of gratitude journal prompts to ask yourself. These questions will help you see things to be grateful for and thankful for.
Feel free to be creative and come up with your own as well–whatever comes to your mind is fine. However, sometimes a little nudge helps with expanding your mind of how much there really is to be thankful for.
Sheryl's List of Thankfulness and Gratitude Journal Prompts
Who in your family are you grateful for?
What is great about your town or region?
What do you love about your culture?
What do you love about your country?
What hobbies do you love?
Which music makes you happy?
What makes you grateful about your health?
Who has helped you in the past?
What makes you grateful about your home?
What makes you grateful about the food you eat?
What lessons from the past are you grateful for?
Which teachers are you grateful for?
What fun times have you enjoyed?
Which movies or TV shows make you happy?
What can you do physically that you are glad about (walk, dance, swim, sing etc.)?
What makes you grateful about each month or season of the year?
What do you love about being free and independent?
What do you love about your own personality?
What places are you glad you've visited?
What are you happy you have now that you didn't have last year/five years ago?
As you can see, there are so many things to be thankful for and grateful for. Pick up a blank page or some guided journal sheets and give writing down your thoughts a try.
You may begin to be more like Tigger and a little less like Eeyore. You just may see the world around you becomes a better place.
Free Printable Gratitude Journal Prompts
I created this gratitude journal prompts printable so you can sit in a quiet place and really think about your gratitude list. All you need to do is click this free gratitude prompts printable link to get this free printable. I've included a color copy and black and white copy in this free pdf.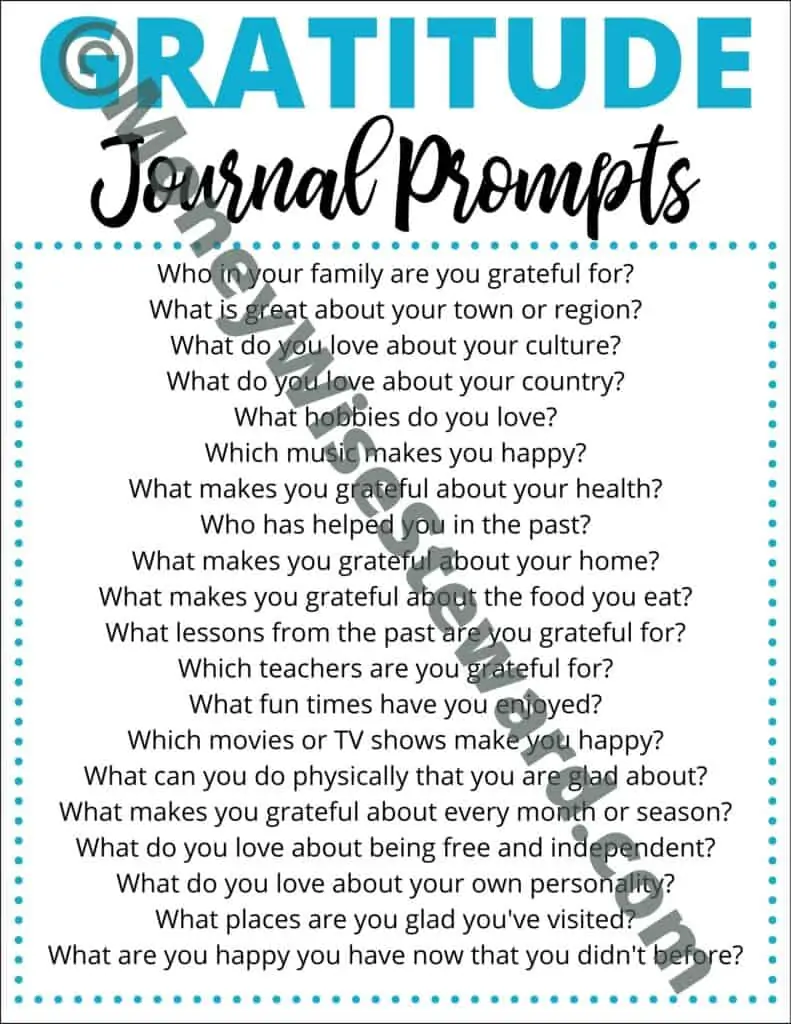 Gratitude List Ideas
To help you a little more, I thought it would be fun to share things I've found to be thankful for and grateful for. It has taken a lot of thought to get here but my hope is that it will help you get a nice start on a personal gratitude list.
Here is a list of things we should all be thankful for in no particular order. This list isn't complete by any means but I will continue adding to it as I think of things. Remember that thankfulness and gratefulness are things we all should experience.
God loves us so much and wants us to enjoy our time on this earth. Our health, our emotions, our relationships, and our overall well-being are affected by the attitude we carry every day. It's our choice to focus on the good.
Grace
Healing
Spouse
Parents
Grandparents
Quality Time
Mentors
Teachers
Church
Shelter
Furniture
Co-Workers
Pets
Neighbors
Jobs
Promotions
Health
Heart
Immunity
Arms
Hands
Legs
Feet
Eyes/Vision
Ears/Hearing
Mouth/Taste
Nose/Smell
Touch
Talking
Thinking
Your Memory
Learning
Coffee
Food
Education
Sleep
Energy
Clothing
Seasons
The Sun
Clean Water
Warm Water
Dishwasher
Washer and Dryer
Electricity
Indoor Plumbing
Technology
Transportation
Travel
Books
Healthcare
Music
Safety
Freedom
Exercise
Accomplishment
Challenges
Anticipation
Your Personality
Your Abilities
Being Unique
Your Values
Laughter
Hugs
Smiles
Silence
Nature
Photos
Sleeping In
Waking Up
Community Workers
The Military
The Veterans
Time
GPS
Traditions
Holidays
Future
Rainbows
A Stormy Day
Fireplace
Snow
Stars
Night Time
Relaxing
Imagination
Birthdays
Lists
Inspiration
Experience
Breath
Air
Life
What Are You Grateful For and Thankful For?
Depending on where you are right now, this may be a lot to process. It's easy to look at the negative and never look at the positive. Hopefully, this article will help you look at the positive and find some things you are really grateful for and thankful for.
I'd love to hear about some of the things on your gratitude list. Let me know in the comments below.
"Gratitude is the single most important ingredient to living a successful and fulfilled life."

Jack Canfield
Sheryl Siler is the Chief Encourager at Treasured Nest — a place where grace abounds. A place with resources to help make home life simpler, and less chaotic, and a place to build faith to help you gain confidence to see just what a treasure you and your life really are.