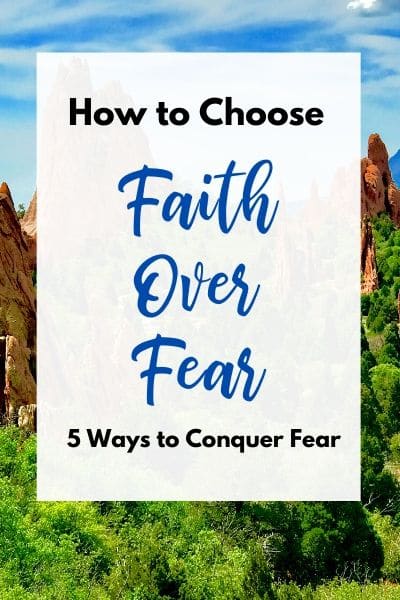 Making the choice to choose faith over fear is sometimes complicated. Master Yoda once said, "Fear leads to the dark side." Fear does indeed lead to the dark side, but sometimes faith does too. Sometimes faith will lead you right off the deep end.
What Does the Bible Say About Fear?
Fear is a normal feeling. There is nothing wrong with feeling fearful. The problem starts when we allow fear to immobilize us. There are many things in life that cause fear and anxiety such as spiritual warfare, death, finances, conflict, unbelief, health, etc.
Faith comes from knowing God. Choosing faith over fear takes daily discipline and we need to believe that we are who God says we are.
Giving these overwhelming fears to God is what He tells us to do. Studying the Bible and praying through the day helps us let go and give these fears over to God.
"There is no fear in love. But perfect love drives out fear because fear has to do with punishment. The one who fears is not made perfect in love" 1 John 4:18
How to Choose Faith Over Fear
In the early winter of 2018, I felt a lump in my left breast. After various tests, it was discovered that the lump was indeed an aggressive form of cancer that was already spreading and needed to be addressed immediately.
Even though I am an ordained minister and former missionary, I did not meet this shocking news with armfuls of faith. I was afraid. Two paths diverged in a wood, and all I wanted to do was turn around and run back home!
1. Know God's Word
"Then he placed his right hand on me and said: 'Do not be afraid. I am the First and the Last." ~ Revelation 1:17
After my husband and I heard all of the doctor's diagnoses and read all of the hospital printouts, I remained desperate for a word from God. I had heard the medical reports and now I just needed Jesus' report.
I did not approach God full of faith. I approached him with fear and trembling. I was scared of what my future held. I had learned from past trials that when the giant towers over me, I must turn my eyes towards Heaven.
So that is what I did. I put on some worship music and began to lift Jesus up over the Goliath of cancer. I felt the Holy Spirit promise that He would see me through this, that He would part this proverbial Red Sea so that I could cross it. Choosing faith over fear starts with knowing God's Word.
2. Have Faith in God's Word
"Faith comes by hearing, and hearing by the word of Christ." ~ Romans 10:17
In order for faith to rise up, we must know what God has to say about any given situation. His word might come to us as we spend time reading the Bible, as we seek Him in prayer, or even as we go about our daily routine.
God can speak to us at any time. Once we know what his opinion is, we can step out in faith because His Word is true. It's faith not fear that keeps us trusting in God's Word.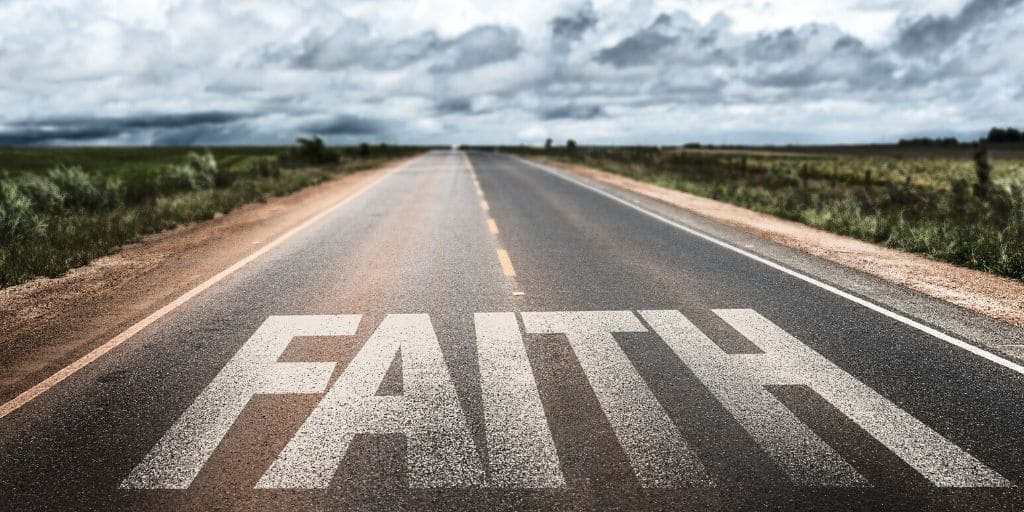 3. Believe You Are Who God Says You Are
"Fear of man will prove to be a snare, but whoever trusts in the Lord is kept safe." Proverbs 29:25
In the sixth chapter of Judges, we see a man who is going through a hard time. He is fearful, yet he is willing to step out on God's promises. This man is Gideon.
Gideon was a farmer and an Israelite. Enemies had overtaken the land that once belonged to his forefathers and now his people were living in constant fear. The night that God intervened in Gideon's life, he was hiding out in a winepress, threshing his wheat there so that no one would find him.
An angel of the Lord came to him and called him a mighty warrior. I can just imagine Gideon's face. Here he is, fearing for his life yet being told that in fact, he is a great warrior. I wonder if he looked around to make sure the angel was speaking to him. You talkin' to me? In fact, Gideon actually questions the angel as to why God hasn't helped his people if he cares so much about them.
The angel goes on to tell Gideon that God is indeed going to rescue his people and in fact, he is going to use Gideon to accomplish that task. Gideon again questions how this is going to happen since his clan is the weakest in all of Israel, and he is the wimpiest one in his clan!
God responds by telling Gideon that he will be with him. Gideon asks for a sign as confirmation, and God gives him one. In the following days, Gideon asks for more signs and each time, God gives him what he has requested.
The following chapter in Judges shows us a man who is gaining confidence and picks faith over fear. After Gideon gathers his troops for battle, God tells him that he wants to whittle down the numbers so that it will be obvious to everyone that it's not the size of the army that saved Israel but God. Gideon does as God says and stands at the brink of battle with only 300 men.
And God's Word held true. Gideon and his small battalion go on to defeat their much larger and much more numerous enemies, and God gets all the glory.
4. Pray for Faith over Fear
"I prayed to the Lord, and he answered me. He freed me from all my fears." ~ Psalm 34:4
I feel comforted by Gideon's response to God's promptings. Gideon does want to follow God and step out on His Word, but he is afraid. He hasn't had a lot of experience with this in the past. As the mission unfolds before him, he goes back to the Lord to double-check that he is still on the right path.
In the months that followed my cancer diagnosis, I clung to the promise that I felt God had given to me. There were many times I had to go back to Him and ask Him to give me faith over fear and confirmation of His Word. He answered me every time.
5. Listen to God
"So do not fear, for I am with you; do not be dismayed, for I am your God. I will strengthen you and help you; I will uphold you with my righteous right hand." ~ Isaiah 41:10
Sometimes He confirmed it through my daily devotional reading. At other times, his message came through a song on the radio or encouragement that a friend felt prompted to send me. At every stage, God was faithful to carry me through and give me the grace I needed for that day.
Choosing faith over fear does not mean that we will never feel afraid. Nelson Mandela once said, "I learned that courage was not the absence of fear, but the triumph over it. The brave man is not he who does not feel afraid, but he who conquers that fear."
The emotion of fear is natural and sometimes even helpful as it can protect us from danger. The fear that Jesus warns us to avoid is that of the will. God's Word will hold true.
With the help of the Holy Spirit, we can choose to trust God and be loyal to Him even in the midst of the storm.
"Jesus told him, 'Don't be afraid; just believe." ~ Mark 5:36
Not every story ends the way that we want it to, but with God's help, we can choose faith over fear. He will always see us through. If you are up against your own personal mountain and all paths in front of you seem dark and scary, ask God to give you a promise that you can stand on as you journey ahead.
Once you have that promise, write it down! Hang it on your walls. Save it on your phone. Tape it to your forehead. Hearing God's Word will allow faith to spring up. And when hearing is combined with faith, be it only as small as a mustard seed, miracles can happen.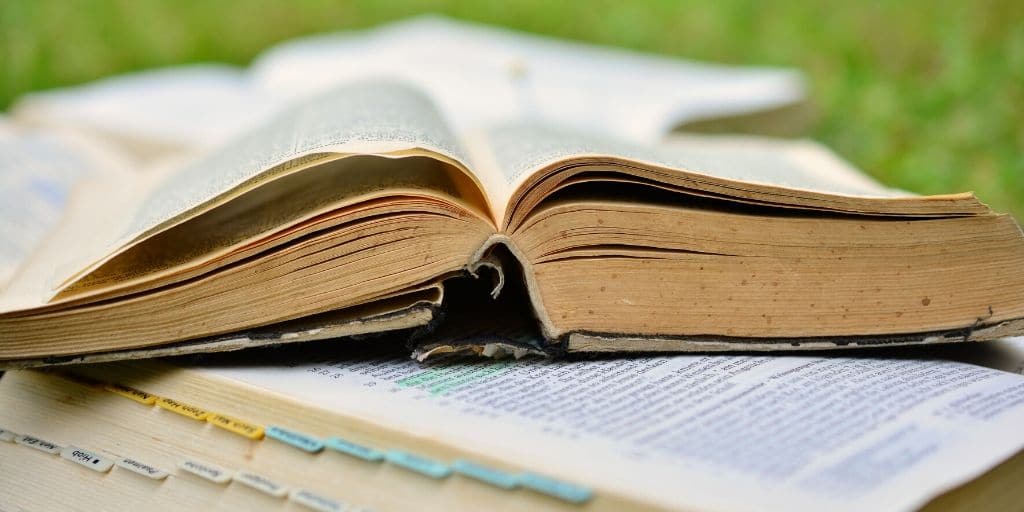 Faith Over Fear Scriptures
These faith over fear scriptures are great bible verses to remind us that God is in control.
Deuteronomy 3:22 – Do not be afraid of them; the Lord your God himself will fight for you.
Deuteronomy 31:6 – Be strong and courageous. Do not be afraid or terrified because of them, for the Lord your God goes with you; he will never leave you nor forsake you.
Psalm 23:4 – Even though I walk through the valley of the shadow of death, I will fear no evil, for you are with me; your rod and your staff, they comfort me.
Psalm 27:1 – The Lord is my light and my salvation—whom shall I fear? The Lord is the stronghold of my life—of whom shall I be afraid?
Psalm 34:7 – The angel of the Lord encamps around those who fear him, and he delivers them.
Psalm 56:3 – When I am afraid, I put my trust in you.
Psalm 118:6-7 – The Lord is with me; I will not be afraid. What can man do to me? The Lord is with me; he is my helper.
Proverbs 29:25 – Fear of man will prove to be a snare, but whoever trusts in the Lord is kept safe.
Isaiah 35:4 – Tell everyone who is discouraged, Be strong and don't be afraid! God is coming to your rescue.
Isaiah 41:13-14 – For I am the Lord, your God, who takes hold of your right hand and says to you, Do not fear; I will help you. Do not be afraid, for I myself will help you,' declares the Lord, your Redeemer, the Holy One of Israel.
Isaiah 43:1 – But now, this is what the Lord says…Fear not, for I have redeemed you; I have summoned you by name; you are mine.
2 Timothy 1:7 – For God has not given us a spirit of fear, but of power and of love and of a sound mind.
Faith Over Fear Quotes
These faith over fear quotes are an encouraging way to remember that you can conquer fear with God's help.
"Faith, which is trust, and fear are opposite poles. If a man has the one, he can scarcely have the other in vigorous operation. He that has his trust set upon God does not need to dread anything except the weakening or the paralyzing of that trust." ~ Alexander MacLaren
"If you fear God, you really need to fear nothing else." ~ Zac Poonen
"Our lives are full of supposes. Suppose this should happen, or suppose that should happen; what could we do; how could we bear it? But, if we are living in the high tower of the dwelling place of God, all these supposes will drop out of our lives. We shall be quiet from the fear of evil, for no threatenings of evil can penetrate into the high tower of God." ~ Hannah Whitall Smith
"The presence of hope in the invincible sovereignty of God drives out fear." ~ John Piper
"Fear is a self-imposed prison that will keep you from becoming what God intends for you to be. You must move against it with the weapons of faith and love." ~ Rick Warren
"I'm not afraid of the devil. The devil can handle me – he's got judo I never heard of. But he can't handle the One to whom I'm joined; he can't handle the One to whom I'm united; he can't handle the One whose nature dwells in my nature." ~ A.W.Tozer
Brooke Grangard is a Bible teacher, Christian speaker and author of 7 Biblical Ways to Hear God's Voice and Weenie Faith. She is also the founder of the non-profit, Mobiles for Missions. Brooke spent a decade of her life serving as a missionary in East Asia where she met her husband and they grew to be a family of four. Brooke has learned from walking through some of life's toughest valleys (fighting cancer, losing loved ones, and pregnancy loss) that God remains loyal in life's storms even when we don't. She now has a passion to share this message of hope and encouragement with others. She currently lives and ministers in Colorado and online at brookegrangard.com