4 Ways to Seek First the Kingdom of God
This article may contain affiliate links. I may earn money from the companies mentioned in this post with no additional cost to you. Please read my disclosure policy for more info. All Bible quotations are from the New King James Version (NKJV) unless otherwise stated Bible Copyright Attribution.
God calls us to seek first the kingdom of God. In most Bibles, those words are in red because Jesus spoke them. This shows the significance of those words and it's wise for us to pay attention to when our Lord and Savior speaks to us.
This is also a phrase you will often hear as a Christian. You'll see it on t-shirts, car decals, refrigerator magnets, etc. It's pretty easy to understand this message just at the surface level but we can dig deeper into Bible study to get a full understanding of it.
Being kingdom-minded and meditating on God's Word daily will help us to put God first. Before every trial and through every storm may we always focus on Him to trust that we can rest in Him.
What Does Seek First the Kingdom of God Mean?
In everything we do, we need to seek first the kingdom. We have the decision daily to worry about worldly concerns or to seek God first. We should memorize scripture because it helps us focus on God's Truth throughout our day.
Sometimes it feels like it's easy to get lost in the things of this world. It is not always a quick decision for us to stop worrying about something we are facing and just bring our worries to the Lord. Anxious thoughts come into play too especially when we are facing a hard trial in life.
In many books of the Bible, we see how often Jesus warned His disciples about worldly concerns. The truth is, the devil is going to try and tempt us with things of this world. Our flesh has a hard time turning away from the stress of it because oftentimes we don't recognize the trial at first.
When we encounter stress, anxiety, worries, and any other concerns, we need to seek God first to overcome it. Talking to God by praying daily will help us discern the spiritual warfare we may be facing. The Holy Spirit will guide us so we can cast our cares on Him.
When we wake up each day we should take a few minutes to start the day off by talking to Our Creator who gave us the opportunity to live another day. When we start to feel negative emotions or we don't feel like ourselves, we should seek Him because He is faithful to give us strength.
Just being in His presence alone will help us lift the weight and stress off our shoulders. Seek God first when you first wake up, during the day, and before you go to sleep at night. While making decisions, seek God first, so He can help lead you to the right decision.
Think about Peter in the Bible, when He was walking on water, Jesus was right there with Him. He ended up taking his eyes off Jesus and focused on the water, and he started sinking. He took his eyes off Jesus and let his worries take over.
When we seek God first and throughout our day-to-day lives, we can feel His peace within. God doesn't want us to worry, even about the littlest of things like temporal and superficial concerns.
Making the choice not to worry or have anxiety is one thing. But choosing to take your thoughts captive and seek the kingdom of God helps us in more ways than we can imagine.
Where Does the Bible Say "Seek First the Kingdom of God"?
We are greatly encouraged by these words, especially in our times of need from the verse Matthew 6:33 (NKJV) that says:
"But seek first the kingdom of God and His righteousness, and all these things shall be added to you."
When we go to God first and choose to make Him the center of our lives, He will supply all of our needs. He cares so much about our character and who we are. Our identity is in Christ, and we need to remember that.
Seeking God is a blessing because He shows us that He can renew our minds in all situations. We cannot control everything, not the wind, not the clouds, not the rain, and not even the things that happen in our lives.
This verse and other Bible verses help to show us an eternal perspective, a godly perspective that helps us even with our own little to-do lists. God created us, He is working in our lives for our good, and there is no need for us to worry when we have the Lord on our side.
When we focus on Him, instead of the storm, that alone can take off the worry that is lying on our shoulders. Trusting in the Lord means obeying what He says and following His guidance throughout our lives.
We need to let go and let God lead us. He is available 24/7 and ready for us to find Him, to talk to Him, and to worship Him even in those anxiety-filled moments.
He desires for us to run to Him and rely on Him like we tend to easily lean on our worries. Seeking God's kingdom first is showing God that we have made the decision to turn to Him during the good and bad times.
Choose Him first, choose to trust His Word, and let go of the control that you think you have. This allows Him to lead you instead of letting your fears lead you.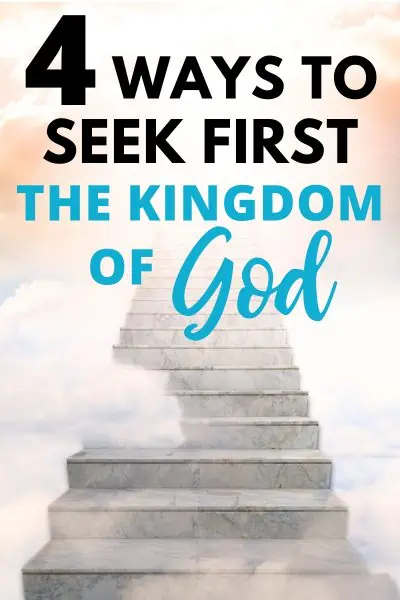 Ways to Seek First the Kingdom of God
Think about a time when a friend came to you for encouragement or to just spend time with you. That feeling makes us feel loved and cared for. Many of us who still are in the last bit of winter are desiring for it to be spring already.
Bring on the warmer weather and flowers to fill the landscape around us. Just like that, God desires for us to spend time with Him. The same way we look at God's creation in awe is the same way God wants us to see the blessings He has put in our lives.
Seeking Him first and above everything else truly shows that we trust in His plan for us. Especially since we struggle and easily lose focus by seeking our worries first. God is good all the time and His mercies are new every morning.
It's a remarkable thing to know that our Heavenly Father longs for us to draw close to Him and seek Him first each day.
1. Fervent Prayer
The Bible talks about praying to the Lord and how we should continue doing so every day. Prayer is the key to our relationship with God which is why it's so important. We have a friend in God and access to Him all the time.
Praying doesn't have to be complicated or a super long ordeal. As long as you are intentionally talking to the Lord and being in His presence, that is what matters. It can be a few minutes in the morning, just you and Him.
God loves to hear from us throughout the day at our jobs and yes, even, while we are doing the dishes. God wants to hear from you. He already knows what is happening around you but He wants you to discuss these things with Him.
"And pray in the Spirit on all occasions with all kinds of prayers and requests. With this in mind, be alert and always keep on praying for all the Lord's people." Ephesians 6:18
2. Reading God's Word
Sunday sermons aren't the only food we need. We need our own personal time with the Lord by reading the Bible. God gave us His Word so we can remain pure, stay focused on Him, and see the promises of God.
Praying to God is us communicating to Him but reading His Word is a way for Him to respond back to us. This is where our relationship with the Father grows and deepens.
Spending time getting to know more about Him provides us with more wisdom. This is a way for us to seek God's kingdom first by choosing to dig into the Word of God. We shouldn't only rely on spiritual leaders, pastors, and friends to fill us with God's Word.
When we take time aside in our day to meet one-on-one with Him, He feeds us through scripture. This is God's desire for us. This is especially important when we are facing trials and don't know where to go.
We need to put on our armor of God and use the Bible to help us focus on Him instead of our fleshly desires.
"For the word of God is living and active, sharper than any two-edged sword, piercing to the division of soul and of spirit, of joints and of marrow, and discerning the thoughts and intentions of the heart." Hebrews 4:12
3. Memorizing Scripture
Reading and studying the Bible is important because we may forget what we read. We see throughout the Bible how important it is for us to meditate on God's Word.
There are times when we may not be right next to a Bible or on our phone that has the Bible app on it. Taking time to memorize God's Word can help us seek Him first.
Remembering verses can help give you peace and hope to continue through your day. Reflecting back and reciting verses in your mind helps you focus on God. This is a great way to replace your thoughts of worry with Bible verses.
Start off with trying to remember one verse by writing it down daily. Write it down on sticky notes and put it all around your house. This will help you remember and it will also remind you that God is with you.
"I have hidden your word in my heart that I might not sin against you." Psalm 119:11
4. Praising God
Give the glory back to the Lord. There is so much to be thankful for and to praise the Lord for His goodness. Take time to recognize how amazing graceful and faithful the Lord is.
This is how we can honor Him and be filled with His presence. Praise and worship aren't always just through a worship song, but through a hymn, and even by reading a Psalm out loud to God. It doesn't have to be perfect or anything fancy.
Just a moment between you and the Father. Most importantly, praise Him through a storm, and continue recognizing that He is a good Father, and will carry you through.
"Praise the Lord. Give thanks to the Lord, for he is good; his love endures forever." Psalm 106:1