6 Steps to Renewing Your Mind Plus! Free Printable
This article may contain affiliate links. I may earn money from the companies mentioned in this post with no additional cost to you. Please read my disclosure policy for more info. All Bible quotations are from the New King James Version (NKJV) unless otherwise stated Bible Copyright Attribution.
My struggle with anxiety is what led me to learn that my mind is a battlefield. I had really bad anxiety in my late teens and was medicated for many years.
My whole life changed when I received Jesus as my personal Lord and Savior. As I studied the Bible, I came across scriptures that spoke of renewing your mind.
This was mind-blowing to me because that's exactly what I needed. I love how the Holy Spirit speaks directly to us in scripture. So I decided to dig in and study what the renewing of your mind really meant.
It's been a little over 11 years since that happened and I have learned so much. In this article, I will be discussing the process of renewing your mind along with my personal experience.
Renewing Your Mind Scriptures
Since the Bible has all the answers for life's past, present, and future, we are going to look at scriptures about renewing your mind. These Bible verses are from the ESV.
Romans 12:2 – Do not be conformed to this world, but be transformed by the renewal of your mind, that by testing you may discern what is the will of God, what is good and acceptable and perfect.
Ephesians 4:21-24 – To put off your old self, which belongs to your former manner of life and is corrupt through deceitful desires, and to be renewed in the spirit of your minds, and to put on the new self, created after the likeness of God in true righteousness and holiness.
Colossians 3:10 – And have put on the new self, which is being renewed in knowledge after the image of its creator.
These Bible verses give us a clear understanding that we need to renew our minds. We live in a fallen world which means we are ALL born into sin.
There are no perfect people. The only perfect person that walked this earth was Jesus. The only way we can be cleansed from our sinful nature is through Jesus Christ. We need to be born again.
If you aren't born again and you want to be, you can do that now by praying and confessing your sins to Jesus, invite Him to be your personal Lord and Savior, and place your full trust in Him. We are saved by faith, not by works. Prayer can't save you but truly trusting in Jesus Christ can.
If you are a true follower of Jesus, you have the Holy Spirit which gives you all the power you need to renew your mind.
Don't miss these Ways to Know the Lord Will Provide!
What Does Renewing Your Mind Mean?
Now that we have a clear understanding of what the Bible says about renewing your mind, what does it actually mean?
As I mentioned above, we are born into sin. That means we are inundated with bad thoughts and ideas that come to us naturally. Our thoughts and ideas can lead us into sin if we make the decision to act on them.
I remember a time when I was afraid of my own thoughts. I was afraid I would lose control and act on them. You may have felt the same way at some point in your life. This is an example of a mind that needs to be renewed.
If we expose ourselves to sin and allow ourselves to think about those thoughts we will be getting ourselves in trouble. Renewing your mind means that instead of allowing yourself to think about bad thoughts in your mind, you fill your mind with good things and think about those things.
"Finally, brethren, whatever things are true, whatever things are noble, whatever things are just, whatever things are pure, whatever things are lovely, whatever things are of good report, if there is any virtue and if there is anything praiseworthy–meditate on these things." Philippians 4:8 NKJV
Free Renewing Your Mind Printable
I created this free renewing your mind printable so you take these steps with you. All you need to do is click this free renewing your mind printable link to get the free printable, print it on card stock (this is what I use), cut it out, punch a hole in the corner, and use a loose leaf ring (this is what I use) to secure it.
You can also laminate (this is what I use) them if you'd like. It will help keep them in good condition. I pray that you can benefit from this free printable.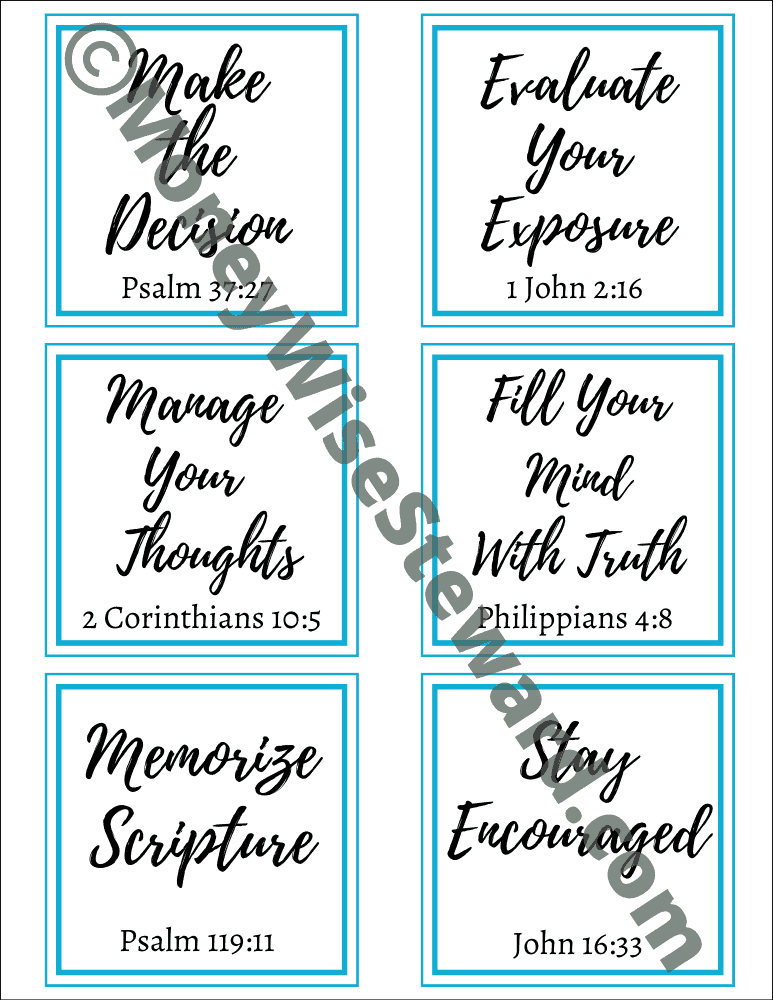 Renewing Your Mind
The renewing of your mind is an important process for those who follow Jesus. We are presented with things daily that are not of the Lord. It makes me want to live in my own little bubble but God doesn't want me to do that.
We as Christians have freedom in Christ. We need to learn to live in this world but not of this world. We need to live a life pleasing to God and share the gospel so others can do the same. We need to be a light in the world.
I'm going to share some ways that you can renew your mind. We should be renewing our minds often so we can continue on our mission to glorify the Lord.
How to Renew Your Mind
1. Make the Decision
The first step with anything is making the decision. If we want to renew our minds then we need to focus on doing that. It's not going to happen on its own.
When I committed my life to Jesus, I knew that I didn't want to live my old life anymore. My view on life was distorted and I never knew what my true purpose was.
Jesus gave me a whole new meaning for life. It was no longer the worldview I had before. I wanted to have a Biblical worldview so I could serve my purpose.
If you are serious about renewing your mind, you need to make the decision to be intentional about it. Pray and ask the Lord to help you. He is right there waiting to guide you.
"Turn from evil and do good; then you will dwell in the land forever." Psalm 37:27
2. Evaluate Your Exposure
There's no denying that the world is a mess. It gets worse every day. This shouldn't be a surprise to us as Christians though. The Bible says the world will get worse and people will become lovers of everything except God (2 Timothy 3).
We know the Bible doesn't lie so we need to seriously listen to the message of "standing firm". We need to analyze everything that is coming into our life. We need to wear the armor of God.
There are several areas to evaluate but here are just a few off the top of my head: TV, social media, music, friends, churches, activities, etc.
All these things can be good but it's our job to make sure they fall in line with the Word of God. You don't want to allow things into your life that can stumble you. Cleaning up your exposure will help you keep your mind renewed.
"For all that is in the world—the desires of the flesh and the desires of the eyes and pride in possessions—is not from the Father but is from the world." 1 John 2:16
3. Manage Your Thoughts
Thoughts are constantly coming into our minds. We are always thinking about something. The problem here is that every thought that comes to our mind doesn't line up with God's Word.
You may even be surprised at the thoughts that come to your mind. This is where the word "battlefield" comes to mind. Our thoughts are on a battlefield fighting to be acted on.
Thankfully the Bible helps us once again in this area. The Bible speaks specifically about taking your thoughts captive. 2 Corinthians 10:5 says we are to take every thought captive to make it obedient to Christ.
This means that anytime you have a thought, examine it to see if it lines up with the Bible. If it doesn't remove the thought from your mind by replacing it with what is true.
We are in a spiritual battle and keeping our thoughts pure will help us renew our minds.
"Casting down arguments and every high thing that exalts itself against the knowledge of God, bringing every thought into captivity to the obedience of Christ." 2 Corinthians 10:5
4. Fill Your Mind With Truth
The only Truth in this world is the Bible. We need to study the Bible in order to fill our minds with Truth. There are multiple ways to gain wisdom in God's Word.
You can study the Bible by book and participate in Bible studies. When I first made the decision to study the Bible, I started in the book of John and continued through the New Testament.
That's just one of the many ways you can surround yourself in the Word. This website is dedicated to helping you grow in your walk with Jesus. Check out these resources I've shared to help in this area.
I'm praying that you can use these Bible resources to grow in Truth so you can renew your mind.
"Finally, brethren, whatever things are true, whatever things are noble, whatever things are just, whatever things are pure, whatever things are lovely, whatever things are of good report, if there is any virtue and if there is anything praiseworthy–meditate on these things." Philippians 4:8
5. Memorize Scripture
It is such a blessing to be able to read our Bibles. We can invest in a good study Bible and commentary to dive deeper into God's Word all on our own.
In addition to studying the Bible, I have found that memorizing scripture has helped me tremendously with my mind. There have been multiple times in my life when I have faced a spiritual battle.
It has been helpful to memorize Bible verses to arm myself during these battles. Since most of the battles stem from the weaknesses in my flesh, I focus on memorizing verses in those areas.
Committing Scripture to memory helps keep God's Word close to our hearts. We can use it anytime we need it.
"I have stored up your word in my heart, that I might not sin against you." Psalm 119:11
6. Stay Encouraged
It's so easy to become discouraged with renewing your mind. Remember that you can do all things through Christ because he gives you strength (Phil. 4:13).
Pray and ask for help with this process. Sometimes I find it really hard to stay focused. My kids or husband go through struggles and I find that my mind gets off track.
I feel those flesh desires rise up in me and I want revenge because they get hurt. This is when I have to remind myself of my purpose.
I need to bring myself back to scripture and renew my mind. I need to remember that I'm here to glorify God and not to seek revenge.
This is an ongoing process but ultimately the battle belongs to the Lord. He has a plan for us and He will keep us encouraged. Lean on Him completely and let go and you will grow in this area.
"I have told you these things, so that in me you may have peace. In this world you will have trouble. But take heart! I have overcome the world." John 16:33
Prayer for Renewing Your Mind
As we know prayer is a tool that we can use anytime and anywhere. So I thought it would be helpful to share a prayer for renewing your mind.
Father,
Thank you so much for all you do. I love you and praise you in all circumstances. I come before you today to ask for help with renewing my mind. There are so many things that get in my way and my mind becomes cluttered. Lord, I'm asking you if you can help clear my mind so I can focus only on your plan. My desire is to have a renewed mind so I can serve the purpose you have for me. Thank you for all you do for me.
-In Jesus' name, Amen.
The Renewing of Your Mind Takes Time
I know this is a lot to absorb. Start with one step at a time so you don't get overwhelmed. Once you get the steps down, it will come easy to you. You will be amazed at how refreshing it is to have a renewed mind.