Who I Am In Christ: 10 Truths to Know Your Identity In Christ
This article may contain affiliate links. I may earn money from the companies mentioned in this post with no additional cost to you. Please read my disclosure policy for more info. All Bible quotations are from the New King James Version (NKJV) unless otherwise stated Bible Copyright Attribution.
Our identity growing up is often influenced by our culture, parents, teachers, and friends. Our identity can be tied with the way we see our value and be based on what we do, what we like, what we see, and who we associate with.
Your identity in Christ isn't based on these things however, it is based on the deep-rooted value that has been given to you by God. This leads us to the question…
Who Am I In Christ?
In Christ, you never need to justify your "enoughness." You aren't valuable because you work ("works" don't save you) hard or earn a lot or look good.
God's opinion is the only one that counts. You don't need approval from others because God already chose you and loves you.
Knowing who you are in Christ is so crucial to giving you a strong foundation. The more you believe who you are in Christ, the more you will create actions and habits that align with God's will.
You will be able to embrace all the good and beautiful things God has for you.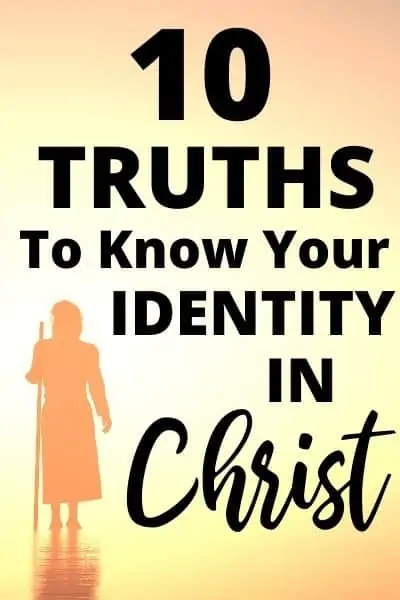 Identity in Christ Verses
The best place to discover who you are in Christ is in the Bible. The Bible is filled with descriptions of who God is and who He says you are. Take hold of God's Truth and don't let others dictate it for you! These scriptures on identity are from the NKJV.
Genesis 1:27 – So God created man in His own image; in the image of God He created him; male and female He created them.
Colossians 2:10 – And you are complete in Him, who is the head of all principality and power.
Romans 12:2 – And do not be conformed to this world, but be transformed by the renewing of your mind, that you may prove what is that good and acceptable and perfect will of God.
1 Corinthians 2:16 – For "who has known the mind of the Lord that he may instruct Him?" But we have the mind of Christ.
Ephesians 2:5 – Even when we were dead in trespasses, made us alive together with Christ (by grace you have been saved).
1 Peter 2:9 – But you are a chosen generation, a royal priesthood, a holy nation, His own special people, that you may proclaim the praises of Him who called you out of darkness into His marvelous light;
1 John 5:18 – We know that whoever is born of God does not sin; but he who has been born of God keeps himself, and the wicked one does not touch him.
Who Does God Say That I Am?
When you are feeling low or questioning who you are, remember these 10 Truths about who God says you are. Repeat them over and over again so you begin to believe it and can face whatever is thrown your way.
It is from standing on a solid foundation that you can have confidence and assurance in who God says you are.
1. In Christ, I Am A New Creation
When you accept Jesus Christ into your heart, you are made into a new creation. Your old self is crucified with Him on the cross and now you put your new self and new identity on. The labels that once defined you have been completely stripped away and no longer hold power over you.
"Therefore, if anyone is in Christ, he is a new creation; old things have passed away; behold, all things have become new." 2 Corinthians 5:17 NKJV
2. In Christ, I Am Loved
God is love! He delights over you! He rejoices over you! Envision the prodigal son returning to his Father. That's how much God loves you! He loves you so much that He sent His one and only Son as a sacrifice on your behalf. This is the greatest act of love.
"This is how God showed his love among us: He sent his one and only Son into the world that we might live through him." 1 John 4:9-11 NIV
3. In Christ, I Am Forgiven
God is not a God of condemnation. He will never shame you or make you feel guilty. As mentioned above, God is a God of love. On the cross, Christ died for our sins so that we may be forgiven.
When we repent, God forgives our transgressions and remembers no more.
"If we confess our sins, he is faithful and just to forgive us our sins, and to cleanse us from all unrighteousness. "1 John 1:9 KJV
4. In Christ, I Am Chosen
Have you ever felt like you don't belong? Not with Christ! He chose you before the foundation of the world to be included in His family. You are chosen as an heir of the kingdom. God has chosen you for a specific purpose.
"Before I formed you in the womb I knew you, before you were born I set you apart; I appointed you as a prophet to the nations." Jeremiah 1:5 NIV
5. In Christ, I Am Victorious
In Christ, you have the ultimate victory! When Christ died and rose again, he reigned victorious over sin and death. And we have hope that one day we will enjoy that same victory. For now, we can overcome it because Christ did!
God is working everything out for your good and His glory, even when we're in the midst of challenges.
"For the LORD your God is he who goes with you to fight for you against your enemies, to give you the victory." Deuteronomy 20:4 ESV
6. In Christ, I Am Free
The truth of who you are in Christ sets you free. Jesus Christ took away the penalty of sin and has given us eternal life. You were called to embrace the freedom of the glory of the children of God. If you come to know the Truth about God and believe in Christ, you are free indeed!
"That the creation itself will be set free from its bondage to corruption and obtain the freedom of the glory of the children of God." Romans 8:21 ESV
7. In Christ, I Am Complete
God is working out everything to bring to completion. You are being refined and sanctified. While things may be uncertain in this life, He will complete every good work he started in you. Stay focused on God and the work He is doing in and through you.
"Being confident of this, that he who began a good work in you will carry it on to completion until the day of Christ Jesus." Philippians 1:6 NIV
8. In Christ, I Am Called To Be Different
As Christ-followers, we are called to be different and transform our minds to be like Christ. This goes against worldly standards and pressures to conform. Our call to be different is because Jesus was different.
Our conduct and attitude should reflect that of Christ. We should be known by our fruit. We can stand firm in who we are in Christ and be set apart for a greater purpose.
"Do not be conformed to this world, but be transformed by the renewal of your mind, that by testing you may discern what is the will of God, what is good and acceptable and perfect." Romans 12:2 ESV
9. In Christ, I Am Content
So often we seek our satisfaction and happiness in worldly things. We will always be disappointed in worldly things because they are not long-lasting. Our satisfaction cannot be found in our circumstances.
But when we fix our minds on Jesus, we see that He is our ultimate source of satisfaction. He provides for our every need. He is the same yesterday, today, and forever.
"Then Jesus declared, "I am the bread of life. Whoever comes to me will never go hungry, and whoever believes in me will never be thirsty." John 6:35 NIV
10. In Christ, I Can Do Anything
Through God's grace, you can do things you couldn't otherwise do on your own. He has called you for a specific purpose and positioned you to do it. It is by His power that we can accomplish more than we could have ever imagined. Even if you don't think you can, He will! God always provides us with what we need.
"I can do all things through Christ who strengthens me." Philippians 4:13 NKJV
Prayer for Knowing Your Identity In Christ
Another great way to know who you are in Christ is to pray to God about it. Ask Him to reveal to your heart who He is and who you are. He tells us to ask Him in prayer for all our needs (Philippians 4:6).
"Lord, I pray that you reveal to my heart who I am in Christ so that I can live with confidence and freedom in Christ. Give me clear insight into who you are and who you say I am. Thank you for giving us new life through your Son. Help me to live in confidence knowing full well who I am in Christ. In Jesus' Name, Amen."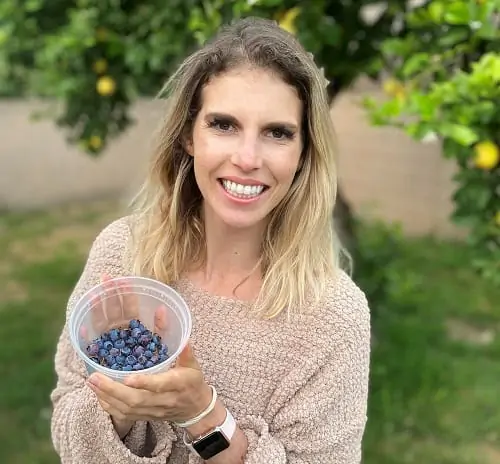 I'm Haley from My One Comfort. I am a wife, foster mom, husky puppy mom, daughter, sister, and friend. My heart's desire is to encourage other women to find and embrace their identity in Christ. Being a woman can be hard! I want to help women understand that they can't have Jesus as their greatest treasure and also place their value and worth in something else. It is so important to have women around you who can encourage you to keep your eyes on Jesus. You can connect with me on Instagram, Facebook, Twitter, and Pinterest.