8 Best Christian Gifts for Men That He Can Use
This article may contain affiliate links. I may earn money from the companies mentioned in this post with no additional cost to you. Please read my disclosure policy for more info. All Bible quotations are from the New King James Version (NKJV) unless otherwise stated Bible Copyright Attribution.
Are you looking for a gift for a Christian man? If so, you're in the right place.
Shopping can be really time-consuming so I decided to compile a list of Christian gifts for men, these really are some of the best religious gifts for men. I can't tell you how many hours I've spent scouring the internet looking for Christian gifts for men. It gets exhausting.
I decided to list Biblical gifts because it seems harder to find them. Finding non-Christian gifts for Him is much easier than finding spiritual gifts for him.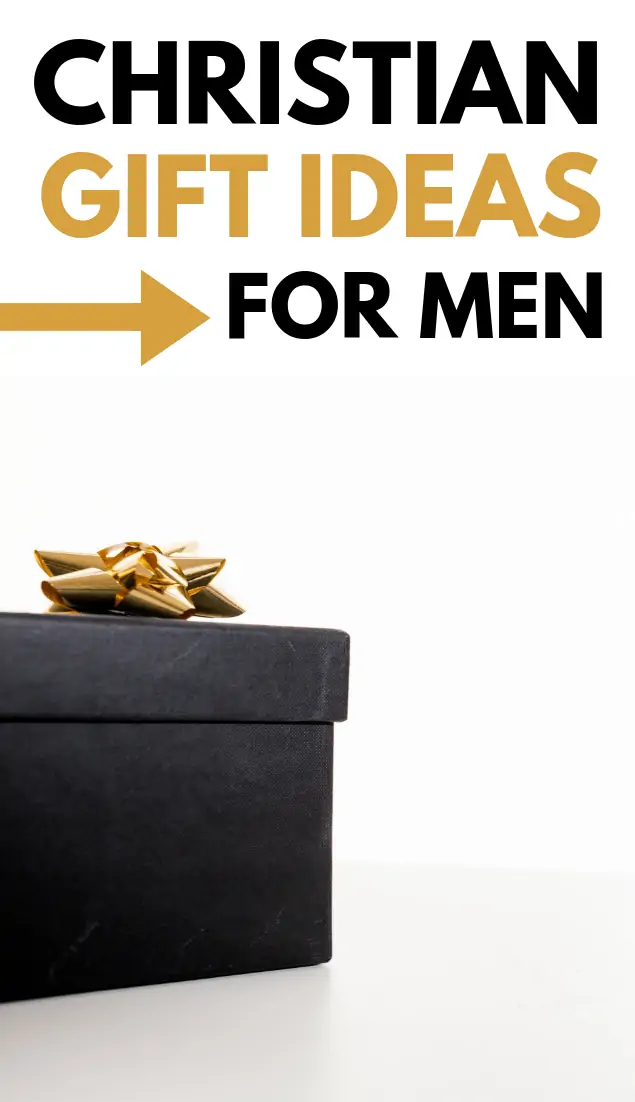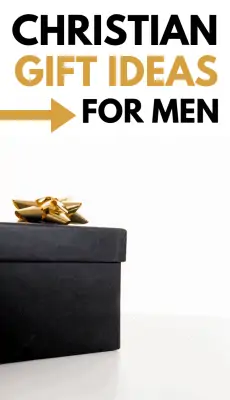 Religious Gifts For Him
Let's use my husband as an example. He is pretty specific about what he wants for a gift but there have been multiple occasions that I've felt like getting him a Christian gift for no specific reason.
I've spent so much time trying to narrow down a Christian gift and that's what I'm trying to help you avoid. My goal is to save you time and money when you are searching for that perfect Christian gift for him.
Hopefully, this list can help you find a Christian gift for men that fits your needs. The nice thing is that these Biblical gifts for men can work for any occasion. I've also put together a list of gifts for pastors and Christian gifts for women if you are interested.
The Best Christian Gifts for Men
Jeremiah 29:11 Mug
I love mugs with scripture on them. This mug comes with a gift box. It's made of durable stoneware and finished with a matte exterior and a high gloss interior.
This mug has a deep blue coloring and displays the quote from Jeremiah 29:11. It can hold up to 13 ounces of liquid.
Deep Blue Jeremiah 29:11 Mug
Jeremiah 29:11 Scripture
Blue Ceramic Matte Glaze
Matching Box Included
Lead-Free, Microwave and Dishwasher Safe
Capacity: 13 Fluid Ounces
Christian Guitar Picks with Bible Quotes
These Christian guitar picks are awesome! They are good quality and have bible quotes on them. You could even make two gifts out of these guitar picks. The package contains 10 pieces of picks with 10 designs.
Perfect encouragement for that special someone to create wonderful music. They are expertly made and durable, medium size 0.71mm.  They work perfectly for both electric and acoustic guitars or even bass.
Christian Guitar picks | Jesus Christ Guitar Picks (10 in a pack)
CHRISTIAN (Jesus Christ) guitar picks
Celluloid Material, giving a natural sense of feeling and warm, fat tone
A beautiful collection of Christina/ Jesus Christ pictures printed on both sides of a pick.
Great product to play your guitar.
Various top popular christian sayings or jesus christ picture based picks
Two-tone Flexcover Journal – Jeremiah 29:11
My hubby loves to have a nice journal. He takes so many notes and he likes to keep them in a nice place. The scripture from Jeremiah 29:11 is nicely engraved onto the front of this journal.
The journal cover is made of a quality man-made material that was imported from Italy, with the look and feel of real leather. Make sure to check out these Bible highlighters. They would go great with a Christian gift for men like this.
Sale
The Lord is My Strength Stainless Steel Knife
A knife is a must-have for any man. This one is especially nice with Psalm 28:7 engraved on it. It has a laser-engraved rosewood handle and the durable bead-blasted stainless steel creates a lasting design that can handle any job you tackle.
Every piece of wood is unique to the final engraved product and may be slightly lighter or darker than pictured. It features a strong 3″ stainless steel blade with a partially serrated edge. The closed length is 5″, and the open length is 8-1/4″.
Personalized Gifts Christian Gift Lord is My Strength Bible Verse Laser Engraved Stainless Steel Folding Survival Knife
A thoughtful gift with an inspirational message.
A handsome laser engraved rosewood handle and durable bead blasted stainless steel create a lasting design that can handle any job you tackle. Because every piece of wood is unique, the final engraved product may be slightly lighter or darker than pictured.
Strong 3" stainless steel blade with partially serrated edge. Closed length is 5", open length is 8-1/4".
Easy-open thumb flip allows for one-handed use. You can be confident using this lockback knife. Engraving color may vary slightly, as each piece of wood is unique.
Includes a practical nylon pouch with belt loop so your knife will always be at your side.
Cross Wristband
This cross wristband is perfect for a man who likes to wear jewelry. It comes with a little black gift bag. The bracelet is made with stainless steel and is a perfect way to share your faith.
People are constantly looking at each other and wearing Christian gifts that represent Christ is a great way to witness. You never know, something like this could help lead someone to salvation.
Fervent Easter | Christmas | Christian Wristband for Men - Stainless Steel - Black Rubber Cross Bracelet - Gift for Boys & Men
QUALITY: Fervent uses the best materials, strongest chains, purest metals and premium coatings / platings to ensure that your jewelry endures.
STYLE: Your in the latest "Designed in USA" jewelry pieces on the market - designed to be fahionable, but also timeless!
WARRANTY: All customers are entitled to a 90 Day Money Back Guarantee - we love that you choose Fervent and we promise 5-Star customer service & quick response when you contact us.
FAST SHIPPING: Fervent utilizes Amazon's facilities, so that you can buy with Amazon Prime! Take advantage of this top of class logistics and shipping option - perfect for last minute gifts like durign Christmas, for Birthdays, Graduations, Anniversaries, etc.
GIFTS: Fervent includes a luxurious jet-black gift bag with every item, so that you can easily present it as a present to a special family member, friend or loved one for any occasion.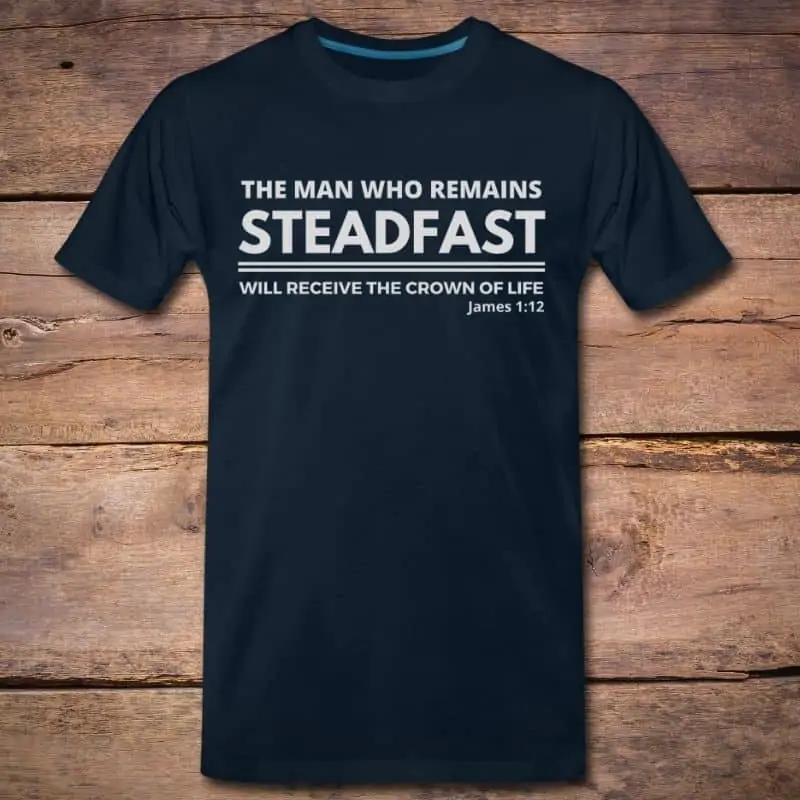 Steadfast Christian T-Shirt
I love expressing my faith through my Christian clothing. This shirt is a great representation of the reward we will receive when we remain steadfast in our faith. It's a great way to open the door to a conversation about Christ.
This is one of the many designs I've created in my Christian Clothing Shop. I also have Christian clothing available for women.
"Steadfast Love" Two-tone Faux Leather Pagemarker
This is a great simple and inexpensive gift idea. The scripture from Lamentations 3:22-23 is artistically debossed onto the brown and tan faux leather page marker.
It's made from a quality man-made material with the look and feel of real leather (trade name LuxLeather).
Christian Art Gifts Faux Leather Bookmark Steadfast Love Lamentations 3:22 Bible Verse w/Satin Ribbon Tassel Brown
Scripture Bookmark: This Bible verse bookmark features encouraging hope from Scripture found in Lamentations 3:22-23 debossed on brown and tan panels with topstitching and a satin ribbon tassel.
For Men and Women: Perfectly sized at approximately 6.5 Inches by 2 Inches to fit in your Bible, Bible Study Book, or favorite novel!
Inspirational Gift for Booklovers: This bookmark will encourage a colleague, friend or loved one in their faith as they meditate on God's word. Pair this with a matching accessory for an easy gift idea.
Lamentations 3:22-23: "The steadfast love of the Lord never ceases; his mercies are new every morning; great is your faithfulness."
Faux Leather: Made to mark your cherished places for years to come. Durable man-made leather looks, feels, and wears like leather.
Christian Art Gifts (Manufacturer) (Author)
English (Publication Language)
Christian Cross Keyring
This cross keyring comes in its own little tin gift box. I love the message on this keyring. It's so awesome to be reminded of God's faithfulness every time you pick up your keys.
Thinking of all of God's goodness makes me want to praise Him all day long.
What's Your Favorite Christian Gift for Men?
These are all the Christian gifts for men that we love! Here are a few more direct links below to more Christian gift ideas. 
Our goal with these Biblical gifts should be to help each other stay encouraged. The world can bring us down but if we surround ourselves with scripture and things that represent Christ, it can help us stay on track. The Bible is the only Truth.
Do you have any Christian gifts for men that you want to share? I'd love to hear about them!