The Best Bible Games For All Occasions
This article may contain affiliate links. I may earn money from the companies mentioned in this post with no additional cost to you. Please read my disclosure policy for more info. All Bible quotations are from the New King James Version (NKJV) unless otherwise stated Bible Copyright Attribution.
Raising kids is a challenge especially raising Christian kids. The world is turning more and more against God which makes it harder to keep our kids focused on the Truth.
As parents, we need to help keep our kids on track especially with all the distractions they encounter. Church, youth group, Bible studies, and living as "examples" are all great ways to achieve this. Another great way to incorporate this is through Bible games.
Bible games can make family time fun. They help everyone learn more about Jesus and can help you memorize scripture and Bible Truths. This isn't a substitute for reading the Bible. It is just another way to surround ourselves with God's Word.
"All Scripture is breathed out by God and profitable for teaching, for reproof, for correction, and for training in righteousness, that the man of God may be complete, equipped for every good work." 2 Timothy 3:16-17 ESV
The Bible says that it is profitable for teaching and training, isn't that what we strive for in life? To learn more about Him and to train so we can recognize His path. There is only one way and that is Jesus. We need to do everything we can for our kids and ourselves to stay focused on that.
The Bible is the infallible Word of God that has the power to transform us and make us more like Jesus. Wouldn't it be great to make the Bible a larger part of our daily lives and to talk more about it with our family and friends? Bible Games that are truly fun and enjoyable are really useful tools to start spiritual conversations.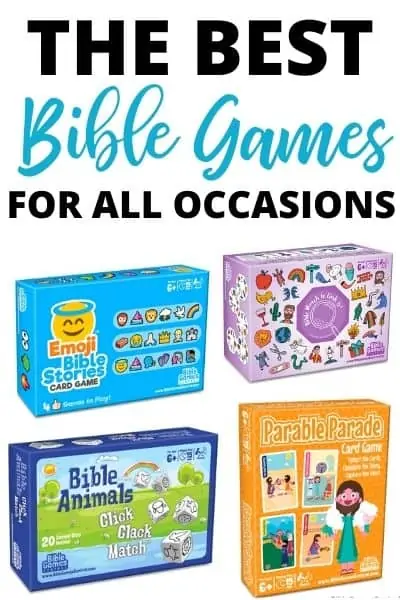 Bible Games
Thankfully the Lord has given people the vision to create Bible games. Below you will find a variety of Biblical games. They are available for all occasions. Make sure to look through them all so you can find the perfect fit for you and your family.
Bible Board Games
Developed with both families and churches in mid, these Bible board games are not just fun to play, but they are also great for bringing people together. For Christian families and groups, these can be used to start discussions about or teach the Bible. To learn more about these games, visit the Bible Games Central Shop.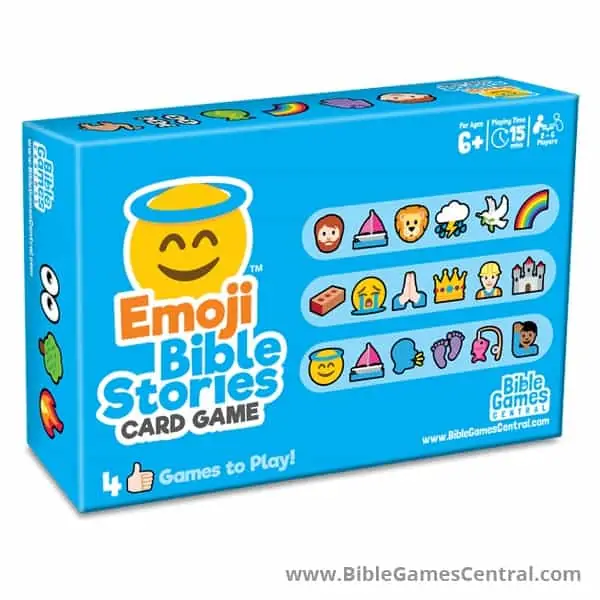 Emoji Bible Stories Card Game
This Bible game contains beautiful and colorful Emoji Cards that can be used to tell various Bible stories from the Old and New Testaments. There are 4 gameplay options, 2 of which are designed for younger children and those new to the Bible. Bible Story Summary Cards are included that can be used to learn more about the 24 Bible stories featured in the game.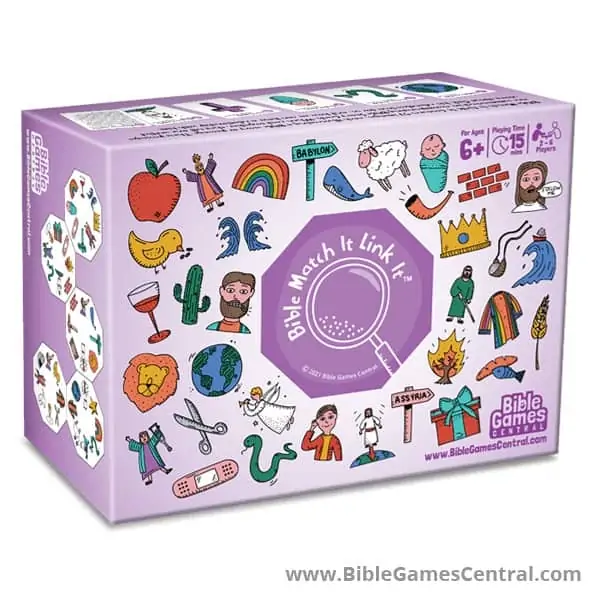 Bible Match It Link It Game
This Bible game for kids is played with thick, sturdy cards that are easy for young kids to handle. Each tile has eight images, one on each edge of the octagon. On any 2 Bible Match It Link It tiles, there is always 1 (and only 1) matching image. Each of the 57 images illustrates a Bible story that is explained in an accompanying Bible story card. The 4 gameplay options, which make use of the "snap" and "dominoes" game mechanics familiar to kids, are easy to learn.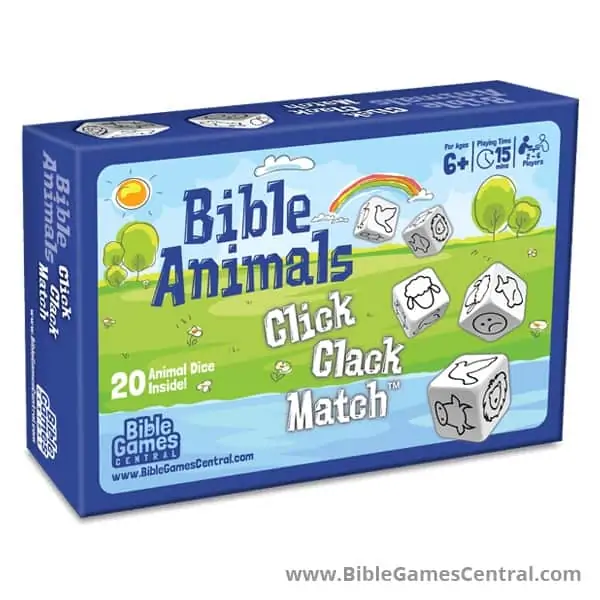 Bible Animals Click Clack Match Bible Game
This Bible matching game comes with 20 unique animal dice, is the perfect game for both young and old. The 5 animals featured on the dice are the dove, cow, fish, sheep, and lion. This game can be used to start conversations on creation, Noah's ark, Jesus' baptism, Daniel in the lions' den, Joseph's dreams, and many other Biblical stories involving animals.
Bible Games for Festive Seasons
Many of us host parties and family gatherings to celebrate Thanksgiving and Christmas. Bible Games Central's collections of Thanksgiving and Christmas games contain a delightful mix of lively and relaxed game ideas that help to ease in chatting about the Bible and catching up on each other's spiritual journeys.
Thanksgiving Bible Games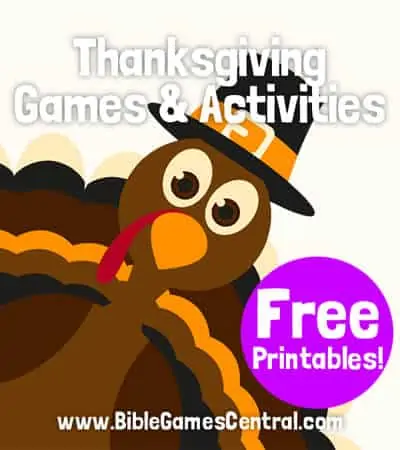 For instance, included in the Thanksgiving Games Collection are games that not only keep your guests entertained, but also help everyone get to know each other a little better. The Thanksgiving Word Search, Thanksgiving Word Scramble, and Thanksgiving Mad Libs are great for keeping kids occupied while you are busy preparing the Thanksgiving meal.
Christmas Bible Games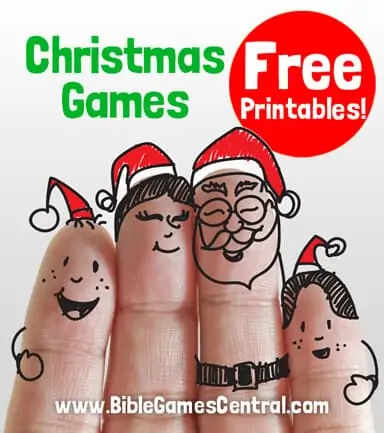 There is also a Christmas Games Collection which includes Christmas Party Games, Christmas Trivia, Christmas Minute-to-win-it, Christmas Emoji Song Challenge, Christmas Bingo, Christmas Charades, Christmas Pictionary, and many more!
Preparations for all these games are a breeze as they make use of commonly available items, and beautiful printables are all provided free.
Bible Games Are Always Fun
Not all of us are pastors and preachers, but nonetheless, we can still open spiritual conversations about the Bible through games. They can also be used to get people curious and to teach the Bible. Bible Board Games also make fun and meaningful games for kids and their families!
All these Bible games come at an affordable cost. These are quality games that feature attractive designs and colors. There are lots of great memories to be made all while learning and growing in our walk with our Savior.
Make sure to download the free printable Bible games for the holidays. They are a ton of fun and will spark some meaningful conversation. Let's share Jesus with the world and let others know that Christianity doesn't have to be boring. Jesus is the answer and He will bring all the joy to every situation if we allow Him.
Alvin Gan is the father of three noisy (but lovely) teenagers and the founder of 2 websites that provide creative evangelism and discipleship resources.
www.LetTheLittleChildrenCome.com specializes in unique child evangelism tools and resources to help convey the plan of salvation for kids effectively.
www.BibleGamesCentral.com develops Bible games for youths, kids, and even adults to teach spiritual truths.
*This is NOT a sponsored post. I haven't received anything in exchange for this post. I'm simply trying to help others share the Good News of Jesus Christ with the World. If you have a product that glorifies Jesus, feel free to contact me about having it featured on my site.*