6 Ways to Pray Without Ceasing
This article may contain affiliate links. I may earn money from the companies mentioned in this post with no additional cost to you. Please read my disclosure policy for more info. All Bible quotations are from the New King James Version (NKJV) unless otherwise stated Bible Copyright Attribution.
I have struggled to understand the true meaning of "pray without ceasing" and "pray continually" for a long time. How can one pray during every waking moment? What should I pray about for that long?
After hours and hours of studying the truth and discussing it with my Christian friends, it dawned on me that praying without ceasing is possible and is extremely important to draw closer to the Lord.
In fact, praying continually should be something we desire to do. I hope this article sheds light on the true meaning of praying without ceasing and how each of us can achieve it.
What Does Pray Without Ceasing Mean?
While trying to learn the intent behind praying without ceasing, I've come across different opinions and viewpoints.
Some people believe that praying without ceasing means to "not stop" praying at any point in our lives. As true Christians, giving up on God is out of the question. Even during the most difficult trials and temptations, God wants His children to be patient and have faith in Him.
Another group of people believe that praying without ceasing means having constant communication with God, having a spirit of dependence, and calling Him repeatedly.
Out of all the theories I came across, Dr. Donald Whitney's explanation of the verse made the most sense to me. In an interview with Southern Seminary, he explained that praying without ceasing means we are never more than a thought away from prayer.
I think it is practical and beautiful to be…never more than a thought away from prayer. Instead of viewing prayer as a chore, consider it an act or a state of being. It could be like breathing. We don't need to be reminded to breathe. It comes to us naturally.
To pray without ceasing, we have to cultivate a Godward mindset and be aware of our relationship with the Lord. We need to acknowledge His presence and practice gratitude when we perform our tasks for the day. That is how you begin to pray without ceasing.
Where is Praying Without Ceasing in the Bible?
Paul encourages the Thessalonians to pray continually in the following verse:
"Rejoice always, pray without ceasing, give thanks in all circumstances; for this is the will of God in Christ Jesus for you." 1 Thessalonians 5:16-18 (ESV)
Paul is an excellent example of what it means to pray continually. There are many instances in the Bible when he turned to God and prayed.
Note that while explaining what God's will is, Paul also urges the Thessalonians to rejoice always and give thanks in all circumstances. It is of paramount importance to be aware of our relationship with the Lord and delight in His presence.
Jesus is the prime example of praying without ceasing. He prayed in the morning and night. He prayed before and after every event in his life. He even paused to pray during the busiest times. We can never underestimate the power of prayer.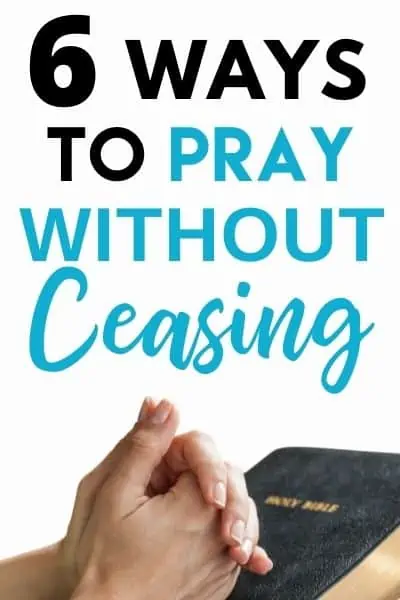 How To Pray Without Ceasing
The key to praying without ceasing is to shift your mindset and embrace your time with Jesus. You do not need to alter your schedule or cut down your work hours to pray continually.
We can all turn everyday moments into prayer. It is all about making prayer a priority. Here are six different ways that have helped me to to pray without ceasing. I hope they are an encouragement to you!
Make Prayer a Priority
Regardless of how chaotic your life is, create a prayer calendar to spend quality time with God. Pray during the good times and the bad times.
Many people I know try to fit in prayer during their work breaks. While work breaks are a good opportunity for prayer, do not limit your time with God to such a short period of time.
I find mornings and nights are excellent times for prayer. There is something deeply comforting about starting your day with prayer.
Set aside a few minutes for prayer as soon as you wake up. Seek God's plan for the day and pray for the energy to accomplish all the tasks of the day. I also love praying when I wind down at the end of a long day. Discussing the day's happenings with God calms my soul and strengthens my spirit.
The first step to praying without ceasing is to have discipline in prayer. You can set alarms and keep sticky notes on walls to remind yourself to pray.
Integrate Prayer Into Daily Chores
A practical tip to pray continually is to engage in prayer while doing household chores. Praise the Lord through worship songs and count your blessings while you make your bed, fold laundry, do the dishes, and exercise.
One of my friends told me she prays for the person whose clothes she is folding. I think this is a great way to integrate prayer into small everyday tasks. Some other ideas include giving thanks for food while doing the dishes and praying for your family while making their beds.
Your morning commute is also a great opportunity to worship God. You can stream Bible studies and Christian podcasts, sing along to worship songs, and even share a few moments of silence with God.
Don't Limit Your Prayer Topics
Sometimes we forget that prayer is not just about asking for blessings. Praising God and thanking Him for His blessings are equally, if not more important. Do not forget to pray for others apart from our own personal prayer requests.
Pray for the wisdom to understand God's Word and continually hear Him. When you do not feel like praying, share silence with Him and admire His works. I have gained clarity on many of my problems after sitting in silence with God.
Be Yourself
To pray repeatedly and often, you need to be comfortable with praying. And to be comfortable in prayer, you need to be yourself.
Remember to use normal language and a normal voice during prayer. You do not need to use unnecessary vocal inflections to seek God's attention. He knows us better than we know ourselves.
Talk to Him like you talk to your closest friend. Be sincere and authentic in whatever you say. Tell Him what you are struggling with. There is no safer place than God's hands.
David reminds us to pour our hearts before him in the following Bible verse:
"Trust in him at all times, O people; pour out your heart before him; God is a refuge for us." Psalm 62:8 (ESV)
Give Thanks
Paul reminds us to give thanks in all circumstances in 1 Thessalonians 5:18.
When I give thanks, I am constantly reminded of how much God has given me and my family.
Focus on your blessings and thank Him for everything He has given you: your family, your job, the food you eat, and most importantly, His love.
Use the blessings you have received to bless others. Spread God's Word and invite them to your church. Listen to their struggles and give Godly advice.
The Bible teaches us that the power of gratitude is immeasurable! Practice daily thankfulness and you will eventually see a happier and more peaceful version of yourself.
Admit Your Mistakes
John encourages us to repent to God in 1 John 1:9 (ESV):
"If we confess our sins, he is faithful and just to forgive us our sins and to cleanse us from all unrighteousness."
We are most vulnerable when we admit our mistakes. Our Father wants us to include confessions in our prayer and ask for forgiveness.
Tell God what exactly you have done wrong and what led you to do it. Admit your mistakes, surrender to God and ask for forgiveness. If you attempt to justify your actions and dismiss a misdeed, you are not ready to ask for forgiveness.
Let our Father know that you are filled with remorse and shame. Let Him know that you regret what you did. Apologize sincerely and promise you will remove such sinful actions from your life. Finally, ask for forgiveness and take the necessary steps to ensure you will not repeat the same mistake again.
Salvation is a gift from the Lord. We can all receive it by following the Romans Road to Salvation.
Praying Without Ceasing Verses
The Bible has many different versions available. The verses below about Praying Without Ceasing are from the English Standard Version (ESV). I listed these Praying Without Ceasing verses in order of the books of the Bible below.
1 Chronicles 16:11 – Seek the Lord and his strength; seek his presence continually!
Psalm 86:3 – Be gracious to me, O Lord, for to you do I cry all the day.
Psalm 116:2 – Because he inclined his ear to me, therefore I will call on him as long as I live.
Luke 18:1 – And he told them a parable to the effect that they ought always to pray and not lose heart.
Romans 12:12 – Rejoice in hope, be patient in tribulation, be constant in prayer.
Ephesians 6:18 – ..praying at all times in the Spirit, with all prayer and supplication. To that end, keep alert with all perseverance, making supplication for all the saints…
Philippians 4:6 – Do not be anxious about anything, but in everything by prayer and supplication with thanksgiving let your requests be made known to God.
Colossians 4:2 – Continue steadfastly in prayer, being watchful in it with thanksgiving.
1 Thessalonians 5:16-18 – Rejoice always, pray without ceasing, give thanks in all circumstances; for this is the will of God in Christ Jesus for you.
Pray Without Ceasing Quotes
Here are some of my favorite Pray Without Ceasing quotes.
"Pray without ceasing, say all you can to God, and lay all your difficulties before him. He'll take away your tears and make a way where there seems to be none. Wake up and do it!" ―Israelmore Ayivor
"Praying with eyes wide open is the only way to pray without ceasing." ―Ann Voskamp
"If the spiritual life is healthy, under the full power of the Holy Spirit, praying without ceasing will be natural." ―Andy Murray
"Praying without ceasing is not ritualized, nor are there even words. It is a constant state of awareness of oneness with God." ―Peace Pilgrim
"God shapes the world by prayer. The more prayer there is in the world the better the world will be, the mightier the forces of against evil" ―E.M. Bounds
"Prayer will make a man cease from sin, or sin will entice a man to cease from prayer." ―John Bunyon
"He who has learned to pray has learned the greatest secret of a holy and happy life." ―William Law
"Fame is not the reason why brands are created and erected. Be diligent, focused, and chain unceasing prayers to God who will continue giving you cheers." ―Israelmore Ayivor
"Prayer is my chief work, and it is by means of it that I carry on the rest." ―Thomas Hooker, Puritan
"Prayer wonderfully clears the vision; steadies the nerves; defines duty; stiffens the purpose; sweetens and strengthens the spirit." ―S.D. Gordon