6 Reasons to Cast Your Cares on Him
This article may contain affiliate links. I may earn money from the companies mentioned in this post with no additional cost to you. Please read my disclosure policy for more info. All Bible quotations are from the New King James Version (NKJV) unless otherwise stated Bible Copyright Attribution.
Having occasional feelings of stress, anxiety, and frustration is a normal part of life, but sometimes all of it can get too overwhelming.
Scripture frequently reminds us to submit our worries and anxieties before Him. Paul the Apostle advises us to not be anxious about anything (Philippians 4:6).
But oftentimes, in the midst of problems, we tend to forget that the Almighty God is on our side to help us navigate through the difficult times. God's timing is perfect and He wants us to trust Him with every aspect of our lives. Today I will talk about 6 reasons why you need to cast your cares on Him.
What Does Cast Your Cares on Him Mean?
1 Peter 5:7 says: "Casting all your cares on him, because he cares about you" (CSB). To understand the verse better, let us look at different Bible versions.
1 Peter 5:7 (ESV) "Casting all your anxieties on him, because he cares for you."
1 Peter 5:7 (NIV) "Cast all your anxiety on him because he cares for you."
1 Peter 5:7 (CSB) "Throw all your anxiety onto him, because he cares about you."
1 Peter 5:7 (KJV) "Casting all your care upon him; for he careth for you."
The word 'cast' simply means to throw. The word 'care' refers to anxiety, stress, or difficulties in our lives. The phrase 'cast your cares on Him' means to submit your worries and anxieties before the Lord as He cares for us.
In the previous verse (1 Peter 5:6), Peter commands us to humble ourselves before the Lord. Casting our worries on Him is a way of humbling ourselves before Him. Our God does not want us to carry the burden ourselves. He wants to help us sustain through the trials and temptations of this world.
"Come to me, all you who are weary and burdened, and I will give you rest." Matthew 11:28
How Do You Cast Your Cares Upon the Lord?
When you feel the weight of the world on your shoulders, cast your cares upon our all-powerful, all-knowing Heavenly Father. Here is how you can cast your cares upon the Lord.
Call on the Lord
Quiet time is an incredibly powerful one-on-one conversation with God during which you can talk about your worries and anxieties. Prayer is how we communicate with the Lord.
Pray daily for wisdom to deal with the struggles in your life. Ask God to help you carry the burden and make the right choices. Pray without ceasing!
Read His Word
If you're looking for some inspiration, comfort, confidence, or advice, turn to scripture. Meditate on the Bible verses that comfort you. Use the SOAP Bible study method to help you go deeper with your understanding in the different books of the Bible. God speaks to us through His Word, the Bible.
Deuteronomy 8:3 is a powerful and eye-opening verse:
"Man does not live by bread alone, but man lives by every word that comes from the mouth of the Lord."
I always find comfort in the chaos when I study the Bible. I have been able to find answers to all kinds of problems in my life. Studying the Truth always provides steadfast assurance to keep us going.
Read encouraging scripture and memorize Bible verses to cast your worries on Him.
Trust Him
We can only hand over our struggles to people we trust with our lives. To cast your cares upon the Lord, you have to fully trust Him with every aspect of your life.
Proverbs 3:5-6 tells us:
"Trust in the LORD with all your heart and lean not on your own understanding; in all your ways submit to him, and he will make your paths straight."
In our world, trust mostly comes with disappointment. But God will never fail or disappoint you (1 Kings 8:56). We may make plans for our lives, but remember that only God's will is the perfect plan.
We need to live our lives in accordance with His will and trust Him with all our hearts. Patiently wait on Him.
Do Not Give Into Fear
Our minds always tell us to worry about every single thing going on in our lives. It is crucial to control our thoughts and take our thoughts captive so we can think straight.
When stress and worry creep in, spend a few moments in prayer with God or read the Bible. Remind yourself of God's promises. Journal in your Bible, highlight Bible verses, pray for strength, wisdom, and choose to have faith over fear.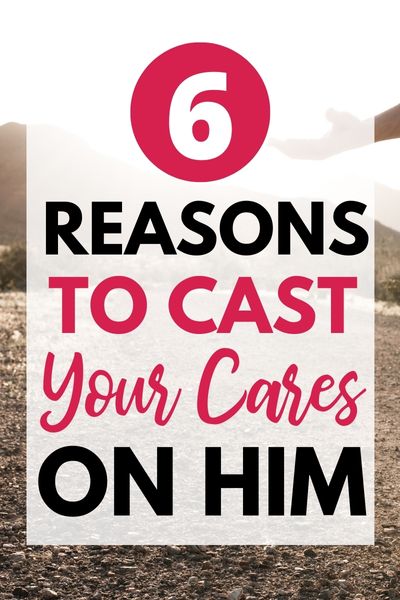 Reasons to Cast All Your Cares on Him
If there is anyone who is capable of carrying all our burdens and guiding us on the right path, it is our Almighty Father. Here are the reasons why we should cast all our cares on Him.
1. He Cares for Us
In the verse 1 Peter 5:7, Peter commands us to "cast all your cares on Him because He cares about you".
Our God continually cares for us sinners. He cares for all His creations and creatures. We have a loving God who takes care of us every day. He fights our battles for us and protects us from our enemies.
He leads us, feeds us, and sustains us. His unwavering love and care are some of the reasons to cast our cares on Him. Isaiah 46:4 is one of my favorite verses regarding this.
"I have made you and I will carry you; I will sustain you and I will rescue you."
2. He Comforts Us
When we call Him and submit our worries, He will comfort us.
"Praise be to the God and Father of our Lord Jesus Christ, the Father of compassion and the God of all comfort, who comforts us in all our troubles, so that we can comfort those in any trouble with the comfort we ourselves receive from God." 2 Corinthians 1:3-4
Living in this competitive and demanding world can be increasingly overwhelming. It is not easy to deal with all the problems ourselves. Cast your cares on the Lord because He will comfort His children. He will exchange our worries with rest, peace, and joy.
No matter what I'm going through, I always feel calm when I open my Bible. When I feel unsettled and confused, I read the Bible verses filled with promises of His everlasting love.
3. He Strengthens Us
Prayer is the most powerful weapon God has given His children. As humans, we cannot fight our enemies on our own, but with God by our side, no one can beat us. Our God is the greatest and most powerful being that exists. He never fails or gets tired. He is faithful.
The wise words in the Book of Proverbs go like this:
"The name of the Lord is a strong tower; the righteous run into it and are safe." Proverbs 18:10
We are safe when He is with us. He promises to strengthen us and tells us not to fear (Isaiah 41:10).
When you're going through tough times, remember that you can do all things with Christ. He is the mighty God who can protect us from all kinds of evil forces. There is absolutely no one who is greater than our Lord.
4. He Gives Us Wisdom
Stress and anxiety hinder our ability to think clearly, causing brain fog. As a result, we may end up making the wrong decisions that result in negative consequences.
The Lord generously gives wisdom to those who cast their anxieties on Him. We need to renew our minds so He can help us think straight and gain a clearer perspective on the situation. With His knowledge and understanding, we will be able to come up with better solutions and ideas.
Pray for wisdom to make the right choices. Work your way through the problems and come up with solutions that are in accordance with God's will.
James 1:5 advises us to pray for wisdom:
"If any of you lacks wisdom, you should ask God, who gives generously to all without finding fault, and it will be given to you."
5. He Provides for Us
God provides us with everything we need. This does not mean we will receive everything we want. God knows what is best for His children. He will differentiate between our wants and needs, and do what is best for us.
Oftentimes, we overlook God's plans for us and follow worldly temptations. We tend to shift our focus from eternal life to our life on earth. But God wants us to pursue Him and live according to His will.
Philippians 4:19 says:
"And my God will supply every need of yours according to his riches in glory in Christ Jesus."
It is important to understand that God not only provides us with food, clothing, and the other physical needs of life, but also provides us peace, love, joy, hope, and spiritual blessings. He has already given us the greatest gift of all time, His beloved son, Jesus Christ.
So cast your worries on Him because He will supply all our needs.
6. He Heals Us
Jeremiah 33:6 assures that our God will heal us:
"Behold, I will bring to it health and healing, and I will heal them and reveal to them an abundance of prosperity and security."
The healing process can seem daunting when we are going through stressful situations. The Bible does not promise us a life free of trials and temptations, but as children of God, we should understand that our God can heal us in a way no one can.
And by healing, I don't just mean physical healing, God heals our hearts, souls, minds, and enhances our spiritual and emotional well-being.
Psalm 147:3 brings so much comfort:
"He heals the brokenhearted and binds up their wounds."
Even when healing seems impossible, trust God with all your heart and cast your cares on Him. Healing becomes faster and less painful when God is by our side.
Are You Casting All Your Cares on the Lord?
We should be experiencing joy and peace in this world. We can't experience that when we are holding onto everything. We need to give all our cares up to the Lord because He is in control. How are you casting your cares on the Lord?