5 Reasons His Mercies Are New Every Morning
This article may contain affiliate links. I may earn money from the companies mentioned in this post with no additional cost to you. Please read my disclosure policy for more info. All Bible quotations are from the New King James Version (NKJV) unless otherwise stated Bible Copyright Attribution.
The Lord's mercies are new every morning. The Bible tells us this in Lamentations 3:22-23. Praise the Lord! This is wonderful news for every Christian.
As we study our Bibles, we read this amazing news, but it can slip our minds often. This is totally understandable because we battle spiritual warfare and trials and tribulations daily.
That's why it's essential for us to renew our minds and take our thoughts captive every day through reading the Bible and prayer. It doesn't matter if you spend a few minutes or an hour, the Lord will bless every minute we spend with Him and His Word.
Memorizing scripture can help us in this area too because the Holy Spirit will bring scripture to our minds when we need to hear it. God's Word never changes so we can rest in the Lord knowing that it is forever true that His mercies are new every morning.
When we receive salvation, the Bible tells us as Christians, that none of the sins we've committed in the past, present, or future will ever stop Him from showing His compassion, love, and mercy for us. He will never turn away from us. He doesn't look at what we've done wrong vs right and decide whether or not He wants to love us.
The most incredible thing is that God loves everyone and wants us all to come to repentance. He knows us all by name and even if you don't believe in Him, there is an overwhelming amount of love and compassion He has for you. God has a plan for you and wants you to surrender to His will for your life.
The prodigal son is a great example of how loving our God is. If you've read about the prodigal son, you know that he left and turned away. It's such a touching story that shows us that God is with us, for us, and loves us no matter how far we try to run away. You can read more about it in Luke 15:11-32.
His mercies are new every morning because He loves us for who we are, not what we look like, not what we do, not by the number of trophies we have, or even the titles we may have. He loves you and me more than any human being could ever comprehend.
God's mercies are new every morning and that is something we truly need to be grateful and thankful for!
What is Mercy?
The definition of Mercy is "Compassion or forgiveness shown toward someone whom it is within one's power to punish or harm." Mercy shows compassion, grace, and charity which is love.
Mercy relieves suffering by being motivated by compassion. The Bible relates mercy as forgiveness or withholding punishment. The greatest example of His mercy was 2000 years ago when He sacrificed His one and only Son, Jesus Christ, to pay the price for our sins up on that cross on Calvary.
Mercy is one of the many characteristics of God. We all deserve judgment yet He blesses us with the compassion of canceling the debt of our sins that was deathly to us all with complete and total mercy. There is no other mercy like God's supernational mercy.
In the world, we may find mercy, but it is only pity, guilt, judgment, and hardly ever true forgiveness. While the world may try to punish or harm us the Lord's mercy is greater and shows true compassion. God's mercies are new every morning because we serve a powerful almighty God who renews us and gives us the strength to overcome this world.
What Does the Bible Say about God's Mercies Being New Every Morning?
Lamentations is a book in the Bible that talks about God's mercy. It contains a popular Bible verse that is full of comfort and reassuring words to us all.
"Through the Lord's mercies we are not consumed, Because His compassions fail not. They are new every morning; Great is Your faithfulness." Lamentations 3:22-23
God's mercy is never failing and never-ending. It renews every single morning. It is firmly fixed in place, unchangeable, and immovable. This gives great hope to us all. The world constantly goes into debates, and when arguments happen, sometimes one or all parties do not want to overlook or even forgive one another.
The world is changing every single day but the Lord does not. God has the final say, there's nothing we can do to change His love for us. If we truly understand that His love never ceases for us then we should have a clear understanding as to why His mercies would never cease either.
This is only possible because His love will never fail, it will never wear out, it will never grow weary, it will never ruin, it will never lose its ability to function on us, and it will never finish. It's forever ongoing and renewing every day for us. God is eternal, and so is His love, mercy, and compassion towards us.
The statement "God's mercies are new every morning" reminds us that His mercy is never-ending. Thank the Lord that He refills, renews, and refreshes us every morning. There is unlimited access to it no matter how much you need it day to day.
It's like an infinite circle that keeps going and going without an end. There is simply no cap to it, it's always available to us whenever we need it, so keep coming back for more. His arms are open wide ready to give us mercy each morning.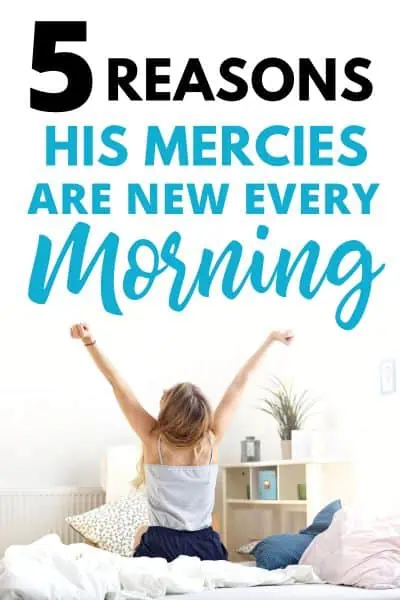 Reasons Why His Mercies are New Every Morning
1. He Forgives and Redeems Us
God's promises stand true no matter what we face in the day or the season we go through. He redeems us and pulls us out of the dark pit, making us new. We make the choice every day to stand on His faithful promises, to trust in His sovereignty, and choose to set our hearts, and minds on Christ alone.
The Blood of Jesus makes this possible and is so powerful that it goes beyond our comprehension. He died on the cross for us all and welcomes everyone to receive the precious gift of salvation.
"Remember, O Lord, Your tender mercies and Your lovingkindnesses, For they are from of old. Do not remember the sins of my youth, nor my transgressions; According to Your mercy remember me, For Your goodness' sake, O Lord." Psalm 25:6-7
"In Him we have redemption through His blood, the forgiveness of sins, according to the riches of His grace which He made to abound toward us in all wisdom and prudence," Ephesians 1:7-8
2. He Sets Us Free
The world can call us names and labels us by our past, our sins, and even our failures. But when are born again, God takes away the old, for the past is gone. He is making something new within us and not defining us by our past.
Christ came to set us free. He covers us with His care and the Bible reminds us that He covers us with His unfailing love. As the sun rises every morning so do His mercies and love for us. We can begin breathing in new hope when we wake up.
For the Lord calls us chosen, He calls us redeemed, and so many other beautiful names. Don't let the words of this world or the enemy rain down on you. Those labels aren't the truth. We belong to God, our Creator. He created us and knows us all by our name. Our identity in Christ can't be denied.
"Therefore, if anyone is in Christ, he is a new creation; old things have passed away; behold, all things have become new." 2 Corinthians 5:17
3. He is Greater
God is greater than all the highs and the lows. He is greater than the battles we face, the problems we encounter, and the seasons we go through. He is a miracle-working God, He is the way maker, and the promise keeper.
God has and will always remain faithful to His Word. His power can withstand any works of darkness and the works of the enemy. There is nothing stronger than God. He is our strong tower and shield. When God is for us, nothing can be against us, and nothing can stop God Him.
"What then shall we say to these things? If God is for us, who can be against us?" Romans 8:31
4. He Has a Plan for Us
Sometimes we don't understand what God is doing in our lives, the unanswered prayers, or even the "no's" from those prayers. God is all-knowing and He is good. He sees everything and ultimately knows what is best for us, even though we don't understand.
Even when we are going through the fire, He is with us. Sometimes we have to go through things in order to grow spiritually and in order to see that we cannot do this life without Him. He tells us to "be still and know that He is God".
Our pain doesn't go to waste. God uses it for good in our lives. It is what strengthens us and grows our faith. Christians aren't exempt from the trials and troubles in this life. The good news for us is that He won't let us walk through the storm alone or without a purpose in the end.
Through our difficulties, He brings light, goodness, and a peace we can't comprehend. There is always a greater purpose than what our eyes can see. It's hard to understand it right away but He is faithful to turning everything around for our good.
"And we know that all things work together for good to those who love God, to those who are the called according to His purpose." Romans 8:28
5. He Gives Us Joy
As we study the Bible, we can see how powerful it is when a person chooses joy even in the midst of a pressing storm. As many of us know, trials are a part of life, and there's nothing that can stop us from going through them.
It's the journey that matters. No matter the outcome, God calls us to choose joy. Joy is available to all of us but we need to choose it. We are reminded to keep rejoicing and to keep singing praises to God's name.
It's easy to get down and discouraged by the actions of this world. We can't allow ourselves to miss out on the blessings in our lives. We have hope and God wants us to lift our burdens up to Him and choose joy.
"Now may the God of hope fill you with all joy and peace in believing, that you may abound in hope by the power of the Holy Spirit." Romans 15:13