Our Review of The Truth Project: A Christian Worldview Bible Study
This article may contain affiliate links. I may earn money from the companies mentioned in this post with no additional cost to you. Please read my disclosure policy for more info. All Bible quotations are from the New King James Version (NKJV) unless otherwise stated Bible Copyright Attribution.
Studying the Bible is a lifelong process. Sure, you can read through the Bible in a year but are you really getting everything you need to know out of it?
Taking the time to study the Bible will give you a deeper understanding of God's Word. There's no need to rush through the Bible. Take your time and apply what the Lord is teaching you through His Word.
This leads me to a great Bible study called the Truth Project. I heard about this Bible study through my church and it caught my interest.
What is the Truth Project About?
The Truth Project is a video series about life from a Biblical perspective. There are 12 DVD lessons that take you through the Bible from a Christian worldview.
This series is taught by Dr. Del Tackett, the former President of the Focus on the Family Institute. The lessons teach how important it is to have a Christian worldview in your daily life.
This study is very detailed and features insight from Biblical experts like Ravi Zacharias, R.C. Sproul, Os Guinness, and Gordon Pennington.
It's perfect for new believers or for current believers that want to revisit the principles of their faith.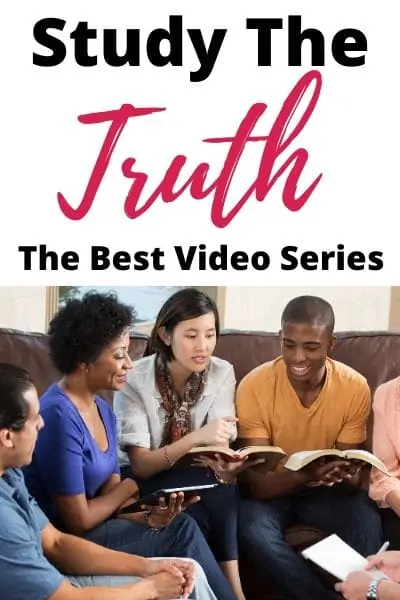 The Truth Project
We have completed this Bible study two times. The first time we participated in this Bible study was with a small group of adults from our church. We loved it so much that we decided to do it again with our kids.
This is a very informative study and may be hard for younger children to follow. We did this when my youngest was 10 years old and it was hard for him to sit still. We didn't let that stop us.
We allowed him to draw and write down what he understood from each video. There is a Truth Project study guide that compliments this series. The questions were a little tough for my daughters who were 14 years old at the time so we simplified the questions so they could participate.
All in all, we made it work for our family and we were all so blessed by it. It really builds a foundation for the Christian Faith.
The Truth Project is broken down into 12 video sessions. Each lesson is around 1 hour long. We picked one day a week to watch the video and do a discussion. It took us about 3 months to complete.
Breakdown of Each Truth Project Session: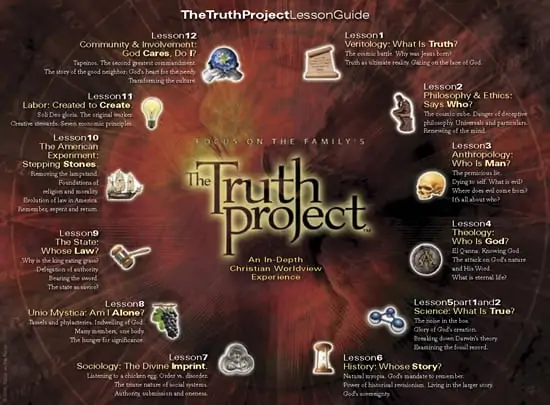 Lesson 1: Veritology: What Is Truth
In this first episode, you'll receive a general introduction to the purpose of The Truth Project. The point of this series is to guide you through the truth of the Bible from a Biblical worldview.
The setting takes place in a college classroom with a teacher and students. I like how the teacher (Del Tackett) interacts with the students. It makes you feel like you are part of the conversation.
This video sets the stage for the four fundamental issues: Truth, God, man, and the social order. It attempts to build a logical, way to organize, and evaluate the various truth claims discussed during the tour (each lesson is called a tour).
In this tour, you will gain knowledge but the purpose of this tour is to allow what you've learned to transform you.
Lesson 2: Lesson Philosophy and Ethics: Says Who?
In this video, Del Tackett gives the students an introduction to philosophy and ethics. This message covers the precept of Proverbs 23:7—"As a man thinks in his heart, so is he."
It uncovers the connection between our ideas about the nature of the world (philosophy) and our understanding of right and wrong behavior (ethics). This lesson really helped me understand why I believe what I believe about right and wrong.
The natural world can really impact the way you make decisions. Believing what God says is the only way to keep your path straight.
Lesson 3: Anthropology: Who Is Man?
This lesson gives an in-depth explanation of biblical and contemporary ideas about the nature of the human race. This video focuses on the following questions:
Who is man?
Where did he come from?
What is the meaning and purpose of his existence?
The answers to these questions are a direct effect on why there's evil in the world. Seeing evil in the world is really discouraging but this lesson will give you the foundation of man so you can understand how evil man really is.
Lesson 4: Theology: Who is God?
The previous Truth Project lessons have given us the foundation of Truth and human nature. This lesson gives the foundation of who God is.
Knowing God should be our number one passion and our highest goal. We can't truly know ourselves or understand the meaning of our existence in the world without the knowledge of our creator.
Learning the attributes of God can be overwhelming. He is the creator of all Truth and you will learn just that in this lesson. This is one of my favorite lessons.
Lesson 5: Science: What Is True?
This lesson argues what is true. Man has chosen to ignore the Truth. They twist science to disregard God and rely on human independence and self-determination.
Nature brings us face to face with the Truth that God does exist. He reveals Himself to us through the works of his creation and His Word. This lesson will help you dig to see if you really believe in God.
Are you living life depending on yourself or are you believing God and trusting His Word and creation? The world can blind us all. We need to constantly examine ourselves through prayer to draw ourselves back to God and surrender our lives to Him. He is faithful and His promises are true and we can rest in Him.
Lesson 6: History: Whose Story?
Del Tackett brings us back to the past in this video. He references Isaiah 46:9-11, where God tells us that He is God and there is no other. If we don't remember that God created us we risk being self-sufficient.
We are to be dependent on God and what His plans are for us. This Truth Project lesson reminds us of God's position and that He is sovereign and in control of everything.
The world blurs our view of God and His Control. We need to keep our minds focused on the fact that God is our creator and take every thought captive that tells us differently.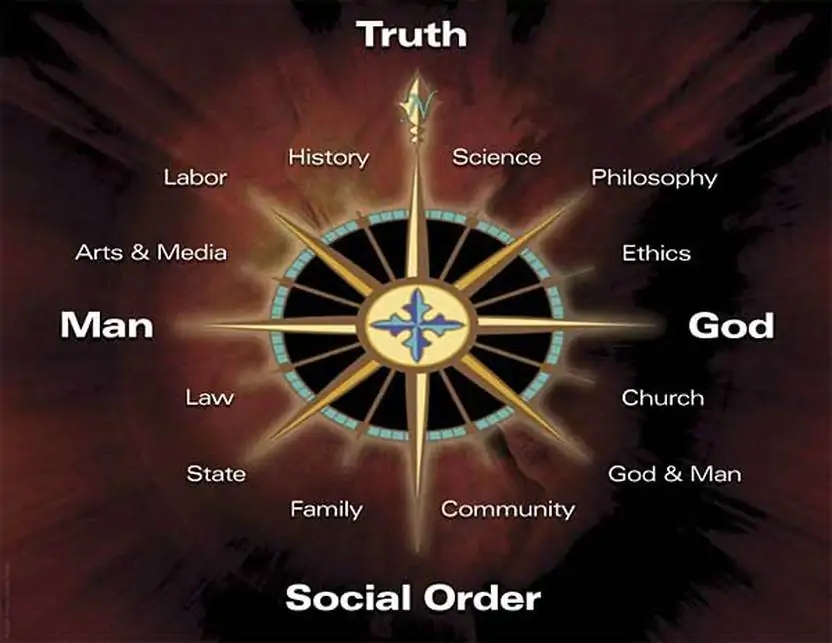 Lesson 7: Sociology: The Divine Imprint
This session uncovers the foundation of God's social order. God is the creator of social order. We see the order in the world but sadly it has been distorted by man.
God has created six elements of order: family, labor, church, state, community, and the relationship between man and his Maker. This order gives us a glimpse of God's nature.
Del Tackett discusses why the basic social institutions of marriage, family, and church have been under heavy attack these days. It is a great eye-opener about how the world is opposed to the social order God created.
Lesson 8: Unio Mystica: Am I Alone?
This Truth Project lesson discusses how God dwells among us and within us. Paul describes in Ephesians 5:31- 32, that Christ and the Church share a bond of oneness like the bond between a husband and wife.
They examine a bond God created between Christ and the Church, Marriage, and the individual believer. Many Bible verses are discussed in this tour about abiding in Christ.
You'll discover that oneness with God is the heart of the gospel. Christianity is not a religion, it's a living relationship with our creator God.
Lesson 9: The State: Whose Law?
In this episode, we see how the previous topics are interconnected and how they relate to the other aspects of the social realm: family, church, labor, community, and the relationship between God and man.
It focuses specifically on the design, structure, and role of the state. Where it stands in God's plan for human society, and the rightful extent and limits of its power.
You will see what kind of power the state has in the affairs of mankind. It can be good as long as it operates within its proper boundaries. The danger is it can become the most abusive source of power.
Lesson 10: The American Experiment: Stepping Stones
The American Experiment discusses the question "What should God's minister on earth look like?", Romans 13:4. What is the proper way for the divinely appointed agency to administer justice, punish evil, and encourage goodness among its citizens or subjects?
Examining the Biblical worldview shows how early America was shaped by the teachings of scripture. Our early political leaders agreed that the success of America's republican form of government would be directly dependent upon the virtue and morality of the Bible.
Sadly, America is quickly turning away from these principles. America has forgotten God and denied the biblical roots it was founded on.
Lesson 11: Labor: Created to Create
In this video, we find that creative labor is a big element of God's plan for the social realm. The world portrays work as a curse but it's really a part of our humanity.
Think about creation, God is the original worker. The importance of work is related to our divinely given responsibility to care for the poor.
Wealth has been distorted by the world. We see how generating wealth has the potential to meet the physical needs of mankind. We are called to work and should be thankful we have the ability to honor the Lord through our work.
Lesson 12: Community & Involvement: God Cares; Do I?
This is the last Truth Project video. In this lesson, we see that our God is the God of the lonely, the Savior of the outcast, the Defender of the weak, and the Sustainer of all people who find themselves in need.
We are called to become like Him by learning what it means to love not only Him but also our neighbors. Community outreach, serving others, and active love in Christian charity have been a part of the church for many centuries.
This calling has been neglected in our days. We shouldn't be escaping God's call here. We need to remember that God entrusts us to carry out His mission and purpose in the world.
Final Thoughts on The Truth Project
As I mentioned above our whole family was blessed by this Bible study. We were able to teach our kids and give them a foundation of the Bible through this study. Having fear of the Lord is the beginning of wisdom (Proverbs 9:10). We all want wisdom right?
This isn't a replacement for studying the Bible. It's a great addition to growing your faith. They do a great job of mixing up the series with questions from the students and insights from Biblical experts.
I highly recommend it for bible study groups, family Bible study, and individual study. Focus on the Family has a free download of the teacher's guide and a glimpse of the series if you want to check it more in-depth before you buy it.
Have you completed the Truth Project Bible Study? I'd love to hear your thoughts about the series. Let me know in the comments below!