3 Ways to Know "With God All Things Are Possible"
This article may contain affiliate links. I may earn money from the companies mentioned in this post with no additional cost to you. Please read my disclosure policy for more info. All Bible quotations are from the New King James Version (NKJV) unless otherwise stated Bible Copyright Attribution.
All things are possible with God because He exists and He has a divine amount of love for all of us. Nothing can stop God's will, His plan for our lives, from being done.
All is possible with God because He is faithful and His plans are perfect. As you read through the books of the Bible and really dig into the Bible verses, you will see His absolute power shown throughout all of it.
God is all-powerful and all-knowing. He is the only one that can save us from our sinful nature and give us eternal life.
What Does "All Things are Possible with God" Mean?
In God all things are possible but that doesn't mean everything will go smoothly in life and we will never face any trials or tribulations. The truth is, we will still have hard times and we will still battle with our flesh even after we have received Salvation.
God knew this and that's why He sent Jesus to die for our sins. If we are saved, we have the Holy Spirit living inside of us to give us discernment and wisdom throughout our life.
We may have plans but God acts according to His will, not our own. God alone, is the one who has complete control over our lives and we must understand that we are not guaranteed success or smooth sailing.
Being humble, submitting to God, and trusting in Him, and His ways should be our desire in life. We need to continue yielding ourselves and our plans to His plan despite the failure we may face.
When we face spiritual warfare, we can rely on God's power and His strength for He gives us all that we need. He specifically gives us spiritual gifts, wisdom through reading the Bible, and the ability to memorize scripture to help us draw close to Him.
As Christians, it's important for us to improve our spiritual growth so we can grow closer in our relationship with the Lord. God's strength is what carries us through and makes it possible for us to continue day after day.
Through God all things are possible and we can be confident that He knows what is best for us. Our life would simply crumble if He gave us everything we wanted. Our sinful ways and our fleshly desires needed redemption and Jesus' blood is powerful enough to redeem us.
Jesus' sacrifice is how we are cleansed, restored, and brought into a relationship with God. Only God could overcome the power of sin and death. The same powerful God who spoke everything into existence, created us fearfully and wonderfully made.
Everything down to the very last detail and the breath in our lungs. Reflect on everything we know on this earth that is powerful in nature, such as oceans, lions, and even the government. It is all part of His creation and completely under His control.
God is the one who parted the Red Sea in Exodus 14:21 and shut the mouths of lions in Daniel 6:22. If God puts you through something, He will get you through it.
It's amazing that we can't fully comprehend His power or how deep His love for us can go. God makes a way when there seems like there is no way. Without God, things would fall to the ground, for He is the One who holds all things together, with God all things are possible.
Where Does the Bible Say "With God All Things Are Possible"?
Matthew 19:23-30 mentions specifically "with God all things are possible". Verse 26 says:
"But Jesus looked at them and said to them, "With men this is impossible, but with God all things are possible."
If you study your Bible, I'm sure you've heard the phrase "In God, all things are possible". There are many stories in the Bible such as the story of Job or Jonah that are more than evident to see just how powerful and mighty our God really is.
Another verse is in Luke 1:37 "For with God nothing shall be impossible." We see this saying all over coffee mugs, t-shirts, and even hats, and we still can't fathom just how powerful God is.
When reading the parables or even stories of people like Moses. We see that no age, no circumstance, and nothing can stop the power of God. He heals the sick, brings the dead back to life, turns water into wine, and even brought a lost son back to his father.
The whole Bible shows the true mighty power of our God. His power doesn't rely on our circumstances or our way of thinking.
The Bible says to not lean on our own understanding and we should definitely not make His love, grace, mercy, and power about our circumstances or feelings. We must always obey and trust the Lord. The Bible tells us to delight ourselves in the Lord (Psalms 37:4).
No matter the circumstances we face, the trials we endure, or the seasons we end up in, it is the exact thing He can use to fulfill His will. God is always working in ways we cannot comprehend or even see.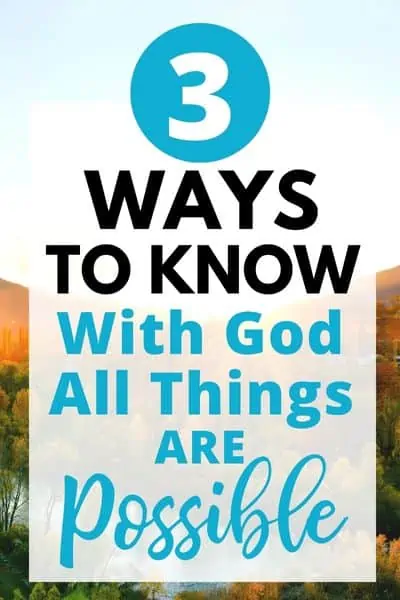 Ways to Know All Things Are Possible With God
There are many ways to know all things are possible with God. Especially when we open our eyes to our surroundings, and the people around us, and listen to God's voice.
1. Know God and His Word
Having a genuine relationship with the Lord is the most important thing to help you grow, and mature in your walk as a Christian. By studying the Bible, spending time in church, and fellowshipping with other believers you get to see His work in other people's lives.
Reading the Bible allows us to understand who God is and how the power of God can change so many things for our good. This ultimately encourages us and helps us continue to rest in Him.
2. Know His People
Knowing other believers will help you hear testimonies of God's goodness in their lives. Involving yourself in a church can help you see why you should wait on the Lord. Sometimes it's hard for us to see the Lord working in our lives and being around like-minded people can help us see Him working more clearly.
To see someone right in front of you or hear how God moved in someone else's life can really help us know that all things are possible with God. You will hear many stories of people going through things without God vs with God.
There is a big difference in how these things are experienced with God. It may not go smoother, but it will always be better. Being surrounded by godly people can help strengthen our faith, strengthen our discernment, and see a new perspective.
3. Believe and Have Faith
It says right in the Bible, that all things are possible to those who believe. God has a plan for every single one of us and He desires that we can come to accept Him into our hearts through salvation.
When we fully trust in the Lord, He can move in our hearts and our lives in monumental ways. We are dead before we are saved. Christ is the one who brings us back to life and gives us eternal life through salvation.
Matthew 17:20 (KJV) says:
"So Jesus said to them, "Because of your unbelief; for assuredly, I say to you, if you have faith as a mustard seed, you will say to this mountain, 'Move from here to there,' and it will move; and nothing will be impossible for you."
Having faith in God through all things can help you know and see that all things are possible with God. "All things" basically means that we allow God to work in all areas of our lives. This softens our hearts for Him to extend his grace to us.
This doesn't always mean He will heal every diagnosis, or allow a "yes" to every single prayer you pray. It means that His timing is perfect and we need to let go and let God handle everything in our lives because He knows what's best for us.
"With God All Things are Possible" Verses
The Bible verses below are from the New King James Version.
Genesis 18:14 – "Is anything too hard for the Lord? At the appointed time I will return to you, according to the time of life, and Sarah shall have a son."
Isaiah 41:10 – "Fear not, for I am with you; Be not dismayed, for I am your God. I will strengthen you, Yes, I will help you, I will uphold you with My righteous right hand."
Jeremiah 32:17 – "Ah, Lord God! Behold, You have made the heavens and the earth by Your great power and outstretched arm. There is nothing too hard for You"
Jeremiah 32:27 – "Behold, I am the Lord, the God of all flesh. Is there anything too hard for Me?"
Matthew 19:26 – "But Jesus looked at them and said to them, "With men this is impossible, but with God all things are possible."
Mark 9:23 – "Jesus said to him, "If you can believe, all things are possible to him who believes."
Mark 10:27 – "But Jesus looked at them and said, "With men it is impossible, but not with God; for with God all things are possible."
Mark 11:24 – "Therefore I say to you, whatever things you ask when you pray, believe that you receive them, and you will have them."
Luke 1:37 – "For with God nothing will be impossible"
Luke 18:27 – "But He said, "The things which are impossible with men are possible with God."
Philippians 4:13 – "I can do all things through Christ who strengthens me."