18 Gifts for Pastors | Perfect for Pastor Appreciation
This article may contain affiliate links. I may earn money from the companies mentioned in this post with no additional cost to you. Please read my disclosure policy for more info. All Bible quotations are from the New King James Version (NKJV) unless otherwise stated Bible Copyright Attribution.
Pastors are such a blessing in our lives. They commit to sharing the Bible and making Christ known in this world. It's more than a job, it's a calling.
I often wonder how I can bless my pastors. I think of all the things he does and finding a way to bless him makes my heart happy. That's why I decided to write this post.
Gifts for pastors are a great way to show our appreciation. Pastor Appreciation Month is in October but we don't have to wait until October to give a gift to our pastor. We can give our pastor gifts any time of the year.
Thinking of a Pastor Appreciation gift can be difficult. Over the years I've realized that my pastor is a person too. They probably already have tons of Bibles and commentaries so I started thinking about other gifts that can be useful and enjoyed by their entire family.
I don't know about you but my pastor plays a big role in my life. He leads as an example of Christ, he helps me grow in my faith, he keeps me accountable to being a Christian and so much more.
I know this is his calling but it means so much to me that I want to bless him and his family. Since everyone loves a gift I thought sharing my gift ideas for pastors would be a great way to help you bless your pastor.
It's possible to miss the opportunity to bless your pastor because you can't think of any gift ideas for your pastor. The idea of showing your pastor appreciation ends up being pushed aside because life gets busy.
Don't allow that to happen. You can show your pastor appreciation anytime with these gift ideas. They are a great way to show your pastor that you are thinking of them and are thankful for everything you do.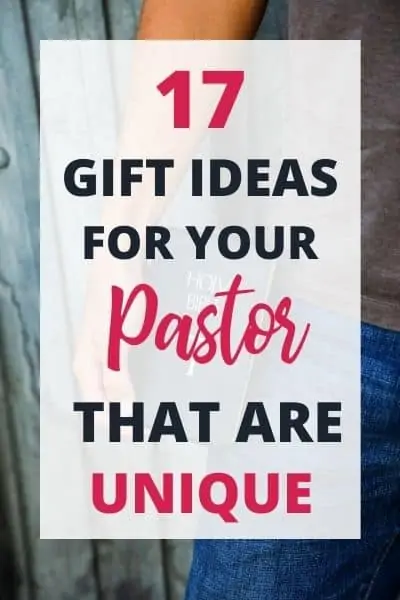 What is a Good Gift for a Pastor?
Pastors are people just like us. They live normal lives and engage in common activities. Finding a pastor appreciation gift is pretty much the same as finding a gift for someone else.
My advice to you would be to get to know your pastor. Find out what your pastor likes to do and what your pastor appreciates. Knowing those two things will help you find gift ideas for your pastor.
My pastor is very friendly and open about his life. His family is very loving and transparent. This helps tremendously when you are looking for a good gift. My goal is to show my pastor that I appreciate him by blessing him and his family.
Don't miss these Bible Highlighters!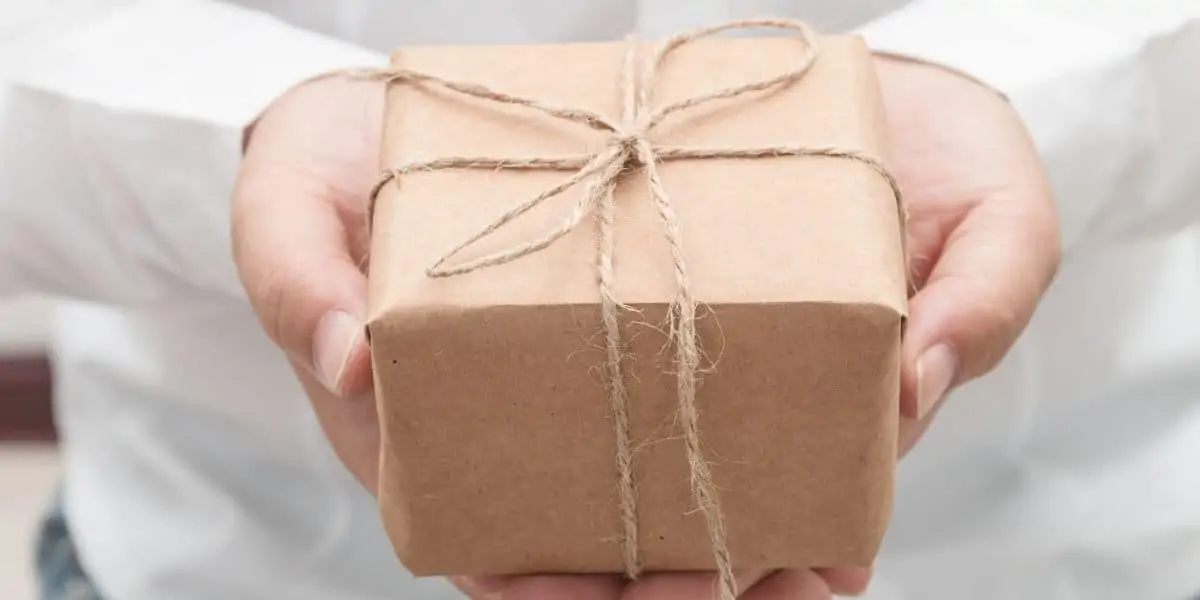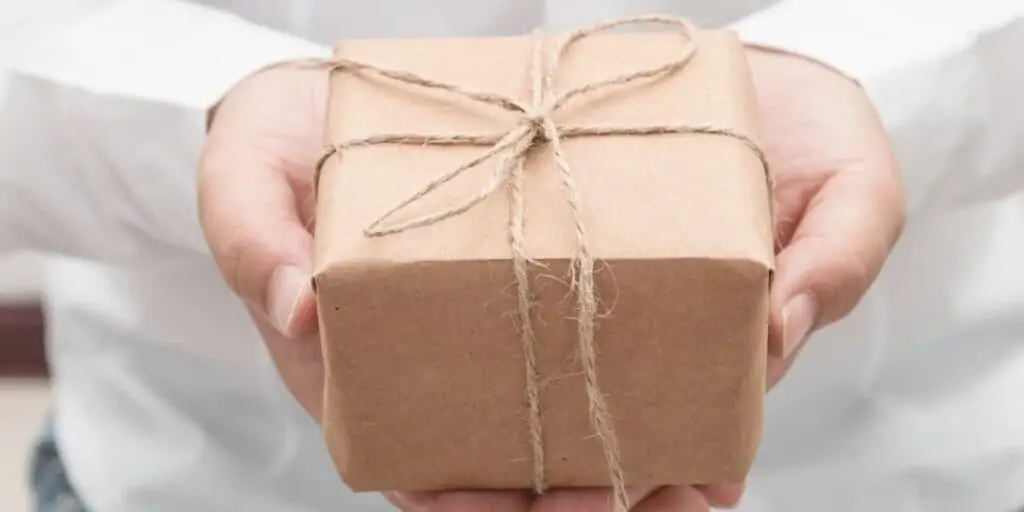 Gifts for Pastors
Here is a list of gift ideas for pastors that I have put together. The purpose of this list is to help you find a gift idea to show your pastor appreciation.
Gifts for pastors don't have to cost tons of money, there are different ways to bless pastors. You can give your time or even your service. Either way, showing your pastor appreciation can be a huge blessing to their lives.
1. Gift Card
A gift card is a great way to celebrate your pastor. You can get them a gift card to clothing stores, Starbucks (make sure to tell them about the Starbucks Secret Menu), or even dinner and a movie.
Pinterest is full of ideas on how to dress up a gift card. Instead of just putting it in an envelope, you can create a simple presentation to make the gift more fun.
2. Local Event Tickets
Find out what's going on in your town and see if it would be a good gift idea for your pastor. We have lots of fun events in our town that would interest our pastor.
You can get them tickets to a stage play, a tasting event, a sports event, etc. These types of events are a nice change of scenery. Getting out and exploring things can help them relax in a different environment.
3. Audible Membership
I have grown to love having things read to me. It actually helps me become a better listener. I can guarantee your pastor reads a lot. Putting messages together every week takes some in-depth reading.
An audible membership might help your pastor relax a bit. Instead of reading, they can listen and rest their eyes. You can get a 30-day free trial to Audible to try it out.
4. Pen Set
I wasn't sure about this idea but I remembered that my husband is a huge pen lover. He loves nice fancy pens so I think a pastor would too. You can never have enough.
I chose this pen set because it has Jeremiah 29:11 on it. It's a great reminder that God has a plan for us. It's also refillable so it can last a long time. If you decide to buy this pen, consider picking up some refills as well.
Jeremiah 29:11 Engraved Gift Pen with Presentation Box - Inspirational Christian Living Bible Gifts for Men Women of Faith
Jeremiah 29:11 luxury fine writing pen, engraved with scripture and cross; Black color with silver-toned accents
Comes in a satin-lined keepsake presentation box for easy gifting; Makes a suitable religious gift for Christian men and women, pastors, and ministers
This elegant metal pen weighs approximately 46 grams, and measures approximately 5.6 inches long
Twist style mechanism with black ballpoint writing tip; Compatible with the common standard G2 type ink refills, also known as Parker-type ink cartridges
Jeremiah 29:11 - "For I know the plans I have for you," says the Lord, "plans to prosper you and not to harm you, plans to give you a future and a hope."
5. Office Makeover
Most pastors have an office of some sort. If you have some organizational skills, this would be perfect for you. You could arrange some time with the church secretary to surprise your pastor with this gift.
You'll have to use your judgment here on what your pastor would appreciate the most. Is it organizing, decorating, or simply cleaning? Ask some of the closest people to him what he would like the most and get started!
6. Vintage Leather Journal
You can never have enough journals. I love this journal, particularly because it's rustic. It's genuine leather and has a sturdy binding. It's available in different colors, sizes, and styles.
It could be used as a regular journal, a nice keepsake or it could be used as decoration for an office. I'm sure your pastor could find a good use for this pastor appreciation gift.
Leather Bound Journal - Rustic Brown, 7"X5", 220 Pages - Vintage Blank Paper Diary for Writing, Drawing, Sketchbook, and Travel Notebook - Ideal for Women and Men
Genuine Leather Craftsmanship - Handmade with Soft Touch Genuine Leather - Exclusive Distressed Look
Multipurpose Journal & Planner - Versatile for Men and Women - Use as an Appointment Book, Daily Journal, Sketchbook, or Travel Diary.
Premium Quality Paper - 110 Sheets (220 Counting Both Sides) of 100gsm Weight, Vintage Paper - Compatible with All Kinds of Pens, No Bleed-through.
Compact Size - 7 X 5 inches - Easy to Carry for Travel and Daily Use.
Timeless Gift - Perfect Gift for Christmas, Thanksgiving, Anniversaries, Birthdays, Graduations, or New Adventures - Ideal for Writers, Artists Students, and Your Loved Ones.
7. New Leather Journal
Maybe your pastor isn't into rustic-type journals. This one isn't as rustic. It has great pages for journaling. It has lined pages and is a smaller size making it perfect to take on the go.
Journals are always a great gift for anyone but pastors especially go through a lot of paper. This would make a great pastor's gift for their personal needs.
Sale
Leather Journal Writing Notebook - Genuine Leather Bound Daily Notepad for Men & Women Lined Paper 240 Kraft Pages, Handmade, Rustic Brown, 5 x 7 in
GENUINE LEATHER CRAFTSMANSHIP – Crafted with genuine leather, this leather journal offers a soft touch exterior with natural, distressed look that's truly exclusive
MULTIPURPOSE JOURNAL & PLANNER – This versatile men's and women's journal can be used as an appointment book, daily journal, sketchbook, or travel diary
PREMIUM QUALITY PAPER – Every leather journal notebook is filled with 120 sheets of 100gsm weight, 6.5 mm ruled, 2-sided kraft paper that fits most pens (Refill Paper: B07R1KFGRJ))
PERFECT SIZE - Compact 7.5" x 5.5" size, easy to carry when travelling or in your daily life
THE TIMELESS GIFT - A lovely treat for your loved ones for an anniversary, birthday or graduation present, or for someone starting a new adventure
8. Funny Pastor Coffee Mug
If your pastor has a sense of humor, this mug for pastors would be perfect! I don't know about you but I do not want to end up in my pastor's sermon, Even though I feel like he's speaking to me personally when he preaches.
This mug is fun and is perfect for a pastor because there are some great benefits of caffeine. Coffee can help them get through long days. It's also microwave and dishwasher-safe. I'm sure your pastor will appreciate that in itself. Hand washing and cold coffee are no fun.
Be Careful Or You'll End Up In My Sermon Mug Coffee Mugs, Worlds Best Funny Pastor Gifts, Awesome Coffee Tea Cups For Preaches, Unique Novelty Minister Presents 11 oz Ceramic White Coffee Mugs
A BELLY LAUGH FOR PASTOR: Your favorite pastor will love you even more with this hilarious gag gift that will put a smile not only on him but on anyone who reads it. Give it in front of the entire congregation and it will certainly get a chuckle or maybe even a belly laugh for everyone. This Be Careful Or You'll End Up In My Sermon Ceramic Coffee Mug serves as a hilarious warning for those who are giving him a hard time.
PREMIUM CERAMIC COFFEE MUG: This high-quality 11oz ceramic white mug has a premium hard coat that provides crisp and vibrant color reproduction sure to last for years. Printed on both sides for either left or right-handed person so the awesome message and art will be visible. High-gloss and has a premium white finish that can make you enjoy your drink more. Can also be used as pen holders on your office work table, planter for your kitchen herb, jewelry holder, or serving your favorite dessert.
GUARANTEED TO TAKE AWAY PASTOR'S STRESS: Stress, Stress Go Away.Pastor's life can be stressful too so, they need some appreciation and a little humor can help them big time. Guaranteed to make your priest, minister, or newly called church leader deacon smile every time they use this with their warm coffee and beverages.
FUNNY GIFT: Perfect affordable present to celebrate your preacher's ordination, birthdays, anniversary, holidays, retirement, Christmas, or any special milestone that occurs in life. For your new pastor, Great item for your friend who can relate to this good message and make anyone laugh out loud when they use it.
DISHWASHER AND MICROWAVE SAFE: These fantastic drinking mugs can go straight in the dishwasher, all day every day, meaning it can save you time, and be more hygienic. Perfect for your favorite hot or cold beverages. Easily reheat that coffee or tea you forgot to drink right away because it is microwave safe. Saves you time, is very convenient, and is perfect for your busy lifestyle.
9. Pastor Appreciation Keychain
If you are looking for a pastor's gift that is a little more sentimental. You may want to consider getting this keychain to show your pastor's appreciation.
It has a great message on it for your pastor. He can put it on his keychain and always remember how thankful you are for him.
FEELMEM Pastor Gift Religious Jewelry Pastor Thank You Keychain Thank You For Having The Heart of A Servant Leader Christian Preacher Gift Church Gift Pastor Appreciation Gift (silver)
❤Pastor Keychain❤This keychain with design hand engraved - Thank you for having the heart of a servant leader. For teaching us and loving us as we grow in relationship with Jesus,our Lord and Savior.
❤Pastor Appreciation Gift❤This wonderful Pastor's keychain are perfect as gift for pastor, christian, christian pastor. The unique inspirational religious Pastor Keychain also can as an appreciation gift for him.Thank you for teaching us and loving us as we grow in relationship with Jesus.
❤Appreciation Gift for Pastor❤This keychain is the best gift for Pastor, Christian Preacher and Servant Leader as Christian Preacher Gift, Church Gift, Pastor Appreciation Gift, Religious Jewelry, Birthday Gift, Thank You Gift, Christian Baptism Gift,Christmas Gift, Easter Gift, Thanksgiving Gift.
❤Material&Size❤Stainless steel; it will not tarnish or change color. It is also a great choice for those with skin sensitivities. Keychain pendant length 0.98inches(25mm) width 1.57inches(40mm).
❤Package❤This keychain will come beautifully packaged in a velvet cloth jewelry pouches, and ready for gift giving. Any quality problems, please feel free to contact us.
10. Bible Verse Engraved Bracelet
You'll need to make sure your pastor likes wearing jewelry if you want to get this pastor's appreciation gift. This bracelet is very masculine and has the option of adding a verse of your choice.
There are several impactful Bible verses to choose from that will keep your pastor encouraged. Make sure to check out the different colors and styles available.
MEALGUET With God all things are possible Matthew 19:26 Inspiring Men's Christian Bibe Verse ID Bracelet Cross Wristband
Bible Verse Quote Inspiring Silicone ID Bracelets- Inspirational Religous Men's Bible Scripture Cross ID Bracelets- A daily dose of inspiration¡­ Verse from the Bible transmits love, inspiration and positive energy for mind and soul.
Material: Stainless steel and Silicone, We choose stainless steel instead of brass or alloy. Because it's highly resisted to rust, corrosion and tarnishing. Durability and Fashionable. All makes it a top fashion accessory.
DETAILS: * Style:Religous Bible Verse Cross ID Bracelet * Engraved * Polished Finish * Size:7-8.8",16mm width
Bible Verse Inspirational Quote Bracelet- Perfect Easter Basket,Baptism,Confirmation Gift idea for Men catholic & christian Religous Jewelry Gift for Valentines Day, Birthday, Father's Day,Christmas,Men,Dad,Groomsman,Groom,husband,friend,family etc..A great daily reminder of your faith.
PACKING&AFTER SALES: Comes with grey Velvet bag,Great for Gift giving.30-Days Money back guarantee,100% Secure shopping. Please rate 5 star if you are pleased with our product.
11. Technology Gifts
We all know that people use technology for several things. Pastors are no different. Multiple technology gifts would make good gifts for pastors.
I think a pastor would enjoy a Bluetooth speaker, earbuds, headphones, a new phone case, a ring light for video calls, a phone charger stand for their desk, a pop socket, or even a streaming device.
Use your imagination or search "technology gifts" on Google to find something that would be a good fit for pastor appreciation.
12. Plan a Party for Your Pastor
Everyone loves a fun party and so would your pastor. You can plan a get-together with some close friends to celebrate your pastor. Maybe you can all pitch in for one big gift for your pastor.
You may also choose to have everyone bring a gift. Either way, you can make your pastor feel super special by focusing on him.
13. Invite Your Pastor Over for Dinner
Instead of planning a big event, you could simply invite your pastor over for dinner. Plan a nice meal and allow some time to catch up and let your pastor know you appreciate them.
It doesn't need to be a fancy dinner. Plan something during the warmer months and do an outdoor BBQ. Make sure to include their family to make it extra special.
14. Silk Tie Set
There are several events that a pastor may dress up for. You can get him a new silk tie set to help him mix up his wardrobe a bit. The fun part is that he can wear the same suit but mix up his ties to add a variety of styles.
The silk ties I chose have 5 different designs and are budget-friendly. Make sure to look at all the options of designs and colors available. There are several to choose from.
Lot 5 Pcs Mens Ties Collection Elegant Neckties and Pocket Square Gift Box Tie Business Tuxedo Necktie Handkerchief Set
【5 Pcs Tie Sets】 Five different styles of tie and pocket square set, Made from woven microfibre, that is soft, rich in color, and beautiful to feel. The stitching and thread are gorgeous. good quality interlining makes our ties heavy weighted and elastic, which are easily designed for a perfect knot. High quality control makes our tie can be used for a long time.
【Design】 These neckties use a subtle and simple pattern, such as paisley, floral, plaid, stripes, polka dots, and other elegant tie patterns, So refined to look formal at business gatherings, but casual enough to wear to work. It's the best of both worlds!
【Occasions】Suitable for most occasions, Weddings, Christmas, Prom parties, Father's Day, Valentine, Business Work, and special occasions. The elegant Tie makes you stand out in the crowd, makes you look eye-catching and handsome.
【Necktie Size】Tie Width: 3.4 inches; Tie Length: 59 inches; Handkerchief size: 10 inches x 10 inches; Crafts: jacquard woven tie; Package include 5* necktie & 5* matching handkerchief.
【After-Sale Guarantee】For more high-quality tie with unbeatable prices, please click our brand name"HISDERN". Here are more than 500 styles for your choice. Your satisfaction is our top priority. If you are not satisfied with the purchase, we will provide a money-back guarantee. Our friendly support team is always ready to answer any questions you have.
15. A New Wallet
A new wallet would make a great gift for a pastor. My husband's wallet gets so worn down and he always appreciates a new wallet. Useful gifts are something a pastor appreciates.
This wallet is more than just a wallet. It's genuine leather with the message that Jesus is the Son of God. What a great way for your pastor to "witness" to someone every time he pulls it out.
Sale
Christian Art Gifts Genuine Leather Wallet for Men | Names Of Jesus Cross | Quality Classic Brown Leather Trifold Wallet | Christian Gifts for Men
BIBLE VERSE WALLET: Christian Art Gift's genuine leather wallet for men features the Names of Jesus beautifully debossed into the shape of a cross on the front. A perfect gift for a husband, dad, or brother on any special occasion that honors him and everything he is.
GRACEFUL DESIGN: A pocketful of wisdom. A great way to carry God's words all the time, this Christian wallet will spur faith each time it's taken out. With the names of Jesus on the front cover, this leather wallet will serve as a constant reminder and assurance that God is at work.
DURABLE QUALITY: Specific features of the Trifold Leather Wallet: 1 full length billfold pocket, ID card window, 6 credit card slots, 2 multi-purpose slots, back slip pocket. Exquisitely crafted and made of genuine leather, the Names of Jesus wallet comes in a rich brown color. Size: 4.25 x 3.25 x .75 Inches
NAMES OF JESUS: The Names of Jesus brown leather wallet makes a thoughtful gift for Father's Day, his birthday, or as a Christian gift. Whether he's been walking with the Lord for a long time or is new in his faith, the leather bifold wallet will serve as an encouraging reminder for his daily walk with Jesus.
CHRISTIAN ART GIFTS: Christian Art Gifts offer a wide variety of personalized Scripture print items. From Bible Covers, Coloring Books, Journaling Bibles, Journals, Planner and Devotional Books, the company strives to bring the best quality products with a special message on each one.
English (Publication Language)
16. Pastor Appreciation Travel Mug
This pastor appreciation gift is useful and humorous. Travel mugs are convenient and everyone has a use for one. It can be used for hot tea, flavored water, soup, etc.
This travel mug is stainless steel and spill-resistant. The pastor's nutritional facts are hilarious.
KLUBI Pastor Gifts for Men Women- 20oz Travel Coffee Mug - Funny Gift Idea for Appreciation, Women, Birthday, Basket, Anniversary, Best
Pastor Gifts - 20oz Travel Coffee Mug - Gift Idea for Appreciation, Men, Women, Funny
DOUBLE WALL VACUUM INSULATION: KLUBI Tumblers Keep your beverage at the ideal temperature, hot for 3 hours and cold for 9. Can be used for coffee/tea or your favorite beverage.
18/8 STAINLESS STEEL & BPA FREE: Made from 18/8 food grade stainless steel. KLUBI Tumblers will not rust, won't transfer flavor and are unbreakable! Comes with a clear BPA-free EZ SLIDE lid
SPILL RESISTANT & PORTABLE: Clear, push on lid makes this cute novelty tumbler ideal for everyday use, Coffee/tea on the go, indoor and outdoor events, parties, camping, tailgating, weekends by the lake or evenings at home
20 OZ capacity is the perfect size to hold your favorite beverage and fits in your cup holder.
17. John 3:16 Water Bottle
Water bottles come in handy. Pastors attend many events and having a nice water bottle to bring along makes things a little easier.
I chose this water bottle because it's very simple looking. It's leakproof and can be used for both hot and cold beverages.
LaserGram 32oz Double Wall Flip Top Water Bottle With Straw, Bible Verse John 3-16, Personalized Engraving Included (Black)
Are you looking for a daily workout partner? This water bottle will do the the job, whether you're at the gym or on the trail!
Personalized just the way you want it! Each water bottle is laser engraved with the image that you see in the photo along with your own name or custom text.
This heavy duty bottle can handle it all, Hot or Cold! Its double-wall insulated stainless steel construction will keep 32 ounces of your favorite drink hot or cold for hours!
Give it as a gift to your special workout partner. Imagine the look on their face when they see their own name engraved right on the bottle!
The design and text won't fade since we laser engrave it right onto the bottle. Comes with a screw on lid with a flip-top sipping straw.
18. Christian Wall Art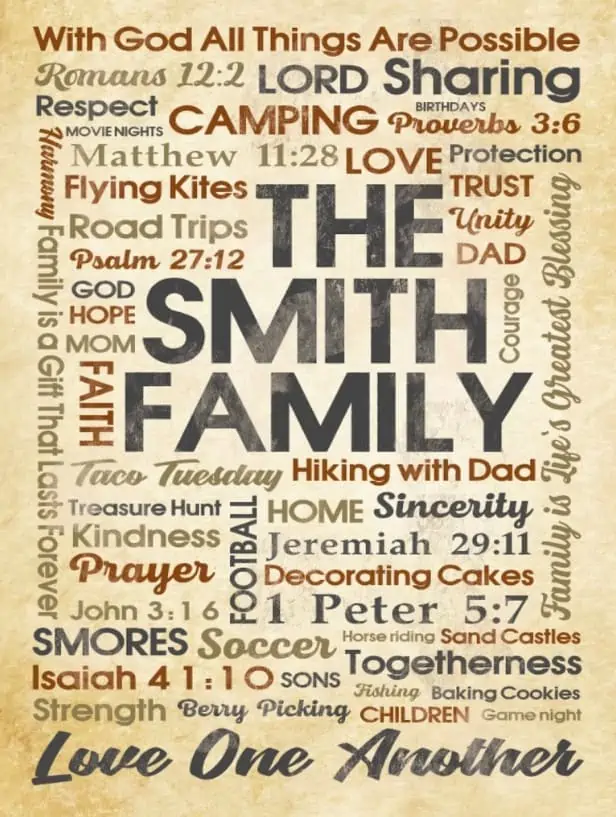 Christian Walls has Christian wall art for your Pastor. Add their favorite scripture on any custom background and it's backed with a 100% satisfaction guarantee.
You can also choose from already designed wall art. They make it super easy to order!
Pastor Appreciation is so Important
Let's face it, our pastors are under a lot of pressure. Think about it…their calling is to lead us to know Jesus. That means they are under attack probably more than we are because they are leading such a large group to the Lord.
Thinking about the attacks I encounter makes me want to show my pastor appreciation. I want to keep my pastor encouraged so he continues to stand firm in his faith.
Pastor appreciation ideas can help you do this for your pastor. Pray and lift him up to the Lord and ask the Lord to protect him and his ministry. In addition to that, a pastor appreciation gift could brighten up his day.
Gifts for Pastors are a Great Way to Show your Pastor Appreciation
Our pastors are under a lot of pressure. Gifts for pastors can be a great way to show your appreciation. It's not the cost of something that matters, it's the thought.
How are you showing your Pastor Appreciation? I'd love to hear if you have any gift ideas for pastors. This list of pastor gifts is intended to grow. The purpose is to create a resource to help others with ideas.
Let me know your pastor gift ideas in the comments below. Let's work together to bless all the pastors in our lives and show them appreciation.
Praying this list helps you decide what gift to get your pastor. Most of these gifts are budget-friendly so you can see that you can show your pastor appreciation without spending a ton of money. Remember, it's the thought that counts.
Looking for more Christian Gift Ideas?
I love making shopping for Christian gifts easy. Check out these Christian gift ideas I've compiled.
Christian Gifts Ideas for Women